We'll spare you any talk of the age-old "smash avocado" saga but to get you up to speed, this year's Federal Budget didn't really do much in the way of upping the ante for first home buyers. Sure, the First Home Loan Deposit Scheme has been somewhat extended but that's only for those of you who are seriously looking within the next year.
For the rest of us, the actual possibility of homeownership still rests in some murky waters so if we hear that we can, quite literally, order up a home by the click of a button without selling our future firstborn— we're all ears.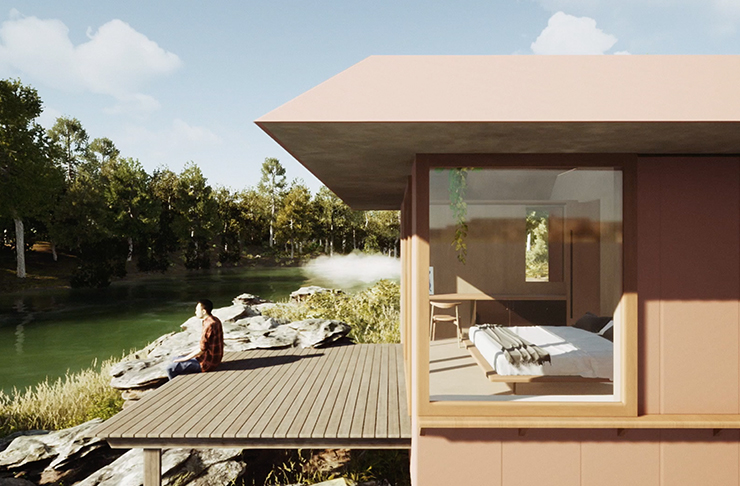 Enter Dimensions X, it might sound like Elon Musk's next spaceship to the moon (or his firstborn child for that matter) but it's actually a game-changer of a project that could see you living out your days chilling in mineral pools and stargazing from your home's own internal skylights. This we like.
Dimensions X basically offers up a base model housing unit (known as 'OM-1') that you order online. This smart home is entirely planet-friendly and energy-efficient, to help you reduce your carbon footprint. On top of this, from the moment you order one, you'll only wait around several weeks until you see it in the flesh and you can customise your new abode to your heart's content with add-ons like environmental roofs, solar energy, composting and rainwater tanks, mineral pools, beehives, energy efficiency white goods, furniture, smart home tech and eco sheets.
The 'OM-1' will be marketed from 2021 and you'll be able to order him up as a base model or an actual made-to-order home. For more on Dimensions X, head here.
Leave the big city life, this Maldives island wants you to run its bookshop for six months.
Image credit: Dimensions X