If you're anything like us, you're using this time in isolation to sharpen up some skills you've been meaning to put time into.
Baking is definitely one of those skills, and Miss Trixie, the baking queen, has put together an almighty isolation Easter Cake recipe to test out your skills over Easter.
We'll let the pictures speak for themselves, but set aside some time this week and have a crack.
Ingredients
Funfetti Cake
250g unsalted butter, softened
440g caster sugar
2 tsp vanilla bean paste
6 eggs, at room temperature
500g plain flour
1 tsp baking powder
1/2 tsp baking soda
1/4 tsp salt
250ml full cream milk
1 cup hundreds and thousands
Swiss Meringue Buttercream
375g caster sugar
200g egg whites, at room temperature
500g unsalted butter (softened)
1 ½ tsp vanilla bean paste
¼ tsp salt
Pink food dye or any colour you prefer
Chocolate Egg Nest
150g chocolate of your choice (I used 70% dark)
1 x packet 100g Chang's Original Fried Noodles
Decorations
Raspberries, preferably fresh (optional, for between the layers)
An assortment of small, medium and large Easter eggs
Mini eggs
Lustre dust (optional)
Equipment
3 x 7 inch round baking tins
Electric stand mixer (e.g. a Kitchenaid or hand-held beaters)
Rubber spatula
Cake board
Pallet Knife
Cake turntable (optional)
Acrylic scraper (optional)
Method
Funfetti Cake
Step 1
Pre-heat oven to 160 degrees fan forced, or 180 degrees conventional.
Step 2
Grease and line three x 7 inch round tins, with greaseproof paper and butter/canola oil spray.
Step 3
In a bowl, sift flour, baking powder, baking soda and salt and whisk together. Set aside.
Step 4
Place butter, caster sugar and vanilla bean paste in the bowl of an electric mixer and beat on medium until pale and fluffy for 5 minutes, scraping the sides of the bowl every so often.
Step 5
Add eggs one at a time, scraping the sides of the bowl between each egg addition.
Step 6
In two batches, add flour mixture and milk. Beat to combine.
Step 7
Slowly fold in hundreds and thousands—do not over mix!
Step 8
Divide batter evenly between tins and bake in the oven for 55 mins or until the centre of the cakes bounce back when lightly pressed. You can also use a skewer to check the cakes—just ensure they come back clean with no unbaked batter on the skewer.
Step 9
Allow cakes to sit in their tins for 15 mins before turning out on to a wire rack and allowing to cool completely.
Swiss Meringue Buttercream
Step 1
Place egg whites and sugar in a heatproof bowl over a saucepan of simmering water. Ensure the bottom of the bowl does not touch the water.
Step 2
Using a whisk, whisk the egg whites and sugar together until the sugar dissolves. To check if the sugar has dissolved, carefully rub the mixture between your fingers. You shouldn't be able to feel any granules of sugar.
Step 3
Transfer the egg white mixture to the bowl of an electric mixer and beat on high for 10 minutes or until the mixture has come down to room temperature. The mixture should now be stiff and bright white—much like a meringue mixture.
Step 4
Add butter and beat on high until creamy and combined. Be sure to scrape the bowl to ensure all the meringue is incorporated.
Step 5
Add vanilla bean paste, salt and a couple of drops of pink food dye.
Step 6
Store in an airtight container in the fridge until required.
Chocolate Nest
Step 1
Line a bowl with cling film, ensuring some cling film overhangs the edge of the bowl.
Step 2
Heat chocolate in a microwave-safe bowl to melt on a medium heat—do not have the microwave on high or you risk burning the chocolate.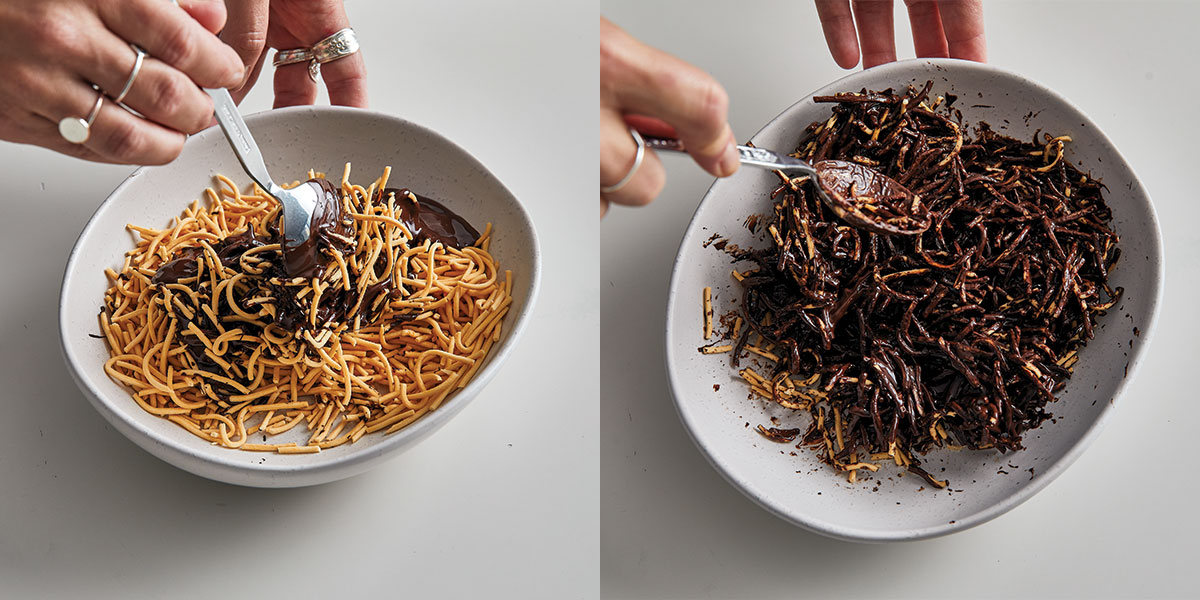 Step 3
Add the Chang's noodles into the chocolate and mix to combine and coat the noodles.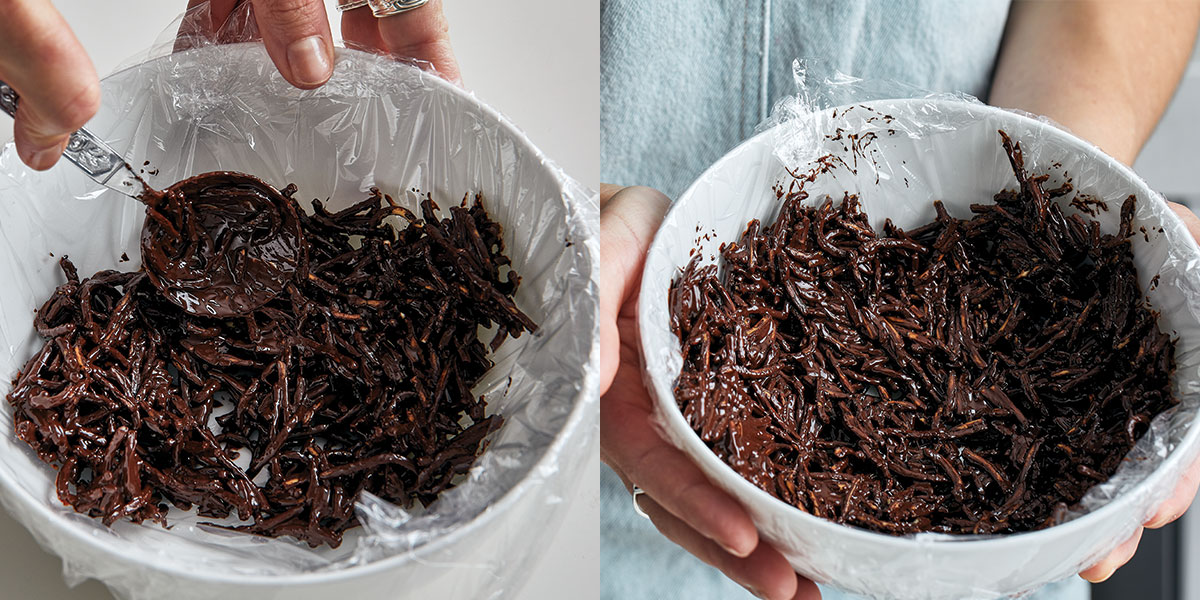 Step 4
Once combined, spoon the mixture into the bowl lined with cling film and press up the sides of the bowl to form a nest. Place in the fridge until set.
Assembly
Step 1
Take cooled cakes and trim to size—if they are looking a little uneven, take a long thin knife and carefully cut until they are flat and even.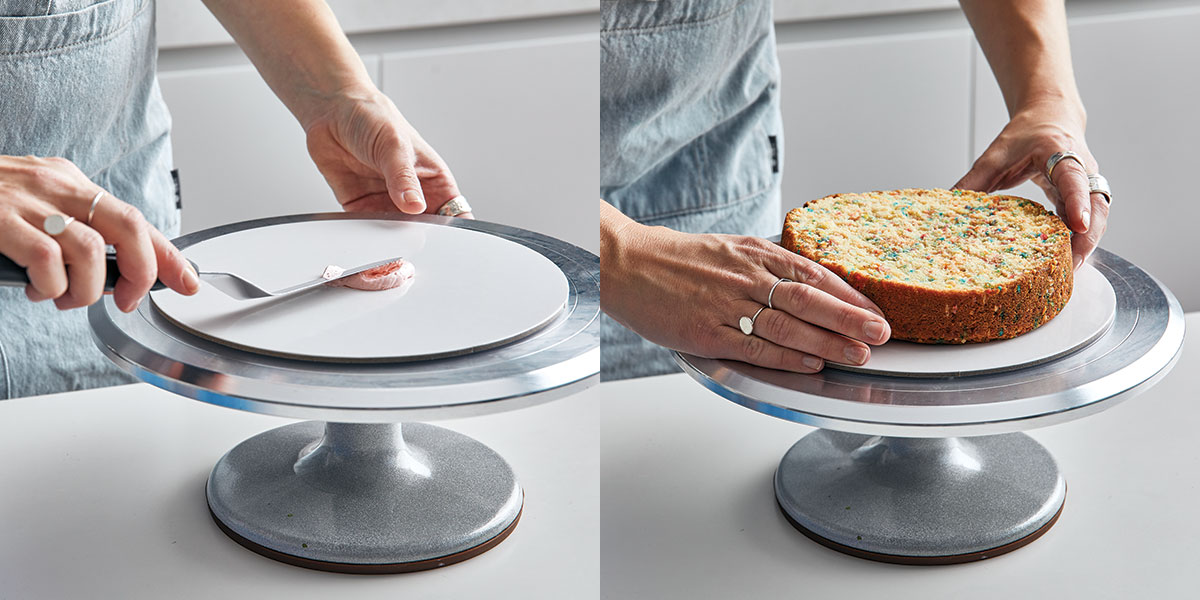 Step 2
Using your pallet knife, place a dollop of buttercream onto your cake board and press the first layer of cake on to the board.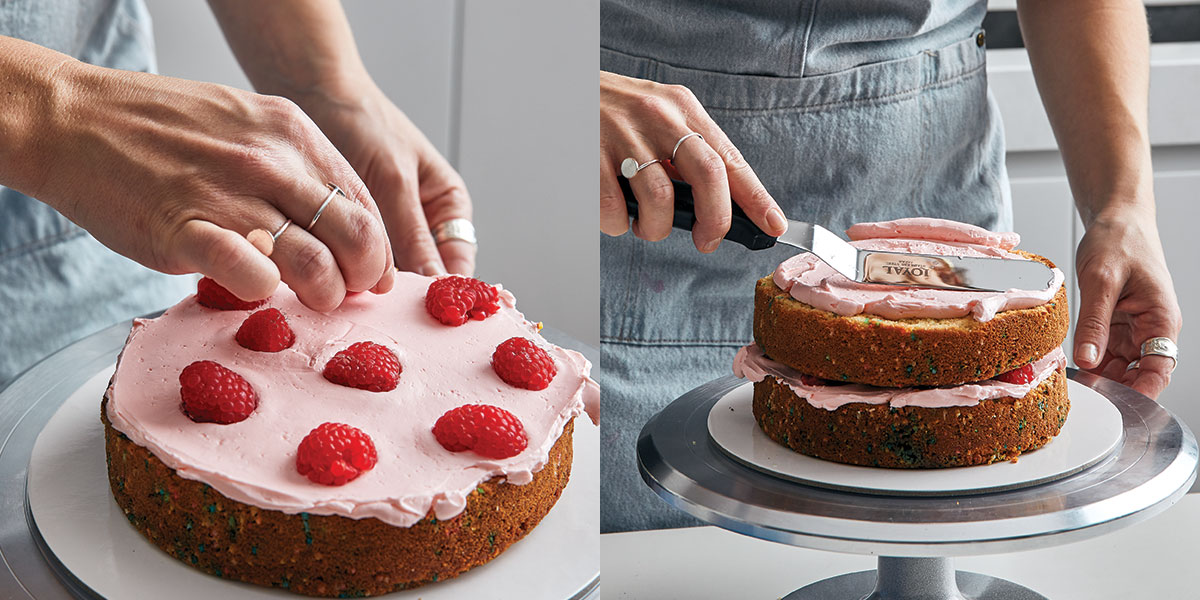 Step 3
Once the first layer of cake is fixed to your cake board, thickly spread buttercream onto the cake. Top with raspberries and place the next cake layer on top. Repeat this process until you've used all of your cake layers.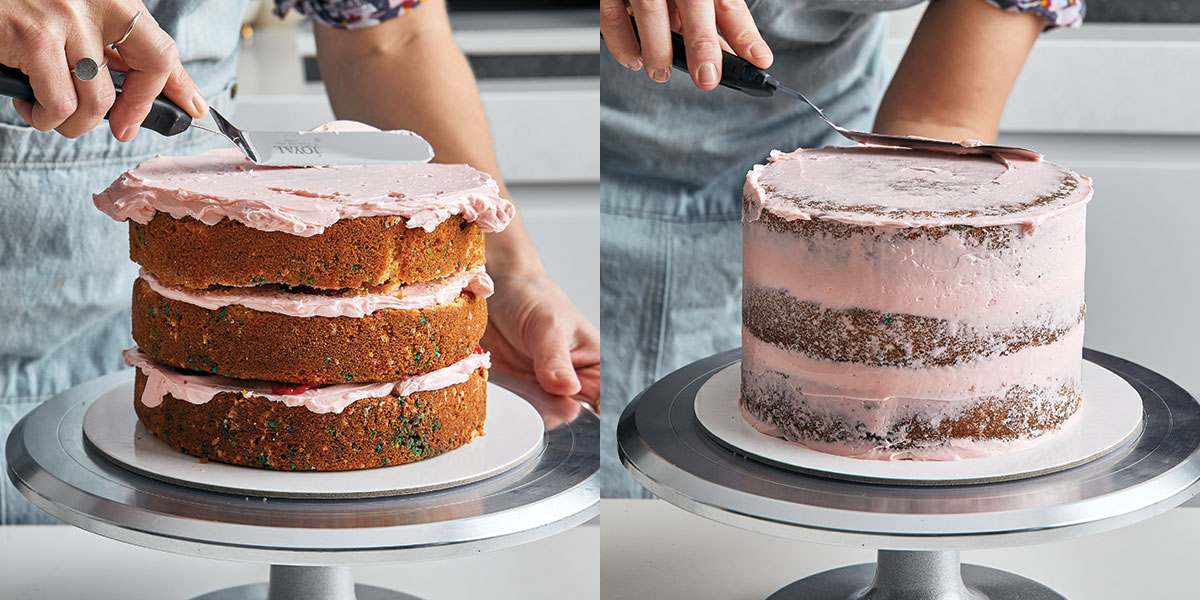 Step 4
Once all the cakes have been stacked, using a pallet knife, gently start to spread buttercream around the edges and side of the cake. The first layer of buttercream only needs to be thin and is called a crumb coat. It is designed to catch any loose crumbs and fix them into place. Place cake in the freezer for 15 mins to set.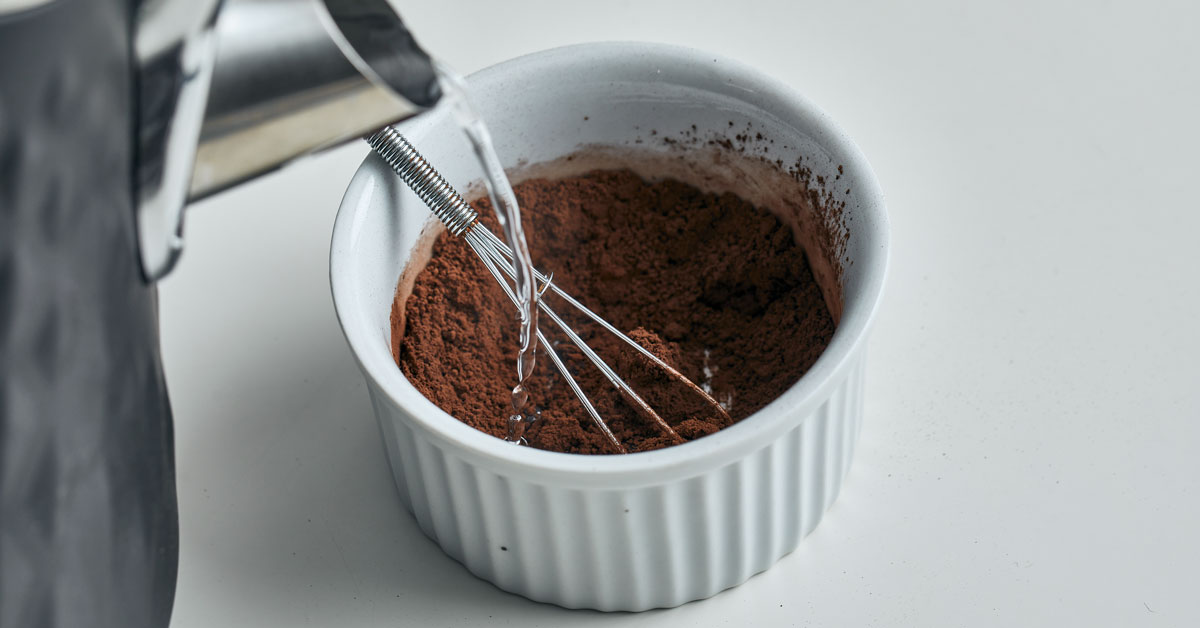 Step 5
Whilst your cake is in the freezer, take this time to make the chocolate splatter sauce. Mix together sifted cocoa powder and boiling water together with a small whisk or a fork. The sauce should be runny with no lumps. Set aside.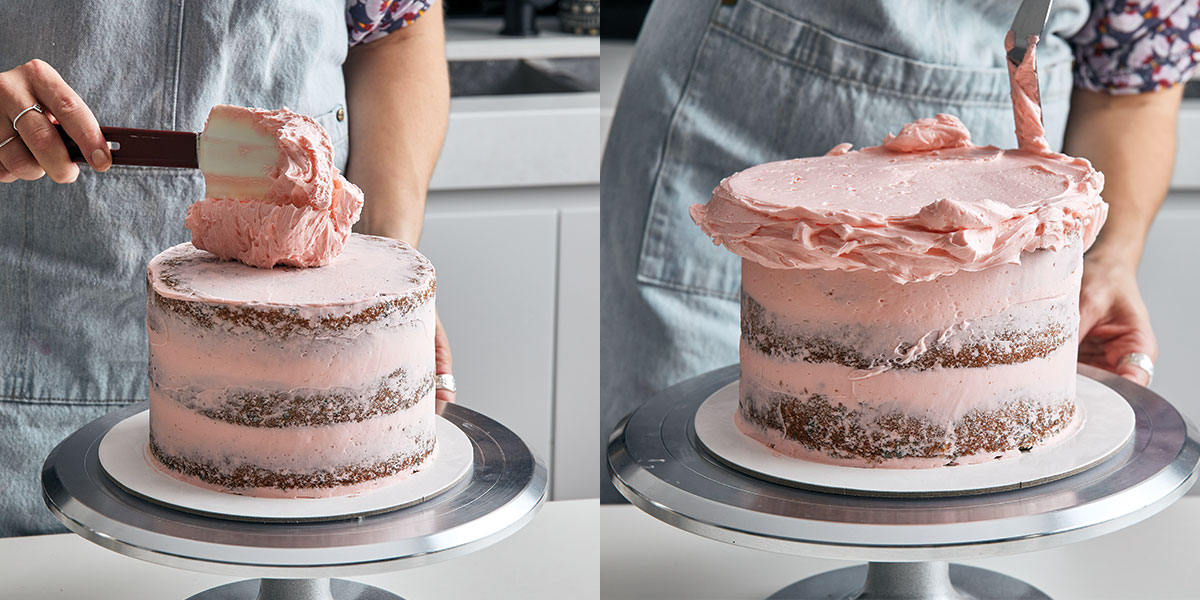 Step 6
Take cake from freezer and lather another layer of buttercream. Start from the top of the cake, with the buttercream coming down the sides of the cake. This layer should be thicker than your crumb coat and completely cover the cake.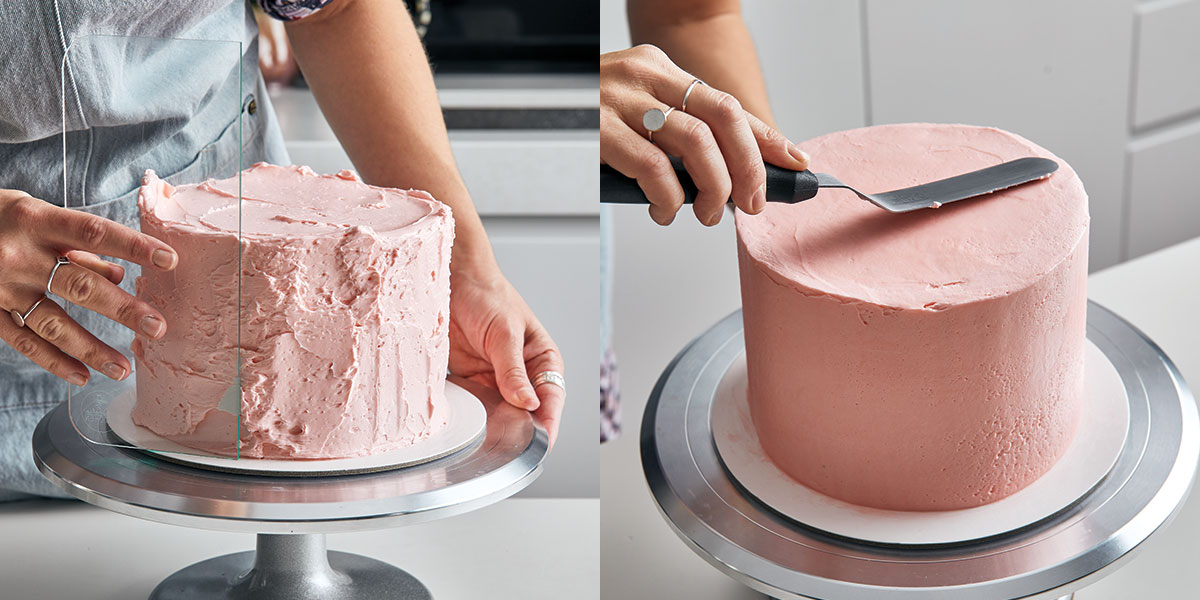 Step 7
Using an acrylic scraper parallel to the cake, smooth the edges and remove any excess buttercream. Continue to smooth and patch over any holes.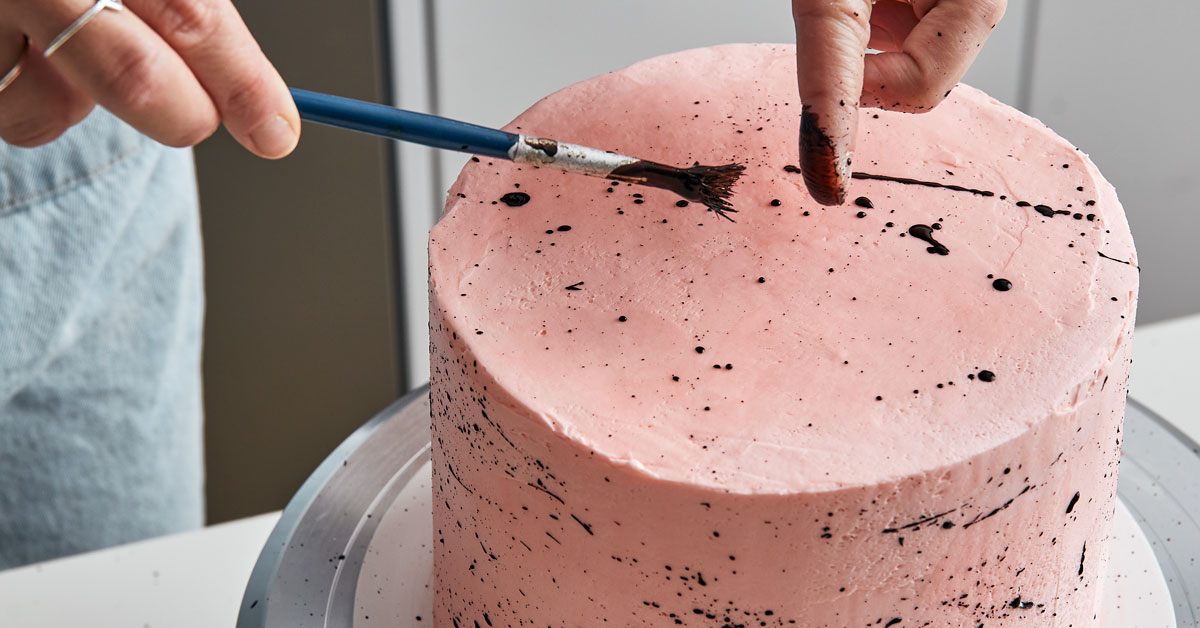 Step 8
To create a speckled egg effect on your cake, splatter the cake by gently flicking the chocolate sauce onto the cake using the tips of a paint brush.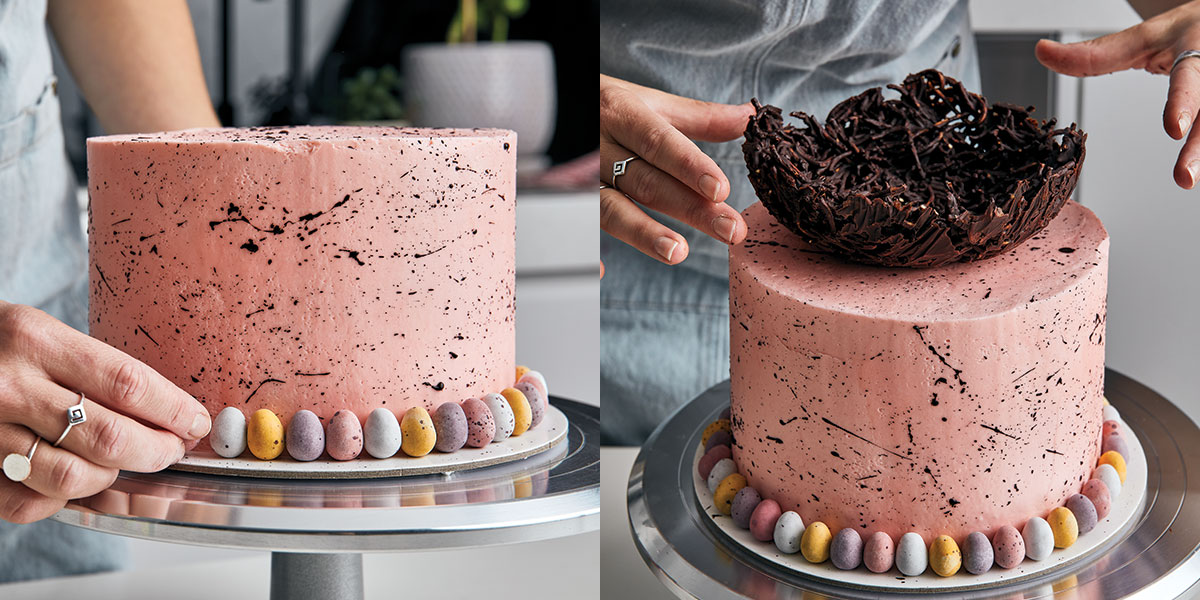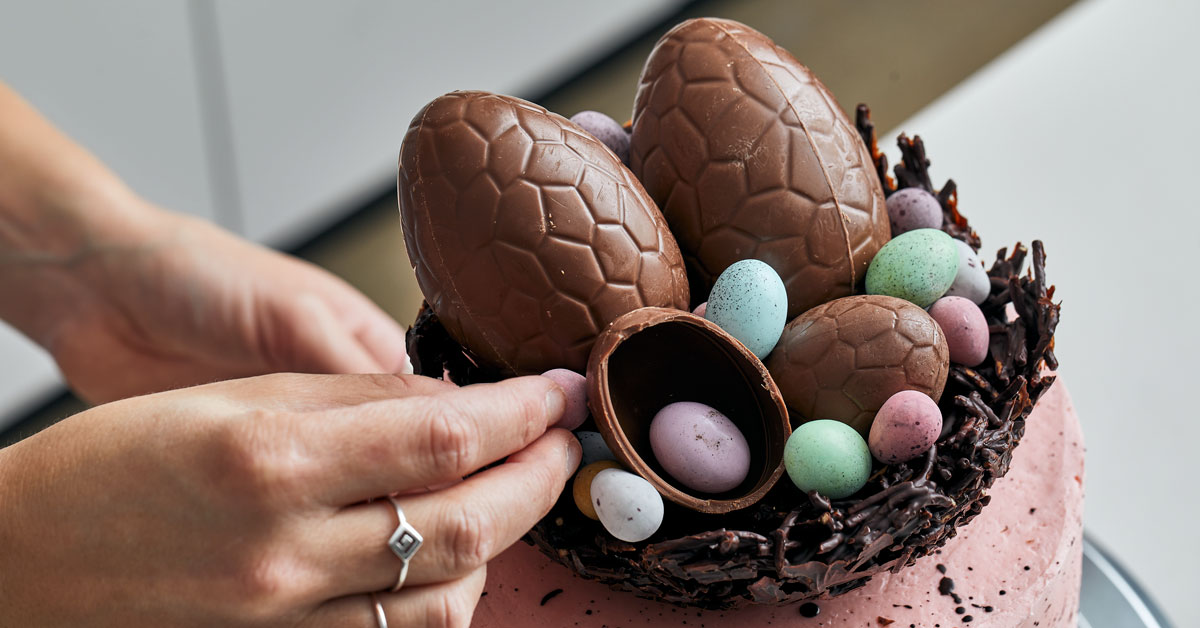 Step 9
Once you have splattered your cake, remove your nest from the fridge and carefully pull the nest from the bowl, lifting the sides of the cling film up. Remove any cling film from the nest. Place the nest onto the top of the cake and fill with eggs. Line the bottom of the cake with small eggs to decorate.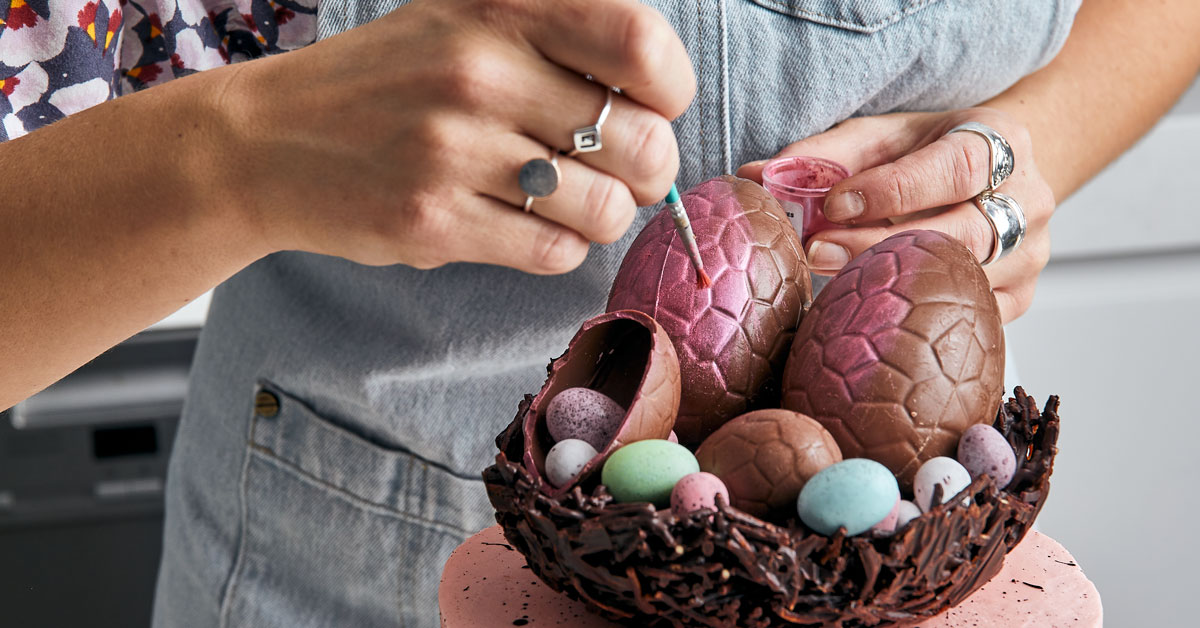 OPTIONAL
If you wish, using a paintbrush and some lustre dust, brush the eggs with the dust to give them a shimmer.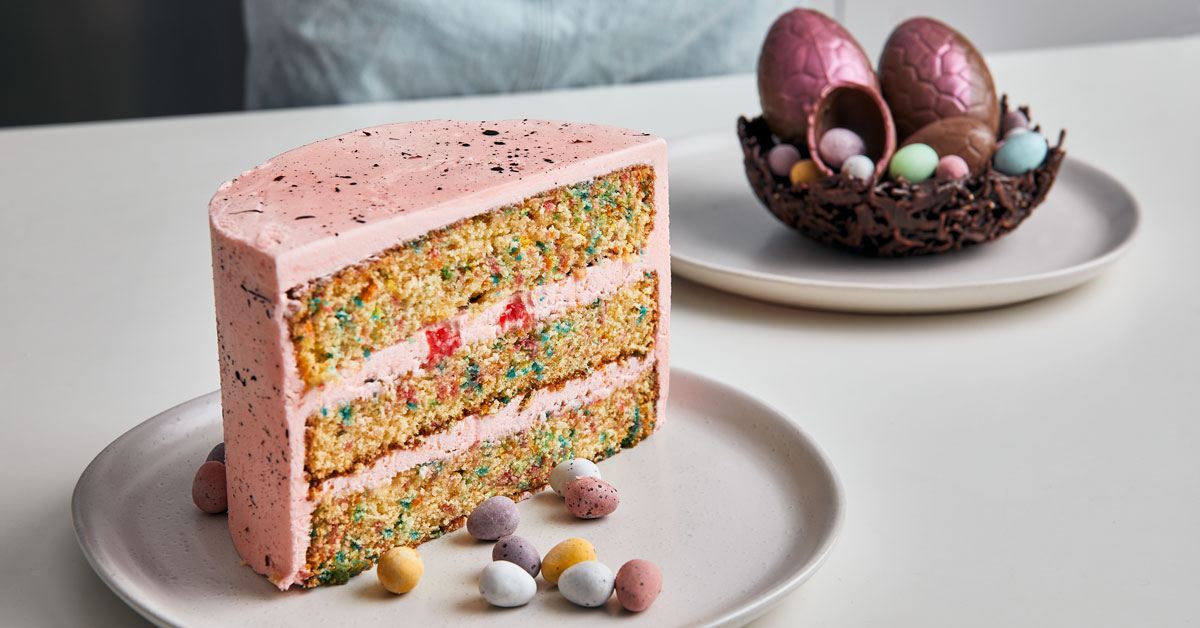 Tips
I like to make my swiss meringue buttercream the day before I use it—it provides the ideal consistency once it has been in the fridge overnight. Remember with swiss meringue buttercream, when you re-beat it, it will look as though it is curdling. Do not stress—just continue to beat and it will come back to delicious fluffy buttercream.
Make your nest the day before to set in the fridge overnight. If you can't get your hands on Chang's fried noodles, you could sub for shredded coconut, popcorn or pretzel sticks. The texture of your nest will, of course, be slightly different, but equally delicious.
Opt for gel food dyes if you can—the colour tends to be stronger, you don't have to use too much and they typically bind well with buttercreams better than liquid food dye.
Store-bought egg whites are the best for swiss meringue buttercream. It will limit the wastage of egg yolks and save time separating eggs. You will find egg whites in cartons in the fridge at your local supermarket.
If you don't have 7-inch cake tins, you can use any size you like. However, be mindful of your cooking time.
Cakes freeze really well! You can typically freeze cakes for up to two months and they will be just as delicious when you defrost them.
Invest in purchasing a cake turntable and an acrylic cake scraper. This is how you will get fabulously smooth edges and makes cake decorating much easier.
For more great recipes, head to our Recipes section.
Image credit: Griffin Simm