We all love a well-designed venue to go with our food, and it seems every café, restaurant, and bar these days not only serves up great food and drinks, but also provides extremely good fodder for The Gram.
The annual Eat Drink Design Awards set out to celebrate design excellence and innovation amongst restaurants, bars, cafes, nightclubs, and retail spaces from across Australia and New Zealand.
This year, teams from around New South Wales cleaned house, with three winners from the state being named as winners of their respective categories.
Every year the jury features industry leaders from the hospitality and design fields, this year the jury compromised of Ingrid Richards (Co-founder, Richards & Spence Architects), Nat Cheshire (Director, Cheshire Architects), Vanessa Crichton (General Manager, Rockpool Bar & Grill), Ross Listed (Chef and owner, The Bridge Room), and Cassie Hansen (Editor, Artichoke magazine).
So, get your Instagram filters ready, because here are the 2017 Eat Drink Design Award winners.
Best Bar Design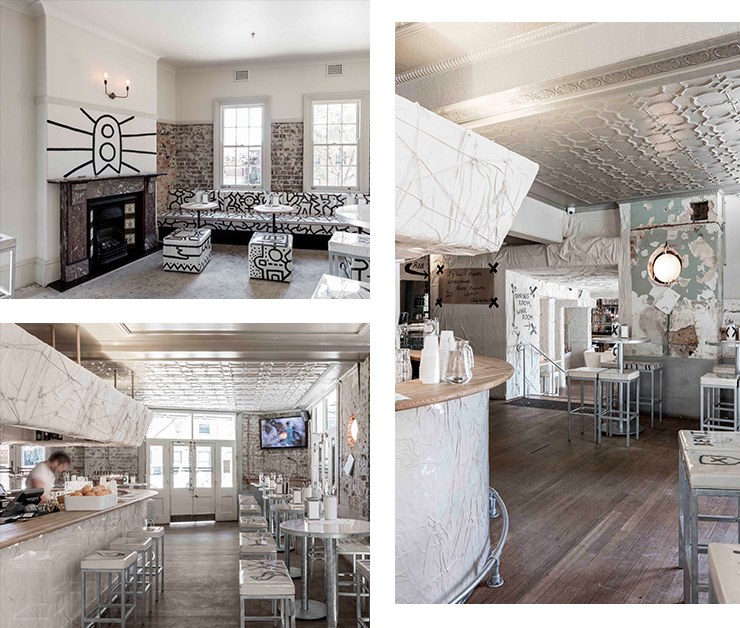 The Dolphin Hotel By George Livissianis, Surry Hills NSW
What the jury said:
"The Dolphin Hotel is a treat. Both temporary and permanent, anarchic and cogent, this bar interior balances diametric opposites in exquisite tension. Originally a series of rooms for a series of art projects, the spaces work seamlessly together, united by light-coloured palette.
The Dolphin Hotel is successful both day and night, an achievement that is unusual in itself. The effect of the interior has been achieved in an economical and parsimonious way, and the overall impression is of an interior that doesn't take itself or anything too seriously. Perhaps one of the most important outcomes of the creation of The Dolphin Hotel is that it has inserted itself provocatively into the conversation about Sydney's lockout laws, as the temporary pop-up that stayed put.
Imbued with underlying warmth, it is the ideal place to spend an entire afternoon, rolling merrily on into night. The ultimate success of The Dolphin Hotel is that it marries whimsy and discipline, and the result is outstanding.
Commendations:
The Buena (SJB + TRD), Mosman NSW
The George On Collins (Hecker Guthrie), Melbourne VIC
Charlie Parker's (ACME&Co.), Paddington NSW
Find out more about the Dolphin Hotel here.
Best Café Design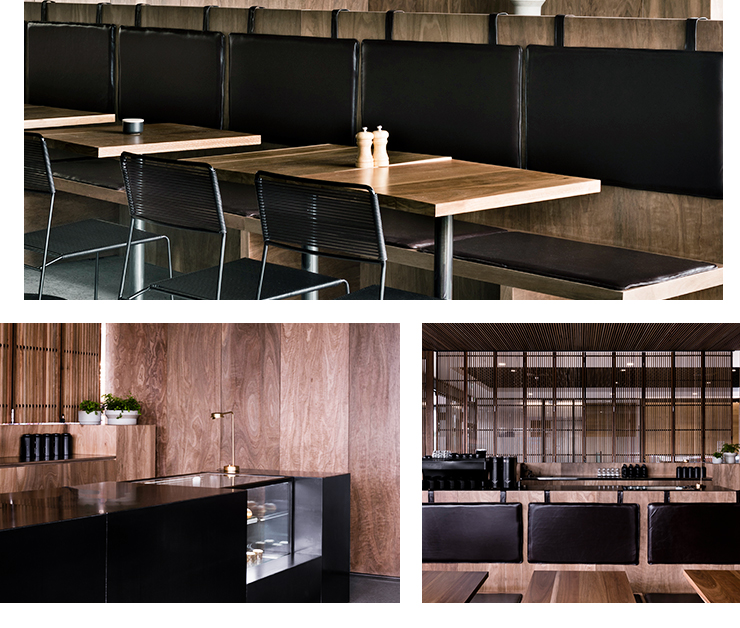 Morris And Heath by Ritz & Gougassian, Hoppers Crossing VIC
What the jury said:
Morris and Heath is a holistically considered interior, bringing high-end design to Melbourne's western suburbs. The interior successfully creates its own moment, its own place, warm and comfortable with its disciplined palette of wood and strategically placed lighting. All is understated, nothing in this interior is extraneous, and it is one of the most remarkable outcomes seen among this year's entrants.
The timber panels and battens may not be an original idea, but they have been finely detailed and executed in this application, with such details as the "fingertip" scale of the battens giving tactility and a "must touch" aspect to the interior. The operable screen further multiplies the space – a detail that could have been omitted, but which would have diminished the pleasing complexity of the cafe's spatial form. As the light changes over the course of the day, the screen is there to operate as a kind of veil. Overall, this is a deeply positive interior, timeless and anything but temporary
Commendations:
Sensory Lab (Foolscap Studio), Melbourne VIC
Moby 3143 (Golden), Armadale VIC
Workshop Brothers (Studio Esteta), Glen Waverley VIC
Pitch & Fork Café (Georgia Cannon), Toowong QLD
Find out more about Morris and Heath here.
Best Identity Design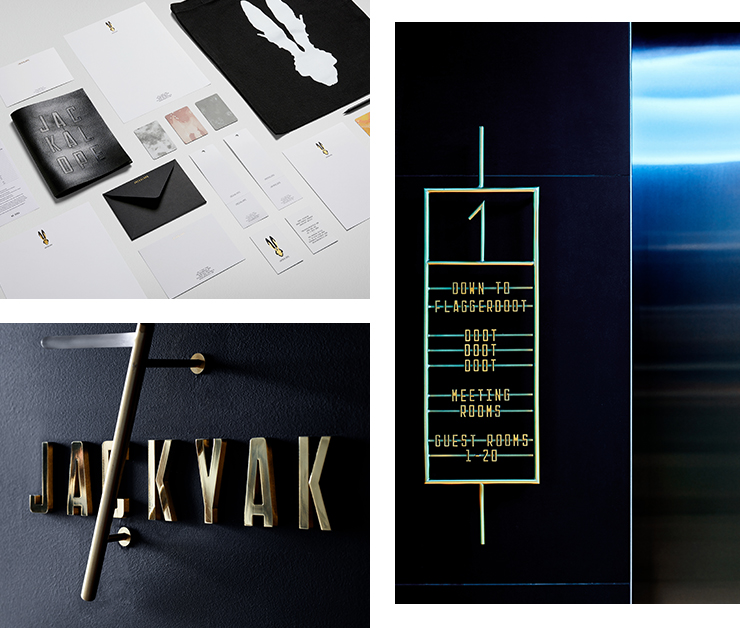 Jackalope Hotel by Fabio Ongarato Design, Mornington Peninsula VIC
What the jury said:
With overtones and undertones of Donnie Darko hovering inevitably around the design, the identity collateral of Jackalope represents an ambitious and boldly coordinated, highly integrated relationship to the interior and venue it supports.
The designers have managed to marshal and occupy multiple channels of attack to create an identity that cascades from supergraphics, environmental wayfinding, door signs and other placards, to menus, paper collateral, typography and uniforms.
The supergraphics in particular highlight the main building, creating a moment of intensity. As the identity reveals itself through the visitor's experience, it's evident there is an overall inventiveness to each layer of the graphics. As a highly integrated, carefully considered overall experience, Jackalope is a singular achievement and a clear winner.
Commendations:
The Garden (Sonnet), Ashfield NSW
Kisume (Fabio Ongarato Design), Melbourne VIC
Find about more about Jackalope here.
Best Restaurant Design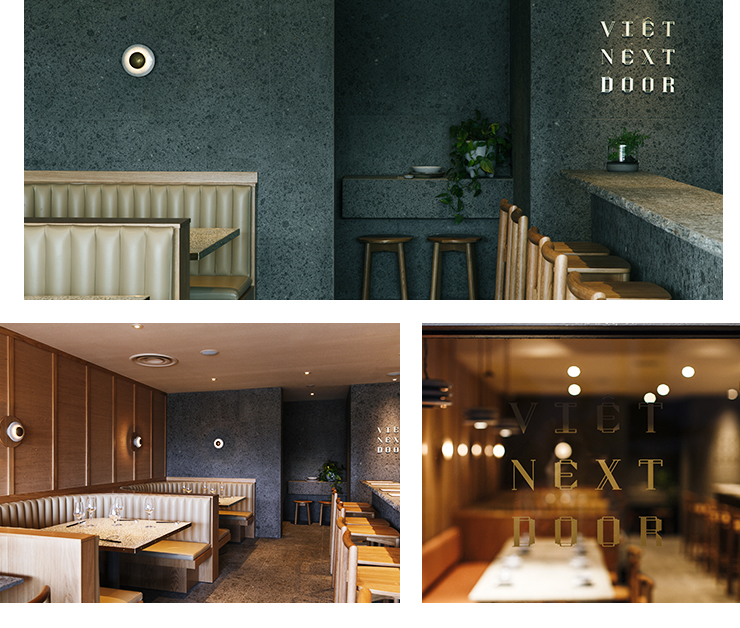 Viet Next Door By Genesin Studio, Pennington SA
What the jury said:
Viet Next Door represents a pinnacle of artisanal crafting and an instance where a great deal of thought has clearly been invested in every detail. It is an impressive and strangely atmospheric interior for all its simplicity. All elements of the interior have been crafted from scratch and exist in delicate suspension with each other, even down to the alignment of the flex and the tension wire supporting the handmade light fittings.
Adelaide has a long history of excellent Vietnamese food and this family-owned business has been taken in a unique and thoughtful direction by its interior. This space is something of a departure from the usual run of family-owned restaurants – it is a place where every detail has been considered and executed in an extremely disciplined way, while remaining highly inventive, playful and rich in attention to detail.
Commendations:
Ume Burger (Amber Road), Barangaroo NSW
Cutler & Co. (IF Architecture), Fitzroy VIC
12-Micron (SJB), Barangaroo NSW
Workshop Brothers (Studio Esteta), Glen Waverley VIC
FRED'S (ACME&Co.), Paddington NSW
The George On Collins (Hecker Guthrie), Melbourne VIC
Find out more about Viet Next Door here.
Best Retail Design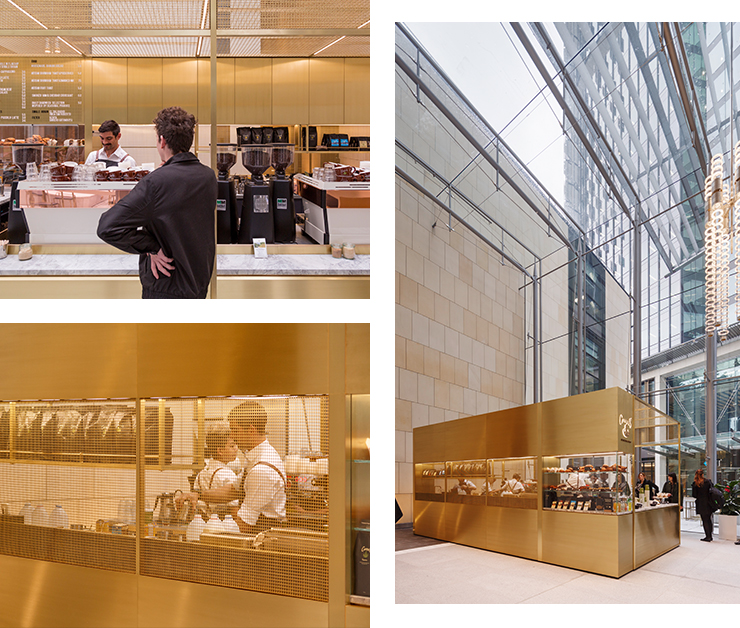 Campos Barangaroo by Woods Bagot, Barangaroo NSW
What the jury said:
Campos Barangaroo is one of those rare insertions that manages to complete, and thus make sense of, the space it occupies. It stands in rich, and somewhat glamorous, contrast to the bold sandstone wall nearby, and in harmony with the glass and steel detailing around it, Campos is a glittering "jewellery box" installation, positioned and at home exactly where it should be.
Primarily providing coffee, this brass-finished boxed venue, with woven brass mesh panels, puts a bold foot forward in a setting where some might have opted for a more neutral black, or something similar. More than equal to its materially rich setting, this exquisitely detailed cafe also occupies its chosen space asymmetrically, sitting in perfect tension to its framing surrounds. Campos is uplifting, bright, warm, light and welcoming, and a clear winner.
Commendations:
Handpicked Wines Cellar Door (DesignOffice), Chippendale NSW
The Kitchens (Landini Associates), Robina QLD
Find out more about Campos Barangaroo here.
Best Installation Design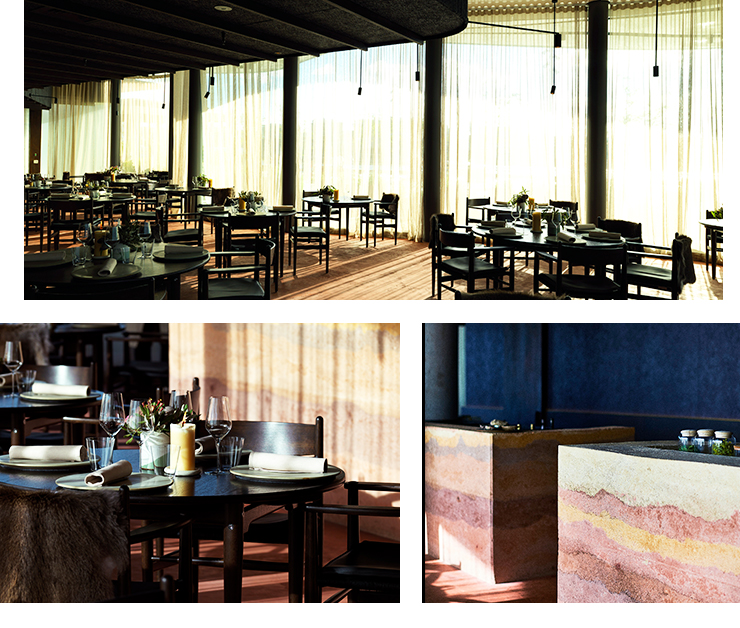 Noma Australia By Foolscap Studio, Barangaroo NSW
What the jury said:
Noma Australia managed to tread that fine line between representative materiality and realization that never descends into "featurism" or mawkishness. With a shelf life of only ten weeks, Noma Australia, through its collaborating creators, managed to embody the best the nation has to offer in terms of "ingredients," both at the table and in the physical environment. The decision to create rammed earth counters is inspired.
This is a material that is not suited to long-term hospitality use, but ideal for the short-term embodiment of the "earth beneath our feet" concept that reflects this great brown land – materially rich and satisfying, and highly evocative. "Fusion" is a word that's been used practically to the extinction of all meaning in restaurant design, but Noma Australia truly managed to fuse the best of Noma and the best of Australia in a texturally satisfying tableau, executed with incredible finesse.
Commendations:
Pizza Da Mario – Mobile Pop Up (Victoria Hampshire Design), Rosebery NSW
Find out more about Noma Australia here.
Hall Of Fame
Fratelli Paradiso by Mike Murphy, Potts Point NSW
What the jury said:
Where does one begin with Fratelli Paradiso? Established in 2001 in what was then a distinctly un-gentrified and rather seedy Potts Point, this institution sees so many key ingredients come together to give it its continuing and seemingly never-ending moment in the sun. Fratelli Paradiso, the creation of the lyrically named Paradiso brothers Giovanni and Enrico and their business partner Marco Ambrosino, brought a distinctly "Melbourne" style of service and dining to the Sydney scene. From day one it was the differences to the typical local experience that made it both distinctive and a much-valued contribution to food culture in the city.
The three founders strongly believe that the success of a restaurant rides on the front-of-house experience, and they rail against the current shift in emphasis to the kitchen and the ubiquitous celebrity chef. All three had their start in the industry as waiters, and the theatre of service is perhaps the key ingredient in the success of this restaurant. It is certainly where their focus lies, followed closely by the food, and of course the wine.
Giovanni explains that an important part of dining at Fratelli Paradiso is the sense that from the moment you arrive, you are going to be looked after, that the waiters are going to help you navigate the menu and the wine list. Their task is to limit the amount of hard work and decision-making you have to do once you have settled in, and they satisfy this mission in style. "Theatre" is a good description of the style of service: blackboard menus written exclusively in Italian are explained to two-to-three tables at a time, drawing fellow diners into the performance.
The interior that gave form to the dining and service concept is intentionally not a showpiece, but a backdrop to this theatre. As Giovanni explains, a lot of the dining rooms in Sydney have views, and are all about light and looking outward. Fratelli Paradiso is something else entirely – an introverted stage where diners view and interact with wait staff and each other, and there is "nothing to look at outside." Built around this ethos, the interior, designed by the late Mike Murphy, is very dark. "We used have complaints in the old days, but now the iPhone torches come out," Giovanni says.
Given these concerns, the interior of Fratelli Paradiso is all about the work of the waiting staff, and the "flow" of that work. It is a utilitarian environment, a workplace that has to function first, and look good second. This posed challenges, given the U-shaped nature of the shopfront and the need to create a working space on one side, where the baking and pasta-making happens, that would still be comfortable for diners to occupy. The shift in emphasis between day and night dining is also important given the kitchen stays open all day, and Giovanni is clear that the lighting design remains an essential part of making the interior work.
Splashes of brass and marble, but not too much, combined with an "art wall," give the interior its distinctive flavour. It is currently being renovated in a way
that extends Murphy's legacy, while adapting to the ongoing evolution of the restaurant and its front-of-house experience. "Evolution" is the key word here: Fratelli Paradiso has remained of-the-moment by constantly adjusting itself. The art wall is a case in point. Giovanni explains that they keep any given work for about two years – until it is iconic – and then they "trash it," in his words, to make way for the next installation.
This resistance to attachment is not always to the approval of regulars, who might become enamoured by a single piece. But something about the way the restaurateur explains this gives me a hint at the essence of Fratelli Paradiso, and its interior in particular: evolve and change in order to remain constant, and in this way, remain relevant – to dining, to wine, and to the life of the city.
Find out more about Fratelli Paradiso here.
Image credits:
Dolphin Hotel | Tom Ferguson
Morris and Heath | Tom Blachford
Jackalope Hotel | Visual Thing
Viet Next Door | Jonathan VDK
Noma Australia | Paul Barbera