Holiday is a label that's all about extending your summer vacation glow.
Dreamt up by Sydney-based designer Emma Mulholland, it's captured our drifting, restless traveller hearts with 80s and 90s souvenir-inspired looks designed to stir up a life's worth of vacation nostalgia.
Holiday is the second major fashion project for Mulholland, who kicked off her career and captured the attention of Kanye West with an eponymous label back in 2013. Keen for a change of pace in the fashion world, she started Holiday two years ago and the label's laidback but fun slogan tees, hoodies, hats, scrunchies, patterned pants and cute accessories are coveted and collected the world over.
You'll know her signature slogan "Someone on holiday loves me" in a retro-style font, which she's slashed across tees, one-piece swimmers and cotton caps. You'll want to own the sky-blue Beach Bum hoodie and one of her punchy Maldives mini dresses.
We caught up with Mulholland at her Surry Hills studio ahead of Fashion Week to learn more about the holidays she's chasing and what's in store at her special souvenir-inspired pop-up shop at Paramount House Hotel in Surry Hills.
How did you get started designing? Were you always interested in fashion?
I used to like op-shopping and customising clothes. Growing up in smaller towns back then pre-Instagram it was kind of the only way to dress like you wanted. I guess it just naturally progressed into fashion from there.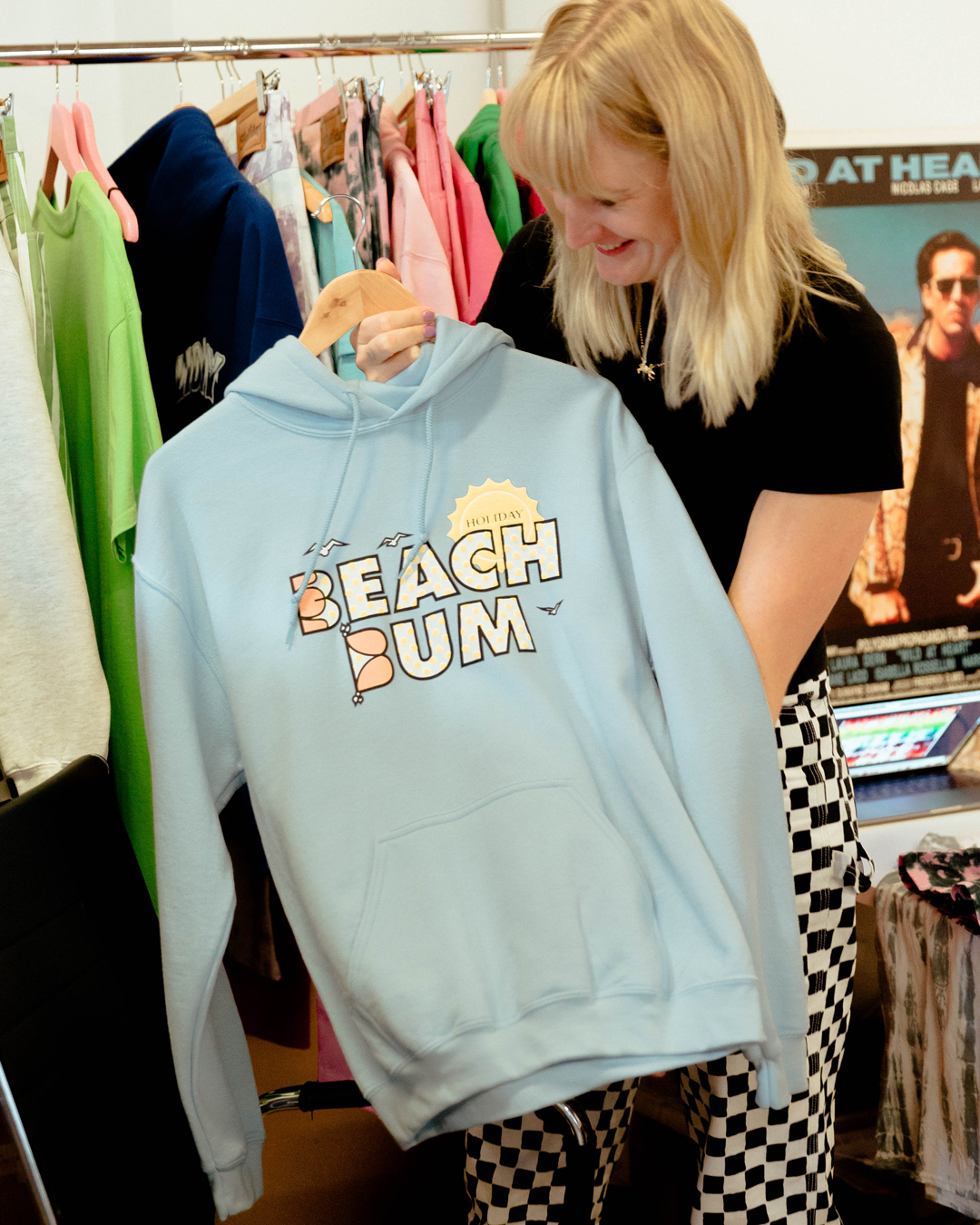 I read that Kanye West once bought one of your Emma Mulholland backpacks.
That was very early on—it was a big deal back then! I think we only had made 10 of those bags as they were these multi printed patchworked bags with hand woven straps. Those 10 sold quickly though, back then we just didn't have the resources to make many more.
Fast forward a few years. Why did you decide to begin the new label, Holiday?
I was tired of the way my previous label was running and wanted a fresh start—something with fewer restraints and easier to manage.
Where do you go to for inspiration? Is it on your own vacations?
Yes, I think you feel your best self when you're on holidays. I like to pick up ideas from when I go on trips and there is often a lot of nostalgia in my collections from holidays when I was young.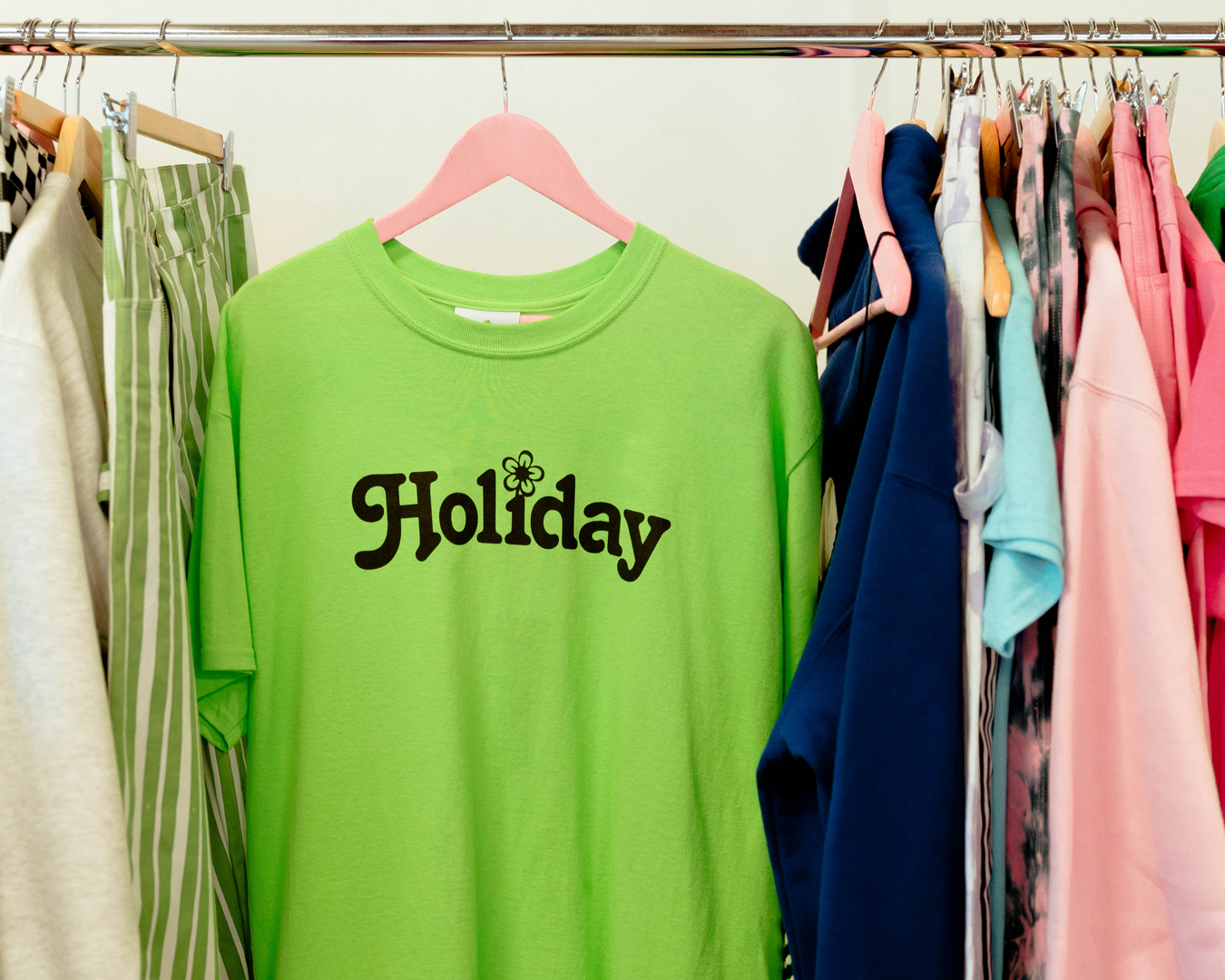 Do you have an all-time favourite holiday?
It's hard to pick! A recent trip to Palm Springs to shoot my Baby G campaign was actually really up there as I got to do it with two of my close friends and we just had the best time.
It was a crazy heat wave though, so maybe we were also very delirious, but I really love Palm Springs; you feel like you are on a movie set.
Favourite souvenir?
My Mickey Mouse hat from Disneyland with my name embroidered onto it.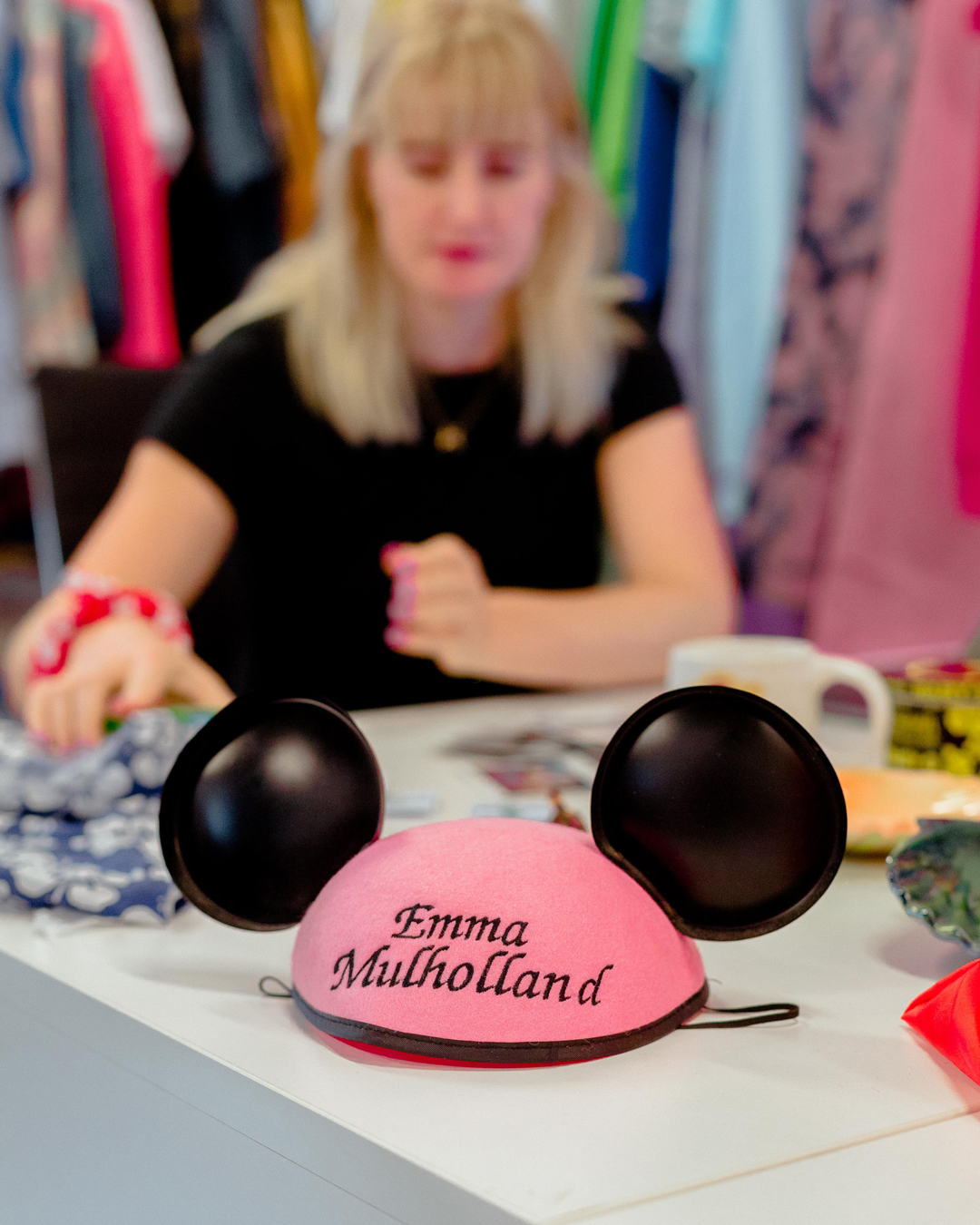 Who do you follow for excellent holiday inspiration?
I think Zippora Seven gives off some pretty great 24/7 holiday vibes. I also love Anna Carey, who make small models of holiday homes and hotels and shoots them so beautifully.
In your opinion, what are three essentials you need to have an epic holiday?
Friends, delicious food and a Maldives dress.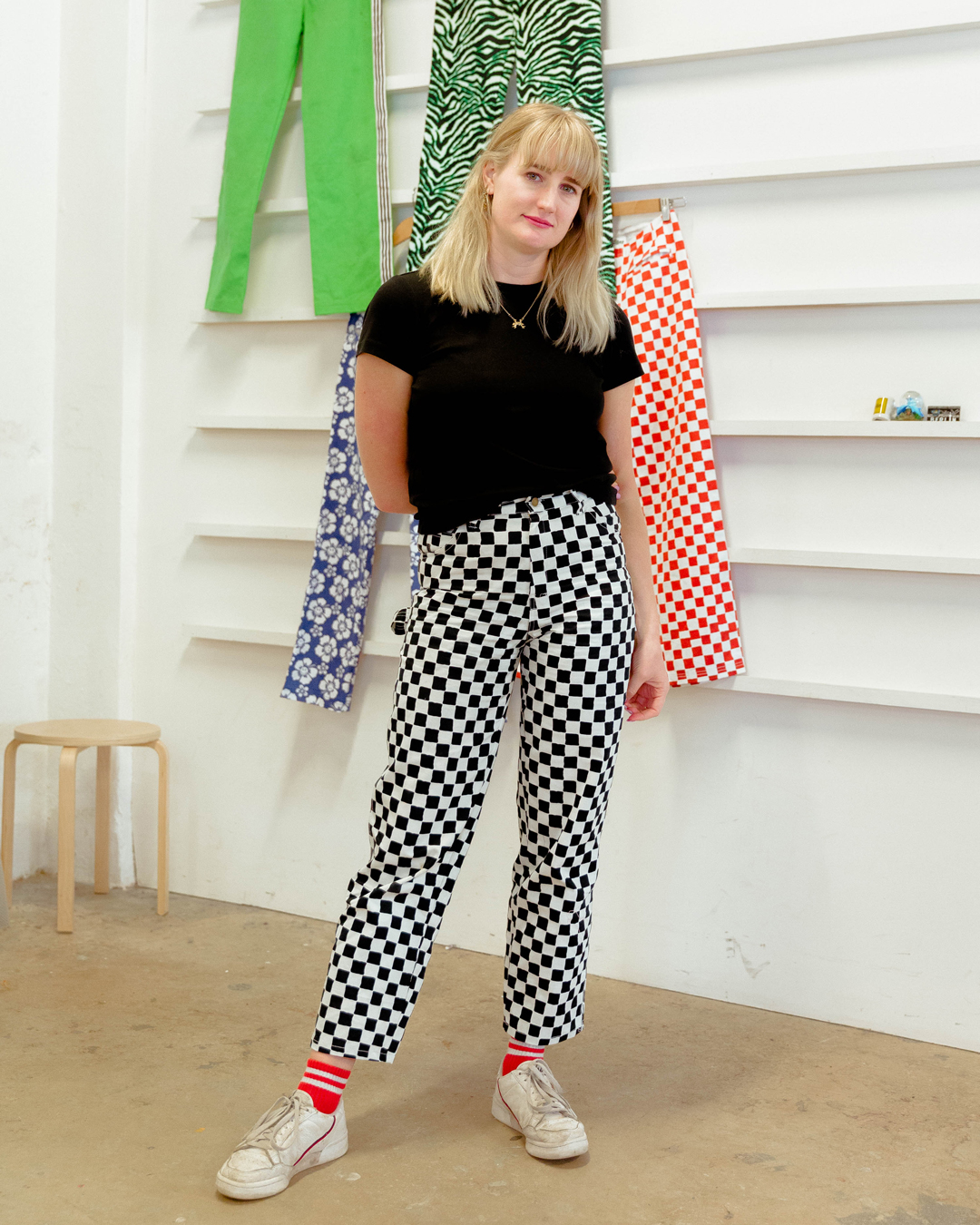 For MBFWA you created a souvenir shop pop-up at Paramount House Hotel. What will we see there?
We have done collaborations with several Sydney designers and artists. We made ceramic shell dishes and mugs with our friends at Functional Sculpture, tea towels with Threadgate, t-shirts with three of my favourite painters, key rings and a whole lot of other cute things.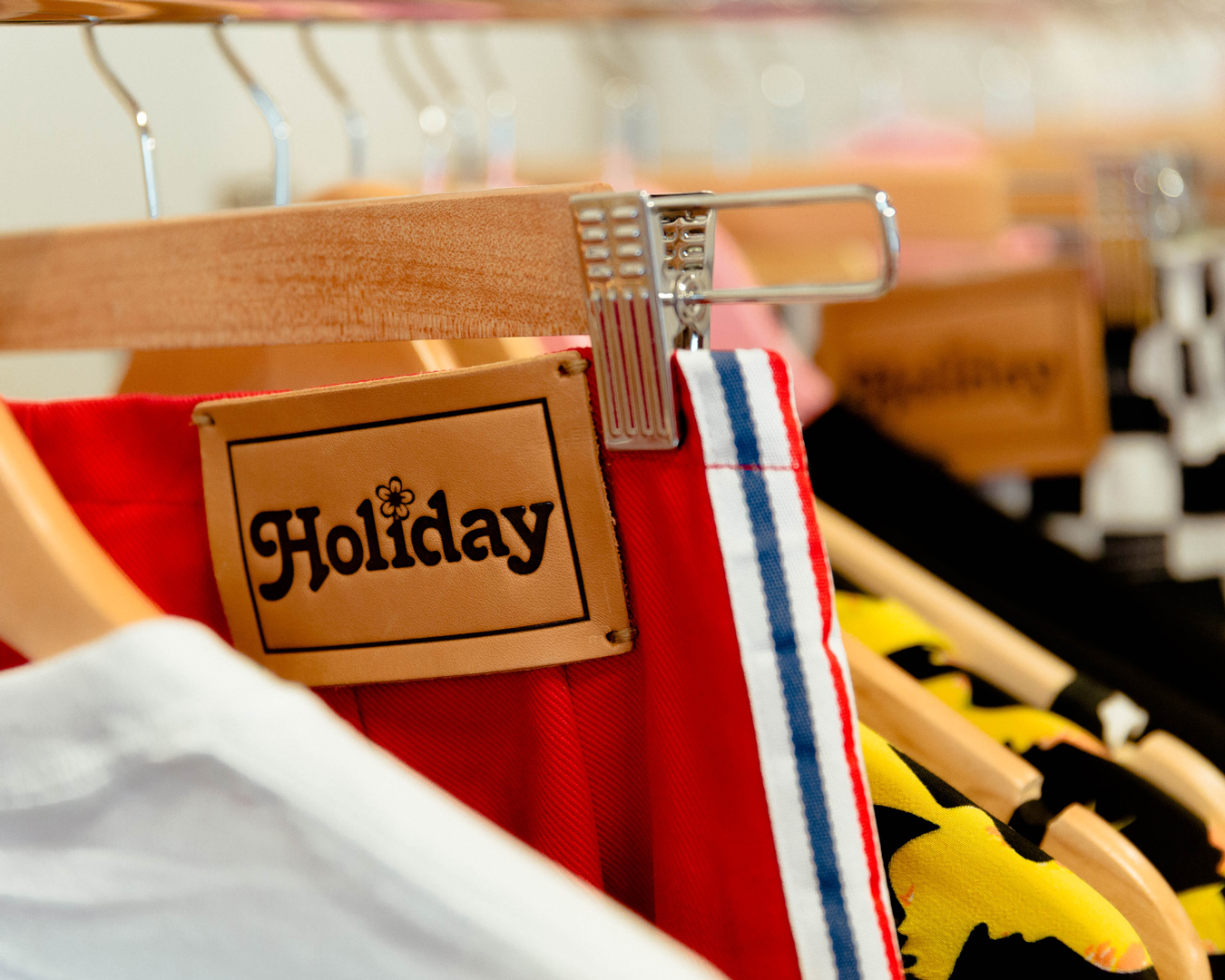 So what's next for Holiday?
I really want to do some more traveling this year and continue to grow the wholesale and online business locally and overseas. And we have another eyewear collaboration coming out towards the end of the year!
You can visit the Holiday the Label pop-up shop in the foyer at Paramount House Hotel right now. Unpack all the best trends, street style and more from Fashion Week's Resort '20 collections with us right here.
Urban List is an official partner of Mercedes Benz Fashion Week Australia.
Image credit: Rocket K Weijers.