Everyone needs a holiday—fact. If you're anything like us, you've got countless Instagram and Facebook posts saved in preparation for when you decide to take the plunge and finally use your annual leave. And, if you're even more like us most of these dream destinations are probably a $50 million flight away. Okay, they're probably not that much, but, point being the searching is probably all in vain because we've got a seriously #goals destination that's reeaalll close and is a serious stunner.
We are of course talking about the ridiculously beautiful Gold Coast. Home to a plethora of delicious eats, breathtaking vistas, and some pretty incredible local brands. Is the pic above enough to have you planning your trip already? Don't worry—that's a very normal reaction to the realisation of how freakin' stunning this little slice of heaven is. Because we're good like that, we've rounded up the best eats, drinks, and shopping spots for you. So go, file that leave form.

Hellenika
Ask any local what their favourite place to eat is and chances are they'll tell you it's Hellenika. The authentic home-style Greek food will visit you in your foodie dreams for weeks to follow—think saganaki, dolmades, wood-fired pork belly, octopus and the not-to-be-missed house specialty, the incredible baked lamb. And yes, there is a rooftop bar.
Iku Yakitori & Bar
Iku Yakitori & Bar's sister venue Etsu has been a raging success since the day it opened, and it's not hard to see why - so get excited for their newest iteration. Expect a sexy fit-out, energetic atmosphere, the loveable owners and their seriously cool staff, or some of the most nek-level modern Japanese eats the Gold Coast has ever seen (yes, even Etsu!). We can't get enough of their melt-in-your-mouth sashimi platters, fresh sushi, and smokey morsels off the robata grill.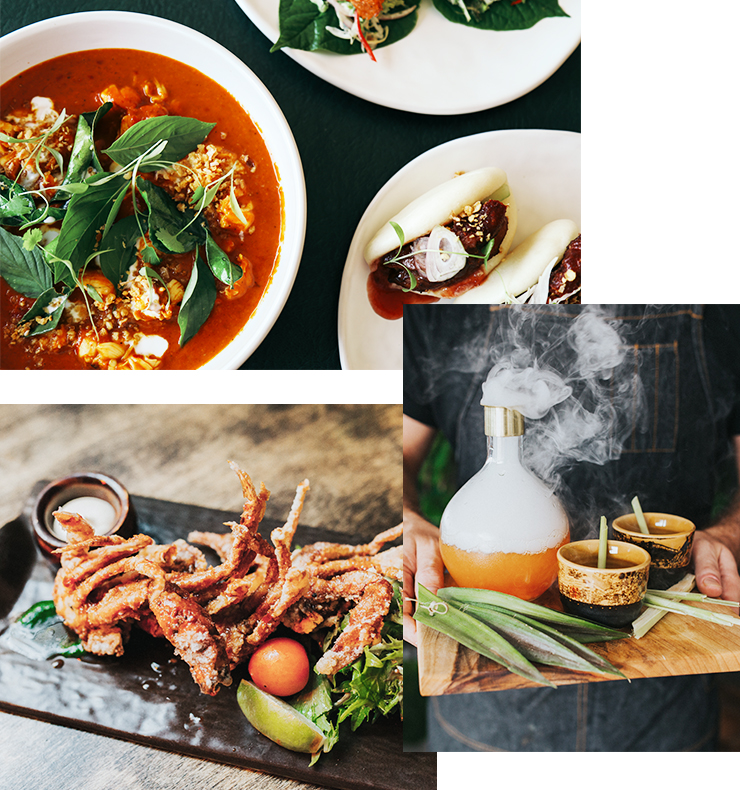 Rick Shores
When you think beachfront dining, you probably think a restaurant with a pretty decent view of the beach. Well, at Rick Shores they take things one (amazing) step further and raise you a restaurant that's literally on the beachfront. Like, for real: there's even sand. The menu is a delicious fusion of Asian and modern Australian eats backed up by a killer cocktail list. Oh, and don't even think about leaving without sinking your teeth into one of their legendary Moreton Bay bug rolls.
Burleigh Brewing Company
Burleigh Brewing Company is the brain (read: love) child of a former lawyer and Hawaii surfer, so you know it's good. Head down for a tasting board of their delicious beers, food trucks, live music and a whole heap of fun for drinks done right on the Gold Coast.

Pacific Fair
Known affectionately to the locals as Pac Fair you'll find everything here from the mega-luxe Givenchy (you're on holidays, treat yourself!) to the lust worthy aisles of Sephora and everything in between. Get your rest before you hit Pacific Fair, because you'll be spending a while here.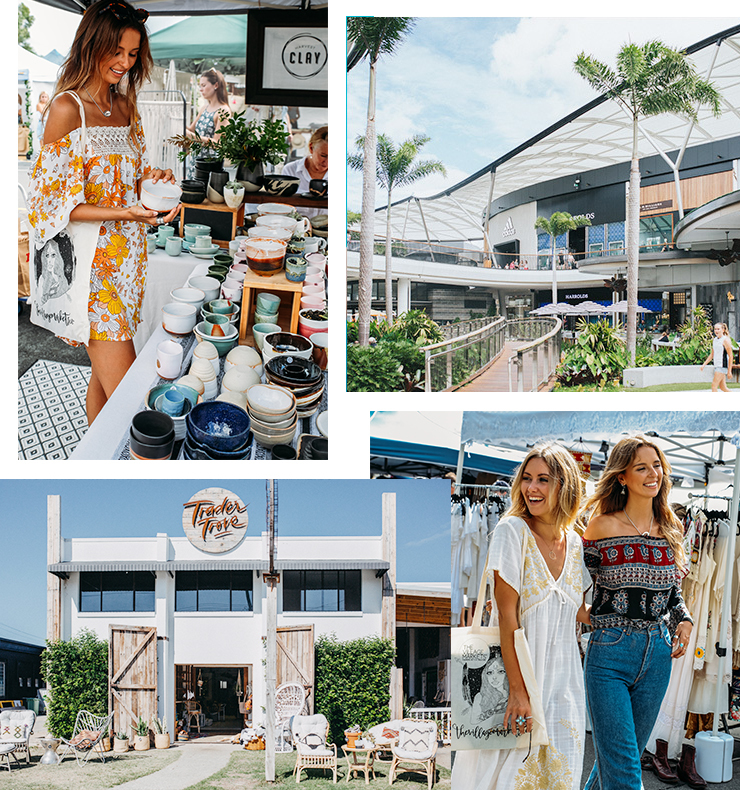 Trader Trove
Love plants? Love Instagram? Love industrial-chic spaces? Add Trader Trove to your list quick smart, because we think you're going to love it. They've got everything from ceramics to rugs and every figment of your homewares dreams too.
The Village Markets
The best part of any holiday (if you ask us, at least) is getting lost exploring local markets and finding trinkets that you'll keep with you forever. The perfect place to do that on the Gold Coast is The Village Markets. You'll find floppy hats, handcrafted wooden skateboards, emerging designers, live music, and delicious food…sounds perfect to us!

O'Reilly's Rainforest Retreat And Villas
Look, if we told you this place is exactly what heaven looks like, you probably wouldn't believe until you got there and realised we weren't even being dramatic…Picture a rainforest retreat atop a mountain filled with adorable wildlife like wallabies, parrots, and more. Book yourself a suite and explore the nearby Moran's Falls or handfeed a parrot.
Glamping Days Hire Co
If you feel like being all kinds of extra, Glamping Days Hire Co are going to be your people. You rent out a single tent set up by a private creek for you and your boo, or—here's the extra part—book a tent village for up to 60 people! Don't be fooled though, there's nothing "outdoors" about this experience—all tents come with a bed!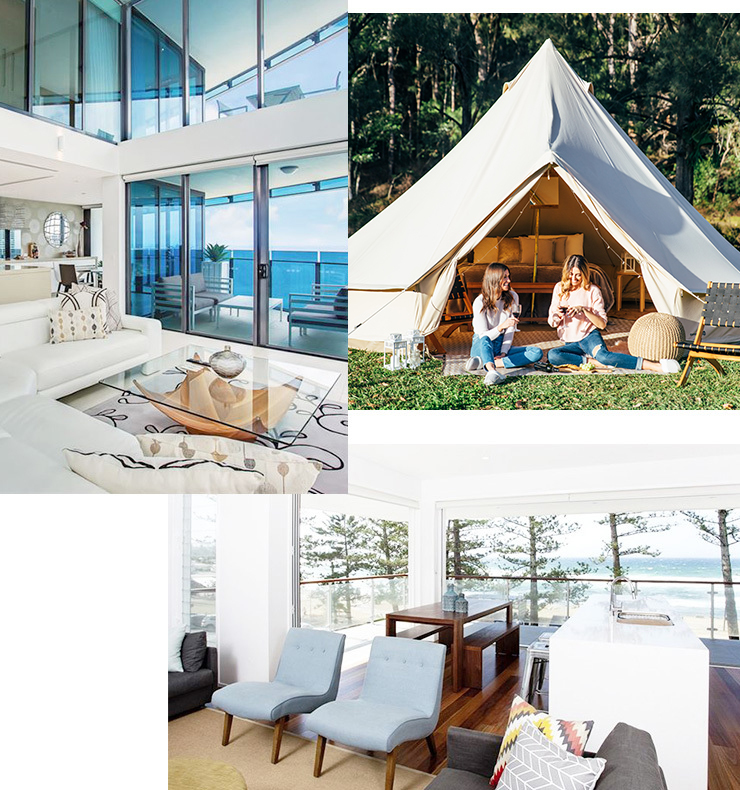 Peppers Soul
You deserve a fancy weekend if you ask us. Dump your bags at Peppers Soul in Surfers Paradise while you're on the Gold Coast if you're after somewhere that's equal parts fancy, central, and brag-worthy. We mean, who doesn't want to fall asleep listening to the waves crash on the shore and wake up to uninterrupted views of the sun rising over the ocean…from bed?!
Bujerum Apartments On Burleigh
If you're after something a little low-key, check out Bujerum Apartments on Burleigh. You'll wake up pretty much on Burleigh Beach with views out onto the ocean from pretty much every room in your apartment.
The Island
The Island is one of the Gold Coast's coolest hotels, and it even has a freakin' rooftop bar. Come for the luxe hotel rooms, and stay for the world-class food and cocktails.
To keep planning your trip, click here.
Editor's note: this guide was produced in partnership with Destination Gold Coast. Thank you for supporting the sponsors that make The Urban List possible. To read more about our editorial policy, click here.
Image credit: Hayley Williamson, Destination Gold Coast