It's been described as "CrossFit for your emotions" and has grown quite a following in its home country of the U.S.A. And now, men's mental wellness group EVRYMAN is in Australia.
Each week, groups of men get together to 'check-in' with others and are held accountable for the things they're discussing, and how they're going to attack something that's eating at their core.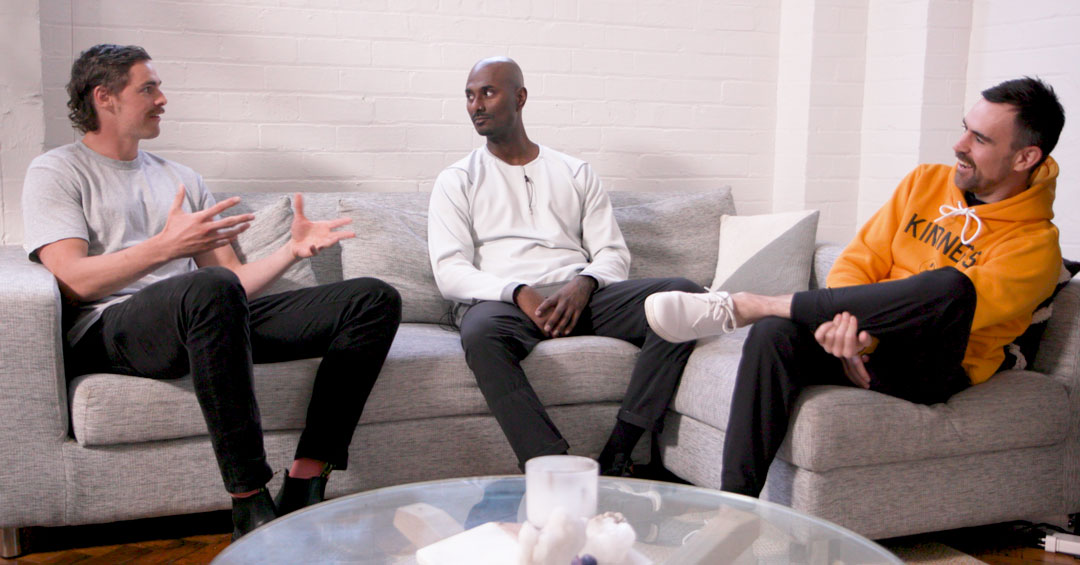 EVRYMAN Australia co-founders, Joe Daniher, Manoj Dias, and Andy Lee.
What Is EVRYMAN?
EVRYMAN's global mission is not about "finding yourself", but "creating yourself", and is about "understanding and acting productively on your emotions instead of burying or redirecting them, and thereby building a more fulfilling life."
The ground was initially founded around groups meeting face-to-face, but with the current state of the world, it's just as easy to jump onto EVRYMAN's online program to have these tough conversations.
"I was quite hesitant at the start to jump into the group with a bunch of guys that I didn't know who were from all walks of life. It was a pretty daunting experience," says Joe Daniher, EVRYMAN Australia co-founder (and Essendon full forward).
"I met Manoj (co-founder Manoj Dias) a couple of years ago, and he said 'just come and give it a go, see how you like it, and we'll go from there' and so I just took the board and dived in."
What Does An EVRYMAN Session Look Like?
Becoming part of an EVRYMAN group takes a bit of bravery from those wanting to join, "it requires men to be brave and take that first step into what is a very safe space," continues fellow co-founder, Andy Lee.
"We're not beating drums in the woods, you know? The thing that really drew me to it was how accessible it is, and how easy it is."
"All you have to do is show up and be yourself. And commit to the group that 'I'm going to share because I know that I'm in this safe space, I know that my confidentiality and trust of the group is pure, and it's there.' And then all the magic happens after that."
Groups like those that EVRYMAN put together have been spreading like wildfire throughout the U.S—the New York Times even wrote a trend piece about them—providing men with an outlet, and breaking down old-school ideas of what masculinity is in providing safe spaces.
"Look, when I first went I had absolutely no idea. But if I was describing it to someone, it's just a space. The leaders in our group, Andy and Manoj, specifically created a space for guys to get vulnerable and for guys to connect with other men and get closer to their true self—and really work on their individual growth.
And for me personally in my life, I didn't have too many areas where I could get to that depth of vulnerability, or I found it really challenging to. And to have this group just allowed me to grow and improve so much in that area that I could actually start to bring it to my everyday life. And I'll be forever grateful for that," said Daniher.
How Do You Get Involved With EVRYMAN?
"If you jump on the website, you can see things like the global calls, and there's also an online drop-in group."
"There are a few of those (drop-in groups) online that people can sign up for drop-in, and go through a session with other men they don't know, which is pretty incredible. The global calls to us are such a great way to connect to a bigger community. And there's an app now where people can sign up and become members to get access to all these upcoming things."
If you or someone you know could benefit from EVRYMAN, register for their upcoming Zoom call here. It might just be exactly what you need.
The current pandemic is a tough one mentally for everyone, read up on these tips for staying calm during a crisis., which just happens to be put together by EVRYMAN Australia co-founder, Manoj Dias.
Image credit: EVRYMAN