International Women's Day is just about here—and to celebrate the occasion and women everywhere, NET-A-PORTER has dropped its edit of epic IWD-themed slogan tees.
This year they've rallied a hotlist of some of our favourite designers to weigh in on the cause, including it-girl labels like GANNI, STAUD, Cecilie Bahnsen, ROTATE and The Attico, as well as icons like Carine Roitfeld, Stella McCartney and Isabel Marant. There are 20 total tees to pick and choose from (signalling NET-A-PORTER's 20th anniversary), and each t-shirt is emblazoned with a phrase that reflects the designer's personal interpretation of empowerment and strength.
Coolest part? 100 percent of the profits from each t-shirt will be donated to Women for Women International. The global organisation's critical work aims to help women survivors of war to rebuild their lives and create lasting change in their communities. You can read more about Women for Women International right here.
What are you waiting for? Wear your girl power on your sleeve and shop this sick edit of empowering t-shirts that give back. Below are just eight of our faves, but you can shop the full edit here.
Ganni "Women Unite" IWD T-Shirt
"We're a community all about dressing for yourself and no-one else and feeling
confident and comfortable in your own skin," says Ditte Reffstrup, Creative Director at GANNI. "We want to help women feel like they are capable of anything. Right now, there's so much unfinished business for gender equality. We've got to stick together. When women unite as a team, we can't be stopped." Shop the tee here.
ROTATE IWD T-Shirt
"We wanted ROTATE to take part in every word that came to mind when talking about the International Women's Day," ROTATE designers Thora Valdimars and Jeanette Friis Madsen said. "The keywords are what we stand for and what we hope can inspire for a better future. Keywords are power. Just like the shoulders—we wanted sharp shoulders because they express power." Shop it here.
STAUD Oversized IWD Hoodie
"For International Women's Day, we looked back through history at the most classical representation and celebration of women, from the Venus of Willendorf to the Venus de Milo and felt inspired to create our own hand-drawn bust graphic, says STAUD design director, Wyatt Hough. "Without a face, it represents the beauty of every woman." Shop it here.
Nanushka "May The Femme Be With You" IWD T-Shirt
"Inspired by the famous [Star Wars] expression, where the phrase is used to wish good luck before facing life-altering challenges, I wanted to create an empowering and encouraging message for all women around the world to remind them of their inner force and female power to overcome their obstacles," Nanushka's Sandra Sandor said. Shop it here.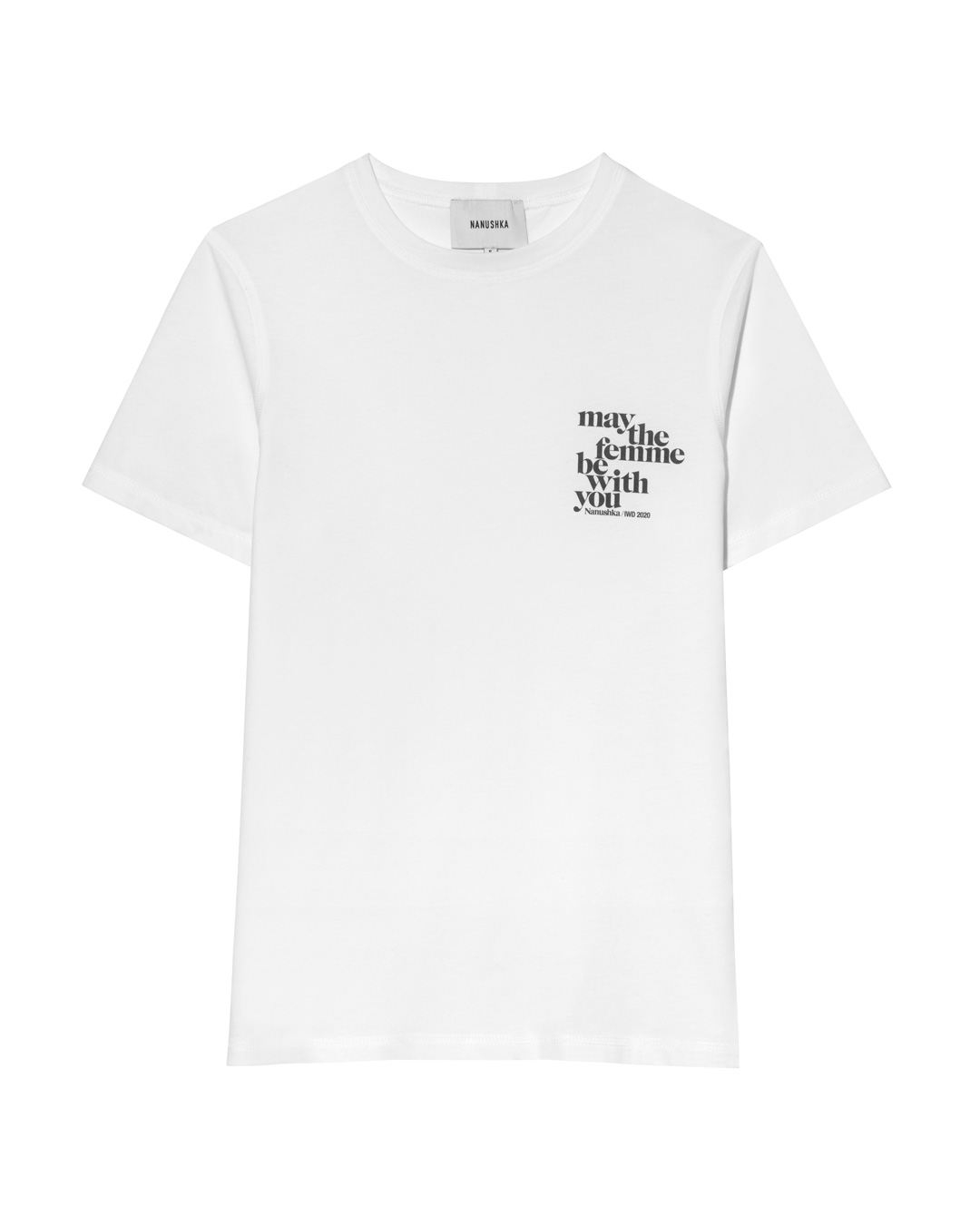 Cecilie Bahnsen IWD T-Shirt
"My grandmother used to make me and my Sister matching dresses for school events or dance classes. I think this sisterhood way of dressing always inspires the collections and the mood of the photoshoots and shows, this idea of having the girls move as a unity," Bahnsen said of her printed tee. Shop it here.
Stella McCartney "Female Rebellion" IWD T-Shirt
"This t-shirt is made of 100% organic cotton and acts as a call for action for women to stand together not only against climate change, but together as a team in everyday life," said fashion legend Stella McCartney of her 2020 IWD tee. "We must support and empower each other, and provide encouragement to the women around us." Shop it here.
Alexa Chung IWD T-Shirt
Fashion icon and host of Netflix's epic new fashion series, Next In Fashion, Alexa Chung's tee is inspired by an image taken by Linda McCartney in the 80s. "Linda was way ahead of her time;
tirelessly campaigning for social justice, an unwavering activist, an artist, a musician, a devoted mother and more recently, my latest style icon discovery," Chung says. "She encompassed and displayed so many incredible female qualities that continue to inspire me." Shop the tee here.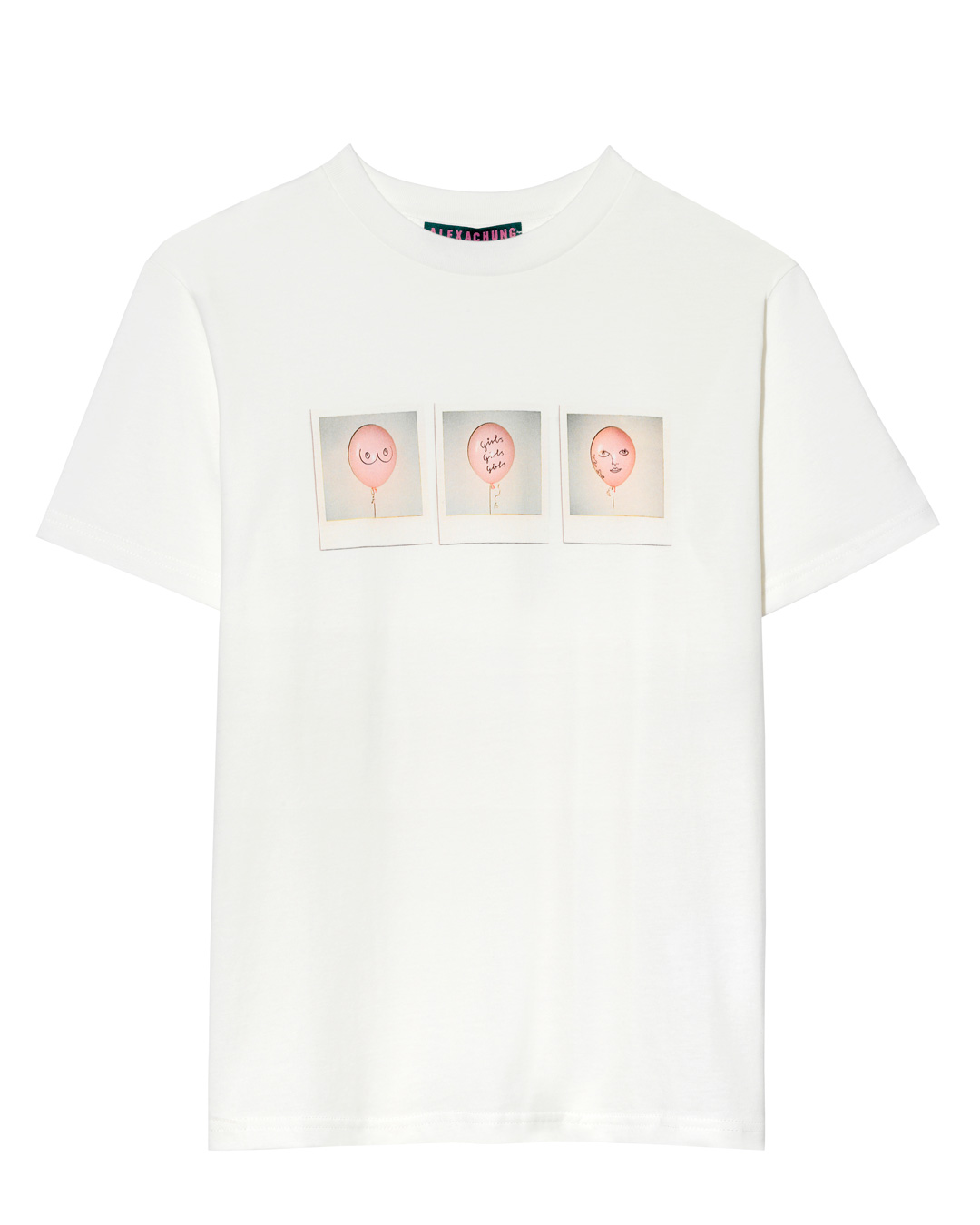 Roxanne Assoulin "Woman Kind" IWD T-Shirt
"For me, kindness is a priority," Assoulin says. "It's how we treat ourselves, others, and nature. It should sit at the core of all our relationships. I do believe that humans find their greatest joy in helping others. Sometimes we just need a reminder. We hope that this t-shirt can be just that." Shop it here.
Shop the full edit of NET-A-PORTER's International Women's Day tees right here.
Editors note: Urban List editors independently select and write about stuff we love and think you'll like too. Urban List has affiliate partnerships, so we get revenue from your purchase.
Image credit: NET-A-PORTER