Were you getting a bit tired of collabs? A bit sick of your bank balance diminishing every time a pair of brands buddy up and deliver really, really good unmissable limited-edition collections?
Well, sorry (not sorry), because Fendi and Fila may have just dropped a collab to end all collabs—one centred on the perfect alignment of each label's ownership of the letter F, Instagram art and everyone's undying love of sporty shit.
It has been dubbed #FENDIMANIA and unlike most high-low fashion collabs, luxury fashion house Fendi has allowed the iconic South Korean sportswear logo to bleed into its own: the classic Fila font reads 'Fendi' and is splashed across every item in this enormous women's and men's RTW collection. Yep, logos are back in a big, bold way and it all starts here.
However, this logo blending idea isn't Fendi's or Fila's creative genius. The idea belongs to Scottish artist Hey Reilly—who caught the attention of Fendi's creative director of accessories, menswear and kids stuff, Silvia Venturini Fendi while she was scrolling through Instagram.
Hey Reilly's Insta feed is full of what he calls 'brandalized' images—basically a gold mine of inspiration for potential heart-stopping, ironic and all-out outrageous alliances. Cardi B and Da Vinci, Calvin Klein and Wes Anderson, Sesame Street and Kanye West, Queen Elizabeth II and Gucci, for example.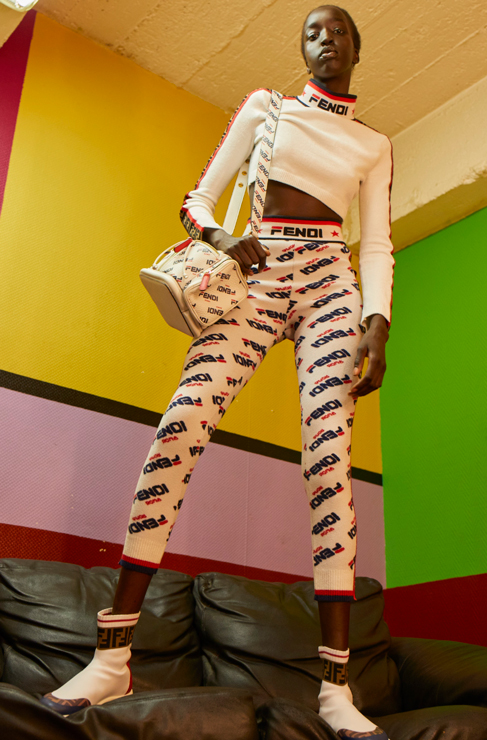 As for what's been dropped today in #FENDIMANIA, there are sneakers, clutch bags, backpacks, tees, tracksuits, swimwear, raincoats, sunglasses, sweatbands, a new version of the FENDI ROMA timepiece and a whole lot more. It all costs a pretty penny, but then logos and limited edition things always do.
The collection dropped in Melbourne and Sydney Fendi Boutiques yesterday and is available online at Fendi right now. You'll be able to grab it at Farfetch from November 5.
Check out the new H&M x Moschino collab right here.
Image credit: Fendi.