If there's one thing that 2020 has taught us, it's that a great skin care routine is everything. We honestly may never contour another cheek bone again, but thanks to all that time in lockdown, our skin care regime has made great strides—and it's about to become even better with the release of Rhianna's new skin care line, Fenty Skin.
Making the cult brand a one stop shop for all things beauty, Fenty Skin officially drops on Friday 31 July at 2pm (unless you sign up for their early release), so you may want to set yourself a calendar alert. As announced on their Instagram, the range will feature three key products that make up the perfect simplified skin care routine: A toner, a cleanser and a moisturizer.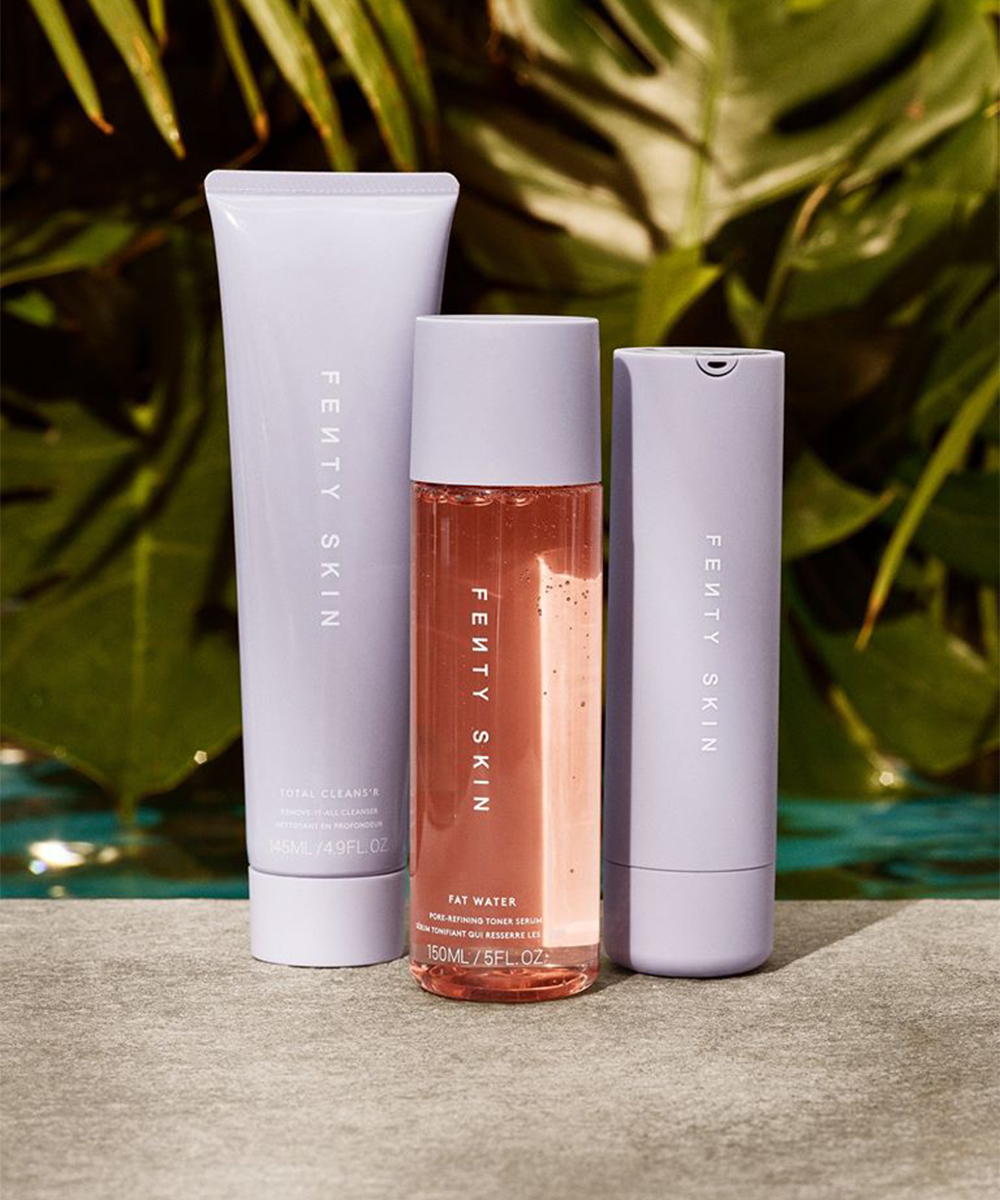 In case you haven't heard, less is more in the skin care world these days, and each of the new products manages to do the work of several to make your routine even easier. First up, there's the Total Cleans'r, a two-in-one toner and cleanser that purifies your pores and combats shiny skin. Then, there's the Fat Water Pore-Refining Toner-Serum—Fat Water apparently means it's thick enough to put right on your skin, no wasteful cotton pad necessary. Finally, you can finish off with the Hydra Vizor Invisible Moisturizer with SPF30 (an SPF level us Aussies will truly appreciate) that applies invisibly on all skin tones, and manages to boost and brighten the skin while it's doing it.
Rhianna released a video on Youtube going through the brand's three main skincare products and explaining why she wanted to add a skincare range. "I believe that great skin makes great makeup... And so the inspiration behind Fenty Skin was just creating that foundation. Whether you want to wear make up—light make up, heavy make up—whatever you prefer or are in the mood for, there's always a great foundation beneath that."
As well as keeping your routine short and sweet, all the new products are clean, vegan and earth-conscious. The moisturizer and sunscreen is even coral reef-friendly, with zero oxybenzone or octinoxate, so you can slather it on before you hit the beach this summer without a worry. Head over here to be one of the first to shop when the range officially drops, and stay tuned for more details.
You can find more of our favourite clean beauty brands here.
Image credit: Fenty Skin