Ah, Sweden. They've given us a few of our everyday essentials: Skype, Spotify...IKEA. And now an upcoming super-collab between Fjällräven and Acne Studio.
You probs already know the intimidatingly cool Acne brand, and we're sure you're familiar with the colourful, foxy-little backpacks that everyone seems to have. Fjällräven (pronounced "fall raven", we think) busted out of Sweden a couple of years ago, and onto the backs of every university student and/or young person on their soul-searching overseas trip.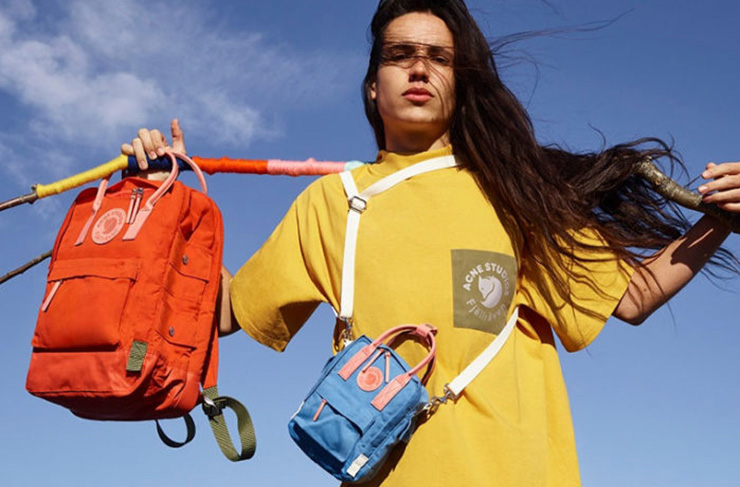 Here's what we know so far. The new capsule range will feature spins on the favourite Kånken backpack, including a super cute messenger version (above), plus jackets and other wearables. It'll be dropping on 6 September, and you'll be able to get it at select Fjallraven and Acne stores.
No word yet on which bricks and mortars in Australia will get the range, but you should be able to buy them on the Acne website.
Acne's creative director, Jonny Johansson, told Vogue that the rest of the world sees the now-iconic foxy backpack a bit differently. "I grew up with Fjällräven. If you are Swedish, it is a brand that is part of your life. Their pieces are handed down between generations."
Fjällräven is all about functionality, and Acne Studio is all about effortless cool, so you can tell they're onto a winner.
We don't know much of what's to come as of yet, but we know it will be for uni-sex audiences, they'll last for the rest of your lives (and probably most of your childrens' lives, too) and the range will include revamps and facelifts to their iconic silhouettes.
Keep an eye on this story as it unfolds. Both brands will no doubt be releasing more teaser info on their Insta pages over the next week.
The new Acne X Fjällräven capsule will be dropping 6 September 2018.
Image credit: Fjällräven