Welcome to Forkast. A regular series where we delve into the how, and why of food trends currently making people salivate all over the world.
It feels a little strange to be talking about smoke as a food trend given that it has been integral to cooking since day dot. From the time that fire was harnessed as a device for cooking, we've been cooking with smoke.
Over the last couple of years, however, smoke has become extremely integral to menus all around the world. From smoking meat for hours over a day, to smoking elements that make up a dessert, the ways in which smoke has been used in cooking have become more diverse over time, and have definitely challenged the way in which people think about using it with food.
There are plenty of venues around Australia that are producing amazing dishes that are using smoke. Lennox Hastie of Sydney's Firedoor was a chef that many we spoke to called out as a pioneer of using smoke in Australia.
"There are a lot of chefs in Australia that are exclusively cooking with fire either over wood or charcoal. Lennox Hastie of Firedoor in Sydney is getting a lot of great publicity with his food. I still haven't been there but it's on my list." says Andy Barkham of Builders Arms Hotel.
We recently caught up with some of the best chefs in Australia to find out why smoke is being utilised in so many different ways.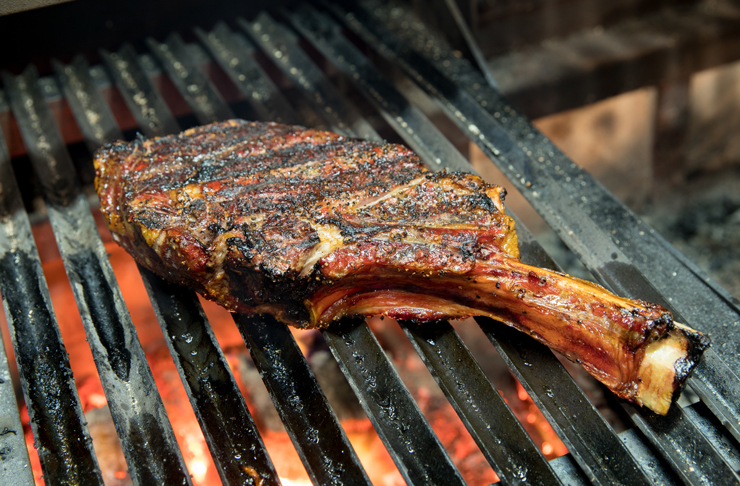 Why Do You Think Smoke Has Been A Focus For Chefs Of Late?
Chris Terlikar (CT) of Bluebonnet, "I think that a lot of chefs are starting to cook with smoke to get away from the more delicate skills that are popular in fine dining.
There is something so visceral and satisfying about the simplicity of wood and fire. It's an attractive relief from finer techniques. Cooking with smoke still involves a lot of skill, but it's fun and there's plenty of room to experiment with different ingredients that would not usually come into contact with smoke, to various flavours from the wood, hot and cold smoking etc."
Peter Gunn (PG) of IDES, "I think it's become really popular because firstly, the flavour is delicious. Also, people can't really replicate the flavour easily at home unless they build a campfire, so they head out to restaurants for their hit of smoky flavour instead."
Perry Schagen (PS) of Supernormal, and Supernormal Canteen, "There's a trend towards more of a general focus of simplicity in food. Small scale, sustainable farming gives us cooks and chefs some incredible produce to work with. To do the ingredient justice, sometimes simply cooking it over coals with minimal intervention brings out the best in the product. It's also very primal. When you are using great produce you don't want to do too much to it other than roll it over some coals."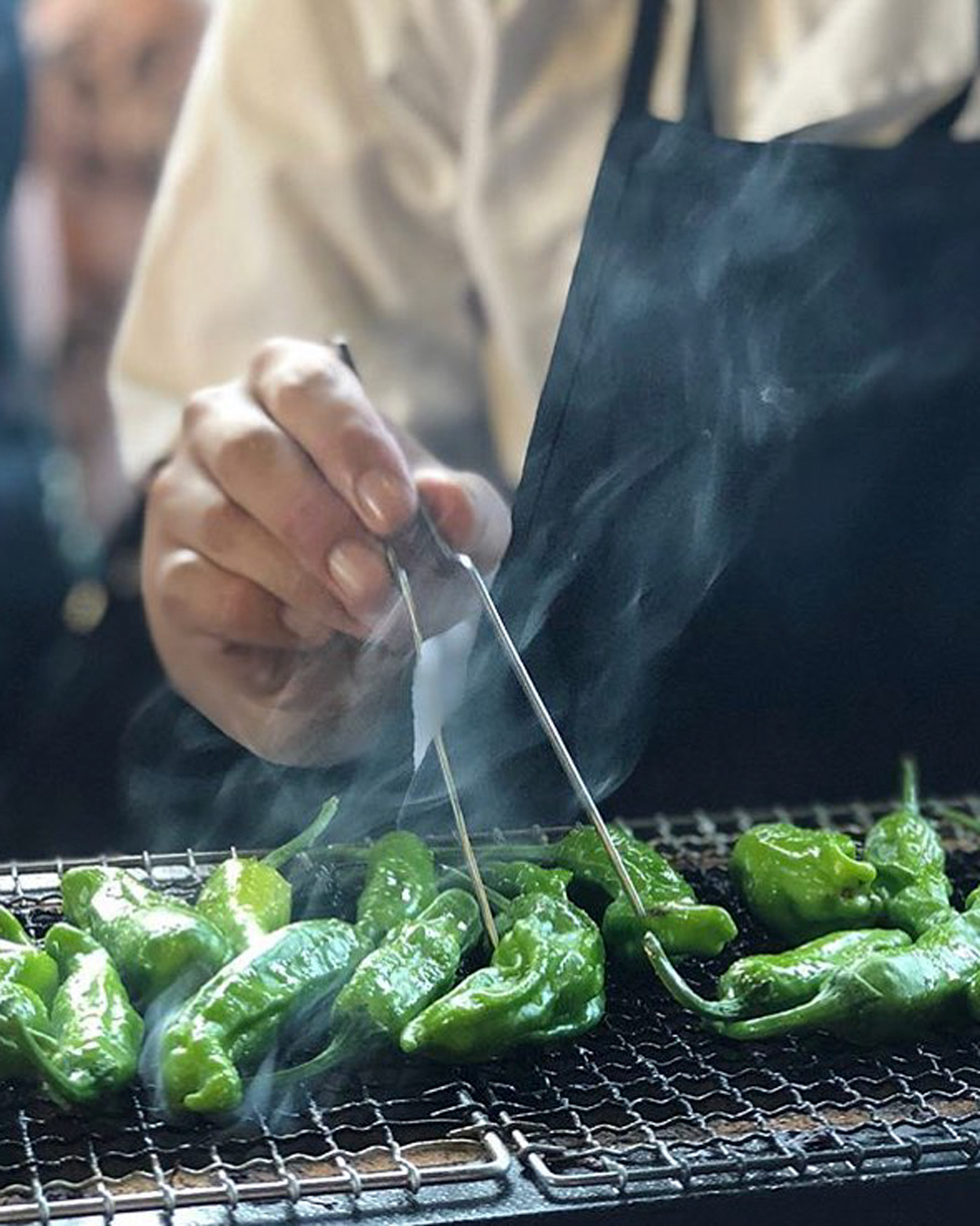 How Is Using Smoke Important To Your Menu?
CT, "For me at Bluebonnet, it's absolutely integral. It's what our whole restaurant is about. No smoke, no barbecue. At our new place, I've got this incredible huge smoker and have been experimenting with lots of different dishes. I've smoked fried chicken, and of course, there's our signature brisket, which is smoked for hours."
Andy Barkham (AB) of The Builders Arms Hotel, "At the Builders Arms a lot of our menu is cooked over the coals/wood on the rotisserie. We change the level of smoke in each dish so that we can use every stage of the burning process - we smoke over the naked flame when we start up the fire and then very gently when we're down to the coals. We have recently begun house-smoking ocean trout, so we light the fire, push it to one side and shut the lid over the fire, engulfing the fish in a lot of heavy smoke."
PG, "The smoky flavour that you get from either cooking over coals or cold-smoke infusion is really unique. I use cold smoking in our dessert currently on the menu at IDES. It's a maple syrup smoked ice cream, served with cashew nuts, brown sugar and hemp seed oil in spun sugar cage. The ice cream is smoked to order using maple chips, and served in a closed container so that when the diner lifts the lid, they smell all that fragrant maple smoke and then taste it again in the ice cream."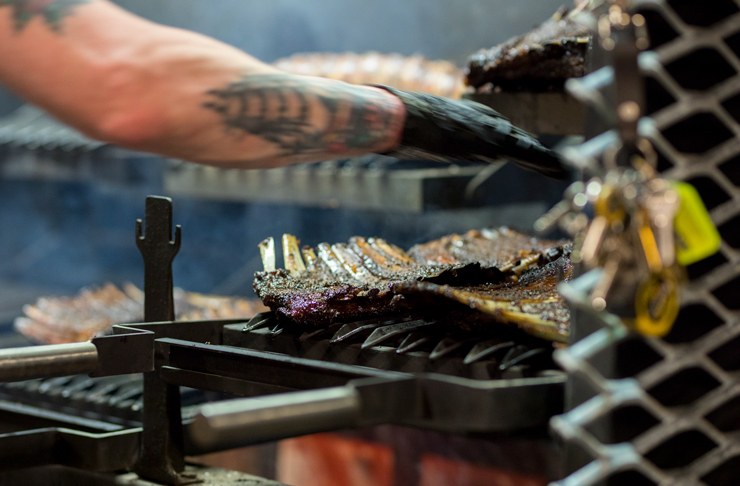 Why Did You Start Cooking With Smoke?
CT, "I was working in a Michelin-star restaurant in New York when I first tasted American barbecue. As soon as I tasted it, I was hooked, and I didn't want to spend any more time making fine dining food. I love the flavour of smoked meats and there's something really special about the ceremony of making barbecue. It feels like you're connecting directly with nature."
PS, "My grandparents lived in Indonesia for some time, so their cooking was influenced by this. Whenever we visited, my granddad used to cook satay sticks over the coals for dinner. The smell and flavour is nostalgic in that way. And then there's bacon... The king of smoked food. Professionally I've always tried to include some smoke flavour on my menus. Its only until recently when we opened Supernormal Canteen that I was introduced to using a Bincho (Japanese coal) grill for the majority of a menu time."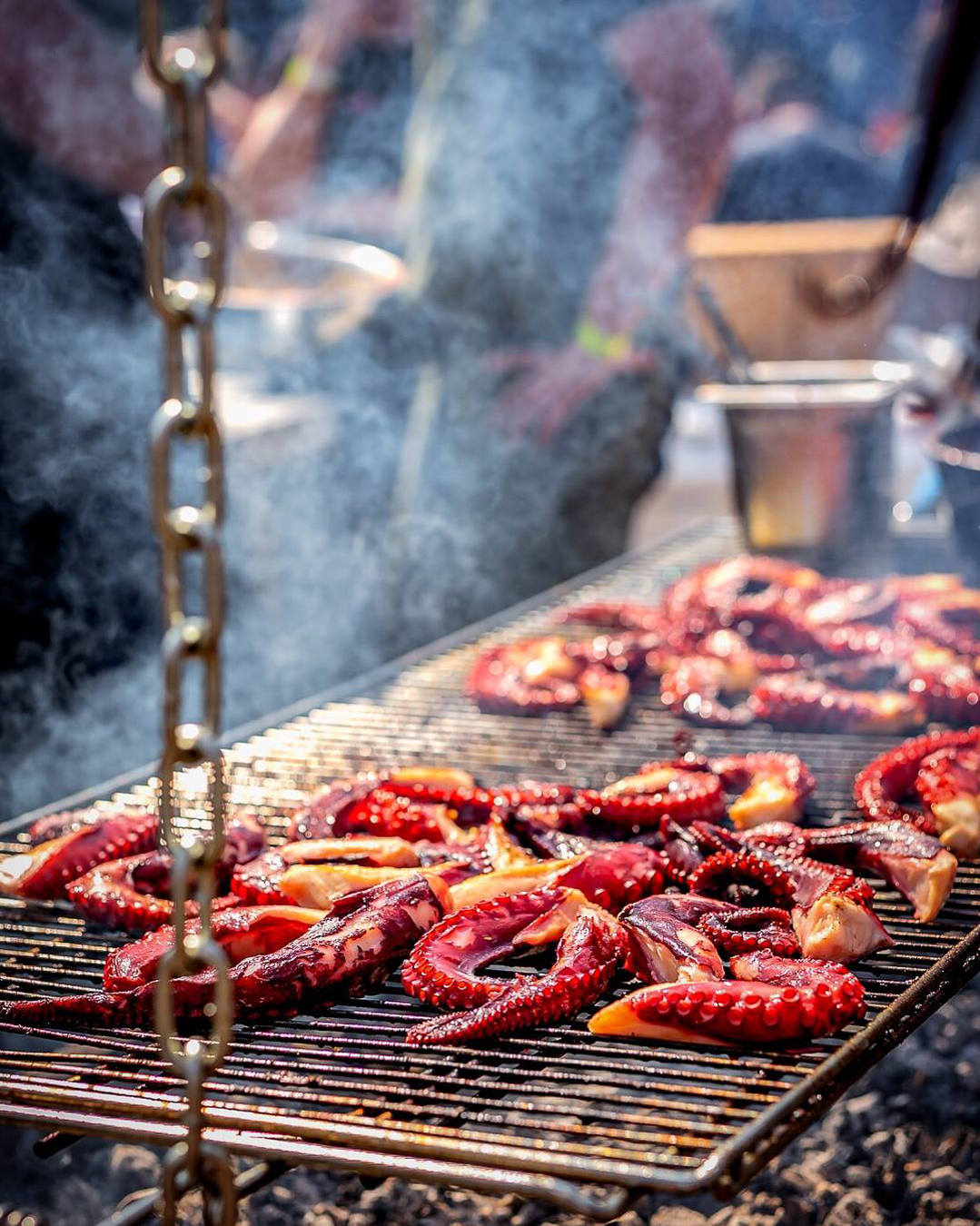 Where Do You See The Usage Of Smoke In Cooking Going Next?
PG, "The great thing about smoking is that there are so many subtleties that chefs can play with. Different woods produce different flavours, cooking over flame vs. coals makes a difference, and then, of course, there's cold smoking as well. There are so many ways to experiment.
I think that as more chefs start making a name for themselves for cooking over fire, there will be a 'smoke signature' where you can tell the chef by the type of smoky flavour in the food."
PS, "I'm not sure where it will go next. I think it is already being introduced into all styles of kitchens, and not just savoury applications. I've seen some kitchens making smoked chocolate ice cream. There's smoked soy products, some great smoked salmon roe on the market. Pretty much everything and anything has been experimented with. If anything, I see it becoming more and more commonplace to cook with coals/smoke on a day-to-day basis as opposed to gas cooking in restaurants and food manufacturing."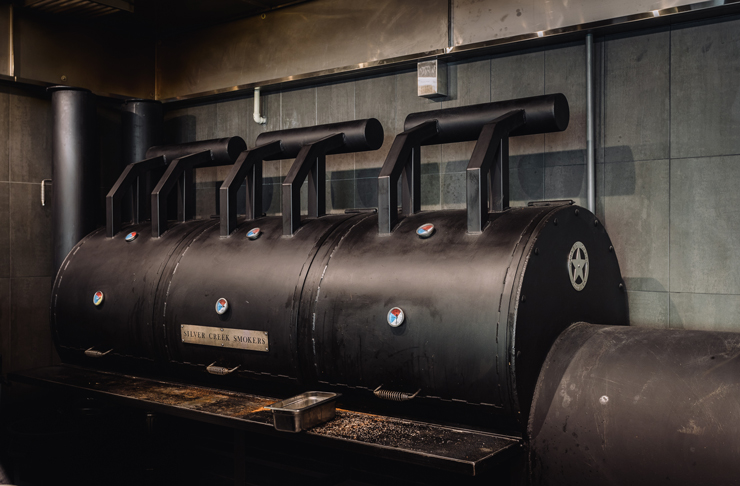 Is There Anything You Haven't Smoked That You'd Like To?
CT, "I'd love to work with more fish. Oily fish like mackerel works beautifully in a smoker. I think I'll start trying out some recipes this year and see how I go."
PG, "About six years ago I smoked olive oil and tried to sell it as a retail product, going door to door to different restaurants. Needless to say, it was a flop and I sold only one bottle. the world wasn't ready for it. I still think it's a great idea, and I might give it another go soon. Maybe people will accept it now that smoke flavours are getting more popular. Smoked oil is a great way to impart smoky flavour into a dish without needing to cook over coals."
PS, "I'd like to experiment more in the dessert side of things. There is a lot of scope to make some delicious dishes in this area."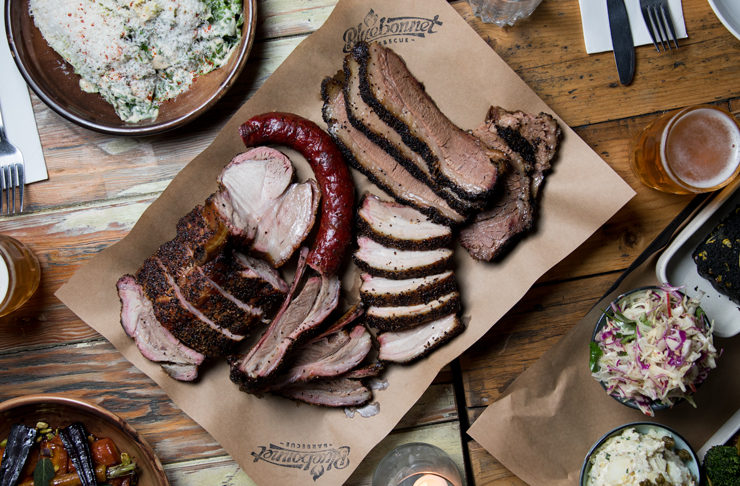 Where To Taste It For Yourself In Your City:
Auckland
Adelaide
Brisbane
Gold Coast
Melbourne
Perth
Sunshine Coast
Sydney
For more from the world of eating and drinking, check out our Food & Drink section.
Image credit: Supernormal Canteen