Turkish food is up there as one of our favourite cuisines of all time, so when one famous foodie city in Anatolia made the UNESCO Creative Cities of Gastronomy lists, we thought we'd better pay attention. Gaziantep has been said to be the food capital of the world and after a few food-fueled days spent eating our way around the city, we'd happily agree.
Its location and history mean there are strong Armenian, Kurdish and Middle Eastern influences on their culture and food, and the proximity to Turkey's main pistachio growing region means you'll get the best damn baklava in the world here.
Gaziantep cuisine is said to have close to 500 dishes but here are the top 10 we think you need to track down.
Baklava
Gaziantep is the birthplace of baklava and even non-believers will be converted after a taste here. The most ordinary baklava in Gaziantep will probably still be twice as good as the best baklava in Istanbul, so you can only imagine how delicious the good stuff is. İmam Çağdaş, Koçak and Ayintap Baklava are the best places to gorge on baklava in Gaziantep and you'll know we're not lying when you head to the airport and see everyone flying home with boxes and boxes of the stuff from these three baklava houses. We don't know how they do it but the little morsels of goodness are bursting with flavour to the point that they are almost juicy without being sickly sweet. There are plenty of varieties available but our advice is to stick with the traditional pistachio baklava; it never disappoints.
Nohut Durum
Nohut durum is just about impossible to find anywhere else in Turkey, so we think it's perfectly fine if you eat it three days in a row while in Gaziantep. It translates to chickpea wrap and that's exactly what it is, but it's so much better than it sounds. The best of the best are at Dürümcü Recep Usta where you'll get served the fluffiest, most delicious bread you've ever tasted filled with your choice of spicy or plain chickpeas, hot chips, parsley, onion, chilli and, of course, plenty of lemon juice. There are a couple of these restaurants dotted around Gaziantep so you should never be too far from one.
Katmer
While we're on the topic of deliciously sweet pastries, let's talk about katmer. It's a crispy, flaky pastry filled with kaymak (similar to clotted cream) and those fresh Gaziantap pistachios we keep banging on about. A good one will also be topped with crushed pistachios and it might even be served with warm milk if you're lucky. Katmer is traditionally the first meal eaten by a newly married couple in Gaziantep but we'll take any trip to Gaziantep as a good excuse to visit Katmerci Zekeriya; the home of Gaziantep's best katmer. If you can't make it there, Akşam Simit Fırını comes in as a close second.
Zataar Tea
Zataar tea is exactly what it sounds like—some zataar (wild thyme) thrown in boiling water and brewed. While it might not be mind-blowing, it's definitely worth trying if not for the novelty factor, then for its apparent health benefits. They say it aids digestion which is always helpful during a trip to Gaziantep. Even better than the tea is the cafe where you should try it. Papirus Cafe is tucked down a little alleyway and the leafy courtyard is one of the more peaceful spots in all of Turkey, but it's the beautiful old Armenian mansion that you can wander through which we love best. It's grand and elegant at the same time and word on the street is that Mustafa Kemal Atatürk—the founder of the modern Republic of Turkey—stayed there back in 1918 during WW1.
Ali Nazik Kebab
Now, don't go thinking that kebabs are limited to doner kebabs or shish kebabs. In Turkey, a kebab is just about any meat-based dish, which explains why there are more than 30 varieties of kebabs in Gaziantep alone. The Ali Nazik Kebab is made with lamb, eggplant and yoghurt and more closely resembles a stew than what we commonly think of as a kebab. The spicey, smokey eggplant is mashed and mixed with yoghurt and topped with tender sauteed lamb. Funnily enough, Imam Çağdaş which we recommended for the best baklava in town also does a crazy good Ali Nazik kebab.
Beyran
Gaziantep lays claim to 18 different soups (or corbasi) but beyran is one of the most popular and you won't have any trouble finding it out and about. It's a relatively simple lamb soup made with rice and peppers which is traditionally eaten for breakfast. The best in the city comes from Metanet Lokantasi which is as popular with the locals as it is with tourists. It opens at 5am each morning and it can get pretty busy, so be prepared to wait if you don't want to set the alarm that early. These guys also do a pretty excellent katmer if you want to hit two birds with one stone.
Yuvalama
Traditionally prepared for the three-day celebration which marks the end of Ramadan, we say throw your own celebration and get stuck into this delicious soup made of chickpeas and lamb kofte and served with a bit of yoghurt. Lucky for you, you'll find it on plenty of menus around town, but the best yuvalama is found at either Yörem Gaziantep Mutfağı or Asina; it's an almost impossible call to choose which is better so you might as well check out both and try to decide for yourself.
Menengiç Coffee
Don't let the name fool you, menengiç coffee is not coffee at all. The coffee is made from a paste which resembles nut butter and that paste is made from the roasted wild pistachio tree seeds. It has a subtle coffee taste but you could also say it tastes a bit chocolatey and a bit nutty, so basically it's heaven in a cup. It's a Kurdish drink but you can find it all over Gaziantep so do yourself a favour and track some down at the old bazaar. Find one of the stalls making the dark brown paste—they'll happily give you a taste—and once you've tried that we're pretty confident you'll want to head to Tütün Hanı to order a cup or two.
Lahmacun
While people will tell you that Lahmacun (pronounced lah-mah-joon) is Turkey's version of a pizza, we'd say there are a few key differences. Lahmacun is made on a super thin, crispy flatbread; so thin you should be able to roll it up after it's cooked and eat it like a burrito. It's then topped with tomato, peppers, finely ground lamb mince and plenty of other herbs and spices. After all of that is cooked, top it with plenty of parsley and fresh lemon juice, roll it up and go for gold. If that all sounds good to you, you'll want to get to Kadir Usta where you'll see every table ordering piles of lahmacun because yes, they really are that good. You might want to treat yourself to a kebab here too, and maybe some kunefe for dessert too.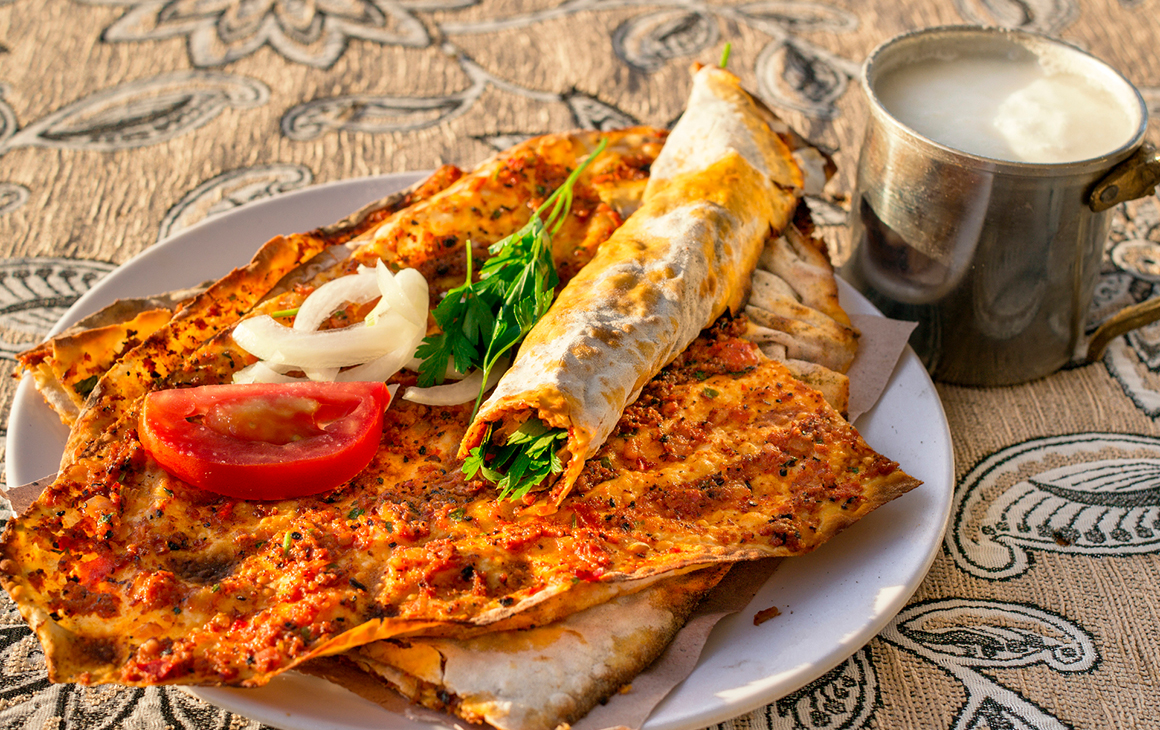 Çig Kofte
Çiğ (pronounced chee) köfte is a vegetarian 'meatball' made from bulgar wheat, tomato, pepper and plenty of spices and it will become the staple diet of any vego or vegan travelling through Turkey, but carnivores shouldn't overlook this tasty meal. While you can find it all over Turkey, it originated in Gaziantep and, like most dishes, you'll find the best versions here. Traditionally it was made with raw ground beef or lamb (think of it like steak tartare) but due to food safety regulations, it is always completely vegetarian now unless you manage to bag yourself an invite to dinner at one of the locals' homes. It's pretty difficult to go wrong with çiğ köfte so there's no need to traipse all over to find the best, but Oses Çiğ Köfte is a good bet if you really need a recommendation.
Once you've eaten your way around Gaziantep, head over to Insta-worthy Cappacdocia.
Image Credit: Koçak, Imam Çağdaş, Alpaksoy, Sonmez, Asikkk/Getty