Have you been wondering what fortified wine can add to your booze-loving life? We were too—that's why, this month, we took to the streets and asked all the tough fortified wine-related questions so you don't have to. We take our job as booze officionados very seriously.
We gave chief winemaker at Morris Wines, David Morris, a buzz to answer everything we needed to know about fortifieds (that's what the pros call it). And obviously, how to order it at the bar without sounding like a complete novice.
Go and fetch yourself a Negroni (oh yeah, that old faithful involves fortified wine) and listen in—you're about to be roughly seven times more educated on fortifieds.
What The Hell Is It—And Will You Even Like It?
David broke this one down for us very simply for us. The bottom line is, the term 'fortified' refers to a wine that's had a distilled grape spirit added to it. The addition of said distilled spirit stops the fermenting process, resulting in a fortified wine with a higher alcohol content and is sometimes sweeter.
We're pretty sure you'll like fortified wines, even if only for their versatility: served chilled, at room temperature, straight up or in a cocktail. It's all socially acceptable, and as far as we're concerned, highly recommended. If you're looking for an entry-level fortified though, try a classic Muscat—it's lighter, brighter and generally more vibrant than some others. And if you're lucky enough to have a bar dedicated to all things fortified in your city, like Banskii in Sydney, just ask them to introduce you to your new favourite tipple.

What's The Difference Between Fortified & Regular Wine?
According to our mate David, fortified wines are matured in oak casks for longer, plus they're generally higher in alcohol than a standard glass of tipple. Seriously, our inner 18-year-old is already convinced. They're also generally subtler in flavour which means you can keep an opened bottle in your cupboard or fridge for at least six months if it lasts that long. Now that's a win if ever we've heard one.
How To Order It Like A Pro
We know it's your biggest fear to trot off to the bar only to make a fool out of yourself when you order a dessert wine at midday. We've all been there (but seriously, we haven't and if you have, you need to pay extra close attention to this one). We also made you this easy to follow cheat sheet so you'll always know what to order, and when.


How To Spot A Good Tipple At The Bottle-O
There are a few easy tips we can give you to spot a decent bottle, thanks to David:
The region is key—the Portuguese are renowned for their Ports (makes sense), Sherry originated in South West Spain and Victoria's Rutherglen region produces a top notch 'fortified mould', AKA Australian Muscat.
As a general rule, a smaller bottle = better booze, so anything around the 500mL size (as opposed to casks or flagons) will likely be a winner.
Read the tasting notes—if you like the flavour profile, you'll probably like the wine too.
How To Impress Your Mates With A Fortified Wine Cocktail
Next time your mates come around, ditch the fruit punch and whip up one of the below cocktails instead. Our hot tips? Ease your way into the party with the Vermouth Julip (courtesy of Banksii Vermouth Bar & Bistro) unless you want to go straight for the proverbial jugular—then it's all about the Muscat espresso martini (cheers for that one Morris Wines).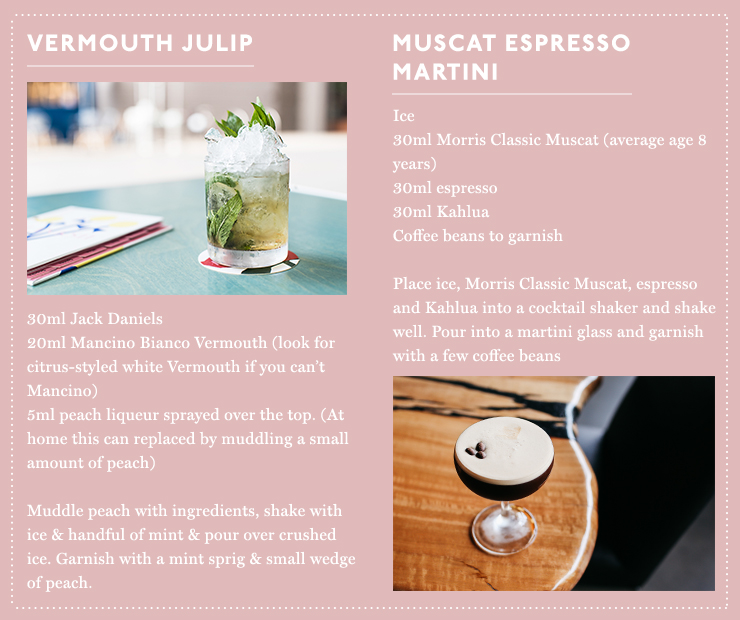 Ready to tackle Japanese Whisky next? Read this.
Image credit: Header | Nikki To at Banksii Vermouth Bar & Bistro, Cocktails (from left) | Nikki To at Banksii Vermouth Bar & Bistro & Carla Dibbs