In case you haven't already noticed, we're pretty big foodies here at Urban List. Whether it's at the hottest new restaurant out on the town, an iconic regional bakery, or sharing a delicious meal at home with family and friends, we're all about the joys that come from eating delicious food and sharing in wholesome meals.
To help us further celebrate our love for all things food, we've partnered with dinner party marketplace, Gathar, to enlighten you on how they can help you to host the ultimate dinner party. Get ready, your delicious life starts here.
Stay Out Of The Kitchen And In The Action
To put it simply, Gathar lets you bask in all the glory, fun and deliciousness of hosting a dinner party, but without having to spend laborious hours in the kitchen cooking and cleaning (yeah, they clean up too). So that means you can kick back at the table, gorge on all the delicious food you most definitely didn't cook and share in all the epic moments with your nearest and dearest.
Through their marketplace you can book amazing private chefs, grazing table stylists and caterers to create unforgettable dining experiences at your very own humble abode, holiday house, or even an Air BnB. It's perfect for special occasions like birthdays, hens parties, engagements, wedding anniversaries or just overdue catch up with friends.
Bib Up For A Feast
The only thing that's left for you to do? Choose what you and your guests will eat. While that sounds easy enough, we can guarantee that the hardest part of the entire experience will be choosing from their hugely delicious range of menus. With over 35 menus to select from, there's something to suit every occasion and every tastebud. Treat you and your crew to Bryce's American Favourites, lash out with a A Night Of Decadence, keep it casual with a Deluxe Tapas Journey or get in the good books with bae with a Parisian Date Night For Two dinner for two.
Prices range anywhere from $24 per person for a Gathar Grazing Table to $275 per person for a Love & Lobster dinner for two, with plenty of options in between for groups of small or large size. No matter what you choose, you can be sure that Gathar's passionate community of cooks and chefs will delight in sharing their delicious creations showcasing the very best fresh local produce and products. One of our favourite parts? Gathar offers easy-as bill splitting which means you can order your feast online, then all you need to do is invite your guests via their platform to pay for their meals. It's the little things.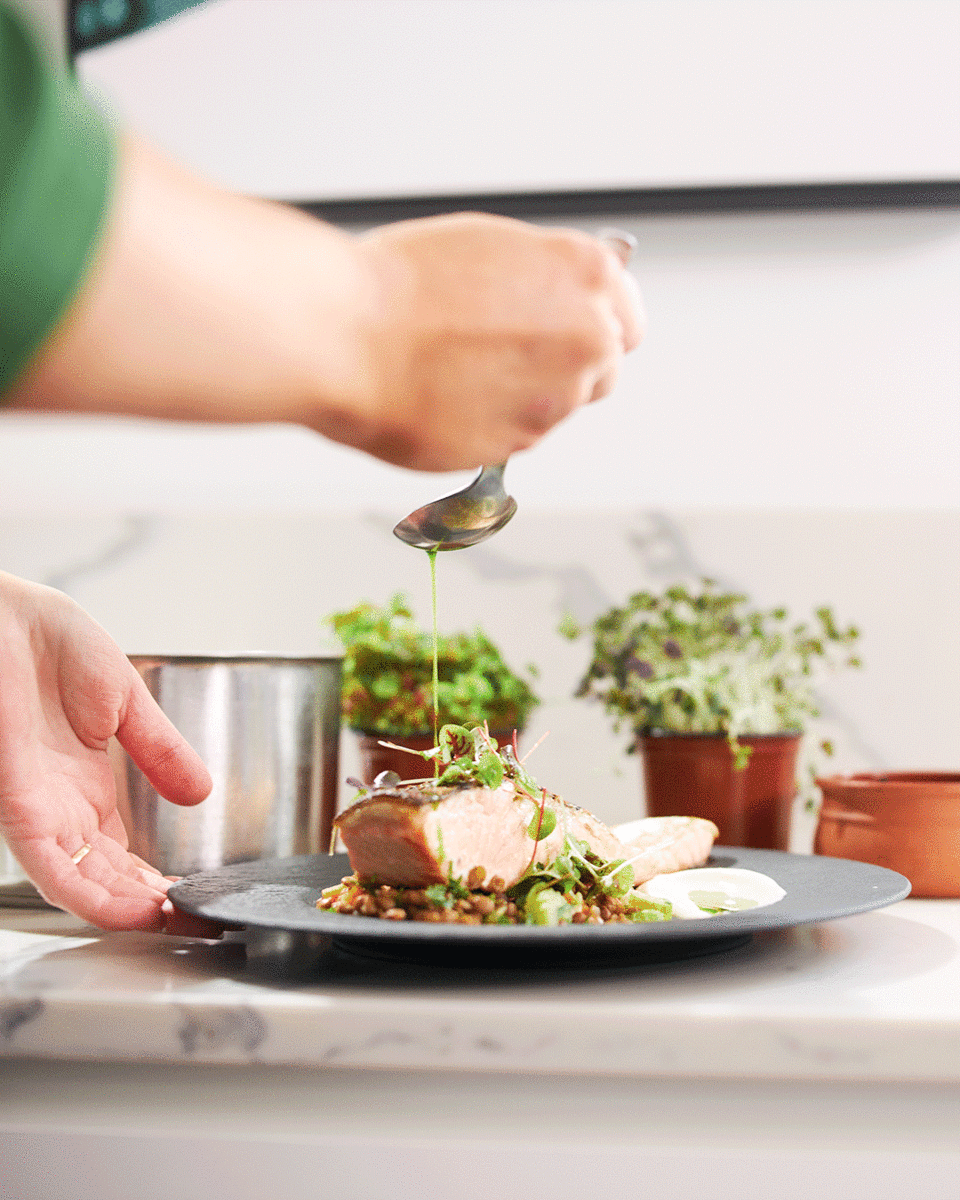 Don't Forget The Atmos
With Gathar, groceries, cooking and cleaning are well and truly sorted, but don't forget all of the other elements that help to make an amazing dinner party. Depending on the theme of your dinner or the vibe of the occasion, make sure to pre-select an appropriate playlist and have your speakers ready to go for when guests arrive. Don't be that person with dead speakers and no background music to soften the sound of your guests chewing. If it's going to be a rowdy dinner party, make sure to have entertainment and games sorted to keep the evening interesting and the energy dynamic between each course. You can also choose to have your Gathar Culinarian involved in the action of the night — whether it's talking through each course as it's served or even sipping pre-dinner drinks in the kitchen while they walk you through what you'll be eating and how it will be prepared.
Finally, make sure you've got your decor and table settings organised. You don't have to go all out and spend hundreds of dollars at Kmart to get your set up looking schmick. Sometimes a simple tablecloth or placemats, fancy fabric napkins, a bunch of flowers or scattered candles can be all you need to take your usual set up from basic to boujee.
It's best you put the apron away, put the utensils down, pour yourself a glass of vino, take a seat and leave all the heavy lifting, cooking and cleaning to the culinary geniuses at Gathar. Sounds like a plan to us! For more information on how to get Gathar for your next dinner party, click here.
Image credit: Supplied
Editor's note: This article is sponsored by Gathar and proudly endorsed by Urban List. Thank you for supporting the sponsors who make Urban List possible. Click here for more information on our editorial policy.