You'd be hard pressed to find someone who takes sweet treats as seriously as Lauren Eldridge. At just 30, the uber-talented chef has a resume most could only dream of, including stints at Parisian three Michelin starred restaurants Le Cinq and Guy Savoy, as well as working with internationally renowned chef Massimo Bottura in Italy, when his restaurant, Osteria Francescana, was named number one in the world.
These days you'll find Eldridge creating works of sweet edible art at Stokehouse St Kilda, Fatto Bar & Cantina, Pontoon St Kilda and Stokehouse Q in Brisbane as group pastry chef for Van Haandel Group—a coveted position she's held since 2017.
We snagged some time with the busy chef to chat sustainability, supporting women in the workforce and what success looks like to her.
What's your earliest memory of cooking?
Baking packet cakes at home with my mum or making birthday cakes from the Women's Weekly Cookbook every year—I'm sure you know the one! My mum was the person who taught me how to cream butter and sugar, the importance of preheating ovens, the right way to incorporate eggs into batters, and the correct folding technique—all these things that as a child I just assumed was common knowledge!
Was cooking/working in hospo always the dream or you deviate along the way?
It wasn't always the dream. Most of my senior years at high school I dreamed of being a clinical psychologist. I even studied psychology at university for two years before I decided to become a pastry chef. There was no big epiphany, I just realised that I should have been more enthusiastic about my degree if it was how was I was planning to spend my life. From there, I realised that what I enjoyed the most was baking and creating desserts, so I decided to become a pastry chef instead.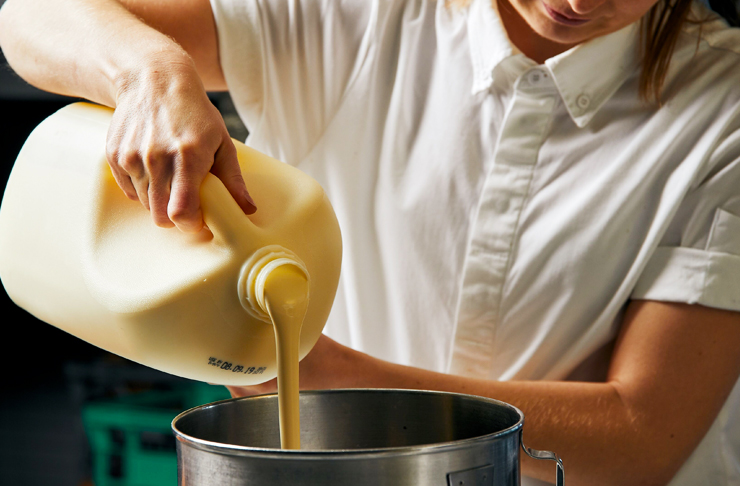 How did you get your foot in the door?
My aunty had a friend who owned a café in Sydney, so she called in a favour and I went to work in the kitchen with their pastry chef for a couple of months. The chef recognised something in me and encouraged me to move to a bigger operation, and one of the regular customers was a hospitality recruiter. I met with her and she placed me in the pastry section at a high-end catering company. A few months later I formally started my apprenticeship with them. I was fortunate that I worked with two amazing head pastry chefs, and a very talented executive chef, Richard Purdue (currently the head chef of Rosetta, Sydney) who all supported my passion and desire to move into restaurants.
What was the biggest hurdle you've faced in your career and how did overcome it?
When the restaurant (Marque in Sydney) where I spent my formative years as a chef closed, I was at a real loss. At the time I was overseas, but I knew upon my return I would be without a job and I didn't know where to go. I was worried about making the wrong decision or not finding anywhere that fitted with what I was wanting. I took a job in the interim with chefs I had worked with before, but in the end, I made the decision to follow my gut and to wait until the right position became available. It was a very difficult period, mentally and financially, but in the end, worth the wait because I landed my current job with The Van Haandel Group.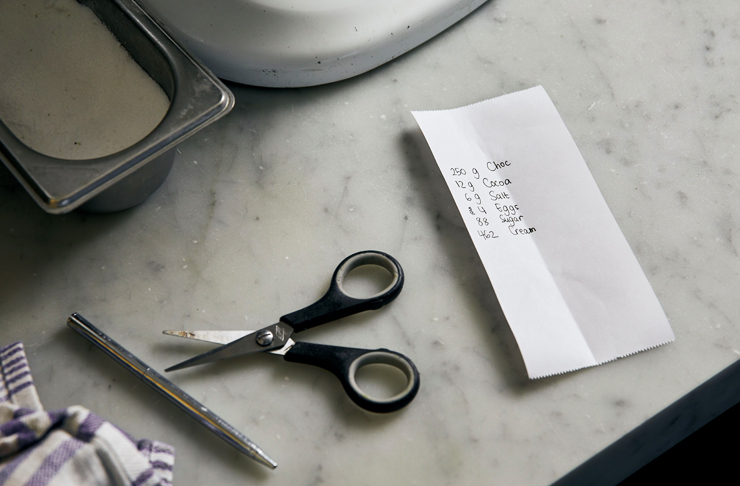 Biggest 'fuck yeah' career highlight thus far?
I feel like I've had a few, which is a very fortunate position to be in. Winning the Josephine Pignolet Young Chef Of The Year Award was so overwhelming and exciting. When I landed the opportunity to work in Italy and cook for Massimo Bottura (and he liked my dish!)—that was absolutely surreal and something I'll always remember.
What are your thoughts on women in the food industry and how they're represented?
I've seen a shift even in how women are recognised in the industry, even within the last two to three years. I think the media has realised that they need to make a really conscious effort to support and encourage women in the industry. Females are also taking a stand against behaviour which can ignore their contributions to the hospitality. We're promoting ourselves more and vocally supporting each other, both things which will continue to grow our presence. Even just this year, if you look across the awards from various publications the nominees and the winners are leaning heavily towards women. I don't think this is because we are suddenly better, I just think that with the help of our peers, we are putting aside any insecurities we may have, and demanding to be put on the platform.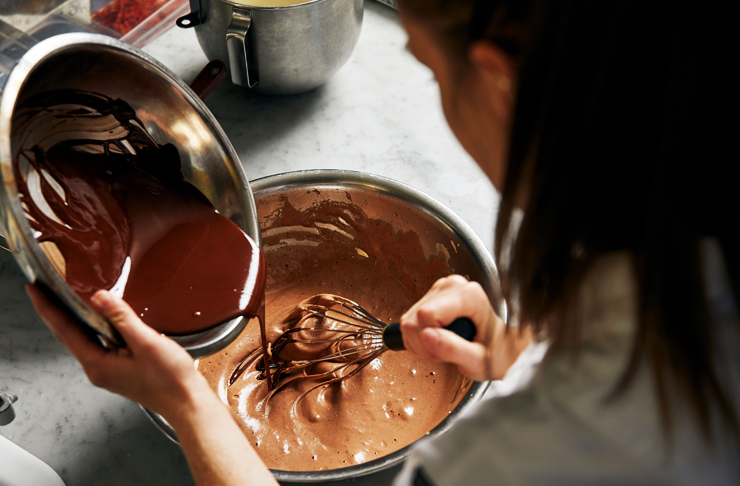 Who or what inspires your work?
My inspiration doesn't come from on particular source and has changed over time. At the moment a lot of my work is initially based on the final appearance of a dish. That isn't to say that taste is secondary, because I definitely think the taste is top of the list in terms of what makes a great dish, but I often have an image in my head that I want to create. Sometimes that image will come from the produce—I might like the way a fruit or vegetable looks or the potential to transform its appearance. Other times it can be slightly more abstract, like the shapes I see in nature or something architectural and a shape has caught my eye. From there, I look to what is in season and try to fit the two together.
Sustainability in food has become a popular topic as of late, how important is this to you and your work?
It is a big consideration in my work. When I was training at Marque, there was a focus on using all of an ingredient. This wasn't necessarily from a sustainable view, although that was a great bonus, but rather it was a tool to push chef's creativity. It's easy to use the best part of an ingredient and make it taste good, but more challenging to find delicious ways to use what is commonly seen as the scrap or waste. At Stokehouse, we are a five-star green rated building, so sustainability comes into everything we do, from lack of chemicals in cleaning, to our own composter that turns food waste into water and flows into our drainage system. It means it's not only in my daily environment but it's also something I use as a tool to push creative thinking.
What's been your most challenging creation so far and why?
I can't pinpoint one creation. To be honest, very rarely do I have an idea and absolutely nail it the first time I trial it. I think most of them are challenging to start with, but once it clicks it's almost like a 'well duh' moment, and I move onto the next thing. I've been trained to believe that while some creativity is innate, it's also something that can be taught. So, if I'm ever stuck on an idea, I just have to tell myself to think harder, eventually it falls into place.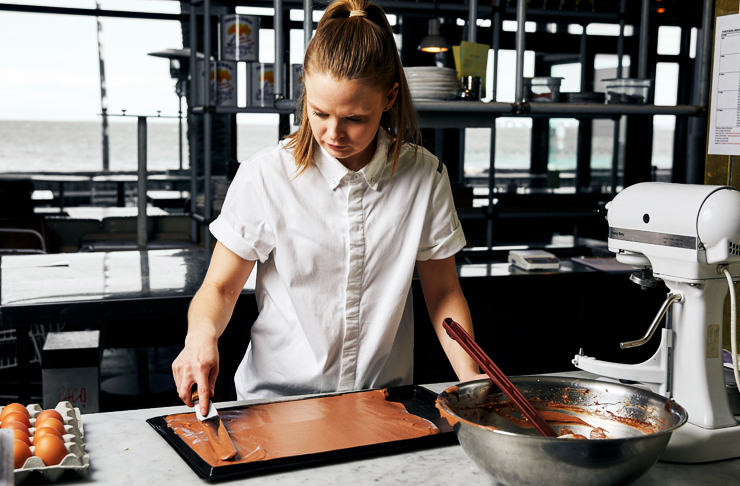 What advice would you give so someone wanting to get into the industry?
To put yourself out there and give it everything you have and then some more. I believe hospitality is an industry that will give back everything you give to it and you need to be willing to fully commit, because often they're not just jobs but lifestyles. I also think a chef has become a bit of a glorified job and it's the wrong attitude to go into it aiming to become famous or a 'celebrity chef'. If your aim is to work hard, learn as much as you can and produce the best quality food, success will follow. Also, always be kind to others in restaurants—our jobs can be stressful enough, so it's important to keep the culture supportive and respectful.
Now, some rapid-fire questions for you…
Favourite ingredient to cook with? Eggs—so versatile and integral in a lot of pastry work.
What three things would we always find in your fridge? Homemade pickles, cheese, Danish remoulade.
Favourite sweet treat? Doughnuts.
Country you'd most like to visit next? Greenland.
Favourite place to eat on a day off? Di Stasio Citta or Lee Ho Fook.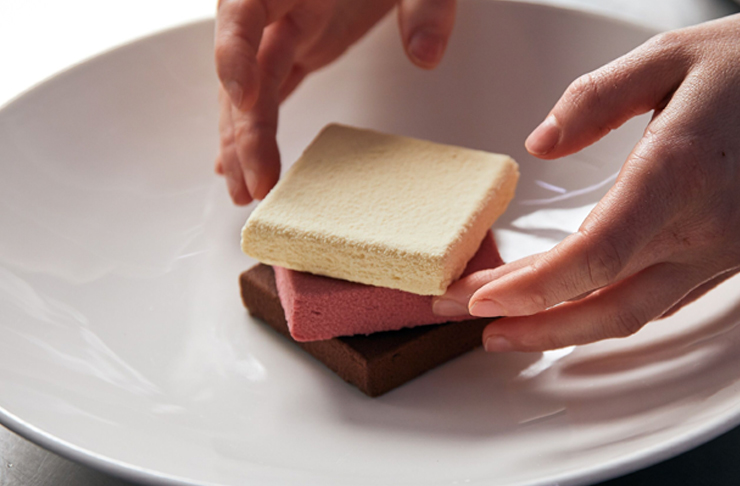 Finally, what's your average day like?
10am: I start work around 9 or 10am most days. I'm not exactly a morning person and I have discovered I'm much more productive and creative in the later hours of the day so for me starting later and ending late works best
12pm: start of lunch service. Pastry service will kick off an hour or so after service starts so once I'm set up, I will usually do some smaller prep jobs. If another pastry chef is on service, I will spend my time working on new dishes and recipes
6pm: Start of dinner service. As above, the pastry service starts around 7:30 to 8pm so I normally use that hour or so to write prep lists and organise ordering. If I can duck out of the kitchen, I will try to answer some emails and do a bit of admin work
11pm: We usually finish pastry service between 10:30 and 11pm, so I'll be packing up and getting ready to go home.
Feeling inspired? Check out our Getting The Gig chats with TWOOBS and Poppy Lissiman.
Image Credit: Griffin Simm