If you've got an Instagram account, chances are you've seen the sublime works of Paul Milinski at least a few times in your feed. The Melbourne-based graphic designer and creative director has gone from 300 to 300k+ followers in a matter of months, and with good reason.
His signature depictions of lush landscapes juxtaposed with the human-made world have been recognised and reshared by the likes of Vogue, HYPEBEAST and Instagram's official design account. And now, Milinski shares with us where it all started, where it is currently, and where it's going.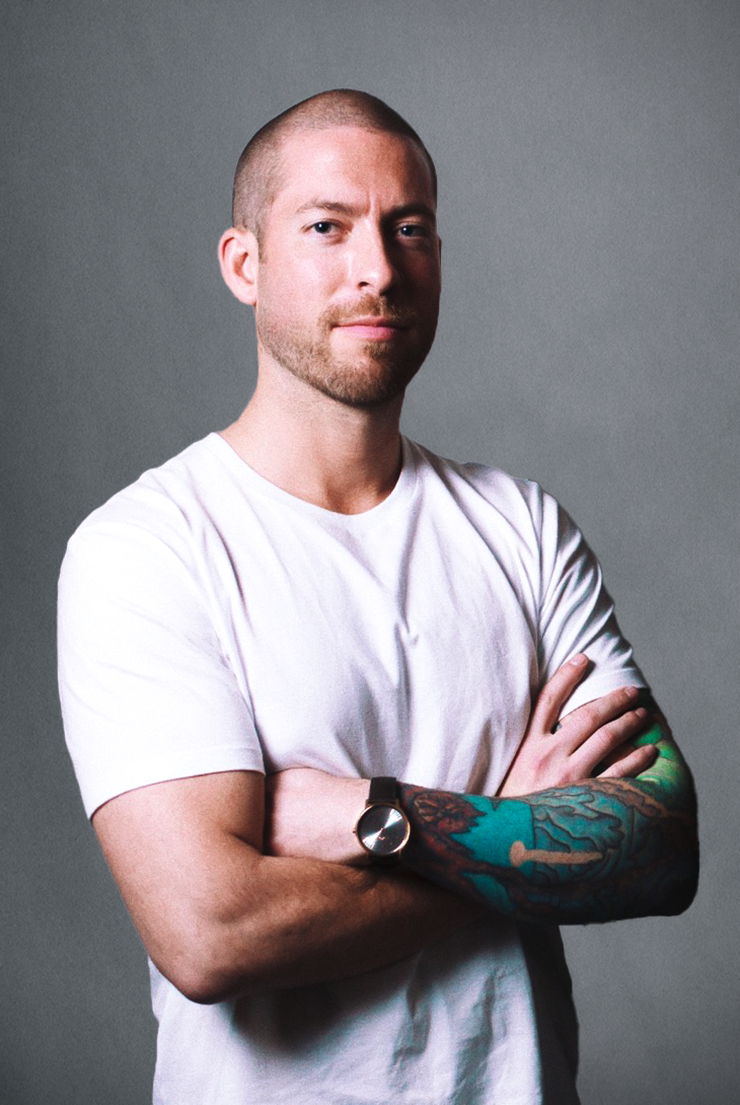 You're creating some unbelievably unique works which are attracting worldwide attention. Where did it all start?
The desire to create art has been present in me ever since I was a child. You'd often find me in the corner of the room with my crayons drawing pictures of sharks and Ninja Turtles.
Although the drive to create artwork through a 3D medium eventuated later in life where I became fascinated by 3D film and video games. The idea that I could add a third dimension to my artwork was a prospect too good to pass up. If you like my work, you can thank the team at Pixar and Tony Hawks Pro Skater.
Can you unpack the juxtaposition between the organic and human-made environments within your work?
Juxtaposition within an artwork can be a powerful way to ask a question without being specific. Creating contrast leaves the door wide open for interpretation. Some of my artworks raise questions about some of our living situations. Are we too caught up in the synthetic? Should we better integrate into the natural environment?
Along with this, I also like to challenge myself, and coming up with intriguing juxtapositions can be quite a task and keeps my mind creatively fit.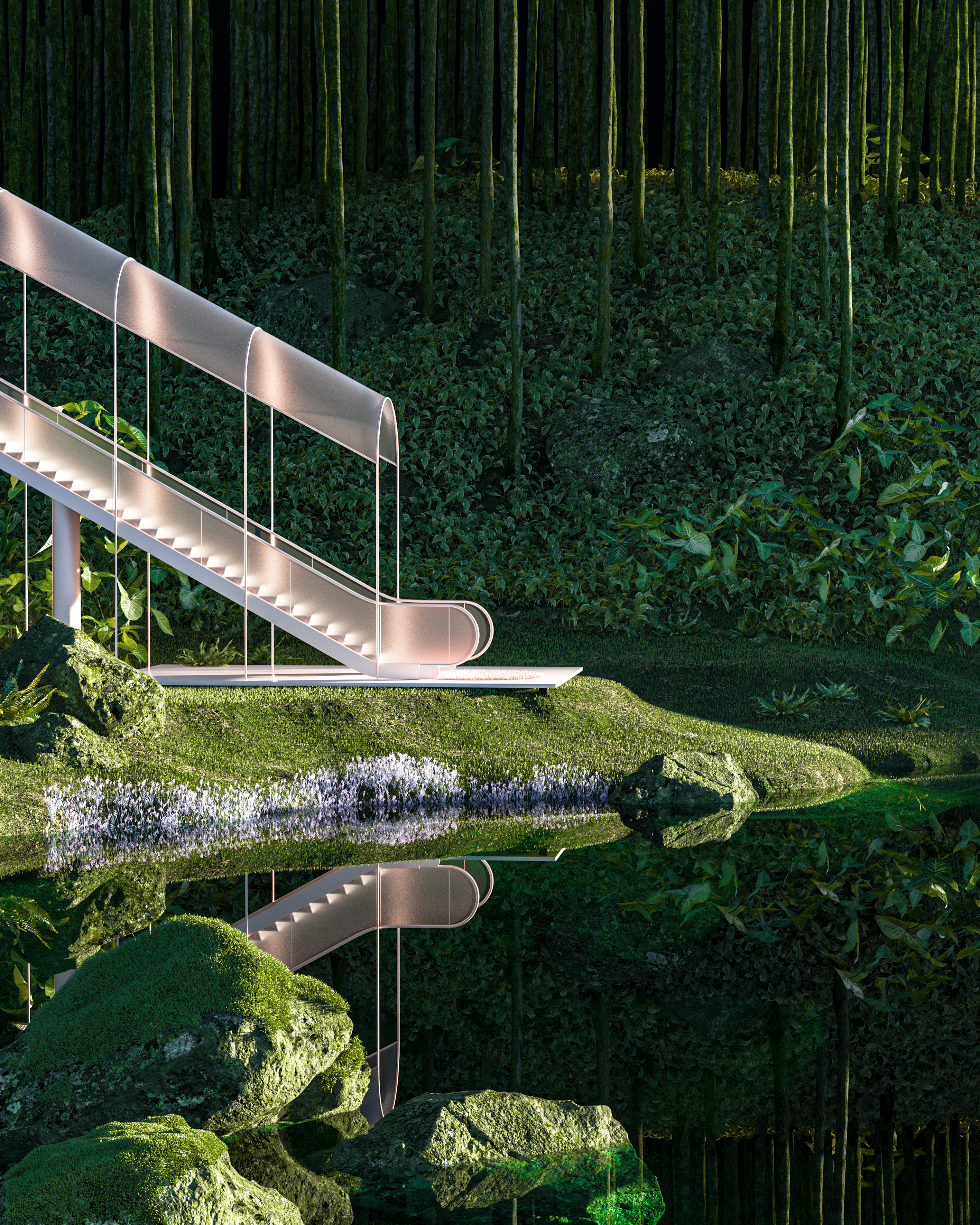 Does your environment affect your output?
My environment affects my output in two ways: the efficiency in which I produce the artwork and the subject matter.
To complete these artworks, I need to reach a state of uninterrupted flow. This means being alone for long periods with no distractions. Often I can be in a state of focus for 15+ hours in one sitting.
Another way my environment affects my output would be the fact that I'm living in an urban setting. This may be the reason for the natural elements covering my artwork. If I lived in the jungle, I'd probably be creating images of cityscapes. It seems as though we create what we lack in our lives. And for me, it looks as though my connection with mother nature has been lost.
You're using CGI and 3D rendering programs to create art that is more traditionally used for architecture and technical outputs. What's so attractive about this medium for you?
In traditional forms of illustration, you're bound to your strokes' angle and the ambience you set. Something as simple as wanting to change the perspective results in the tedious task of creating a whole new image. Working in a 3D application eliminates the start-over process as you have complete control over these parameters. An angle shift or change in lighting is a mouse click away.
Having the freedom to art direct specific parts of your image until the moment you send your scene to render is a great luxury.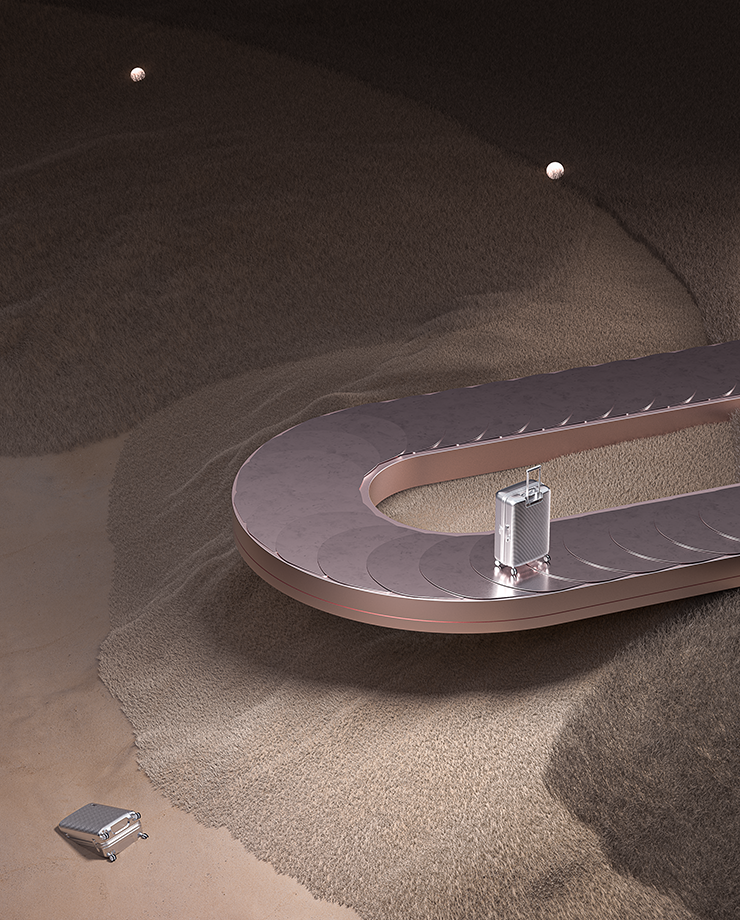 Your art speaks for itself, but Instagram has played a considerable part in your work reaching the masses. Have you used it to your advantage?
Instagram has been a world of twists and turns for me. Doors are opening up where I never knew existed. It has prompted me to realise the importance of being open to opportunities. I use it to my advantage by allowing other people to come up with different ways in which my ideas can be applied. I'm surprised and humbled to see a collective of minds define my path.
Should all creatives be leveraging platforms like Instagram?
I think all creatives should be on Instagram. There is something like half a billion active users on the platform each month. A sizable chunk of that crowd could be your new audience. If your particular brand of art is visual, you will definitely want to be on it.
Then again, with the good comes the bad and the ugly. There are people out there who will steal your work, plagiarize it, not credit you, use it for their own profit. But this has always happened. It has been present well before Instagram, and it will continue well after Instagram on any platform.
Along with your 300k+ followers, you've had some wild requests for collaborations and work. What's been some of the more unexpected?
I'd say the marriage proposals and requests to extract my brain from my head so they can have my ideas would be up there. However, the more unexpected offers are ropeway companies in Europe wanting to build the cable car from 'The Peninsula' artwork. There have also been some requests to design hotels, which is quite interesting.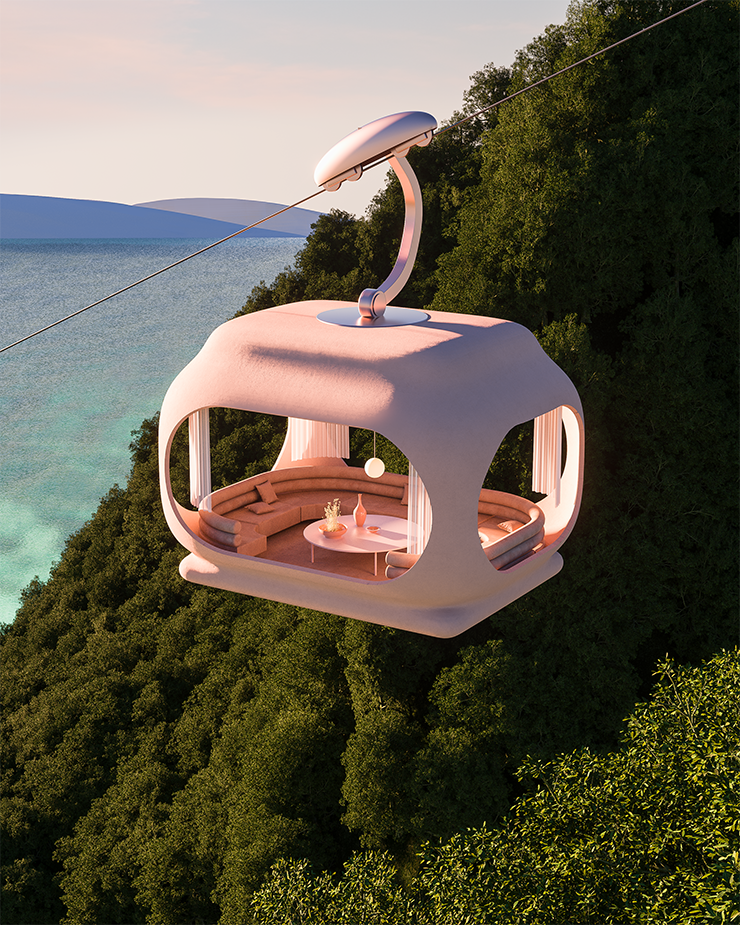 The creative industry is notoriously hard to crack both as an artist and within the commercial space. Any tips on getting that foot in the door for those at the beginning of their career?
This is a great question and an important one. In terms of landing a place in the commercial creative field, you'll need to have a finely tuned folio. In this folio, you will need to display a wide range of skills as employers are looking for people who can be placed on various projects that differ from one another and that require multiple skill sets. There's no point going for positions if all you have in your folio is hand drawings of cats. The chances that your employer receives regular requests for hand-drawn cats are going to be somewhat unlikely. Your folio should contain a variety of brand identity systems, logo work, illustration, interface design, photography, typography, and layout design.
Often, I speak to people who say that they have never worked in the field, and therefore, they have nothing to design. If that is the case, you can redesign existing brands. Take a brand that you like, or dislike and pretend you've been tasked with rebranding it. It shows great initiative and is much more impressive than displaying restaurant menu designs from Uni. If you display striking examples of these facets of design, you'll not only have your foot in the door but the rest of your body as well.
Coincidently, if you are looking to make it as an artist, you want to be drawing those cats exclusively as this will help define your trademark style and allow you to become easily recognisable. As artists, inspiration can come on quite strong, and it compels us to create a wide variety of things. However, this can be detrimental to our cause as the inconsistency makes it hard for the viewer to identify you. This can leave you feeling like you don't have an "artistic personality" and can leave you with a severe case of decision fatigue. It can help if you put in place—what I like to call creative barriers—a set of rules that you construct as not to become distracted by external inspiration so you can find that voice and become a master.
An example of my creative barriers is: Only using 3D applications as the medium, sticking to a particular colour pallet, limiting textures, finding a juxtaposition, redesigning things that already exist that I think are not aesthetic. When I follow these rules, I can achieve that personal artistic voice.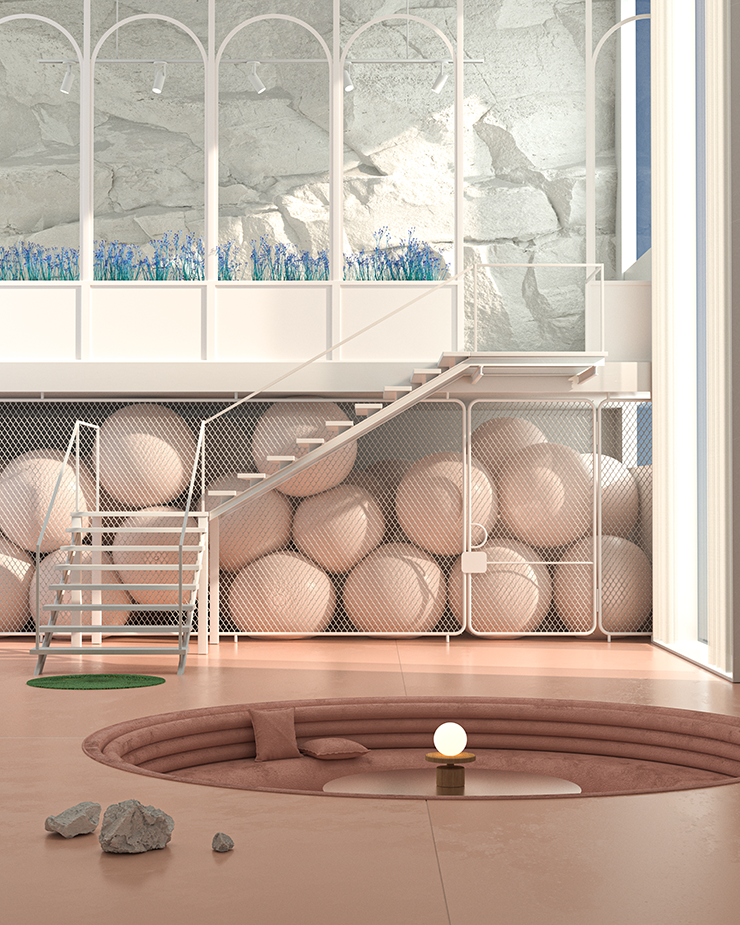 Your consistency in choice of medium or subject acts as your brand identity. Once you give your audience something to latch on to, you can start expanding on your artistic expression.
And outside of creating these stunning pieces of art, you also Co-founded your own creative agency. How do you juggle both?
Luckily, I have a great business partner, Dan, who is an organisational and creative powerhouse who can handle a lot of the business's day-to-day.
However, generally, I stick to the 80-20 rule. This means that I spend most of my days focusing on our creative agency Vaulter, and where I find the time around that I escape to the third dimension.
What's next in the pipeline? Exhibitions?
INSTALLATIONS? COLLABORATIONS?
There are several projects in the pipeline. I'm working with an interior designer to create an entire digital house that is fully furnished. We've recently released some teaser images for that. There is a new business I'm launching with my business partner that is directly associated with 3D, called Loftgarten. We will be shooting an exciting video to celebrate the launch of that once we can go outside again. I'm also looking into putting on a physical exhibition of my works. An opportunity has presented itself, so we are looking into that, pending COVID. There may also be opportunities to explore my work in the VR space, which I'm very interested in. Furthermore, I'll soon be releasing prints of my artwork, which will be announced soon.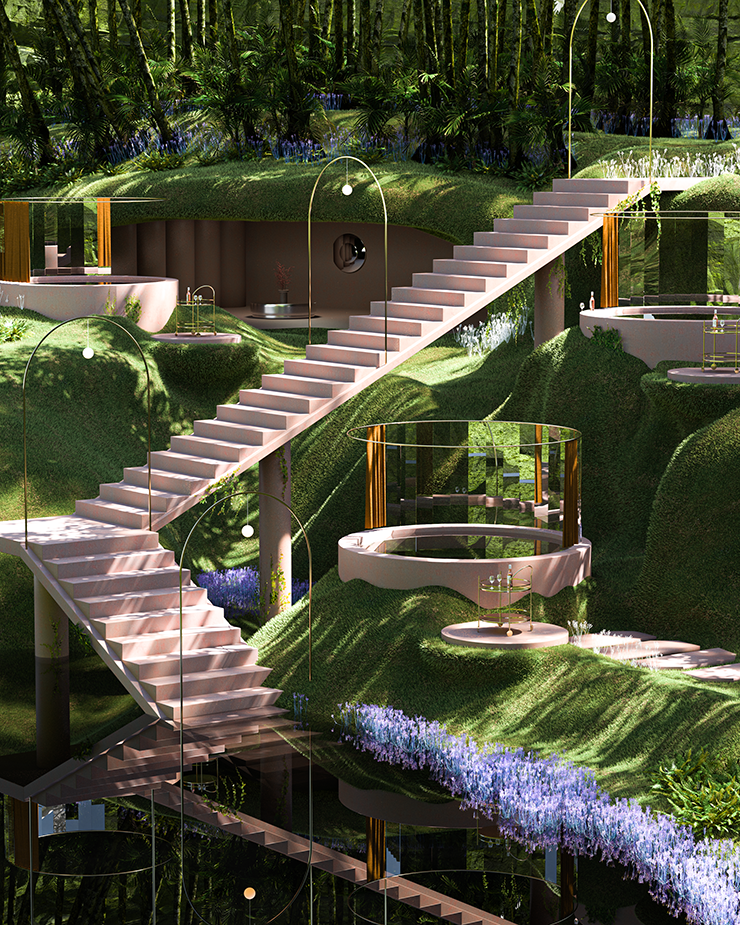 Find more creative inspiration on our Style & Design section here.
Image credit: Paul Milinski