In honour of this month's Sustainability launch (read more about it here) we wanted our latest instalment of Getting The Gig to celebrate someone who has been at the forefront of the small change big impact movement.
Enter Sophie Kovic, founder of Seed & Sprout, an online store on a crusade to end our obsession with single-use plastic with a range of uber cute homewares, kitchen essentials and beauty products. FYI eight million tonnes of plastic are dumped in our oceans every year so it's a big freaking deal that we start making changes now.
We caught up with the Byron Bay-based boss lady to talk about how she got her empire off the ground and the simple swaps you can make to live a greener, more sustainable life.
Let's rewind a little, what inspired you to initially create Seed & Sprout?
I'm an entrepreneur at heart and was looking for my 'forever business'… one that would get me out of bed each day with a spring in my step. My son started school and the school had a 'no plastics' policy. I couldn't find a single plastic-free lunchbox I liked, so Seed & Sprout was born.
When did you become aware of the damaging effects of plastic on the environment?
Being confronted by the amount of plastic on the beaches and in the water in Asia has majorly influenced my awareness of the scale of the issue. It's very sad to travel to places you dreamed of to find out we've ruined them by our disregard. Now I'm not only horrified by the environmental issues but also the health issues it causes us. It's pretty concerning.
How did you first get Seed & Sprout off the ground?
I put all of my savings into it first off, then borrowed some from a friend, then took a PayPal loan as soon as they would let me. We lost money for around two years. I didn't pay myself for a very long time. About 18 months in, no banks would lend to me, I asked pretty much everyone I could think of for cash. I really have no idea how we got through. We did two Kickstarters and pre-sold stock before it arrived. It was hella stressful. I'm honestly still recovering.
What was the biggest hurdle you had with the business and how did you overcome it?
The cash flow issues. Also, managing people is also not my strong suit. So hiring people that get the vision and get what it is to be a startup really makes a huge difference.
And on the flip side, your biggest 'fu*k yea' moment with Seed & Sprout?
Oooh, maybe when we won the Green Online Retailer of the Year Award this year? People's Choice nominee was really flattering last year too.
How did you evolve the business to what it has become today?
The team! People always said this and now I get it. People are everything and my team is ridiculous. Hiring a General Manager has saved my sanity. The people who work in the various departments are much better at what they do than I ever could be. Sometimes getting out of the way is the best thing you can do.
How important has social media been to building Seed & Sprout?
Absolutely fundamental and probably the number one factor. Keeping a tight presence online and particularly on Insta has been key to success.
Sustainability and the climate crisis can seem overwhelming at times, especially with all the negative attention we see in the media. Do you ever feel 'eco-anxiety'?
No, I don't. I feel general anxiety though (laughs) but when I think about the state of the earth I choose to be a naive optimist. I truly stand behind our mantra that small actions can lead to enormous impact. Besides, the winds of change are blowing. Can't you feel it?
A lot of people are convinced that change needs to come from the government and big business for it to have an impact. What are your thoughts on individuals making a difference?
Love this question. Yes, change absolutely needs to come from big business and legislation. But we are living in a supply/demand age. If consumer behaviour reflects a pro-environmentalist sentiment (e.g. everyone buys the peanut butter in the glass jar with the metal lid at Woolies) then Kraft will ditch the plastic packaging. It's that simple. We vote with our dollars. If you don't think big business is dictated by your habits then you're deluded.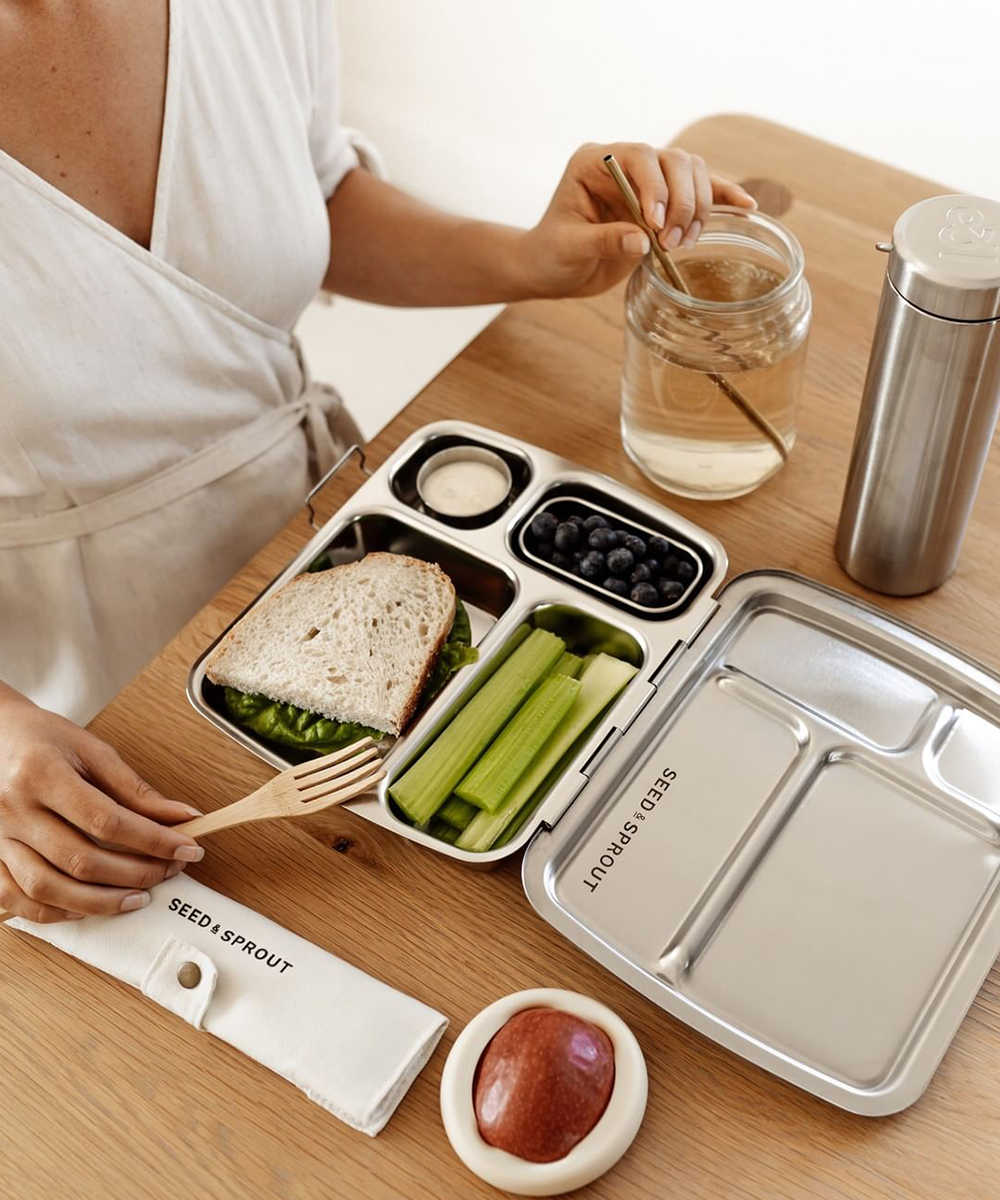 What's your best advice for reducing waste…
• In The Kitchen:
Ditch cling wrap and plastic bags (eww do you know we ingest that toxic plastic into our bodies!) and swap for the many reusable alternatives we and other vendors sell.
• In The Bathroom:
Swap bottles for bars! One of our bars = 3.5 bottles and costs just $19. That's equivalent to a $5.40 bottle of shampoo. Plus it's palm oil free and Australian made!
• When You're Out And About:
Bring your reusables. I have a car kit that includes a stainless steel water bottle, a set of our tufferware, and a utensil pouch. That way I can avoid all the traps of takeaway plastics including utensils.
And finally, what advice would you give to someone wanting to start their own small business?
Listen to as many podcasts as you can. Read books. Start small. Properly validate your idea before you invest money into it. And do something good! It'll be bloody hard so make sure it's worth it! The world doesn't need more fidget spinners.
Feeling inspired? Check out our Getting The Gig chats with The Broke Generation and Lahana Swim.

Image Credit: Seed & Sprout