Hold on to your face masks, kids! Just when you thought we'd reached peak beauty obsession levels, along comes another skincare ritual *guaranteed* to make your noggin shine like Meghan Markle's finger (note: life is unfair etc).
I love an outrageous beauty claim as much as the next person, so when my inimitable Urban List editor asked me to research and write about a new Korean beauty trend that makes your skin 'look like glass', I jumped at the chance to investigate.
I immediately googled 'Glassface', which, as it turns out, is not at all the correct term, which would explain why a Google Image search returned a bunch of drinking glasses made into the shape of human faces. Whyyyy? Not cute.
So anyway, turns out the term is not Glassface, but rather Glass Skin, which has more of a ring to it, sure, but both seem pretty hyperbolic to be honest.
Happily, the actual meaning behind glass skin, is simply skin free of blemishes and pores, that is translucent and glowing. Erm, yes please?
In digging into this trend though, it seems that 'Glass Skin' is actually just a phrase coined by a (admittedly glassy-skinned) Korean beauty blogger, Ellie Choi. Choi revealed the skincare regime she uses to obtain next-level glassiness and, what do you know, the internet lost its shit a little bit.
Well, at risk of enraging the 'net, I've gotta say, old Ellie's taking the piss here. Her skin is gorg', don't get me wrong, but have a looksie at what she reportedly does to achieve skin mecca.
Step 1: Remove makeup. She uses Neutrogena just like us!
Step 2: Cleanse. Gasp!
Step 3: Tone. Keep it tight, right?
Step 4: Moisturise. Who knew?
Every second day, Choi exfoliates and twice a week she pops a mask on her mug (she favours a sheet mask, if you must know).
In case you're sitting there thinking, erm, this is basically me and my skin is less like glass and more like an old curtain that's been in the sun too long, not so fast. Choi's not done! She also... drinks lots of water! Tries not to eat greasy food! Eats plenty of vegetables! Aren't you glad you're reading this article?!
Ok. Had enough of this snarky rant? Fair enough.
Whether or not Glass Skin is groundbreaking is up for debate (it's not), however I think it's safe to say that these basic skincare steps are a good guide to follow for all of us, particularly if you're current skincare regime involves lying down on your bed for "just one episode of The Crown" and then waking up in the morning with mascara stains on your pillow and a face filled with regret.
So, in the pursuit of the perfect complexion, here are the team's picks for the best products to sub into your new Glass Skin routine. Watch out world!

Neutrogena's fine and everything but the best makeup remover in the world is Micellar Water Ultra by La Roche Posay, and that's a fact. It's great for you sensitive chickens as well, so everyone's happy.

Guys, double cleansing is where it's at. K-Beauty advocates swear by double cleansing because, well, it cleans your skin really well. Use Shu Uemura Ultime8 Sublime Beauty Cleansing Oil first in your 2-step cleanse: it emulsifies when in contact with water, removing any left-over dirt without stripping your skin of all the good stuff.

To get those cheeks squeaky clean, we love Mario Badescu's Enzyme Cleansing Gel for it's refreshing-without-drying qualities and delightful green hue.

Wot? I tone every day, shut up… People who use toner, like me, obviously, recommend Kiehl's Ultra Facial Toner to tighten up the complexion and prep it for your makeup.

There are literally more moisturisers out there than there are faces to put them on, so go with a good brand and a formula that suits your skin type (ask a pro if you don't know!) and you'll be set. You can't go wrong with Drunk Elephant's Lala Retro Whipped Cream though, it's the business.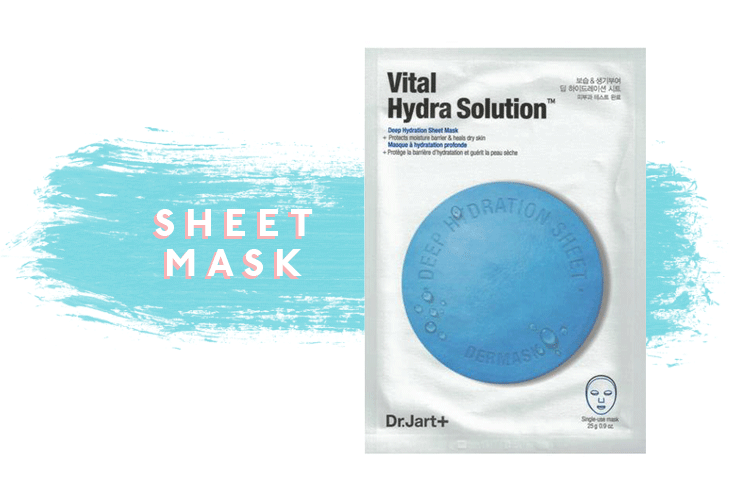 These bad boys are everywhere right now, so the world is literally your oyster when it comes to masks, but at the moment we're loving Dr Jart's Vital Hydra Solution from Sephora for max hydration. As for water… I like my tap, but feel free to get fancy and drink it out of a filtered jug or a babbling brook, whatever floats your boat. Just ease up on those plastic bottles, you know better!

We're a sucker for easy beauty options, so we can't get enough of Radical Skincare's exfoliating swipeys. They're comprised of 95% active ingredients and are made up of AHAs and essential oils to brighten your skin and keep it hydrated. Wipe a pad over your face a few times a week and you're done.
And, lastly, as far as eating well goes, there's really no excuse these days what with the plethora of organic grocers and gourmet food delivery options going 'round, so eating healthily doesn't have to be a pain.
Tried the above and still haven't managed to achieve glassy skin status? Here's the next best thing. Enjoy.
Design credit: Isaac Smith