Hawaii is known for many things including beaches, longboards, a couple of Disney flicks and a confusing double 'i' situation.
But what you might not know is that the inhabitants of Hawaii, and the island Oahu in particular, are absolutely gaga for food trucks. So much so in fact, we've dedicated an entire list to their very best.
Prepare yourself for more shrimp mentions than a Forrest Gump parody and more over-the-top drool than a Hanna Barbara cartoon/Simpsons sketch combined. These are the best food trucks in Hawaii.
The Best Food Trucks On Waipahu
Oahu
Leonard's Bakery Malasadamobile
Scratching your head at 'malasada'? Us too until we learned it's beautiful truth. You see, malasadas are a Portuguese doughnut minus the trademark hole but we'll let that slide, after all, it's just more space to fill with goodies. We recommend a cinnamon sugar or li hing (plum-esque) coating and dobash (chocolate) or haupia (coconut) filling. Actually, let's make it one of each, shall we?
The Best Food Trucks In Waikiki
Oahu
Banán
Prepare yourself for an onslaught of Arrested Development mems 'cause the banana-based food truck has arrived.
The folks at Banán have transformed the humble banana into the dairy-free soft serve of your lactose intolerant dreams. After whetting your whistle on the trademark banana, we recommend trying the acai and liliko'i (Hawaiian passionfruit) flavours in a variety of combinations like Stairway to Heaven and Chunkadelic. Often served in a half mango, Banán's treats are nothing like the Mr. Whippy soft-serve of your youth and we couldn't be happier.
Kamitoku Ramen Lunch Wagon
Perk up ramen fans 'cause boy! have we found the food truck for you. Kamitoku Ramen is famous for an emphasis on beef rather than pork and TBH, we're loving the switcheroo. Be sure to order the beefy wild but be warned it's one of the more popular offerings thanks to a slice of roasted ribeye. Frequently hailed as the shining star of the Pau Hana food truck market, Kamitoku is one to bookmark.
Ken's Kitchen
Garlic shrimp is a hot commodity in Hawaii and Ken's Kitchen is rumoured to have some of the best. So, if you're looking to share a little one-on-one time with the fruit of the sea, head on down to the family-run truck quick smart. We can't look past the spicy garlic shrimp but also dig the Japanese fried chicken.
Chubbies Burgers
Known for slingin' 'smash-style' burgers, Chubbies is the kind of institution that barely needs marketing, their word of mouth is that good. We recommend grabbing the made-to-order 50s or El Rey burger, and fries (covered with cheese, grilled onions and special sauce) before grabbing a spot on the grass. If that weren't enough to lure you, these guys have dressed their burgers with a classic piece of Aussie bait: avocado.
Mami's Empanadas
You know you're on to a goodie when folks far and wide are on a first name basis with the chef and Mami's Empanadas is no exception (Hi Alex!). The Colombian-style offerings include pork belly chicharron as well as a classic Cuban sandwich. At the end of the day, we recommend grabbing four for $10 in pretty much any of the daily empanadas (especially the sofrito chicken) and one of each of the dipping sauces.
The Best Food Trucks On Hawaii's North Shore
Oahu
Dat Cajun Guy
While we've never met a bowl of jambalaya we didn't like, there's no denying Dat Cajun Guy's is one of the best 'round. If you haven't tried Cajun cuisine before and find yourself on the North Shore of Honolulu, we strongly suggest (nay, beg) stopping by. You'll need—at minimum—a serving of gumbo (chicken and sausage), jambalaya, fish po-boy and New Orleans BBQ shrimp. That should do for an entrée, right?
Giovanni Shrimp Truck
Giovanni's is legendary across the whole of Oahu—and not just 'cause their shrimp mascot is a tad scary. No, it's the jumbo shrimp these guys sling on the reg' that makes this food truck one of a kind. Punters come from far and wide to try the Hot & Spicy Shrimp and garlicky Shrimp Scampi with lemon butter. One taste and you'll totally see why.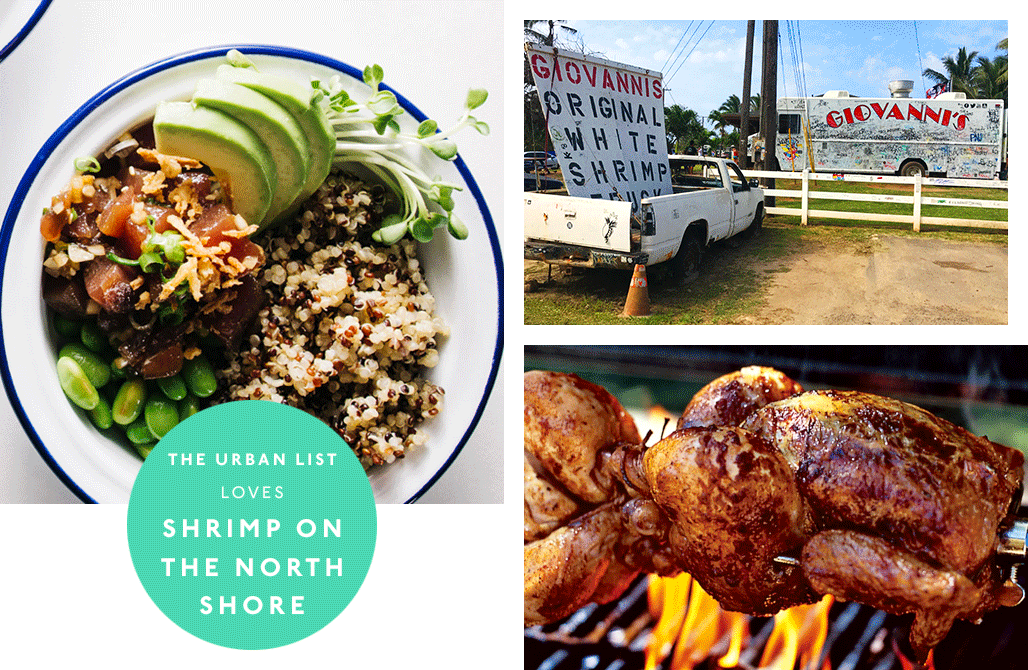 Haleiwa Bowls
While we're all about the cruisy, laid-back style of the food truck scene, we have to admit, it's nice to see something with a little glam. Haleiwa Bowls offer treats that are not only gorgeous but mighty tasty too. Make sure to grab a hapa howl with acai, strawberries, blueberries, bananas, hemp granola, raw coconut flakes and honey. Feel like something's missing? Top it up with botanical supplements like ashwagandha or reishi for an easy dollar apiece.
North Shore Tacos
Known for their fresh AF ingredients, North Shore Tacos is worth far more than a simple visit. Heck, we'd camp out there if they'd let us. We recommend the sunset salad and gnarly nachos with a side order or two of their phenom' fish tacos. Top the day (or one of many) by nabbing yourself a pineapple tiki (again, or one of many) for the 'gram/actual refreshment.
Ray's Kiawe Broiled Chicken
Repeat after me: huli huli chicken. Now say it again, and memorise accordingly, because you'll be licking your lips before you've finished this paragraph. Setting up shop alongside the main highway through Haleiwa, these guys are known for doing the best damn huli huli on the island. Conveniently located in a supermarket carpark, grab some brews, then set yourself down with a half chicken plate complete with pineapple slaw and sticky rice, then contemplate going back up for more (with absolutely no judgement from us).
The Best Food Trucks On Kihei
Maui
South Maui Fish Company
The South Maui Fish Company is for the trend conscious guy or gal who thinks that poke is not only great for the 'gram but damn tasty too. South Maui Fish Company is the place to go for fresh poke made on request from a same-day haul. We recommend starting with a fish taco (varies depending on catch) before digging into the spicy poke with pineapple and coconut 'slaw (be warned though, it's got a good kick).
Three's Grill
An offshoot of a restaurant by the same name, Three's Grill is largely booked for events like weddings (yes, weddings have food trucks here) but can be spotted from time to time around the traps in Kihei. At a bare minimum, we recommend the hurricane fries (sriracha aioli, mochi crunch and furikake) and a serving of coconut shrimp (pineapple chutney, Thai sweet chilli with lime glaze).
The Best Food Trucks On Kahului
Maui
Geste Shrimp Truck
With generous portions—12 jumbo shrimp, crab salad and a scoop of rice will cost you $13—and a cult following, Geste Shrimp Truck alone makes the trek from Australia to Maui worth it. But enough jabber, grab yourself a plate of Hawaiian Scampi, Hot & Spicy, Spicy Pineapple or Lemon Pepper and dig in to one of the best meals of your life.
Work off all dat shrimp on one of these amazing hikes around Hawaii.
Image credit: Hayley Williamson
Design Credit: Isaac Smith