Easter is just days away and for the sweet tooths among us, this is egg-citing news. After all, what other holiday is celebrated by stuffing your face with as much chocolate (and other sugary goodies) as humanly possible?
Now normally this is the part where we'd point you in the direction of our fave Easter treats; however seeing as eating out's not really an option right now (don't worry, our hollow choccy hearts are breaking too), we've come up with the next best thing—a mouthwatering collection of Easter recipes for you to try at home.
We realise flour's in short supply ATM, so with that in mind we've included a number of recipes that make light on the white stuff and in some cases, omit it completely.
But enough of the chit chat, there's baking to be done, so dust off that apron, grab yourself a whisk, and hop to it.
Smashed Egg Cocktail
By The Mix
We have just three words for you: Easter egg cocktail. You can thank the crew at The Mix for coming up with this one, which is essentially an espresso martini with a couple of tasty additions, including the pièce de résistance—a smashed Easter egg.
Caramel Lava Eggs
By Pana Chocolate
Vegan chocolate brand, Pana Chocolate are putting a spin on the traditional Easter egg with their delightfully wholesome caramel lava eggs. Made from dates, coconut butter and other ingredients—then coated in handmade organic Pana Chocolate (find it at Farro or your local New World)—these are hands-down the healthiest treat you'll eat this Easter.
Chocolate Brownie
By Miann
We can always count on Miann for epic seasonal treats, especially at Easter. However seeing as their amazing handcrafted goodies aren't exactly an option right now, we're happy to settle for a piece of their drool-worthy chocolate brownie. Loaded with peanut butter, maple syrup and a decent whack of dark chocolate, it's the stuff of Easter dreams.
Chocolate Fondue and Spiced Bunny Biscuits
By Nadia Lim
Nadia Lim's spiced bunny biscuits are some of the cutest treats that'll ever come out of your kitchen, and made all the sweeter when paired with a fun double-choc dipping sauce. Yes, these ones have us feeling like a kid all over again, and we love it.
Hot Cross Bun Cake
By The Caker
We've never tried a hot cross bun cake but if Jordan Rondel aka The Caker's other mouthwatering treats are anything to go by, we know it's going to be epic. This one features a spicy, fruit-filled base, topped with cinnamon cream cheese icing and dark chocolate ganache. Yum.
Easter Egg Truffles
By Annabel Langbein
Hooray, an easy peasy Easter recipe that requires just four ingredients (and not one of them is flour). Let your creative juices flow when making these Easter egg truffles by experimenting with different toppings/garnishes—anything from sprinkles and crushed candy, through to chopped nuts and freeze-dried fruit.
Carrot Cake
By Little and Friday
Easter ain't Easter without a carrot or two—but why settle for one on its own, when you can have it baked into a mouthwatering carrot cake topped with cream cheese icing and candied orange peel, thanks to the legends at Little and Friday? The recipe for this one is a little on the long side, but well worth the effort.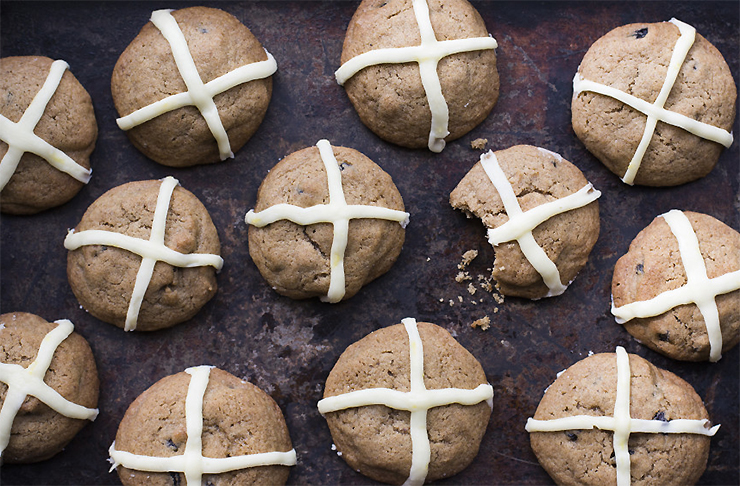 Hot Cross Cookies
By Chelsea Winter
We love a good mashup, and so too does Chelsea Winter, who's created one with her hot cross cookies. Bursting with all the typical HCB flavours (with the option of switching out raisins for chocolate chips) and topped with a yummy orange-flavoured cross, this is one cookie we can't wait to try.
Fridge Cake
By Jamie Oliver
And last but not least, a deceptively simple fridge cake from the one-and-only Jamie Oliver. Here he combines dark chocolate, store-bought biccies and other ingredients in a no-bake treat that you can easily adapt to suit your own tastes (change up the fruit and biscuit components, for example, or add decorations to the top).
Finally, Here Are A Few Easy Easter Hacks Of Our Own (No Flour Required)
Creme Egg Croissant
Place a sliced Cadbury Creme Egg (or two!) inside a croissant, butter the top then chuck into the oven or toasted sandwich maker until the eggs have melted, and the outside is golden brown. Drizzle with a little melted chocolate, and serve alongside some vanilla ice cream.
Easter Egg Bark
Melt a block of dark chocolate, spread onto a tray lined with baking paper, then place in the fridge to set. Once set, melt a block of white chocolate, pour on top of the dark chocolate and decorate with your choice of mini Easter eggs, sprinkles and other treats, before again placing in the fridge to set. Once set, break into shards or pieces of 'bark'. Keep in an air-tight container in the fridge or freezer and enjoy on top of ice cream, as a garnish for cakes and cupcakes, or simply on its own.
Easter Bunny Milkshake
Carefully remove (or bite) part of the ear off of a chocolate Easter bunny. Fill with your fave milkshake or flavoured milk (we like Lewis Road Creamery's coveted chocolate version), then top with whipped cream and crushed Easter eggs. Add a couple of straws, and you're good to go.
Want to lend a bit of excitement to those store-bought hot cross buns? Here are a few ideas.
Image credit: The Mix, Pana Chocolate, Nadia Lim, Annabel Langbein, Chelsea Winter, Kathryn Steane