Combining grunge and glamour comes easy in Berlin, a city with a ubiquitous history, famous nightlife and cutting-edge art scene. There's much to explore in this goblet of good things. Getting outside the usual haunts of tourist-drawing neighbourhoods like Mitte, Kreuzberg or Friedrichshain will reward by way of boutique hotels and B&B's, hip bars and cafes and, to top it off, a taste of regular Berliner life.
Alt-Treptow
A small neighbourhood ensconced between the River Spree, two canals, Treptower Park and its larger neighbour Neukölln, Alt-Treptow is a quiet locality that offers easy access to some of Berlin's more habitual pleasures.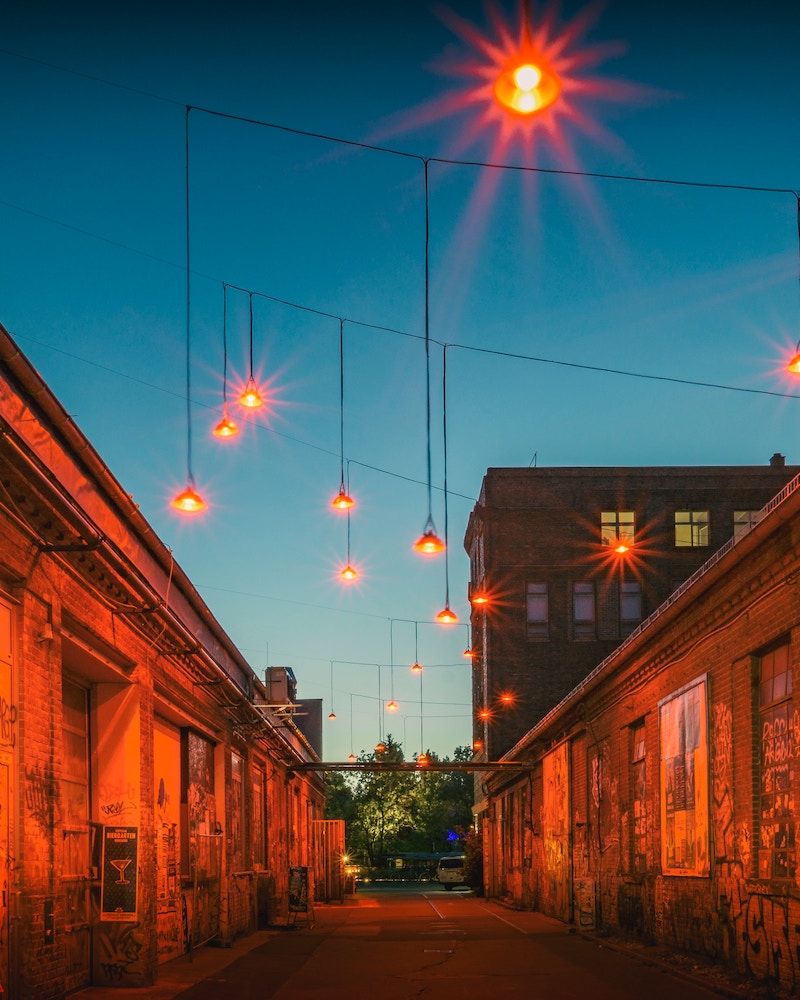 Stay
nhow Berlin
Europe's first music hotel, nhow Berlin, may offer fully kitted professional recording studios, guitar room service and live music concerts in the hotel bar, but it's not just for rock stars. While this place is technically in Friedrichshain, it's directly across the river Spree from Alt-Treptow, providing insane views over the river and back onto the leafy neighbourhood itself, so you can eye-off the hood as you plan your attack. Plus, the rooms are seriously fab. Think full musk-pink tiled bathrooms, electro-blue and purple walls and seriously contemporary design features.
Die Fabrik Hotel
Switching now to the other end of the spectrum, park up right in the heart of Alt-Treptow at Die Fabrik Hotel, a quirky little hostel-hotel that certainly won't break the bank. It's set in a converted factory with an ivy-covered façade and offers both laid-back dorms and quaintly-furnished privates that are perfect for the lowkey traveller. The cute courtyard cafe and bar is also a plus.
Eat
Passenger Coffee
Start your days at Passenger Coffee, a very trendy little roastery making their own flavoursome blends.
Black Sheep
Vegans will rejoice to find Black Sheep, a vegan eatery who offer delicious meals, cakes and snacks as well as their own house-made kombucha.
Drink
Birgit & Bier
Your stay wouldn't be complete without enjoying that open-air biergarten Berlin vibe, which you can do at Birgit & Bier, a beer garden and dance club perched on an island between two canals and the Spree.
Salon Zur Wilden Renate
Known simply as Renate to locals, Salon Zur Wilden Renate is the go-to mega-club for an easy stumble home to Alt-Treptow, but it's not for those wanting a quiet one.
Shop
Vintage Berlin
Small but mighty, Alt-Treptow keeps up with the rest of its city's vintage shopping acclaim. Vintage Berlin is a shopping destination in itself, but can also be easily incorporated into a shopping trail through neighbouring Neukölln.
Vibes
Treptower Park
Wandering through the picture-perfect Treptower Park is your first point-of-call in this humble hood; be sure to take a picnic and some beers if you're there in summer. The park hosts the Soviet War Memorial within, as well as access to Insel der Jugend (Isle of Youth), a tiny island on the Spree hosting an open-air cinema, a cafe and a beer garden where there's often live music.
Mügelsee
Berlin's lakes are essential to life here during summer, and Alt-Treptow is a perfect jumping off point for a day trip to one of the city's biggest: Müggelsee. Here you can find a private spot to swim and enjoy the sunshine, as well as eat at Spreearche, a floating restaurant serving cold beers and fish from the surrounding waters.
Badeschiff
If you don't want to travel so far but still want to swim, Badeschiff is a floating public swimming pool on the banks of the Spree that makes for sanitary urban swimming, complete with surrounding bars and eateries, of course.
Neukölln
One of the most culturally diverse and colourful neighbourhoods in Berlin, Neukölln fuses quiet cobblestoned streets with bustling boulevards and favourites-of-old with the trendy and new.
Stay
Hütten Palast Hotel
This is one of those places you won't forget sleeping. Housed in an old vacuum cleaner factory, Hüttenpalast is a kitschy-chic concept hotel offering six small rooms and three converted vintage caravans, parked inside for that glamping-style comfort. This place is the definition of cosy, perfectly located at the top end of Neukölln's three major boulevards.
Tautes Heim House
Only in Berlin are there places to stay as completely unique as Tautes Heim House. This authentically styled 1920s rentable museum-house is just one individual home within the World Heritage-listed Horseshoe Settlement or Hufeisensiedlung, one of Berlin's original urban-social settlements designed by architect Bruno Taut in response to the city's inter-war period housing crisis.
Visitors can book stays at Tautes Heim House for anything longer than three days, and you'll certainly want to: not only will you receive a guided tour of this fascinating site by your landlords (who are also residents), you'll also enjoy the flat-out stunning retro interior and the convenient smack-bang-middle location.
Coffee
Populous Coffee
Start your days or while away afternoons with speciality coffee along the canals at Populous Coffee, a super sleek Finnish-owned cafe with an in-house roastery.
Isla Coffee
Another great spot to enjoy a fine brew is on the bustling Hermannstrasse, where Isla Coffee is the obvious choice. Aside from the excellent coffee, there's a lot to love about Isla's focus on sustainability; everything here is recycled, reclaimed or homegrown.
Eat
Gel Gör Inegöl Köfteci
Enjoy the culinary payoff of Berlin's large Turkish community at Gel Gör Inegöl Köfteci, a favourite local Turkish sandwich and kofta joint. Warning: you will be licking your lips, fingers, and possibly your plate.
Eins44
Skip to a seasonal German, Austrian and French-inspired menu at Eins44, a 'gram-worthy eatery where good food and drinks meets industrial-chic design.
The California Breakfast Slam
Breakfast and brunch is a thing here too, withThe California Breakfast Slam a main haunt for locals on weekends. Cure the brunch-sick blues with their generous dishes and creamy coffees.
Gordon
Spend an afternoon flicking through vinyls and sipping on well-made cappuccinos or cocktails at Gordon, a contemporary eatery-cum-record store bringing the flavours and sounds of Tel Aviv to Neukölln.
Drink
Klunkerkranich
For lower-key chills, drinks and dancing than is common in Berlin, head to the rooftop-perched Klunkerkranich. Though best suited to summer, we'll take the views any time of year.
Das Gift
An old-school watering-hole from the outside but refined neighbourhood pub on the inside, much of what's good about Das Gift can be put down to a Scottish influence, the top-notch Scotch list and imported English ciders, for example.
Jaja Wine Bar
If natural wine is your thing, this place is dedicated to it. Jaja feels far away from the busyness of Berlin, making it the ideal place to enjoy quality wine and a fine meal. It's also a wine shop with an extensive offering, so you can take something home with you to enjoy for the remainder of your visit.
Muted Horn
With 22 taps and a list of bottled beers too long to even read to the bottom of, Muted Horn is not mucking around in bringing the best of craft beer to Berliners and travellers alike. Clear your itinerary and settle in for this one, you are going to want to taste them all.
Lager Lager
A craft beer shop that doubles as a bar, Lager Lager is not to be missed if you love craft beer. Eight taps and a rotating program of what they pour keep punters happy for days.
Bei Schlawinchen
A must-visit if you want to experience a piece of Berlin-drinking history, Bei Schlawinchen is an example of a Kneipen, best likened to a 'working man's club'. Borderline dive bar, but offering cheap drinks and an unpretentious place to congregate, this spot remains busy 24/7 (literally, the walls boast a badge of honour for 30 years of never closing).
Shop
Vintage Stores
Vintage is the name of the game in this ex-working-class Kiez, and there are many-an upcycled treasure to find for those willing to search. The all too cute Let Them Eat Cake offers hand-picked, high-quality vintage, while Sing Blackbird doubles as both multi-roomed thrift store and cafe, making it the perfect spot to hit around lunchtime (or on the third Saturday of each month, when independent vintage dealers take over, offering their insane vintage collections). Other vintage stores include Calypt (mostly 90's vintage) and Humana, a chain thrift-store boasting Berlin's widest range of second-hand threads.
Markets
Neukölln is also the historical heart of Berlin's Turkish community, and you can experience the perks of this at the sprawling canal-side street market on Maybachufer, where street food, fresh produce and textiles abound. Similar delights can be found at Schillermarkt, which packs variety, quantity and quality into a small cluster of market stalls right outside a beautiful church.
Vibes
Tempelhofer Feld
Perhaps one of the most interesting things to do in Berlin full-stop is to walk or cycle around Tempelhofer Feld, the city's shuttered airport site that's been converted into a vast, open park made use of by locals and visitors alike.
Stadtbad Neukölln
Follow up the outdoor-action with a trip to Stadtbad Neukölln, a neoclassical spa with a grand old Great Hall swimming pool, saunas, steam baths and massage.
Art Galleries
You can't forget your culture-dose in a city like Berlin. There are dozens of galleries to explore in Neukölln, but some standouts include Kunstück Berlin, Cell 63 and Holz Kohlen Koks.
Prenzlauer Berg
The slower-paced neighbour to Berlin's bustling Mitte, Prenzlauer Berg is a place to park up and live like a local. Unlike some of its grungier one-time East Berlin counterparts, this 'burb is clean, pretty and full of the well-to-do.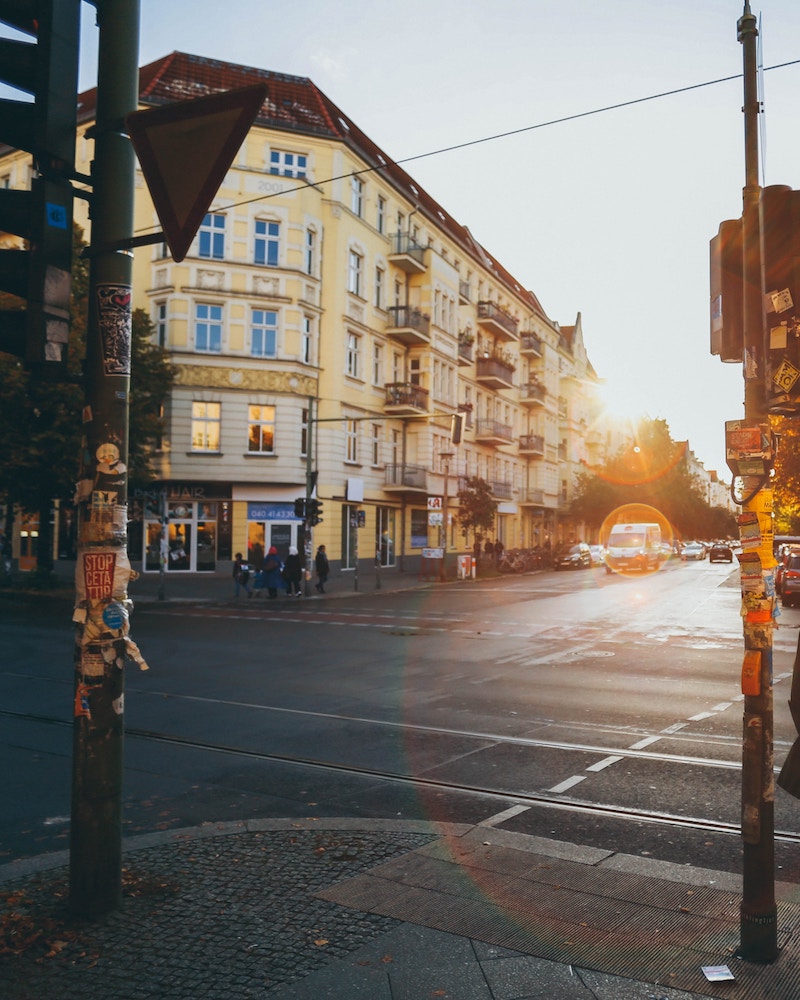 Stay
Hotel Oderberger
Another simply stunning spot to rest your head in this city almost too full of things to do, Hotel Oderberger is set in a 19th century bathhouse and offers a rather lovely 20-metre indoor pool that's reminiscent of this history. Rooms range from basic comfort with communal patios to large apartments with floor-to-ceiling windows and private balconies.
Ackselhaus & Blue Home
This unique B&B is all about options. Located on a quiet street, Ackselhaus & Blue Home is two hotels in one. Opt for Blue Home if you've got a bit of budget up your sleeve and want Mediterranean-inspired digs, while Ackselhaus offers more basic but still tastefully styled mini-apartments.
Pfefferbett Hostel Berlin
A good option for those on a shoestring, Pfefferbett Hostel is about as comfortable as hostels get. The place is housed in a former brewery that's been converted into a cultural complex housing galleries, studios, clubs, bars and restaurants, so it's an attractive option for those drawn to Berlin for the nightlife (and yes, there is a working brewpub on site).
Soho House Berlin
It's all the luxury and perks of Soho House, set in an iconic Berlin Bauhaus building with a particular historical point of interest (the building was once a centre for Hitler's Brownshirts). Located right at the apex of Prenzlauer Berg and Mitte, go straight here if you want decadence by way of ornate interiors, a rooftop pool and top-notch drinking and dining at your doorstep.
Coffee
Bonanza Coffee
Berlin's centre sees a fair bit of third-wave coffee competition, but Prenzlauer Berg's hyper-contemporary Bonanza Coffee is one of the most well-known for their meticulous brews. It won't just be the coffee you love; the chic minimalistic fit out here will have you returning too.
No Fire No Glory
Speciality coffee haven and decent brunch spot, No Fire No Glory is a great spot to start the day. The dappled light and alfresco seating will win you over instantly, with the excellent coffee to come.
Eat
Konnopke's Imbiss
It would be almost sinful to go to Berlin and not eat Currywurst. Enjoy the so-bad-but-so-good porky, saucy delight at Konnopke's, a family business dating back to 1930 that's said to serve up one of the city's best, from underneath a viaduct no less.
Yafo
Berlin's multiculturalism equals very good things for foodies. Enjoy the sumptuous flavours of Tel Aviv at charming resto-bar Yafo, where the cocktails go down just as nicely as the Israeli eats.
Drink
Prater Garden
Beers can be enjoyed at the self-service Prater Garden, which is said to be the city's oldest beer garden, having been in business since 1837. Enjoy relaxed festival vibes here with wooden bench seating, low-slung fairy lights, and well-priced brews.
Kulturbreaurei
The historic cultural hub, eatery and brewpub Kulturbrauerei consists of six sprawling courtyards, with a cinema, museum, clubs and restaurants inside. They also run a serious events program for those who need a reason.
Shop
Leave it to two English blokes to open a used book store in this quaint but hip area of Berlin. Saint George's English Bookshop is well worth a visit to find literary gems for bookworms. Second-hand designer clothing and wares can also be found at Souer, while BLESS, a home-grown label and store, offers creative and stylish fashion and accessories.
Vibes
Aside from the Gedenkstätte Berliner Mauer, an insightful outdoor memorial to the Berlin Wall era, Prenzlauer Berg doesn't offer much in the way of touristic landmarks (phew). But part of its charm is places like Mauer Park, an open space for picnicking and frolicking and a melting pot of food stands, flea markets, graffiti walls, live music and even karaoke.
Wedding
The western terminus of one of Berlin's first secret refugee tunnels during WWII, Wedding is a fusion of old factory buildings and a working-class past and new, emerging artists inspired by the burb's persevering character.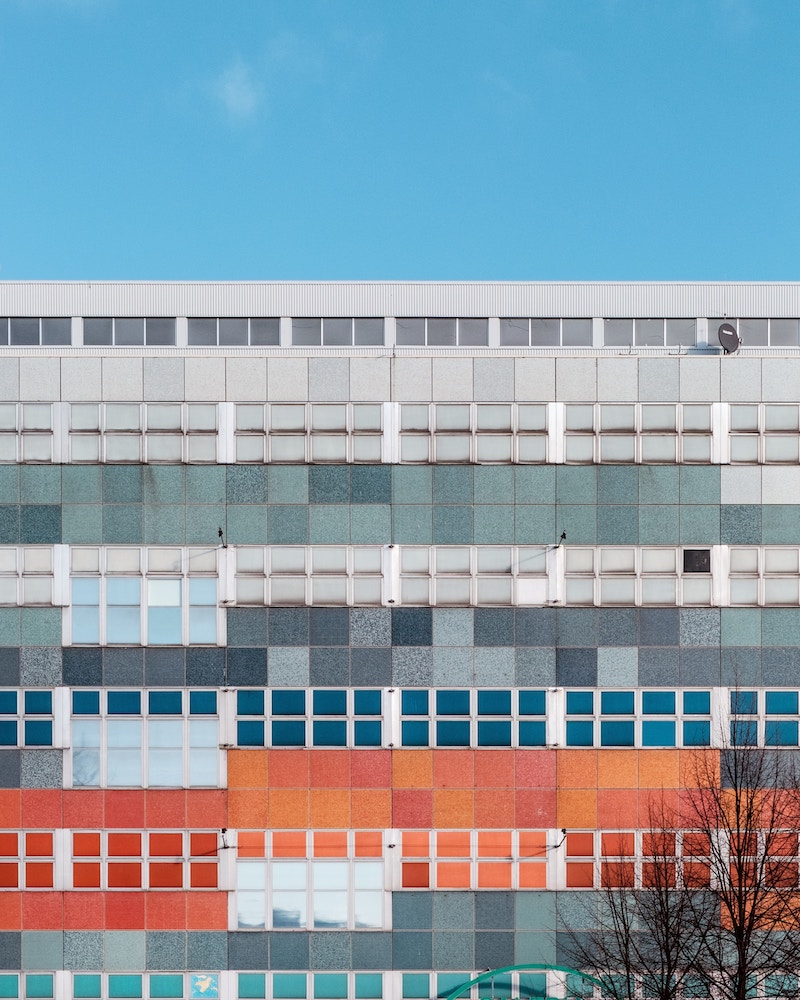 Stay
MOXY Berlin Humboldthain Park
Technically located in neighbouring Gesundbrunnen (these two 'hoods used to be one district and remain culturally linked), Moxy Berlin offers all the comfort and design-forward style typical of this new-wave hotel chain with a little bit of extra low-key outer-burb charm.
Steps-Hotel
Trade contemporary style for traditional hospitality at the family owned and run Steps-Hotel, situated in the warm heart of Wedding. You'll be immersed in the neighbourhood's ornate 19th century architecture and old-school grandeur.
Coffee
Cafe Pförtner
A hunger-slaying menu and decent coffee can be consumed in Cafe Pförtner's funky gutted-school-bus dining room or al-fresco in the beer garden.
Cafe ​DuJardin
If you like your morning brew with a side of people-watching, Cafe DuJardin sits along the Panke canal and offers both in abundance.
Eat
Shikgoo
The Koren food trend has definitely reached Wedding, and Shikgoo is the go-to. The setting is cosy and it's full of locals, which only means good things.
Imren Grill
In this city of great Turkish influence, the discussion around who's serving up the best döner kebabs is a big one, but Imren Grill is a local favourite. Get your fix at their Müllestrabe branch in the centre of Wedding.
Drink
Eschenbräu
Wedding is home to two of Germany's major brewing schools, so it's only fitting that you while away more than a few hours drinking beer upon your visit. Do so at Eschenbräu for a taste of traditional German brews, including a red-ale-ode to the Wedding district.
Mastul
Regular jazz and comedy nights, cosy armchairs and an eclectic decor make Matsul the perfect place to enjoy Berlin's notorious nightlife, Wedding style.
Shop
Leopoldplatz Market
Rummaging through Berlin's flea markets is one of the city's major pass-times, and Wedding's Leopoldplatz market is one of the best as it's largely unchartered by the masses. Get your fresh produce, antique goods and market eats here on Saturdays.
Vibes
Street Art
Wedding's often grey tenements are tempered by the creative works of flocking artists, making for quite the street art walking trail if you're up for it. Some of the most vibrant works can be found along the Panke canal and Müllestrasse between U Seestrasse and U Wedding stations, while the Fabrik 23 art complex is an absolute must-visit.
Plötzensee
Hot days call for swimming and sunning oneself at Wedding's picturesque urban lake: Plötzensee. A makeshift sandy beach offers summertime recreation and a cafe, practised locals tend to stick to the east side of the lake for some peace and quiet.
Unterwelten-Museum
Slightly further afield you'll find an eye into Berlin's chequered past; the city's Underground Museum HQ, which offers guided tours of bunkers, subway tunnels and the old east-west escape tunnels.
Once you're done with Berlin, why not check out Tokyo's undiscovered neighbourhoods.
Image credit: Stefan Widua, Flo Karr, Brandon Siu, Samuel Zeller, Jeison Higuita