We probably could have called this article 'Neighbourhoods To Check Out In Tokyo That Aren't Shinjuku, Ginza, Shibuya Or Roppongi', because 99% of travellers are going to hit all of those multiple times. And there's nothing wrong with that, there's a reason Shinjuku and Shibuya draw millions of selfie-stick wielding visitors every year. They're amazing.
But if it's your second or third time in Tokyo, or you just want to branch out and see something beyond the well-trodden tourist routes, try these on for size.
Ueno
Ueno isn't a crazy left-field destination, but you won't see it on many travel itineraries. Ueno is where Tokyo keeps its zoo, the Tokyo National Museum, and the gorgeous Ueno Park (particularly beautiful in cherry blossom season, around 2 April). You'll never get bored here: it's the perfect mix of walkable daylight activities and backstreet neon nightlife.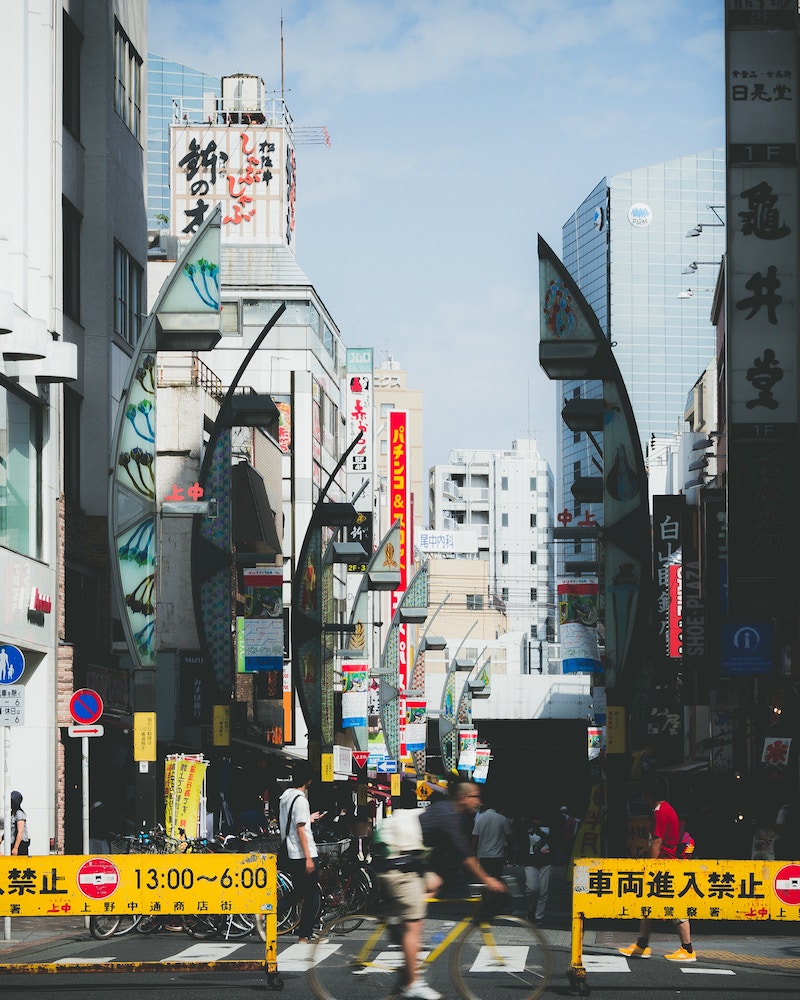 Hotels
Hotel Park Side
Hotel Park Side doesn't look like much from the front, but the toilets are basically flushable iPhones, and there's a rocking piano bar on the top floor. Seriously. Hibiki highballs, waiters in tuxedos, Bing Crosby… the works. One of my favourite places to stay in Tokyo.
Samurai Capsule Hostel
You don't need to stay in Shibuya to get the real capsule hotel experience. Samurai does the trick. Its capsule are on the roomy side (well, for capsules), and come with free wifi and a shared kitchen. There's even a roof deck with views of the Tokyo Skytree.
Coffee
Tsubakiya Coffee Shop
Ueno's neon lights practically run on coffee-power (seriously, if you want a good espresso around here, just throw a brick), but Tsubakiya is better than most. Swing by for their famous Tsubakiya blend coffee, dainty Royal Copenhagen cups and baked cheesecake.
Kojo
Tokyo has a few of these sort of coffee houses—baroque throwbacks to the Showa era. Technically they're called kissaten, but you'd swear you were in 19th century Vienna or something. Kojo (literally 'the old castle') is the best in Ueno: crystal chandeliers, stained glass windows, big slabs of granite. It's crazy stuff.
Eats
Shinsuke
This place has been running since 1925, and it's still packing out on weekends. Not a bad effort that. Shinsuke is everything you want from a traditional izakaya: long cedar wood counter, sushi masters decked out in hachimaki, and a crazy-good sake collection. Book early to avoid missing out.
Ponta Honke
You like katsu? Join the freaking club. Ponta Honke is one of the best katsu restaurants in Tokyo. Their pork katsu recipe hasn't changed much since they opened in 1905: take the best free-range pork, crumb, then fry on a low heat to keep things juicy.
Drinks
EST!
A local favourite, and the sort of bar you pray to find as a tourist. EST! has been est. since 1973, and the owner, Watanabe san, is now over 80. Sit yourself up at the counter and drink whatever he puts in front of you. The sake collection here is second to none.
Cocktail Works
Most booze magazines will send you straight to Ginza, Shibuya or Roppongi, but Cocktail Works in Ueno holds up to anything else in Tokyo. For one thing, there's no cover charge (score). For some reason, they do a mean mint julep.
Vibes
Ueno Park
If you're staying in Ueno, this is probably why. Ueno Park isn't Tokyo's most famous green space (that honour goes to Yoyogi or Shinjuku Gyoen), but it might be the most beautiful. Come for the cherry blossoms, the Tokyo National Museum, Tokyo Metropolitan Art Museum and Ueno Zoo.
Ameyoko
This is Ueno's famous market street (in fact it started as a Black Market after World War II). You'll be heckled by sellers, jostled by crowds and pretty much overwhelmed with noise, but you can also pick up cheap food, cosmetics, clothes and jewellery. Don't miss the Ameyoko Center Building, it's packed with speciality spice stores.
Naka-Meguro
In spring, Naka-Meguro is tourist central, mostly thanks to the hundreds of cherry trees that line the Meguro River. But when the last blossom falls, the tourists leave, and Naka-Meguro goes back to being what it really is: an indie back pocket of bookstores, bars, cafes and canals. Tokyo's unheralded capital of cool.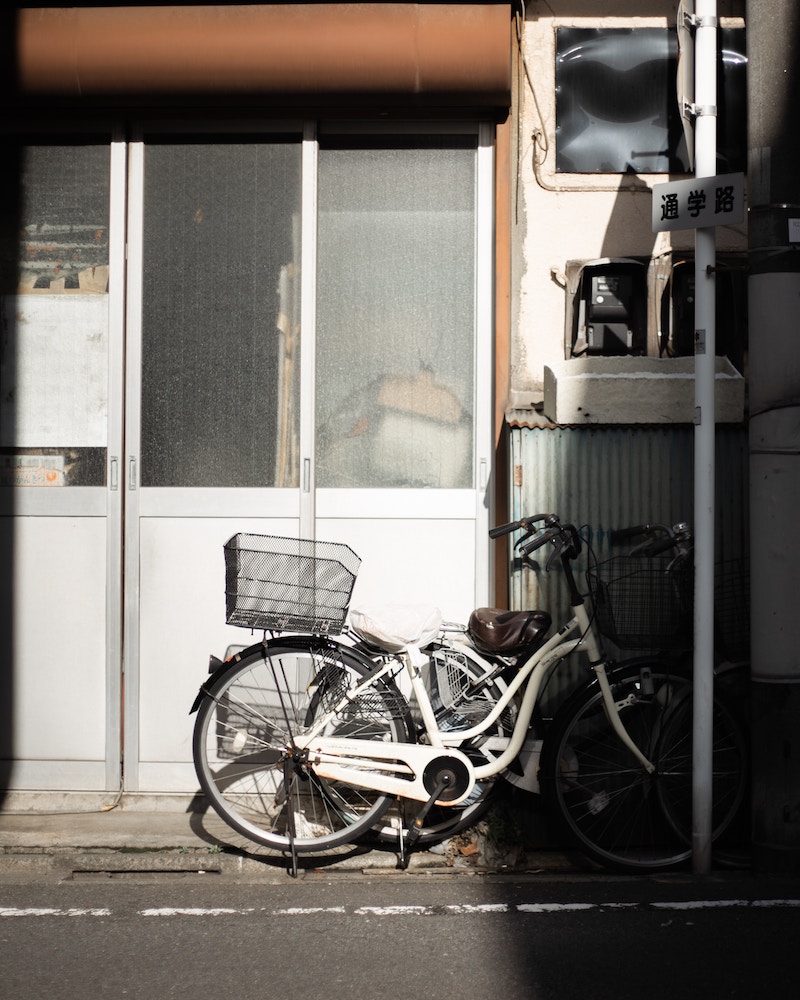 Hotels
Hotel Gajoen
Technically this is just outside Naka-Meguro, but your accommodation options are a little limited around here. Hotel Gajoen is fancy as fuck, there's no way around it. Rooms start around AUD$600 per night and go up from there. If you've been waiting for a splurge, this is the place.
Claska
Claska is a little bit more affordable. It's a boutique hotel in Meguro ward, just south of Naka-Meguro (honestly, if you want to stay inside Naka-Meguro, your best bet will be AirBnb). Claska is Tokyo's answer to the art hotel: all of the rooms have been done up by local artists and designers, and there's even an on-site gallery.
Coffee
Onibus Coffee
Naka-Meguro might lack hotels, but it can coffee with the best of them. Onibus is probably my favourite cafe in Tokyo. It's owned by a guy called Atsushi Sakao, and he's there all the time, roasting beans, bagging and weighing coffee, steaming the perfect flat white. Just order at the window downstairs, then drink on level two and watch the trains pull into Naka-Meguro station.
Blue Bottle Coffee
Blue Bottle isn't technically local (they're an import from San Francisco). You'll spot a few of their cafes around Tokyo (the other two are in Aoyama and Shinjuku). But the brews are truly great, especially the drip coffee. The team here crank out more than 700 of these bad boys a day.
Eats
Tatemichiya
Just finding this basement bar is half the fun. Tatemichiya is tucked down some nondescript stairs, and the walls are lined with Sex Pistol posters and pouty Japanese punk bands. It's one part izakaya, two parts rock and roll. Try the grilled avocado. Yep, really.
Nanbentai
A staple on the Naka-Meguro food scene, this place is known for its frankly insane yakitori chicken skewers. Downstairs is the traditional Japanese restaurant; upstairs you'll find a swanky cocktail bar. Make sure you try the house speciality: grilled asparagus wrapped in pork, served with sea salt flakes and lemon.
Drinks
Naka-Meguro Baird Taproom
A vintage beer hall in the backstreets of Tokyo? Yep, this is the place. Baird Taproom does two things well: craft beer and pizza. This is New Haven pizza, Connecticut-style, which means a high-temperature blast in the oven and a seriously crispy crust. Sit yourself down at one of the long, German tables and get quaffing.
Solfa
Solfa opened in Naka-Meguro back in 2008, and it's become the area's premier underground club, a testing-ground for hot new DJs. Young kids start their music careers here, and if they're good enough, move over to the big clubs in Shibuya. If you like techno, house, and dancing till 3am with 100 strangers, this is the spot.
Vibes
Meguro Cherry Blossoms
As April rolls around, the banks of the Meguro River turn into a curtain of pink. In Naka-Meguro, the canals are so narrow that the trees form a kind of tunnel or canopy. At night, the council pumps neon lights up into the branches, beer stalls pop up on the river bank, and the whole neighbourhood turns into one big party.
Vintage Browsing
Naka-Meguro is like Shibuya's indie, bookish neighbour. Wander down from Daikanyama (an equally trendy spot) and you'll find vintage stores, second-hand bookshops, record boutiques, open-front cafes and weird boutiques. Don't forget to check out the new Naka-Meguro Koukashita centre, under the train tracks.
Kichijoji
When surveyors ask Tokyoites where they want to live, most of the time the answer comes back 'Kichijoji'. This a leafy neighbourhood where money grows on trees and everyone spends their weekends boating in Inokashira Park, shopping on Sun Road or throwing back whisky in Harmonica Yokocho. To be honest, you don't need to stay here to get the benefit. Just day-trip from Shibuya station (15 minutes by train).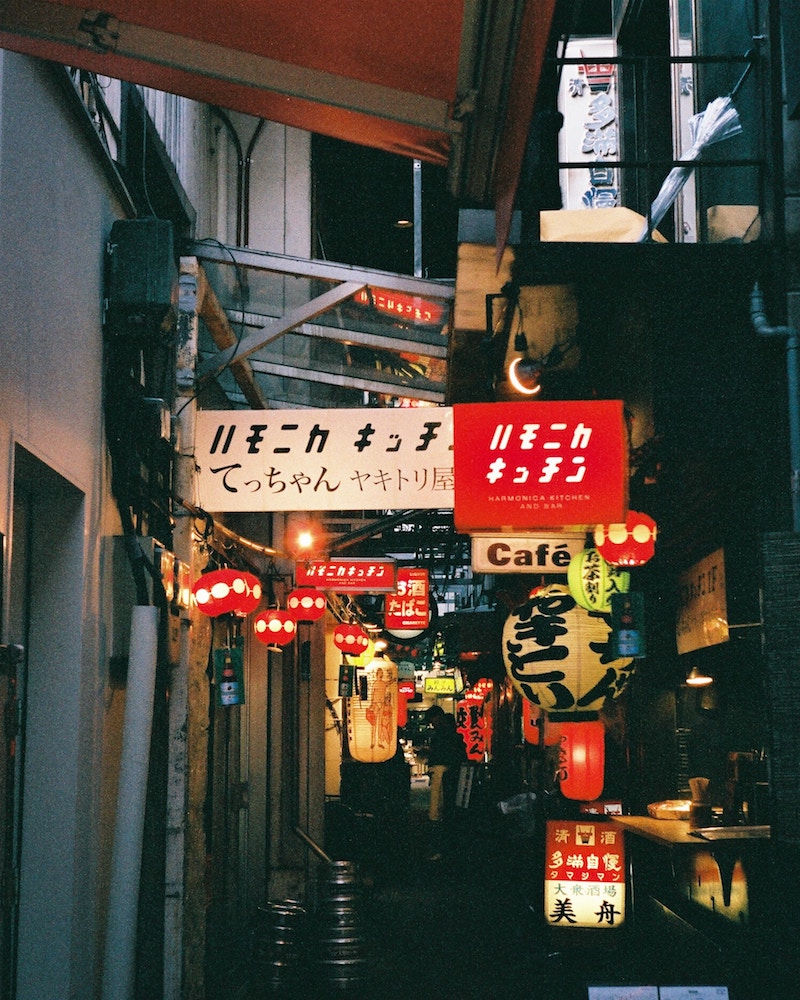 Hotels
Kichijoji Daiichi Hotel
Most travellers won't actually stay in Kichijoji (catching the train from Shibuya is usually the better way to go). But if you want to get a taste of upper-middle-class Tokyo life, try Kichijoji Daiichi Hotel. It's comfortable, light and reasonably priced.
Kichijoji Tokyu REI Hotel
The only other good hotel option around here is Kichijoji Tokyu REI. It's a one minute walk to the station (nice), there's free internet and a massage parlour on-site (double nice), and rooms start from around AUD$140 per night (pretty reasonable).
Coffee
Light Up Coffee
Nakamichi shopping arcade is stacked with dozens of cafes (pro tip: check out the roasting window at Coffee Sanpo), but Light Up is my favourite. There's always a rotating mix of single origin roasts, plus filters, batch and cold brews. They even hold cupping workshops from time to time.
Kugutsusou
You'd never know this thing was down here, just step into the stone grotto off Sun Road and you'll find Kugutsusou, a subterranean coffee cave that's been open since 1979. The brew here is amazing: the guys age the beans for two years before roasting French-style and running them through a nel drip. The result is inky black and strangely penetrative. Drink sparingly.
Drinks
SOMETIME
Kichijoji is known as the home of Tokyo jazz, and SOMETIME is the neighbourhood's most famous jazz bar (it's been crooning since 1975). There's no actual stage here, the performers sit in the middle of the room, so you're guaranteed a good table. Just remember to bring 1,500 Yen for your entry fee.
Screwdriver
Screwdriver is your classic pint-sized Tokyo watering hole. Just a dozen seats around the bar, and no cover charge (which is pretty rare around here). Expect a buzzing (if snug) atmosphere, over 400 rums behind the bar, and some of the best small-batch whiskey in Tokyo. Bring it on.
Eats
Iseya Sohonten
Just look for the red lantern out front. That's a sign you're about to have some of the best chicken yakitori skewers of your life (I'd happily stack these up against anything in Memory Lane). Iseya Sohonten has been going strong for 80 years, and there are three locations in Kichijoji alone.
SubLime
You'll find this surfy little Japanese izakaya joint in Inokashira Park, with big windows giving you a treetop view. The house special here is (now don't freak out) a platter of thinly sliced horse sashimi. Don't knock it till you try it. The locals are all over this place.
Vibes
Ghibli Museum
Not many people know that Kichijoji is home to the official Studio Ghibli museum (of course, true Miyazaki disciples will trek for thousands of perilous miles just to be here, but that's a different story). Tickets are 1000 Yen, but they're strictly limited, and you have to get them from Lawson (a local convenience store). Ghibli fans, get your tickets right here. Alternatively, this extra-special tour includes entry to the museum and a stroll around Inokashira Park.
Inokashira Park
Speaking of Inokashira Park—this leafy spot is the jewel in Kichijoji's crown, and a big reason this area tops liveability rankings all over Japan. It's most beautiful in late March or early April (cherry blossom season), but you can punt boats on the lake year-round. Afterwards, make sure you kick on to Harmonica Yokocho Alley for some yakitori skewers and hot sake.
Akihabara
Akihabara is Tokyo's manga capital. It's also unofficial home base for Japanese otaku (loosely translated, it means 'young person who's obsessed with pop culture, tech, gaming or anime and doesn't know how to relate to humans'). This is where you come to flip manga mag crates, buy retro Sega consoles and get foot rubs from Japanese maids. And you thought Harajuku was crazy.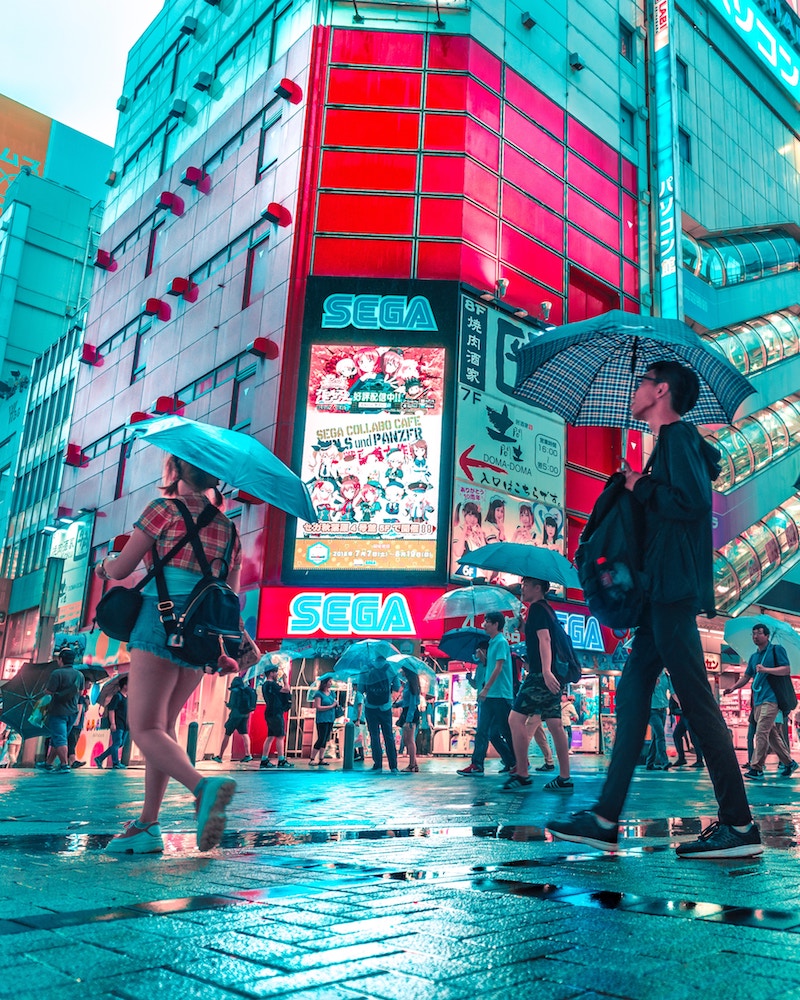 Hotels
Dormy Inn Akihabara
Dormy Inn will always be my favourite place to stay in Akihabara. It's a five minute walk from Electric Town, the station's right around the corner, and there's a wicked onsen on the top floor. Make sure you stay at least two to three nights. Coming back from a long day pounding the Tokyo pavement, this place feels like an oasis.
Super Hotel Akihabara
Super Hotel is nothing fancy, but it's clean and comfy and reasonably priced. If you're looking for no-nonsense accommodation in Akihabara, pay your $170 a night and sleep easy. There's a Sentō public bathhouse too, if you're game to go nude.
Shop
Akihabara isn't where you come for good coffee. It's where you come for electronics and anime. So we're swapping beans for bargains.
Radio Kaiken
Picture 10 stories of non-stop entertainment and electronic entertainment. Yep, that's Radio Kaiken. This isn't the original structure (that was torn down in 2011), but the new building is even bigger, jam-packed with over 30 different stores. You can almost skip the rest of Akihabara.
Super Potato
If you're after manga and anime games, head to Gamers. For video games and consoles, it's Super Potato you want. Imagine every gaming platform ever conceived by man, along with discs, cartridges, forgotten relics and the Arc Of The Covenant. It's basically video game Nirvana.
Drinks
LOOP Space Cafe Diner
Come for the Jetsonian, space-age décor, stay for the whisky highballs, deep-fried karaage and darts (!). Darts, darts and more darts. LOOP Space Cafe Diner definitely has that Akihabara Electric Town feel going on, once your retinas adjust to all the neon, you'll learn to love it.
Bar Sekirei
Looking for an Akihabara whisky bar to soothe your scorched synapses? Try Bar Sekirei. It's an old-school, wood-panelled whisky bar with a hefty collection of malts. Of course, this is Akihabara, so it also has a ton of anime and manga paraphernalia on display.
Eats
Maid Cafes
Creepy? Okay, maybe a little. But Akihabara's maid cafes have become the stuff of local legend, and you can't really experience true otaku culture without giving one a go. @Home Cafe and Maidreamin' are two of the best, although I don't know what criteria we're judging that on. The food isn't Michelin-level stuff, but it's definitely a good travel story. Book your wacky cosplay experience here.
Kanda Matsuya
Looking for good soba? People have been finding bowls of the stuff at Kanda Matsuya since 1924 (you might have gathered from this guide, but 100 year-old soba restaurants aren't even that rare in certain parts of Tokyo). You'll know you've found Kanda when you spot the building that looks like an Edo castle.
Vibes
Electric Town
Electric Town is probably the largest electronics complex in the world. We didn't bust out the tape measure, but name one that's bigger. Go on, we'll wait. This place really changed when Yodobashi Camera landed on the scene (think Walmart for gadgets). These days, Electric Town is an eye-blasting stretch of neon signage, with some really interesting backstreets just off the main drag. This is the thrumming soul of Akihabara.
Tsukomo Robot Kingdom
This thing does what it says on the tin: it buys and swaps robots. You want a robot? Tsukomo sells them. Usually it's a good spot to pick up some strange robot toys, but there's also DIY parts and kits available (for the at-home amateur robot enthusiast). The otaku vibes are very strong in here.
Looking for the best coffee in Tokyo? We've got you covered.
Editor's note: Urban List editors independently select and write about stuff we love and think you'll like too. Urban List has affiliate partnerships, so we get revenue from your purchase.
Image credit: Raphael Koh, Darren Chan, Carol Hu, Jezael Melgoza