Has Lockdown thrown your birthday bash out of the window? Not to worry March, April (and maybe even May) babies, we've has got your back.
Our birthday gift to you—be it early or late—is a handy little guide on how to celebrate your birthday self-isolation-style. Sure you might've cancelled that weekend away and pulled the plug on a raging houseparty, but by no means should you miss out on having a ball by yourself or with your bubble.
Get ready to give houseparty an entirely new meaning, here's how to celebrate your birthday in isolation during Level 3 lockdown.
Treat Yourself
First things first, food: the centerpiece of all birthday celebrations. Given that restaurants and takeaway joints are closed for Stage 4, we're relying on those still open to sort us with the indulgent treats—as well as a healthy splash of our own creativity. Here's what we came up with:
Cheeseboard: Supermarkets and dairies being open over lockdown means you're only a line away from the cheeses, dips, crackers and charcuterie you need to style a killer cheese platter. For those less inclined to get out of their dressing gowns, we recommend hitting up legends like Cheese Therapy and The Smelly Cheese Shop who are delivering the goods during lockdown.

Breakfast In Bed: If this ritual isn't already part of your isolation morning routine, that is. Enjoy the simple pleasures, and start your special day snug under the covers, while sinking your teeth into a takeaway breakfast from your fave local cafe.

Boozy Brunch: Between pancakes (here's a recipe btw), french toast, crumpets, toasties, eggs in all their glorious forms, fresh fruits and the preserves in the pantry, you can lay out quite the birthday brunch spread for your bubble. Or leave it up to the professionals to deliver their essential goodies—we hear Crumpets by Merna is delivering Australia-wide. As for the booze? Keep on reading folks, we're getting to that...
Cake Time
Of course, you can't forget a trusty birthday cake on your big day. If you're a kitchen whizz (and are willing to part with a cup or two of flour in these scarce times) why not whip out the whisk and cake tin and bake your own creation. Or leave the baking to a bubble mate—it's your birthday after all. For less of a commitment to the baking game, you can always grab a cake mix from the supermarket, or perhaps one ready made fresh from the bakery section. For a less traditional (but equally scrumptious choice), snoop around the freezer section for an icecream cake, or perhaps a chilled mousse or cheesecake. Personally, we're ordering this honeycake online and calling it a day.
Get The Drinks Flowing
March and April kids, the government is on your side and has stamped alcohol as an essential service. As such, you can ordered a carton of your fave sip from both local and national booze services—so get clicking. Check in with your favourite local distillery, winery or brewery to see if they're delivering, or just hit up the wine legends at Good Pair Days, gin connoisseurs at The Gin Boutique or craft beer lovers at Craft Cartel. Fancy something a little, well, fancy? Cocktail Porter deliver—you guessed it—cocktails kits and glassware, so you can bring the glamour of a cocktail bar to your humble abode.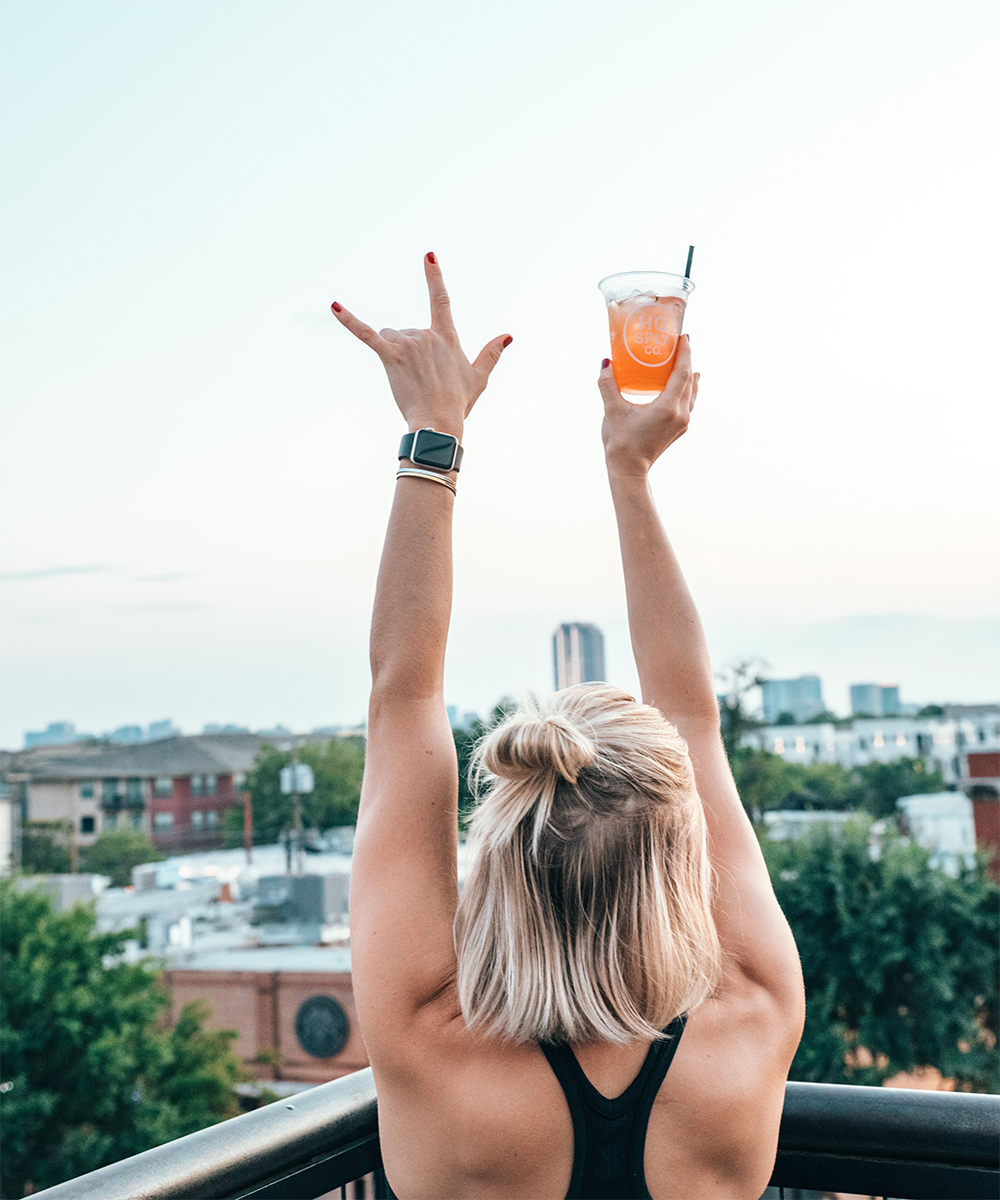 Get Social (Virtually, Of Course)
House parties and movie nights are going to look a tad different this time round. Grab a drink, some snacks and a slice of cake and hang out with your friends—in pixel form, let us be clear—with the help of multi-user video apps like Houseparty or a trusty ol' Zoom call. Why not pump up your fave tunes and bring your virtual pals out to the deck and garden to throw some shapes no matter who's watching. For a chill virtual movie night, download the free Netflix Party or Disney Plus Party extensions to your Google Chrome browser, or watch and react to any video using Facebook's Watch Party. Thank you internet.
Treat Yourself To A Home Day Spa
Cue the fluffy towels and bathrobes, it's time to treat yourself to an at-home spa session. You know that majestic bath bomb sitting pretty in your bathroom cabinet? The one you've been saving for a super special occasion? Run a bath, dim the lights, grab a glass of wine, and use it.
While you're flicking through your bathroom cabinet, pick out your favourite face masks, hair masks, the nail kit and polish and treat every inch of yourself to a touch of birthday TLC. Beauty supplies looking bleak? There are plenty of facemasks at great prices in the supermarket beauty aisle. You can hit up the pharmacies—they're the secret beauty weapon during lockdown—as you'll likely find bath kits, nail polish, and all kinds of skincare among the shelves. Or explore the depths of your pantry to see if you can rustle up a homemade birthday beauty treatment. We've got all the inspo and recipes you need right here.
Have A Virtual Shopping Spree
A gift to you from you is always a winner. Birthdays are the perfect excuse for items in your once window shopped 'wishlist' cart to actually make their way to the check out. Almost all online retailers (even the ones who have closed their real life doors) are still accepting orders, though you may need to keep it local—international shipping is still a little touch and go. If you need some ideas, why not treat yourself to an iso-improving saviour here.
Plan A Future Party
Our lovely local businesses will need to be shown some love when lockdown is over. This is where you come in: by partying, eating, drinking and being merry. Choose your favourite eatery or watering hole, and pencil in a bunch of buddies to have a postponed birthday celebration there when things are back on track. Show the ultimate support and see if you can grab a voucher ahead of time—the pre-investment will surely be appreciated by our restaurateurs.
Let's not forget that many of the legends at these places were the ones donating profits to Australian Bushfire relief, shouting our sober drivers a free glass of fizz, and giving us the odd extra serving of fries—so we ought to return the favour.
Remember pals, now's the time to use your wallet for what you want to see more of in the world—and what you want to see, eat, drink and do at the tail-end of lockdown, so go forth and enjoy. Oh, and happy birthday.
Looking to spoil yourself? Here's a bunch of things you didn't know you could get delivered.
Image credit: Kiwi Hug, Nate Johnston