After the crazy year it's been already, you deserve a time out. Not just a few hours, but a massive day of calm to reset and recharge. However, with Australia's best wellness retreats not currently available for bookings (not to mention probably in another state), what are we to do? Well, we asked Holistic Physio and Wellness Retreat Creator Caitlin of Aprivé Wellness to share her tips for creating a luxe wellness retreat at home.
Having a retreat in your own space at the weekend is one of the best ways to mix up your daily routine, especially if you're still working from home. Don't know where to start? Let us take you by the hand and walk you through the steps.
Start The Day With Movement
If you head to any of the world's top luxury wellness retreats, the one thing they all have in common is morning movement. Starting the day with energetic movement is key, so inject a bit of core strength and try Pilates. A great place to start are online Pilates classes—search for a local studio doing them, or try one of our favourite Youtube workout channels.
Recharge With A Nourishing Green Smoothie
Every wellness retreat offers amazing smoothies in the morning, so why not create your own.
Blend together:
1 x banana

1 x cup of baby spinach

1 x kiwi fruit

1 x squeeze of lemon juice

1 tsp. chia seeds

1 tsp. LSA mix

1 tsp. spirulina

1 x

½ cup ice

1 scoop of

Renew+ Marine Collagen with Detox
There's no special trick to this smoothie, it's just about blending everything together. It's jam-packed full of prebiotics and nutrients, plus it gives you two of your five daily scoops of veggies. That's a win!
Keep Moving With A Yoga Class
You've done one movement class, and now it's time to get stretchy too. Yoga and Pilates go together perfectly, and you can even use the core strength you practiced in Pilates throughout your yoga class. These online yoga workouts will get you loosening up in no time. Need a mat? Order one of these stylish mats online.
Enjoy A Superfood Lunch
A dreamy salad bar is a must-have at the world's best wellness retreats, so make your lunch a superfood salad. Here's a quick and easy recipe:
Chickpea Salad with Creamy Dressing
Drain and rinse one can of chickpeas

Sautée chickpeas with olive oil, salt, pepper and Masala spice

Once gently browned, let them cool in the pan while you throw a handful of rocket, kale, baby spinach, baby tomatoes and red onion in a serving bowl.

Mix ¼ cup of natural yoghurt (or cashew yoghurt) with salt, pepper and any fresh herbs you have in a mug.

Add the chickpeas to the salad, and cover with the yoghurt dressing.

Tip: Add a spoonful of Gaga's Power Kraut for an extra probiotic hit. Your gut will love you for it.
Try to eat your salad without any distractions. This mindful eating strategy may sound a bit woo-woo, but it's really amazing what you can taste when you concentrate on your food.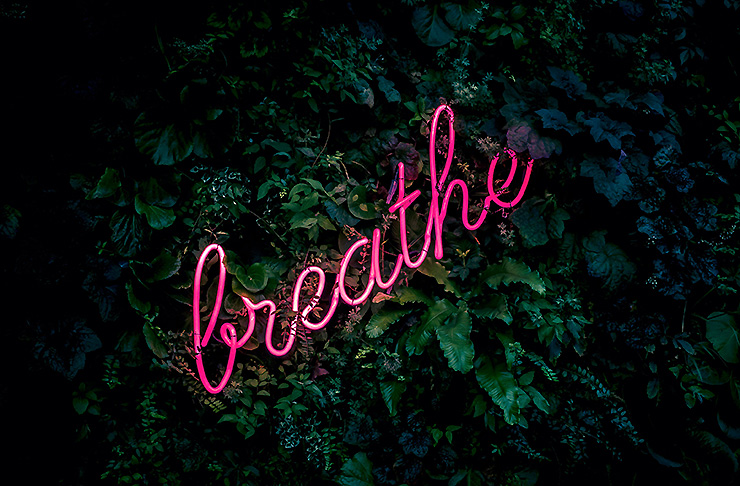 Slow It Down With Meditation
Find a comfortable, quiet space for afternoon meditation. Take it slow and listen to the calming, relaxing voice of ex-monk Andy Puddicombe, founder of Headspace. If you already use an app like Calm, Insight Timer or Headspace, choose your favourite meditation and go ahead. You'll also find a few of the best podcasts for mindfulness and meditation here.
Light Some Candles
Set the scene for some luxe pampering by lighting a perfumed candle. This list of fancy smelling candles will transport you away to your dream retreat—even if you're actually just hanging out in your bedroom.
Get Your Glow On
You've been moving, you've eaten nourishing food and you've created slow calm with meditation. Now it's time for some pampering. Prep in advance and collate everything you'll need to achieve this ultimate home facial—or you might have everything you need already thanks to an iso spending spree.
Make Yourself A Healthy Dinner
Fix yourself a tasty dinner featuring a bit of lean protein and plenty of veggies, get yourself some healthy takeaway or jump online and pre-order a healthy meal delivery service for the week if you really want to ensure you can relax.
Keep Your Screen At Arm's Length
Luxury wellness retreats don't let you tap away on your phone as it ruins your calm, focused zen. Try to recreate this rule at home. It's hard though, so you may need to turn your phone off and keep it in another room. You can do it. For more tips on disentangling yourself from the blue light, check our article here. Fill the technology void with picking up that book you've been meaning to start/finish and do some gentle stretches before bed. Struggling to switch of these days? Find some tips for getting a better night's sleep here.
About Caitlin
Caitlin is a Physiotherapist, Pilates instructor and wellness retreat creator based in NZ. She's passionate about helping everyone move their best at any age. Caitlin works 1:1 and as a visiting practitioner at wellness retreats and hotels overseas, aiming to make evidence-based wellness meaningful, fun and a little luxe for everyone.
If you're looking for more ways to escape, try these mindful colouring books.
Image credit: Jared Rice, Roberto Nickson, Fabian Møller