Seriously, is there anyone these days who isn't constantly crazy busy? Between work, life admin, socialising, exercise and everything else, we're all actually doing pretty well just keeping everything ticking over.
One small gift from modern life to help us cope, though: it's now officially ok to rock your activewear in everyday life, not just to the gym. Hallelujah—if we can achieve a smidge of balance in our life by not getting changed between brunch with pals, errands, and a gym session without being given side-eye from the public, sign us up!
Someone who knows all about juggling a hectic lifestyle while looking extremely together is wife, mum of four, presenter, model, brand ambassador, and speech pathologist (phew!) Rebecca Judd, who's collaborated with chic activewear brand JAGGAD to create a capsule collection that's all about balance: it's high performance wear that will perform through any type of exercise, but stylish enough to see you through whatever the day throws at you. This gal knows what we need, alright!
We're lusting after every single piece, and if we had our way, we'd be wearing it everywhere. So in the interests of getting away with it, we've put together six hacks to make activewear acceptable for (almost) any occasion.
Look for fashion + function
When you're buying a piece of activewear, ask yourself: how (and where) where can I wear this? And we don't just mean for which kind of exercise—think about how it can integrate into your existing wardrobe. One thing we love about Bec's range for JAGGAD, with its clean design, flattering lines and on-trend palette, is how easily each piece can take you from the gym to just about anywhere.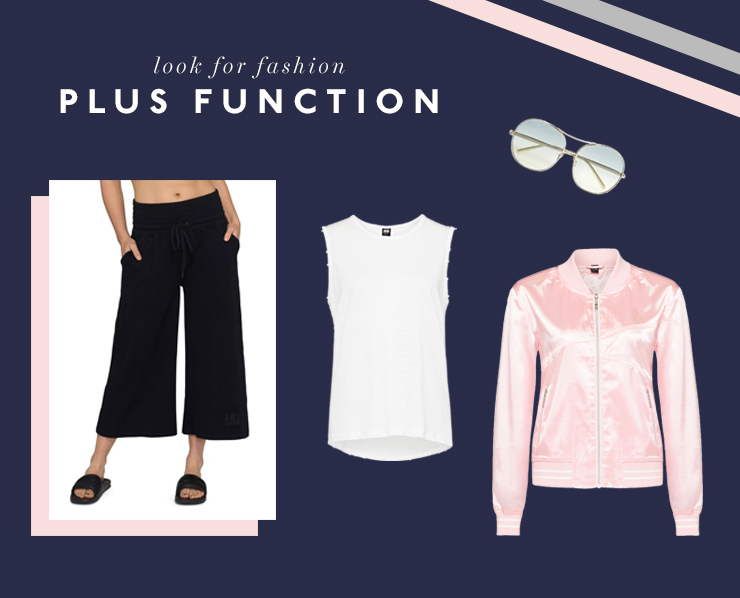 Keep up with trends
With the evolution of activewear into everyday wear comes the rise of distinctive fashion trends, as opposed to just the functional, all-black gym gear you used to wear. Keep an eye on what silhouettes, colours and patterns are trending to stay looking breezily casual but on point outside of the gym.
Throw in a statement piece
AKA: how you take your outfit from spin class to looking like you've dressed for the day. Whether it's throwing on a stylish sweater, swapping your gym bag for a great tote, tying a shirt round your waist, adding a denim jacket or even blazer, swapping your technical sneaks for some stylish street kicks, or rocking a sheer tee over your sports crop, the right activewear can be elevated to a look that can take you pretty much wherever. Just make sure your silhouette still works, and the extra pieces match your sport-luxe vibe. And one more tip? Never let your socks show.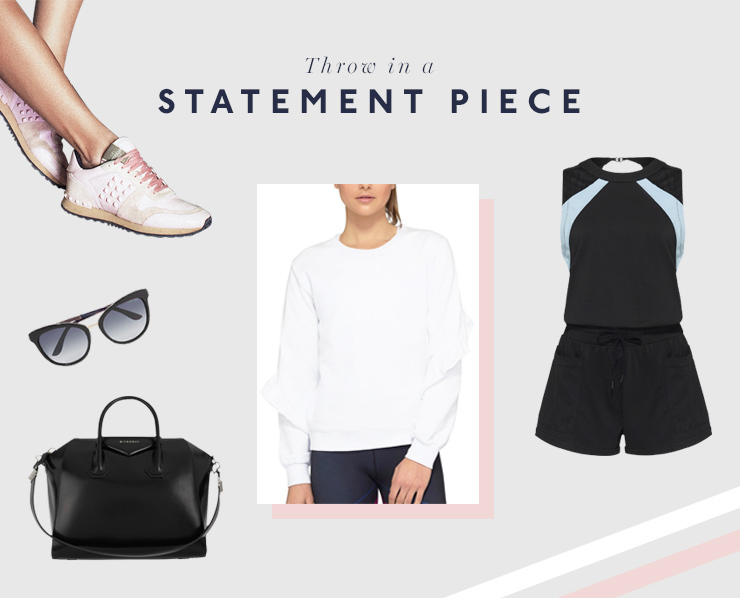 On one condition...
...Are you allowed to wear activewear to brunch—and that condition is pristine condition. Your clothes should always be in good nick anyway, but if you're going to make activewear everyday wear, it's got to be immaculate. This means following the washing instructions, throwing out anything ratty, and consider investing in a pair of classic (clean) white sneakers to take your look next level. Muddy shoes are fine for a hike, but not the office, guys.
Go matchy matchy
This is one of the easiest hacks for sailing through your day in gym clothes while not looking like a slob. A consistent style and palette will keep the overall vibe pulled together, which is why it's worth investing in several pieces from the same collection so you don't have to think (always appreciated). The Rebecca Judd For JAGGAD collab was all designed to be mixed and matched, which is another reason why we're all about it. Much like a set of matching underwear, matching activewear really says you've got your life together.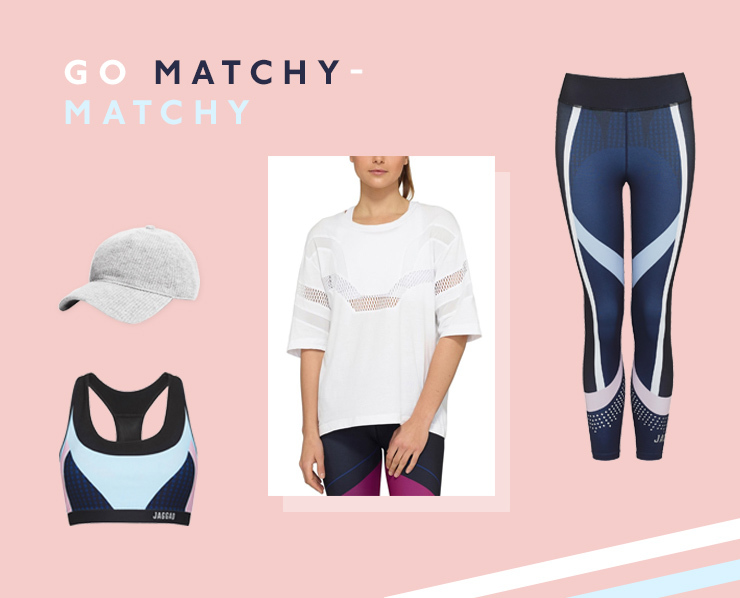 You get what you pay for
Hey, we've all been guilty of wearing activewear on days we've got zero intention of going to the gym. But even when you're not going hard, quality, high-performance fabric is essential. If you're going to get away with wearing activewear on the street, it needs to be streamlined, not see-through, sweat-wicking, and wrinkle-free. Quality fabrics and flattering design lines will keep your ensemble from looking sloppy, like JAGGAD's tights with high-support fabric that have compression qualities and are never see-through, not to mention the flattering pattern designed to elongate your legs and give your hips shape (cheers, Bec!).

Yes you are! As well as giving you the goods with their new collection, JAGGAD, in conjunction with Lancemore Lindenderry and Lancemore Larmont, is also giving away an incredible prize which will help you do just that: an exclusive two-night accommodation package with dinner, plus a Rebecca Judd For JAGGAD outfit for both you and a friend!
Enter here. Good luck!
Editor's note: This article was produced in partnership with JAGGAD. Thank you for supporting the sponsors who make The Urban List possible. For information on our editorial policy, click here.
For image credits, click here.