Getting winged eyeliner just right is, quite frankly, a nearly impossible feat. Never mind nailing a Gigi Hadid-esque cat eye or a flick to rival Kendall Jenner. Let's face it, many a tantrum has been had when one side of your eyeliner refuses to play along.
But never fear, the answer to all your eyeliner woes is here, in the form of a step-by-step (eyeliner for dummies, if you will), thanks to Amber Moxey at Mecca Cosmetica, guaranteed to teach even us novices how to nail the hottest eyeliner trend of the moment, the thin line.

There's no point in having fab eyeliner if the rest of your makeup is sub par. Start as you intend to finish, and all that jazz by creating a fab base with these handy tricks.
#1 Ensure your skin is clean and well hydrated (obs). Makeup won't sit well on dirty, dry, flaky or dehydrated skin, so make sure to always drink your 8-a-day, cleanse skin before putting on any makeup and ALWAYS moisturise. Moisturised skin will help create a dewy look, a la Karlie Kloss, which is always the aim.
#2 Get your foundation (we used NARS Sheer Glow Foundation in Mont Blanc) and sparingly apply, starting from the center of your face and work out.
#3 Using the tool of your choice, then blend, blend, blend. And blend again, just for luck.
#4 Once you've finished blending, (trust us, it's important), take your concealer (we opted for NARS again, using their Radiant Creamy Concealer in Honey and Vanilla) and use where needed to create a polished and perfected canvas.
#5 Now it's time to set your base. Choose a light powder (Hourglass Ambient Lighting Powder in Diffused Light or Dim Light is a dream) and dust over your face to keep it all in place.
#6 Softly bronze. We chose NARS Laguna Bronzer and used the Hanamachi Kabuki brush from NARS (heaven in a brush) to apply. We also applied NARS Orgasm Blush generously on the apples of the cheeks for a healthy flush.
#7 Finally, it's time for highlighting. Now, we all know how to contour like a pro, so take your know-how and highlight the high planes of the face (aka your cheekbones, above your brows, the centre of your nose and the cupids bow of your lip). In case you're wondering (we know you were), we used the Hourglass Ambient Strobe Lighting Powder in Brilliant Strobe with the flocked end of the Hourglass Blender to create a perfect finish on the skin and flawless highlights.

#1 Brush NARS Laguna Bronzer over your eyelids, making sure to blend into the crease and below your bottom lashes to create a lovely contour. Bronzer on your eyelids? Yes, indeed! Not only does it give a subtle and warm flush of colour, it creates the perfect compliment to our final step and the main aim of the game: Eyeliner.
#2 Use a Mecca Blending Brush to deepen the eye look by adding in Kuala Lumpur eye shadow from NARS onto the lid and crease.
#3 To finish we used NARS Isolde in the corner of the eye and added a little to the center of the lid to open up the eyes.
How To Nail The Thin Liner:
#1 ALWAYS use a clean liner brush paired with a gel liner. For this makeover, we used Mecca Liner Brush and NARS Black Valley Gel Liner. Make sure you have enough product on the brush by testing it on the back of your hand first!
#2 Push the liner as close to the lash roots as you can and only apply to the outer 3/4 of the lash-line.
#3 Make this look really pop by using a white liner along the bottom of your eyes. White is bold, so press lightly when applying. (We used ByTerry White Wish Waterproof Liner).
PRO TIP:
Our lady in the know tells us to always curl your lashes for a dramatic look (We used SURRATT Lash Curler paired with Kevyn Aucoin Curling Mascara).

#1 Every makeup look needs good brows. We filled the brows with Hourglass arch brow pencil in warm brunette and to give it that editorial look, finished with a little ByTerry eyebrow mascara in dark brown to set.
#2 Finish the look with a pop of colour. This season it's all about pink. We used RODIN lipstick in WINKS.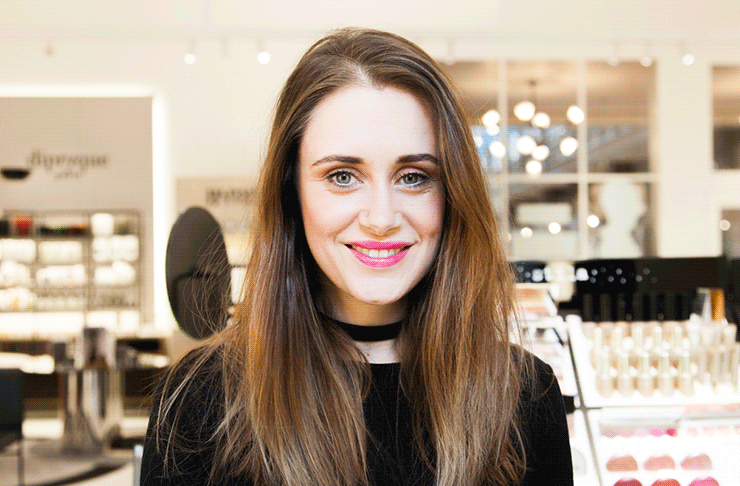 ---
Image credit: Federica Portentoso Design Credit: Gabrielle Stjernqvist