Achieving the best in your career while attempting to nail that elusive work-life balance can be tricky. According to Queensland Health, getting anything less than seven hours sleep each night has been linked to weight gain and increased stress, and the clincher is, we often compromise on counting sheep, exercise and healthy eating so we can catch up on work. It's a vicious cycle.
If you've yet to get a handle on those days where you feel zero chill in the workplace, we've compiled a list of super simple tips so you can switch your mindset, get active and change your relationship with work, health and your body.
#1 Work Smarter, Not Longer
How late you work does not equal how much you care, and knowing how to do the right work, not all of the work, is one of life's greatest lessons. Be ruthless with your prioritisation strategy because your time is not an endless resource. Keep your to-do lists lean and mean (the golden rule is five to eight per day) and ensure a walk or gym session, a healthy lunch away from your desk or both have time allocated— literally block the hour out of your calendar. By forming a routine for completing everyday tasks, you'll get them done more efficiently and you can place a greater emphasis on measuring your results. If you're producing work that hits the mark, that's a job well-done.
Next up—stop multitasking and ditch the distractions. If you're trying to get one task done but keep seeing emails roll in, naturally you pause to answer them. Mute your emails so you can focus on one task until it's completed. Your emails will always be there, and if it's truly urgent, they can call. We're creatures of habit, and so are our brains. You can even download helpful apps that automate your life (think streamlined note-taking and suggestive prose on your emails to save time). By implementing these tips you'll be out of the office on time so you can hit the gym, catch up with mates, cook, or go for an afternoon walk.
#2 Get Sweaty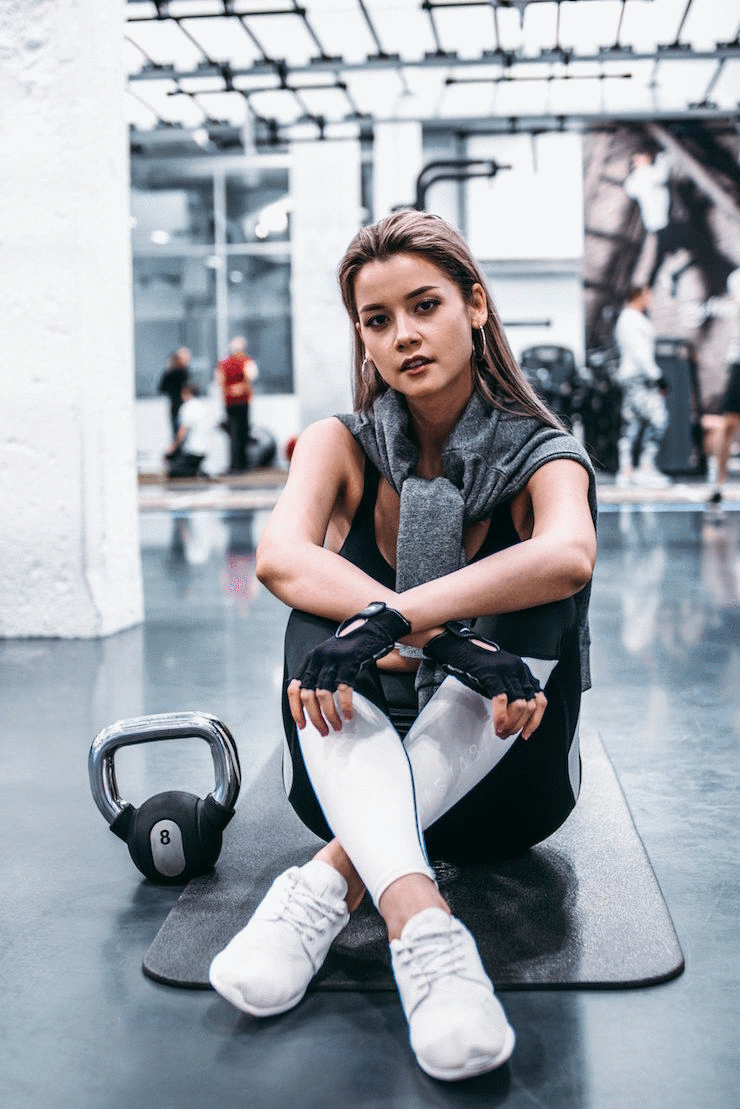 This is nothing revolutionary, but easily forgotten during a busy work day, and we've listed it because it works. Get away from your desk on your lunch break and hit the gym, walk around the block, skip the elevator and take the stairs, wander down to the coffee shop that's a few extra steps further than your regular, or set up walking meetings with colleagues. Any movement is better than none, and according to this TED Talk, a single workout can improve your ability to shift and focus attention, so you'll walk back into the office fresh and ready to tackle that to-do list.
If you can't get away on your lunch break, try get up from your desk every half hour (even if it's just to walk to the water cooler) or do some simple exercises in front of your laptop. Start with stretching, swivel in your chair for ab exercises or swap your chair for a stability ball. Opt for a standup desk if your company has capacity, keep a spare set of fitness gear at work so there's zero excuses for a post-workday workout, or park your car further away from your office in the morning to ramp up your daily step count. According to Queensland Health, we should be active for at least 30 minutes each day, and making small changes can add up to make a huge difference for your health.
#3 Set Up Work-Home Boundaries
Are you guilty of taking your laptop home to get a jump on emails? You're never going to see an empty inbox, so you need to prioritise the most important ones. Spending time with friends and family doesn't just have to centre around a meal or drinks. Your time away from work should be re-energising, and the best memories aren't made with your laptop. Cook a healthy dinner with your housemates or meal prep for the week, make use of the long summer days and walk to watch the sunset with a friend or while listening to a good podcast so you can properly unwind while keeping physical.
First, think hard about what's stopping you from logging off so you can address it. Speak up because if you're feeling stressed, it's likely one of your colleagues are too. Sometimes all it takes is to talk to someone who understands, and if necessary, to re-allocate tasks accordingly. It's not a sign of weakness. We think it's pretty damn brave.
#4 Add Meaning To Your Space
Your desk is your sanctuary and if it's on the sterile side, it's definitely not helping ignite your creative spark. Curate your space with some succulents, pin up a photo of your pet, do whatever you like, just make it your own. This is your sanctuary from all the chaos going down at work and if your office is open plan, this is even more important for you. Your space doesn't stop past the partition, create a playlist and feast your ears on some soothing beats to keep you calm, or ramp up the bangers to get your energy going.
Go one better and engage your co-workers to get active with you. Is it an off-site breakout session? Can you work out together on your lunch break? Start a company sporting team? Meal prep together? Keeping a personal, yet professional tone to your work relationships will make coming to work more fun, less stressful and ultimately do wonders for your health and wellbeing.
#5 Get Some Shut-Eye
This tip comes even before you get to the office. If you're stressed out about work, getting a good night's sleep is like finding a pair of vintage jeans at a garage sale that actually fit—near impossible. Can you imagine what would happen if you actually got a good night's sleep? Magical, wonderful things like a huge increase in productivity—the cornerstone to surviving and thriving in any job.
Start by not taking your work home but beyond that, it's the little things that count. Get the blood pumping after work to relieve any stress and anxiety from the day. This can be as simple as walking or biking home from work, walking to the bus, hitting an exercise class with a colleague or even doing yoga before going to bed. Exercise is proven to help you sleep better. Ditch your phone a half hour before bed (the blue light tricks your brain into thinking it's daytime), take a relaxing bath, or read a book so your body knows it's time for some z's. Once you regulate that sleep cycle, it's guaranteed you'll get twice as much done during the hours of nine-to-five, so every minute after that can be dedicated to you.
Editor's note: This article is sponsored by Queensland Health and proudly endorsed by The Urban List. Thank you for supporting the sponsors who make The Urban List possible. Click here for more information on our editorial policy.