If you're feeling a bit wary about travelling solo, Tokyo is the perfect place to dip your toes in the water. It's one of the safest places you can travel and there is so much to do you won't even notice you're on your own. And then there's the plethora of micro-restaurants and bars you'll be able to experience which just isn't possible when you're travelling in a bigger group.
If you're not convinced yet, here are 8 things to do in Tokyo if you're travelling solo.
#1 Location, Location, Location
When you're travelling solo, choosing where to base yourself is important. You don't want to be trawling all over the city with no one to chat to and it's nice to be in a place that has a buzzy feel about it, and The Knot in Shinjuku is about as buzzy as it gets.
The ground and first floor are open to the public and as you walk in you'll see plenty of locals and tourists working away on their laptops at the communal tables, sipping coffee from the in-house bakery and tea stand, or grabbing a bite to eat at the restaurant.
The second floor is home to another restaurant, plus artwork and plenty more communal areas where you can sit back and relax with a coffee or your lunch.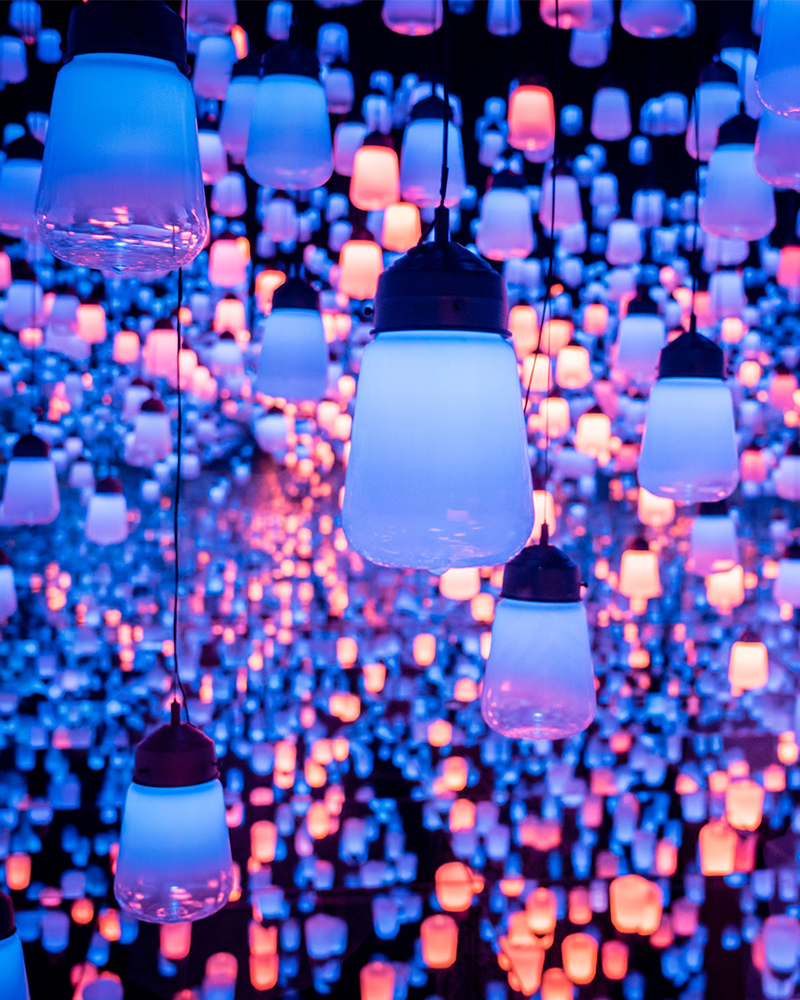 #2 Explore Tokyo's Art Scene
First and foremost, we'd recommend booking your ticket to the Mori Building Digital Art Museum by Teamlab Borderless before you even get on the plane. Plan on spending a couple of hours wandering through this treat for the senses and prepare to be picking your jaw up off the floor each time you enter a new room. Snap up some tickets right here.
Once you're done there, head to Roppongi Hills and take yourself on a tour of the public art that lines the streets. You can also check out the Mori Art Museum (which is not the same as the Mori Building Digital Art Museum) and head to the top for an excellent city view.
#3 Go Golden
Golden Gai, that is. Golden Gai, also known as Memory Lane and Piss Alley thanks to the abundance of drinking holes, is six narrow alleys in Shinjuku filled with Tokyo's tiniest bars. Many of them can only fit five or six people inside at a time; though keep in mind a few have several floors so even if it looks full, you might be able to get a seat upstairs.
A few of the bars in Golden Gai aren't all that tourist-friendly as they hold the limited seats for their regulars, but look out for The Open Book, Albatross, Champion and Carrot. Check out the sign at the entrance to Golden Gai which lists the English names of each bar, or you might be looking for a while.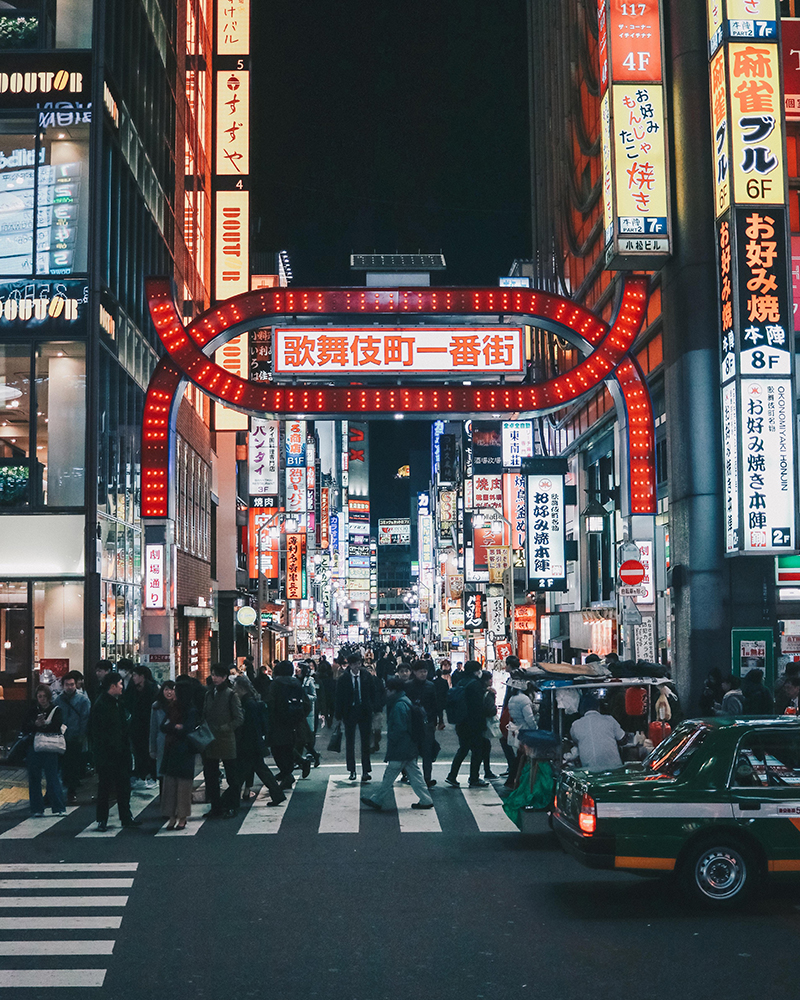 #4 Gorge On Sushi, Gyoza And Ramen
Restaurants tend to be on the smaller side in Tokyo, so make the most of being a single and grab a seat at the bar when you can.
Head to the Standing Sushi Bar Uogashi Nihon-Ichi in Shinjuku and nab yourself one of the 12 spots in the restaurant for some of the best value sushi you'll ever eat.
Once you're done there, go and fill up on gyoza at Harajuku Gyoza. This spot is notoriously busy but if you're solo you'll be able to get a spot at the bar and have gyoza in front of you within about five minutes flat.
You'll also want to get your fill of ramen, so find yourself an Afuri Ramen for a citrus based broth or vegan ramen, Abura Ramen for mouth-watering lighter ramen without the broth, Gogyo for burnt miso ramen or Tsuta Ramen for Michelin starred ramen; yes that exists. If you just want some plain and simple traditional ramen in Tokyo, look for IPPUDO or Ichiran; yes they are chains, but they are popular for a reason.
#5 Take Part In Some People Watching
Solo or not, one of life's simplest pleasures is the act of people watching and Tokyo has some of the best. We'd argue that the best in the city is to be found in Harajuku.
Take a walk down Takeshita Dori and treat yourself to one of the mind-spinning snacks on offer—an over-filled cheesecake crepe or a stick of giant rainbow fairy floss should do the trick—before finding yourself somewhere to perch in Yoyogi Park. Do this on a Sunday and you'll be treated with all sorts of weird and wonderful sights.
While you're at Yoyogi Park, don't forget to check out the Meiji Shrine; it's the perfect spot if you're in need of some peace and quiet after the bustling streets of Harajuku.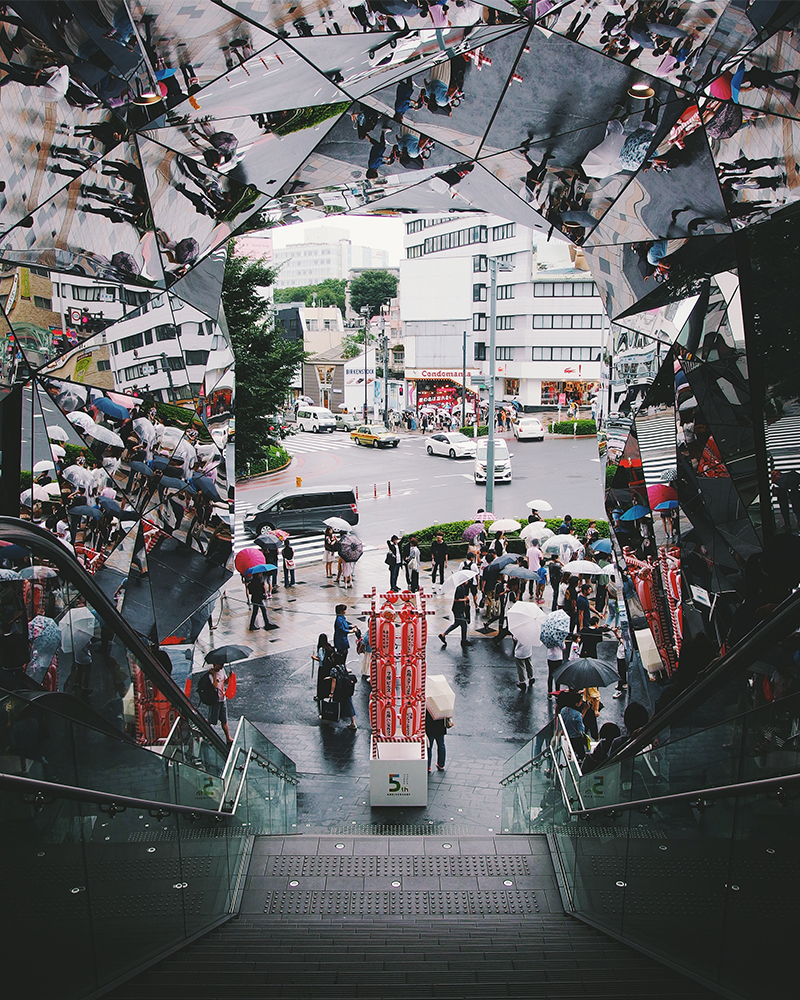 #6 Make The Most Of Tokyo's Coffee Culture
Tokyo hasn't traditionally been known for great coffee, but that's all changing. Head to the tiny cafe Camelback for what we'd argue is the best coffee we've had in years and treat yourself to their brie cheese, apple and honey sandwich.
If you find yourself on Cat Street, head to The Roastery for a killer coffee and don't miss the NY Ring; it's essentially a cronut and cannot be missed.
More great coffee can be found at Be A Good Neighbour, Lattest, Little Nap Stand, Ratio & C and Streamer, most of which are around the Harajuku, Omotesando and Shibuya areas.
#7 Shop 'Til You Drop
While you're around Harajuku and Omotesando, make sure you take a peep down the side streets for some of the best shopping Tokyo has to offer.
Cat Street is probably our favourite and is home to plenty of brands you'll recognise such as Opening Ceremony and Fjall Raven, plus boutiques you might not; don't miss Rag Tag, an exceptional second-hand designer store.
Cat Street is also home to the excellent coffee shop The Roastery so you can pick up a NY Ring and a coffee to fuel your shopping expedition.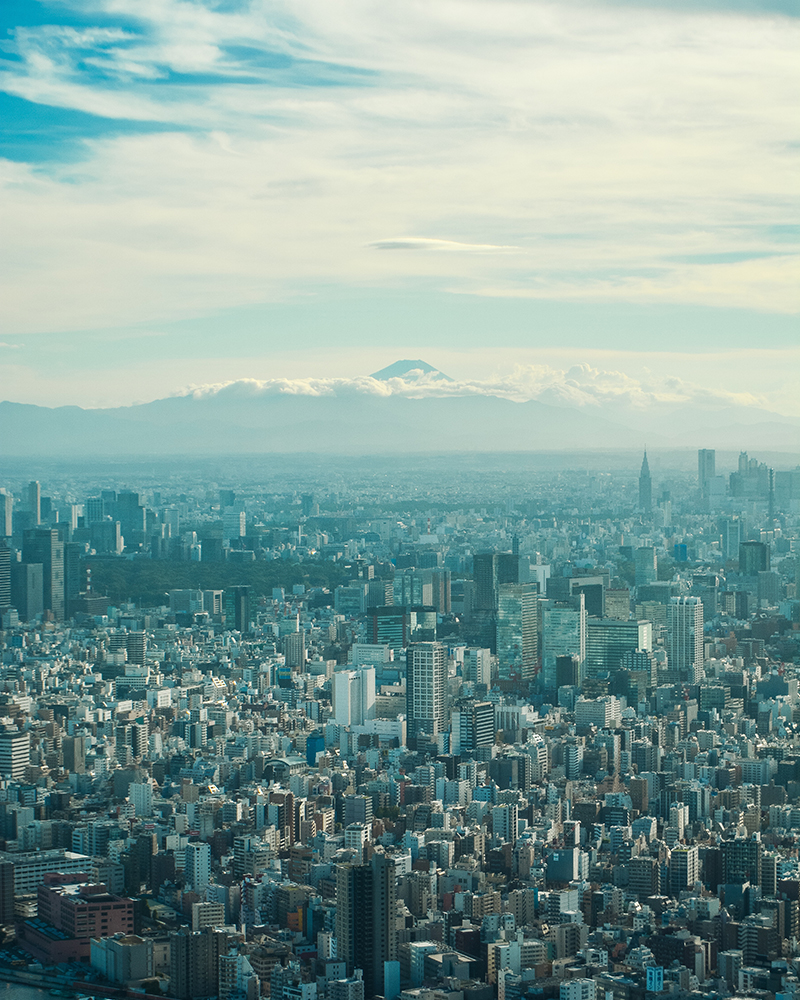 #8 Treat Yourself To A View
If you're staying at The Knot, The Park Hyatt, the bar we all know and love from Lost in Translation, is just a short stroll away. Head there on a clear day and make sure you arrive well before sunset, then ask for a table with a view of Mount Fuji.
Splurge on one of the overpriced cocktails, it's completely worth it for the view. Once you've taken a picture or two, put your phone away and drink it all in; both literally and figuratively.
If you're on a budget, head to the Metropolitan Government Building just around the corner and take the lift to the observation decks. You might have to line up, but hey, it's free.
Never travelled solo before? Here are our top tips to get you through without any hiccups.
Editor's note: Urban List editors independently select and write about stuff we love and think you'll like too. Urban List has affiliate partnerships, so we get revenue from your purchase.
Image credit: Jezael Melgoza, Luca Florio, Manuel Cosentino​, Yu Kato and Marianne Long