I have a problem. I'll readily admit it. Jump juice calls to me. I have feelings for caffeine that are borderline sexual, and yeah, it's a bit creepy.
The non-coffee drinkers in society are as fascinating to me as polygamist Mormons or people who admit publicly that they like musicals. How do they live? What secrets do they hold? They've achieved an almost god-like status in my eyes. Do they do yoga every morning? Are they at inbox zero every night? I bet their stomachs are really flat. Basically, they're better than me, and I hate them.
So when our Brisbane Editor dared me to give up coffee for a week, I felt mixed emotions. I was more than a little intrigued, but also felt something that can only be described as pure, adulterated grief.
I love my job, but if I'm being honest the thing that gets my butt out of bed in the morning is the promise of a hot, steamy cup of joe. Besides the occasional day off on the weekend, coffee is as ingrained in my daily schedule as brushing my teeth. The thought of facing my inbox without it makes me do small internal screams.
But, the promise of better sleep, improved mental function, and not being an addicted freak were alluring. So I said adios to my old friend for seven days. Sob.

Day 1, no coffee. Wake up with a cold. Not a great start to what will likely be the worst week of my life. Sweet Jesus. What have I done?
I smash two cups of a tea and an orange juice. Arrive at the office, fight urge to punch smug coffee drinking colleagues in their faces. I can barely string a sentence together. This experiment will not be great for my career or personal relationships.

Today is marginally better than yesterday. I feel okay, but I'm definitely not operating at my peak. I turn to tea to get my hit of warm liquid. Can I just say, tea is a laughable replacement for coffee—laughable.
I'm not sure if it's the cold or the lack of coffee but I'm SO sleepy at 7pm. This kind of pleases me because there's nothing I love more than being SO sleepy and going to bed early. Is this the start of a new me?

Wake up weirdly early. But not in the great refreshed way I was hoping for. More in the 'why the fuck am I awake right now' way.
My sneaky devil brain has cottoned on to the situation at hand and is crafting loopholes in a vain attempt to sneak some extra caffeine into my life…I catch myself thinking, 'Mochas don't count'. I just want to hold a cardboard cup full of warm milky liquid in my hands, is that so much to ask!?

Wake up at 4am. This is an annoying new development. The prospect of another freaking cup of tea is no consolation when you've woken up at 4am let me tell you. The urge to walk into a café is almost overpowering. I just want to hand over my hard earned cash for a warm beverage. TAKE MY MONEY.
At lunchtime I cave and drink a quarter of a Diet Coke. 3 sips in and my eyelid is twitching. Could caffeine be…bad for me?! I throw the coke away like some sort of iron-willed healthy person. Can I replace caffeine rush with smug feelings?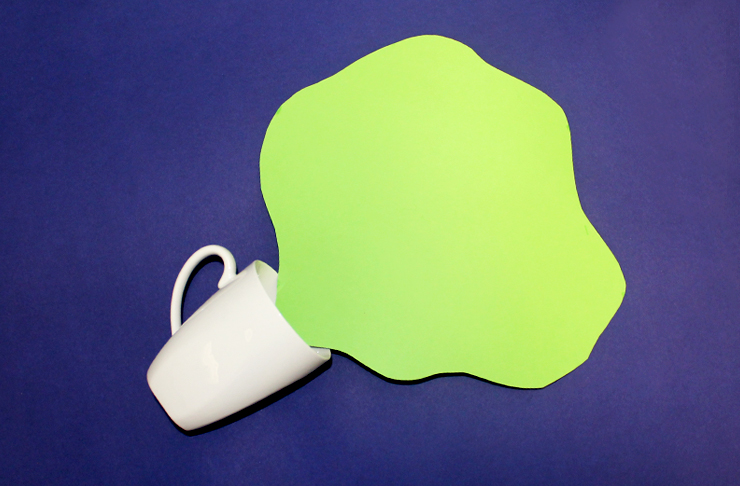 Horrible day. Hate my life. There is no joy left in the world. I am a cranky bitch and relationships are crumbling around me.
It is Friday, so I console myself with bulk beverages—at one point I genuinely and innocently think to myself, 'I would go to TOWN on an espresso martini', then realise my mistake. I'm starting to get a tiny bit freaked out by my brain's ability to pull the wool over my eyes. Do I have a coffee problem? Am I…an addict? Yikes.

Wake up hung over. My willpower is non-existent. With weak shaky hands I make an instant coffee. Text my Editor, or accountability partner, as she's known, who encourages me to stay strong. I tip the instant coffee down the sink. Feel very sorry for myself.
By 12pm my resolve goes out the window. Evil unsupportive boyfriend suggests McDonald's. I cave and have a coffee. From McDonald's. Delivered. It tastes like the nectar of the gods. This is me hitting rock bottom.

Don't have a coffee. But obviously have ruined everything with shameful McDonald's coffee.
The Verdict?
This is going to sound ridiculous, but I feel like this little experiment has given me an insight into addiction. I was acting like a crazy-ass bitch and my brain was working overtime to get some caffeine into me. I think next time a much longer break is needed so I can start to feel some benefits, rather than just the withdrawl symptoms.
Image credit: Gabrielle Stjernqvist
Looking for more #fitspo inspiration? Check out I Gave Up Sugar For A Week And This Is What Happened!