Okay, so Icelandic 'neighbourhoods' might be a bit of a misnomer. In Iceland, there's Reykjavik—the capital city, home to 200,000 Icelanders and about that many tourists—and then everywhere else. It's not a land of concrete metropolises and tree-lined boulevards. Most people come to Iceland to escape neighbourhoods.
Think of this more as a guide to Iceland towns, specifically the ones outside Reykjavik that many tourists either miss entirely or zoom through on a Golden Circle bus trip. Our advice? Hire a car or 4WD and plot your own route. Allow a few days in each of these spots—you get a way better feel for local Icelandic life (since 2010, Reykjavik has kind of become Iceland's version of Disneyland), and they make fantastic jumping-off points for fjord adventures, long hikes and volcano hopping.
Here are three 'neighbourhoods' in Iceland you need to check out.
Hafnarfjörður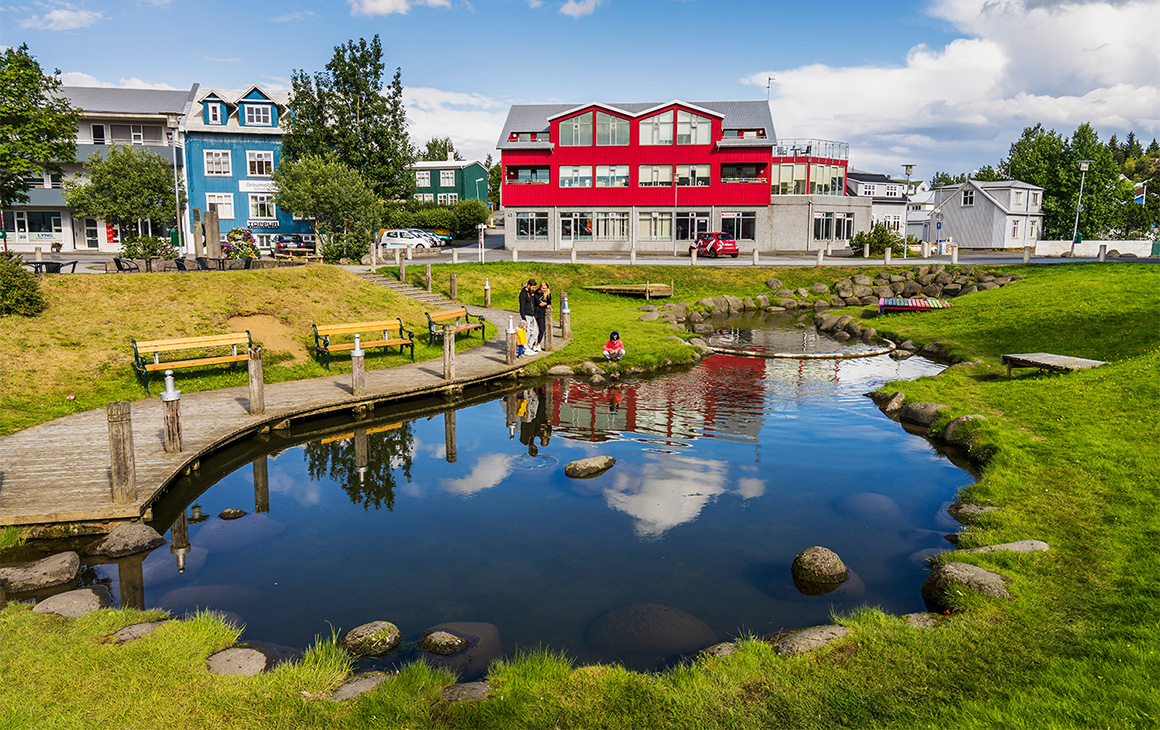 You'll find Hafnarfjörður just outside Reykjavik. Don't ask us how to pronounce it. Like most things in Iceland, just smile and try your best—the locals don't mind. Hafnarfjörður is Iceland's third largest town, and home to a surprisingly good festival scene (particularly Icelandic rock, which sounds like regular rock, but colder).
Stay
Hotel Viking
Of course we were going to include a Viking-themed Nordic longhouse. Hotel Viking is almost kitschy, but that's part of the charm. It's got a sauna, hot tub, ocean views, and décor that makes you want to pillage things. Big groups can hire out their own Viking-style cottage.
Cosy Cottage
Hotel accommodation in Hafnarfjörður tends to be on the clean-but-boring side, but there are some good AirBnb options available. This is one of our favourites: a cosy timber cabin, all to yourself, with a built-in sauna. There's even an outdoor shower, if you're brave enough.
Eat & Drink
Sufistenn Coffeehouse
Sufistenn is a cute specialty coffee bar in Hafnarfjörður, perfect for curling up with a good book and some single origin, or plotting your next geyser tour. You can grab a range of homebaked cakes, pastries and sandwiches too.
A.Hansen
If you want something a bit fancier, your best bets are either Tilveran or A.Hansen. Working out of a historic nobleman's manor house, these guys are the kings of grilled meat, smoked over charcoal. You can even find horse and whale on the menu (it's a pass from us).
See & Do
Viking Festival
Hafnarfjörður is pretty big on their Viking heritage, and every year on the second weekend of June they throw Iceland's biggest ye-olde Viking Festival. It runs for four days and has been going since 1995. Come and shop the Middle Ages market (the era, not the target demographic), quaff some ale and watch Icelandic people fight eachother. It's great.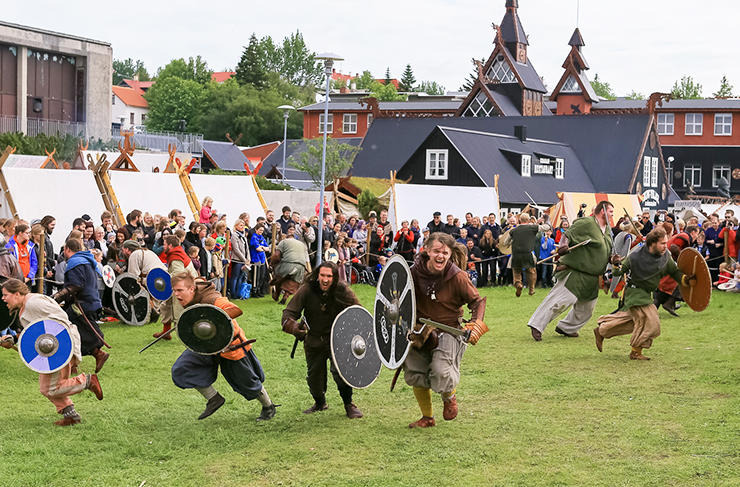 Bright Days Festival
Iceland's biggest rock acts can trace their roots to Hafnarfjörður, including HAM, Sign, Jet Black Joe, Jakobinarina and Ulpa. Bright Days cashes in on this musical heritage. It's Iceland's biggest summer festival, held on the last day of winter. Expect live acts, exhibitions and street performers to take over Hafnarfjörður. Most of Reykjavik usually makes the trek out to watch.
Húsavík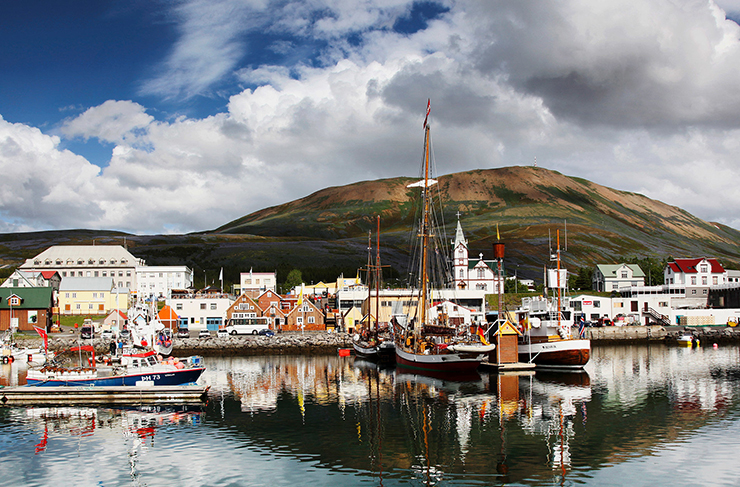 Húsavík is the kind of village you could see yourself moving to. Maybe buy a small cottage on the edge of the Arctic, start fishing for herring, that sort of thing. It's the oldest town in Iceland, said to be home to the first Viking settlement, and these days it's known for whale watching and hiking. The population is small, but Húsavík still books up during peak tourist season.
Stay
Fosshótel Húsavík
This is where most people stay in Húsavík. It's right in the middle of town, just walking distance from the harbor, and the décor is your standard modern, conference-type hotel. Nothing fancy, but the rooms are roomy, clean and have some cracking views. If you want low risk and gaurunteed returns, pick Fosshótel.
Gamli Skólinn
If you want something a bit different, try Gamli Skólinn (literally 'Old School'). It's a giant wooden barn-house from the early 1900s that's been converted into three schmick apartments. You get a full kitchen, including a fridge, plus free WIFI. The location's good too, although to be honest, Húsavík is so small that it's hard to find a bad location.
Eat & Drink
Naustið
Everyone falls in love with Naustið. It's hands-down the best place to eat in Húsavík: a buttercup-yellow seafood restaurant right near the water. These guys are known for their fish skewers, grilled to order over hot coals. Very traditional Icelandic grub.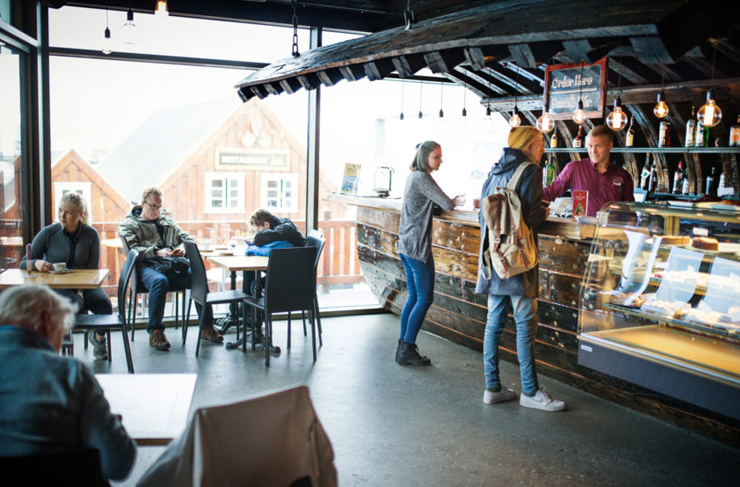 Café Hvalbakur
The perfect spot for a mid-morning coffee. The interior of Café Hvalbakur is the inside of an old oak fishing boat. This is where you come for a no-fuss baguette, sandwich, coffee, muffin or cake. The views over the harbour ain't bad either.
See & Do
Whale Watching
This is why most travellers make a stop in Húsavík—the nearby Skjálfandi Bay lies on a migration route for Humpback Whales, Minke Whales and even Blue Whales (if you're very, very lucky). The season runs from March to November, and tours start around 9,450ISK ($75USD). There are a few whale watching tours, but North Sailing are generally considered the best.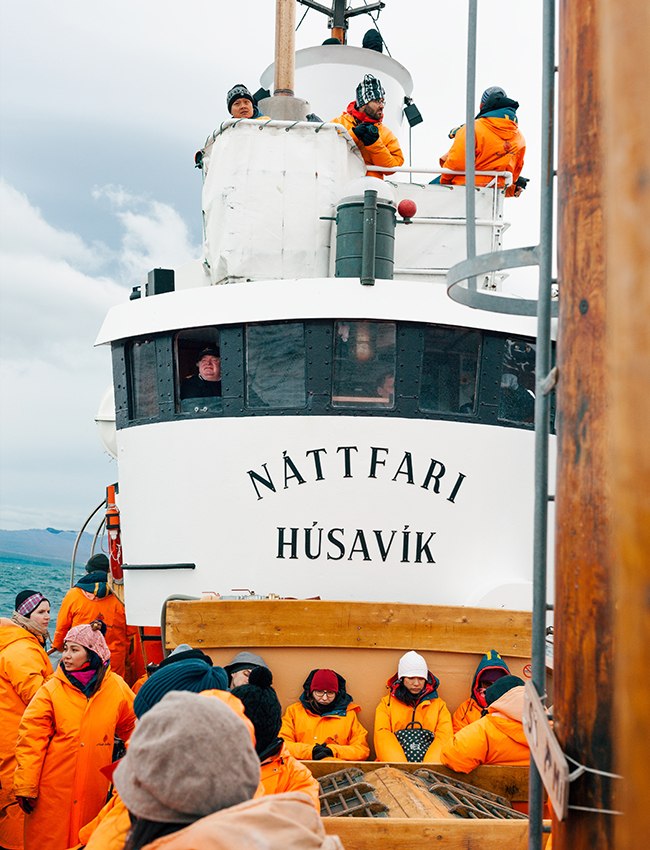 Geothermal Bathing
When people tell you to pack bathers for Iceland, they're not messing with you. Hot pools and geothermic lakes are dotted all over the country, and Húsavík has some of the best. Check out the GeoSea baths (amazing views) or float around in the Húsavík pool. There are also a couple of natural pools outside Húsavík, but you'll need a car to access those.
Vík í Mýrdal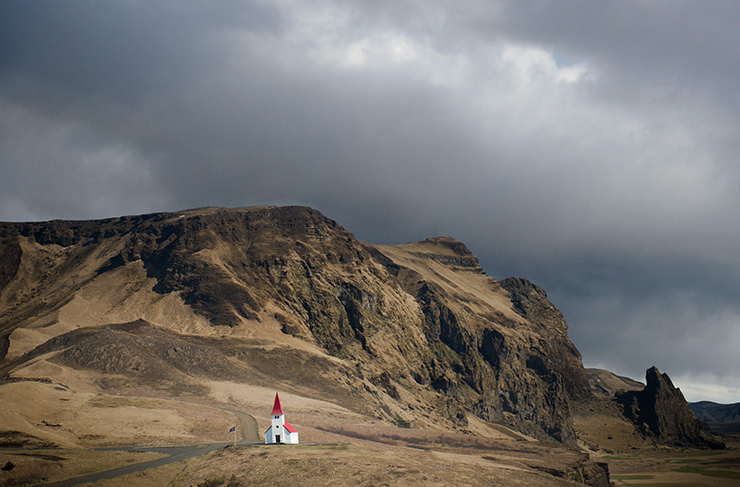 Only about 200 people actually live in Vík í Mýrdal (or as it's usually known, Vik), but thousands of travellers flock here every year to check out the famous black, volcanic coastline. The town itself is pretty bare-bones—you'll find it on the main ring road, about 180km from Reykjavik. The location means you can stop and see Seljalandsfoss and Skogafoss, then crash in Vik and explore Dyrholaey Arch and the Reynisfjara Black Sand Beach.
Stay
Icelandair Hotel Vik
A fairly new addition to the Vik tourism scene, Icelandair is one of the nicer spots to stay down here. It's big (88 rooms), with 10 cosy cottages if you want something more private, a fancy 200-seater restaurant, and some insane ocean views. Definitely our pick in Vik (sorry).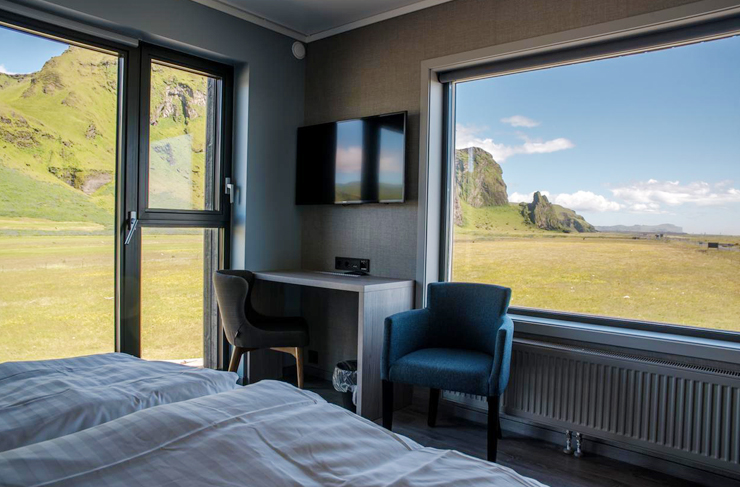 Hotel Kria
Another Vik newbie (this one was built in 2018), Hotel Kria is more of a designer hotel. Pricey, but worth the goods. You get a daily breakfast (including hot buffet), the rooms are gorgeous, with views of the surrounding black-rock cliffs, and you can walk from the hotel to the beach. It only takes about five minutes.
Eat & Drink
Suður-Vík
Suður-Vík is probably the best restaurant in town. It's an old two-storey building with cosy, wood-lined interiors, fairy lights, beams everywhere and the freshest seafood you've ever eaten (try the Arctic char). They're not shy with the serving sizes here either. Leave the belt at home and bring yoga pants instead. You'll be rolling back to the hotel.
Ice Cave Restaurant
We had to include Ice Cave for the décor alone, it's like dining inside a futuristic Arctic spaceship or something, all electric blue tree-sculptures and canteen-style food. The food is good (but nothing to write home about)—this one's more for the experience. You'll find it inside the same complex as the Icewear store.
See & Do
Dyrhólaey
Otherwise known as 'The Arch With The Hole' (legit), Dyrhólaey is a black lava-arch, just outside the village of Vik. The views from here are amazing, and it gets very popular in peak season. You can usually see Mýrdalsjökull glacier, the lava columns of Reynisdrangar and all along the southern coastline (with the right weather). If you come in summer, keep an eye out for puffins, they tend to nest on the cliff faces around here.
Reynisfjara Beach
The main reason people drive down to Vik. There are black sand beaches all along the southern coast of Iceland, but Reynisfjara is probably the most famous. You can reach it from the main road, and it's genuinely ginormous. Great for photos, with those famous towering cliffs in the background. Try to get up early for a private dawn viewing (most tourists arrive in the afternoon from Reykjavik).
Want to hire your own 4WD in Iceland? Here's our ultimate roadtrip guide.
Image Credit: Simon Migaj, Visit Husavik, North Sailing, Reykjavik.com, WhatsOn.is