We all want to do our best for the environment. But with the endless amount of news and tips being thrown our way it can be overwhelming to know where to start.
So today, we're breaking it down into the simplest of swaps that you can enact right now. They'll immediately make your home and lifestyle more sustainable, so you can sleep a little easier tonight.
#1 Get Your Grow On
You might think you're going to need a bit of space to plant the vegetable garden of your dreams, but there are options available no matter what space you're working with.
If you're in an apartment or have a tiny backyard, something like the Airgarden—a vertical aeroponic tower that allows you to grow up to 30 plants in less than one square metre—is the answer you've been looking for. Airgarden uses aeroponic technology developed by NASA, so there's no soil involved, no constant watering (huzzah) and no harmful pesticides needed. You only need to commit five minutes a day to look after your fruit and veg so you can spend more time in the kitchen whipping up some damn delicious feeds.
The best bit though? You'll save big dollars on your weekly grocery shop.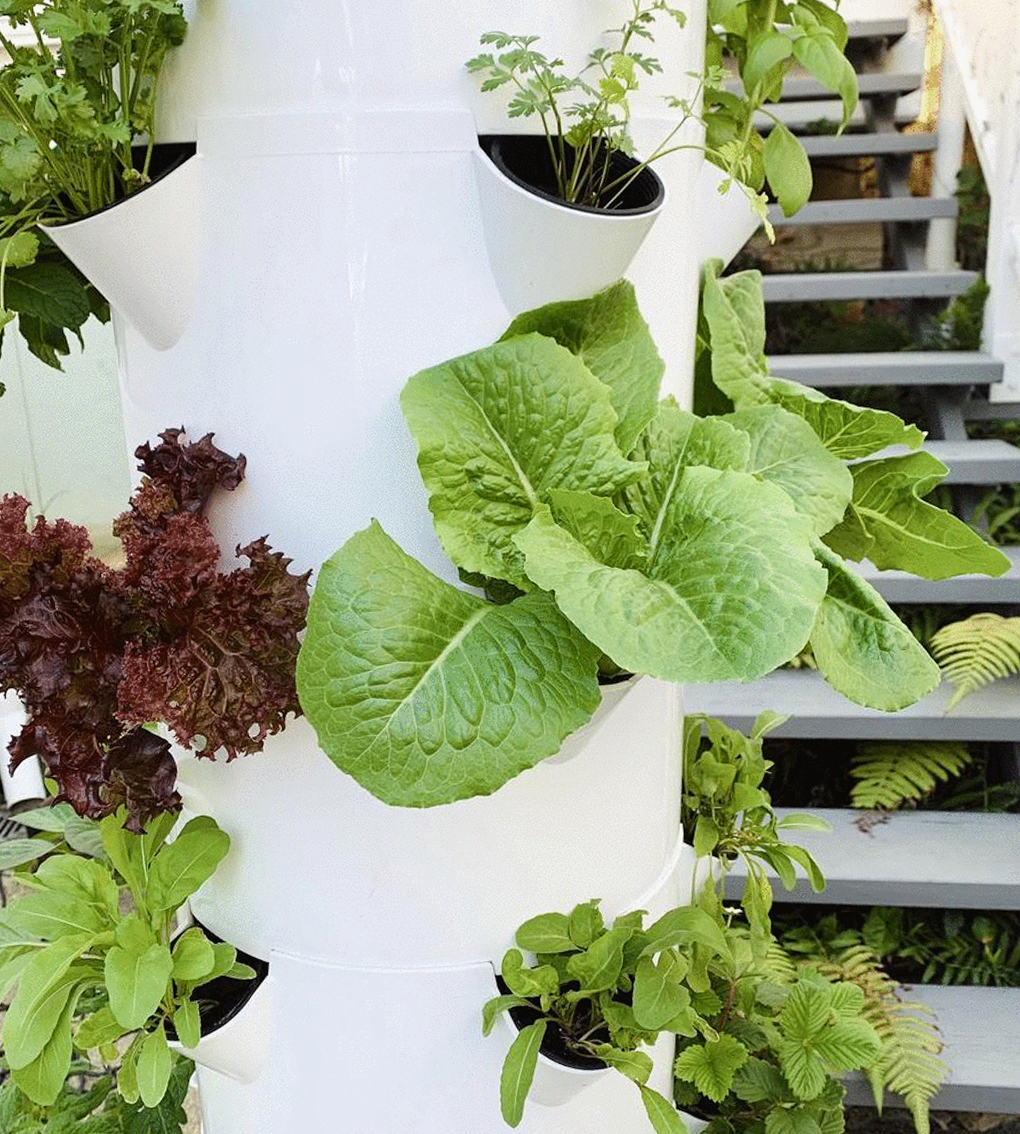 #2 Give Cling Wrap The Stick
This is a super easy one that you can do straight away. Do away with nasty cling wrap and sandwich bags and look for a more sustainable version in vegan silicone or beeswax products.
According to Be An Unfucker, "1 million sea birds and 100,000 marine mammals are killed annually from plastic in our oceans." Let's all stop contributing to that nasty statistic in favour of wrapping up your food in something that's nature-friendly, and totally cute.
On the silicone front, Agreena does epic 3-in-1 vegan silicone wraps which can replace you ever needing cling wrap, aluminium foil or baking paper ever again. These wraps contain no petrochemicals, BPA, or lead and are breathable so they do not store odours. They can also be reused again and again, just wash with warm soapy water.
You can also buy beeswax wraps in a range of sizes that will cover all of your bowls and containers. A couple of local options include Bee Wrappy, Honeybee Wrap and Bee Green Wraps.
We also love the goods at Great Wrap which come as Aussie made certified home and garden compostable cling wrap. It's made using more plants and less oil, plus it breaks down into carbon and water in less than180 days (we're calling it absolute magic).
If you can't afford those, you can pop your half chopped up veggies, sandwiches and leftovers in the food containers you likely already have sitting in your drawers.
#3 Discover The Delicious World Of Plant-Based Eating
We're definitely not going to tell you to cut meat and dairy out of your diets for good; heck, we love a good cheeseburger as much as the next person. But, it'll make a huge impact on the planet's health, as well as our own, if we cut back a bit. And, though it might come as a surprise to some, it won't affect the enjoyment of your taste buds.
From the most delicious vegan cheese sauce we've ever tasted to the Beyond Burger which is so realistic some vegos can't even hack it, the plant-based world is buzzing with delicious options. Even Magnum and Milo have joined the trend.
If you're keen to give it a whirl, this climate-friendly diet suggests swapping one meal a day for a plant-based alternative. Why would we do this? The hard facts say that animal agriculture is the second leading cause of global warming, it contributes to 14.5% of the world's greenhouse gasses (that's a lot of cow farts), and is a whopping contributor to biodiversity loss thanks to the sheer size of land required for farming practices. On top of this, 17% of Earth's fresh water is being drunk by livestock or used to make feed.
Looking for delicious recipe ideas? These guys are our go-to. Otherwise, hit up some of the best vegan-friendly establishments in your city.
And when you are consuming meat and dairy, make earth-friendly choices by opting for grass-fed meats from smaller, local farms, and small-batch milk from nearby dairies.
#4 Shop Local
Rather than consuming imported ingredients that have been frozen and flown in from far-flung destinations, know where your food is coming from and support local growers and producers as much as possible. Check out your local farmer's markets or simply read the "product of" labels when doing your weekly shop. Those oranges are going to taste way better when they are in season, anyway.
Even better, if you've got the space, is growing your own ingredients. Herbs are an easy one to master straight away no matter the space you're working with. Get creative and start cooking based on what seasonal produce is available.
Be sure to keep an eye out for fruit trees and community verge gardens on your neighbourhood walks too, often you can score a lemon or two to squeeze over your avo toast. Ripe Near Me lets you discover which of your neighbours is happy to share their fresh bounty.
#5 Swap Binning Leftovers For Composting
While some councils around the country are now allowing food scraps to be put in the green waste bin, if you don't fall into that category there are still options.
The fact of the matter is throwing your food scraps in the bin is smelly and a waste. Even a small compost bin can make a positive impact around your home, whether you use the soil to grow your own herbs and vegetables or trade with your neighbours for their product through a site like ShareWaste. If you're looking for a good system to get a compost started, take a look at the range of options from Bokashi.
If you live in a tiny apartment and composting is not available to you, there are a bunch of amazing local compost collectors in cities around Australia and New Zealand to check out, like Kooda in Perth and Compost Collectors in Melbourne. You could even pop your veggie scraps in a container in your freezer and donate them to a friend who has a worm farm once a month. Easy!
#6 Opt For Naked Produce
This one's a no brainer and something we wish supermarkets would get on board with, but alas, we must once again lead by example. Say no to buying bags of carrots, spinach and potatoes suffocated in plastic and bring your own (clean) reusable produce bags to a. buy the exact amount you want and b. save the environment.
If your nearby supermarket chain doesn't have the goods in nude form, check out your local farmer's markets and fruit and veggie shops where you'll likely find loads of naked delights. You'll probably save money too!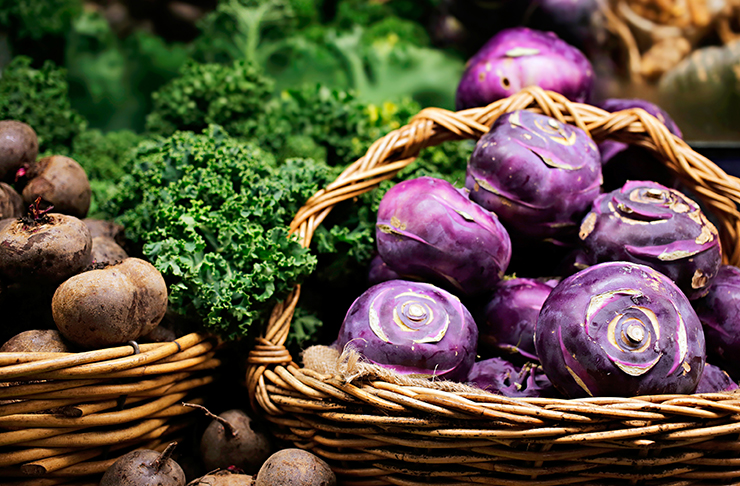 #7 Ban The (Plastic) Bag
It was excellent when Australia's major supermarkets banned single-use bags, but the "reusable bags" they're selling for an additional 15 cents aren't much better. Stock up on planet-friendly bags made of hessian or cotton and keep at least one on you, in your car and at your desk at all times.
Then, go one step further and pick up some reusable produce bags and a reusable bread bag.
#8 Bulk Up
Moving away from fresh produce, there is plenty we can all do to cut out plastic from our day to day lives. And one of the biggest is shopping bulk. Since the first Source Bulk Foods shop opened in Byron in 2007 they have collectively saved 50,000,000 plastic bags from production and 300,000 kilos of package waste from landfill.
To be a part of it all, start collecting jars and head on down to your local Source (of which there are over 50 across Australia and New Zealand and you can find the best online stores here) or equally amazing bulk food store and fill 'em up with rice, flours, dried fruits and nuts. Be sure to stop by the chocolate section to get yourself a treat for the car ride home.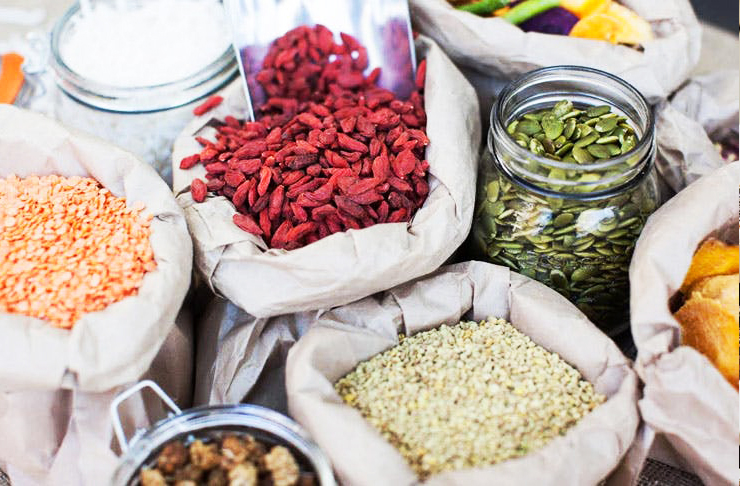 #9 Go Mad For Macadamia Oil
While it's going to come at a cost, it's much better for the planet if you're choosing to buy macadamia oil over canola or vegetable oil.
Rainforests are being cleared to plant crops to produce the likes of canola which is not good for anyone. Macadamia nuts are grown locally and are considered a "good oil", and can actually help lower cholesterol with the right diet.
While you're at it, be conscious about the products you're buying and ensure you're avoiding palm oil unless it comes from a sustainable source.
#10 Use A Reusable
If you're not using a reusable coffee cup already, you need to start today.
There are a range of options in the space including those from Bare & Co., Joco, Cheeki, KeepCup, or even just take a mug from your home or work kitchen to the cafe. Loads of cafes offer discounts when you bring your own cup, think of the savings.
#11 Clean Up Your Coffee Habit
We all love a coffee to get us going in the morning, and if you're not into spending $4 plus for a flat white at your local cafe you're probably throwing a mug under a Nespresso machine.
The usual pods you buy in the store aren't able to be put in your recycling bin, and usually means you'll have to carry them into the store you bought them from to be recycled. Something most of us probably wouldn't end up doing, so, of course, they end up in landfill.
Some better biodegradable options include Tripod Coffee, Pod & Parcel and Eco Caffe.
#12 Take Your Own Container
Many of us are used to bringing our reusable coffee cup to the cafe, but did you know loads of cafes and restaurants will pack your takeaway order straight into a BYO container? Yes, it might feel a little awkward the first few times, but you'll walk out feeling smug as hell and soon enough your friends will follow suit.
This stainless steel, stackable bento box is one of our favourites, alongside these round nesting containers which come in a set of three.
And why stop there? Pack yourself a little lunch-time kit with a knife, fork, spoon and reusable straw so you never have to use plastic cutlery again.
It's cool to care for the environment, ya'll.
#13 Cool Your Meal Delivery Jets
This one is tricky for all of us, but the fact is, food delivery services aren't super environmentally friendly. Firstly, there's the petrol emissions. Then everything usually arrives in plastic with more plastic cutlery and serviettes than you really ever need.
Cutting back on takeaway is hard, especially when we're all super busy, so alternatives include walking to the local cafe to pick up your lunch in person (preferably bringing your own container) or ordering pizza. If the cardboard box is mostly clean it can be recycled, and if not it can go in the compost.
#14 Say No To Straws
We've all seen the horrifying images of turtles with straws stuck inside them, so next time you're at the bar order your drink sans-straw. It's as simple as that!
Apparently, Australia uses more than 10,000 straws a day (see: Be An Unfucker) to do what our lips were made to do naturally. If you simply must use a straw, grab a stainless steel one and bring it with you everywhere you go.
#15 Follow The 5 Rs
Refuse, reduce, re-use (or repair), recycle and rot—in that order. By making this your mantra, you will make a huge impact on the world.
#16 Ditch Sugar
We know, this one's not for everyone but hear us out. Reducing the amount of sugar you consume is actually a big one when it comes to improving your food footprint from the get-go. Around 95 per cent of Australia's sugar is actually from the Great Barrier Reef's beautiful coastline (we were shocked too). However, the polluted run-off from sugarcane farms producing this sugar can destroy reefs and trigger coral-eating crown-of-thorns starfish.
The WWF suggests keeping an eye out for the Bonsucro logo when you head for your weekly grocery shop which will help you support sugarcane farms which are producing sugar more responsibly.
Want to commit to going plastic free? Here's where to start.
Image credit: Creatv Eight
Editor's note: Urban List editors independently select and write about stuff we love and think you'll like too. Urban List has affiliate partnerships, so we get revenue from your purchases.