There's no denying it—buying condoms can feel super awkward, particularly for young women. All you want is to get into the store, shove that receipt into your annoyingly-little-why-are-they-so-small-coin purse, avoid eye contact and get out.
This is where we go, "Heeeeeere's Jonny!" Allow us to introduce you to Australia's newest condom brand, created for women, by women (and it's vegan-friendly, too).
The idea for Jonny came about when friends (and now co-owners) Samantha Eade, Bec Villanti and Bec Park were chatting about the lack of organic condom options, plus their overall (often embarrassing) experiences purchasing contraception as young women. That's when they decided they were gonna be the ones to shake things up.
"There was a gap we saw, a social stigma we identified…and we went 'Hang on, what if we can shift that?'" says Bec Park. "Everyone has sex pretty much, so let's make it a good thing."
And thus, Jonny was born.
There's a few ways you can stock up with Jonny. You've got the overnighter (a pack of three condoms and three bio-degradable FabLittleBags, for environmentally-friendly disposal), the weekender (six condoms and bags) and the lover's dozen (13, because it's better to have and not need than need and not have). All made from a vegan, cruelty-free latex.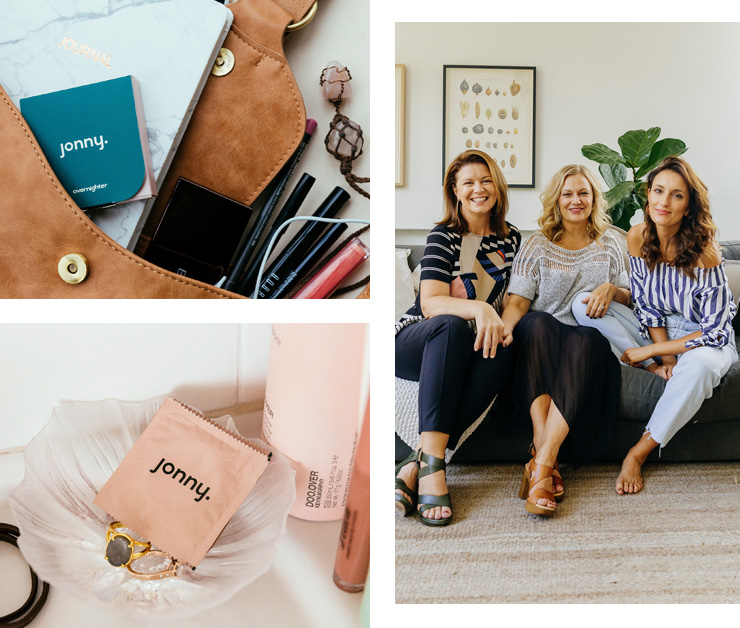 The brand is all about empowering women to be unashamedly prepared in the bedroom, kicking any embarrassment about taking control of your sexual health (and that of your partner).
"There's a dual responsibility," Bec says. "You should be proud you're taking responsibility, respecting your body and his, and the environment. What we want customers to feel is that having condoms in your handbag is as normal as having lipstick there."
So far, the reception has been overwhelmingly positive, both to the product (we drew the line at a road-test article) and the discreet, modern packaging. And before you ask, no, Frank Body wasn't involved in the branding—although we think a collab would be a great idea…
"It's been really positive, especially with young women. There's almost this sense of relief when you talk to them about it, that reaction of 'Oh, that's great!
"The beauty of it is that it starts the conversation, starts shifting that stigma," says Park. Some customers have even reported they'd be "almost proud" if Jonny did fall out of their bag. Next step: handing them out to strangers on the train.
Right now, Jonny's focus is on getting their message out there, but they've aspirations to bring out product extensions in the form of a 'Winter Weekender Pack' in the future, including all sorts of cosy things you might want to take away with you ("Like fluffy socks, not lube," says Bec). Plus, their inclusion in Zöe Foster-Blake's recent 'Break Up Boss' care package hasn't hurt.
If you want to get your frisky little mitts on some Jonny products of your own, you can buy them on the website, and even sign up to the 'Get Lucky Club' to have packs of the Weekender or Lover's Dozen delivered right to your door every 4 or 8 weeks. Easy as pie.
Cherry on top? $1 of every online sale goes towards the i=Change movement to help improve lives of girls and women worldwide.
We think you and Jonny are going to be good friends.
Image credit: Jonny