Matinee might be the most Marrickville café around town, and we mean that as the biggest possible compliment. It's an eclectic mashup of styles, eras, textures, and colours, giving it a unique and visually pleasing charm. Walk into the Addison Road joint to find the Grifter Brewing Co Pale Ale on tap (with the local brewery located only 200m away) and the side alley's graffiti mural acting as an outdoor decorative piece shining through the tall and usually open glass bifold doors. Currently, it's also the home to one of our favourite feel-good vegan sweet treat collaborations.
Before reaching the old school American-diner style bar and open kitchen, you'll find a large community table selling takeaway wine, craft beers and other goodies—which the café has continued to operate after starting a bottle shop during this year's lockdown. On their first day introducing takeaways, they sold out of stock in just two hours thanks to a supportive and thirsty local community. They're even selling their very own roasts of coffee, and a couple of hot sauces from The Fermentalists made especially for them.
When you sit down and pick up a menu, you'll realise why we're crazy about this place. Don't worry, we won't blame you for one second if you're eyes dart immediately to the 'sweeter dishes' section. And even less if you're there to try the café's limited edition Connoisseur Plant Based ice cream vegan French toast—because it's our pick of the bunch. If you're a traditionalist, then start off with something like the Matinee reuben sandwich or the vegan sub made with quinoa and coriander falafels, before hitting the sweets. But if you've got a sweet tooth that won't quit and you don't mind doing away with society's meal order conventions, order up the vegan French toast any time of day before it disappears on December 31.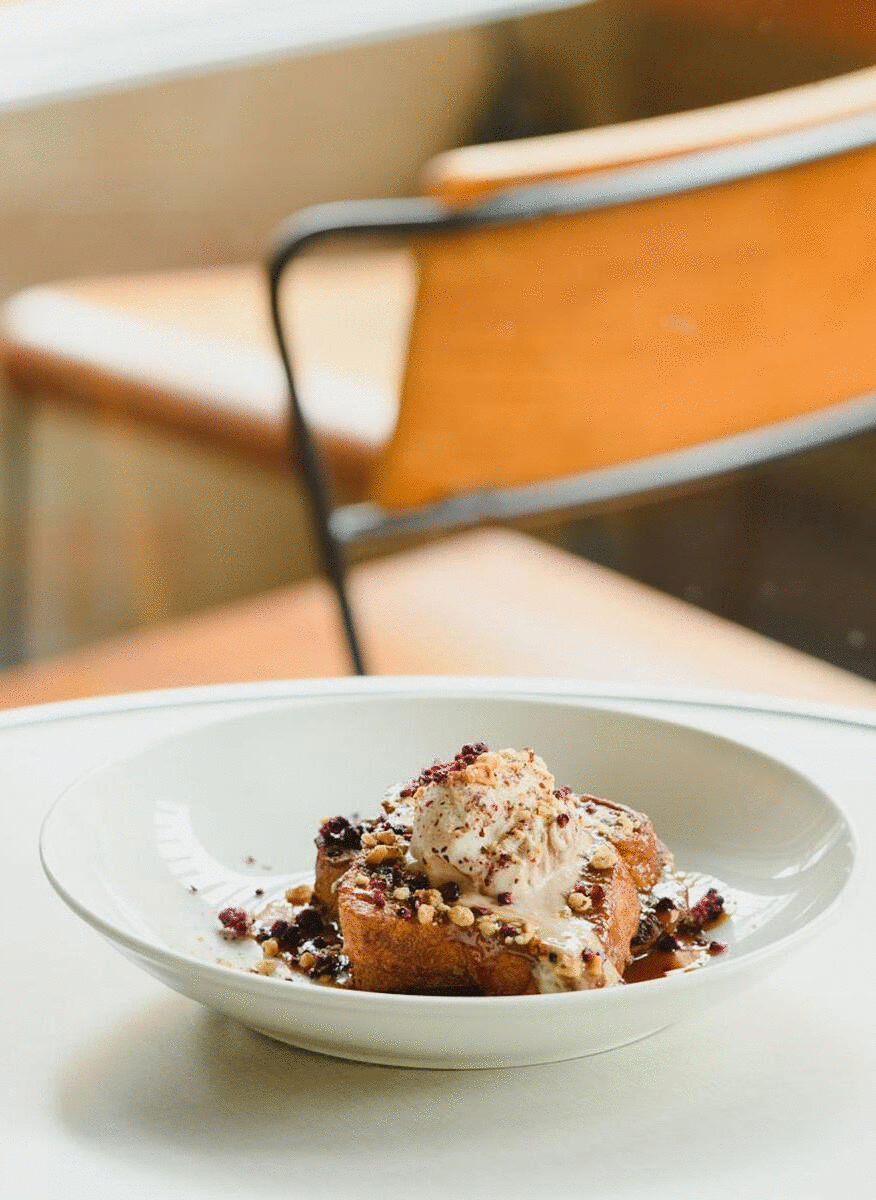 We hear the questions from breakfast food enthusiasts, but don't fret–this is the real deal. They take a soft and sweet brioche bun from Sydney's Thoroughbread, give it an arrowroot flaxseed meal (in place of egg), spiced maple syrup and cinnamon wash, before frying it up. That's then topped with homemade honeycomb, a vegan butterscotch sauce, roasted hazelnuts, fresh strawberries and blueberries, and dehydrated raspberries. Finally, for the pièce de résistance, one big dollop of Connoisseur's new Plant Based Hazelnut Chocolate ice cream. It's an indulgent flavour and texture party you can feel good about–the crunch of the hazelnuts, the sweetness of the butterscotch, the light tartness of the raspberries and the surprisingly creamy "I can't believe it's not dairy" Connoisseur ice cream covering it all. This dish has all the hallmarks of turning you into an unashamed plate licker.
If you're after other vegan options, Matinee has got you covered with a slate of vegan pastries made in-house and options to turn some of the dishes available into vegan offerings. You can also grab some house-made sodas and juices, alongside a list of vegan wines, local craft beer tinnies, and best of all, cocktails using only spirits from Poor Tom's around the corner or Brix just a couple of suburbs over in Surry Hills.
Before you leave, look around and take in the inner surroundings one last time. There are the wash blue concrete floors, the oranges and greens dining tables and 70s era velvet chairs, the dark blue tiles lining the curved wooden bar, the deep maroon of the art deco fringe chandeliers, and the large mural of dancers painted on the wood-panelled back wall. Pairing this visual spectacle with a sweet vegan French toast breakfast is a winning recipe which might just turn you into a regular.
Editor's note: This article is proudly sponsored by Connoisseur and endorsed by Urban List. Thank you for supporting the sponsors who make Urban List possible. Click here for more information on our editorial policy.