India is a glorious Rubik's Cube of different cultures, religions and cuisines. Overwhelm can take charge when browsing a map of the many cities in Southern India and we understand it can be all too easy to bow to decision fatigue and stick with mainstay cities. To make sure you don't overlook the many hidden gems in India's colourful south we've picked three spots in Goa, Tamil Nadu and Kerala that deserve a spot on your itinerary.
Goa—Arambol
Arambol is Bollywood Woodstock. A wave of hippy expats flooded to India in the 1960s and a lot of them must have ended up here. To this day the beachside area continues to attract soul searching hippies from across the world. Arambol's establishments mirror its resident's partiality towards vegan food, ambient music, yoga and drum circles.
Stay
Don't expect luxury in Arambol. Most of the accommodation is very on-brand for the area; low-key and laidback. Lotus Sutra is one of the more upscale options but is still rustic and affordable. Comfortable cottages sit beachfront, some with sea views and all with access to the resorts open-air dining area.
Eat
Arambol is flooded with vegetarian and vegan restaurants. Shantaram is a raw, vegan cafe and restaurant that would fit into Byron Bay seamlessly. The semi rooftop hideaway is just off the main street. Quality fresh vegetables and fruit are creatively served up through what can only be described as raw wizardry. We don't know how they make raw hummus taste, and look, better than the real deal, but if you're curious then stop by Shantaram.
It's hard to find really good bread in India but in the expat paradise that is Arambol, you can find a high-quality German bakery on the main street. This place is buzzing and for good reason. Grab a loaf of bread for your bungalow and a few sweet items for the walk back.
Drinks
Goa is one of the only places in India that you can openly enjoy a beer on the beach so we suggest you take advantage of this. Pick a sun chair that takes your fancy outside one of the many beachfront restaurants and soak it up. For a more Seminyak-esque beach club vibe, you can head to Club M and sink into one of their lavish white four poster day beds.
Shop
Hybrid boutique cafe Lamuella is a delicately designed hidden gem. It's nestled on the main street in contrast with the many market stalls offering more of the same. Lamuella offers well made and beautifully designed bohemian dresses and accessories. Designers from all over the world contribute to Lamuella's collection. The cafe out the back is equally pleasant with little tents for tables and serving fresh juices and salads. For more bohemian treasures you can indulge in the beachside markets every night in high season. Barefooted and linen-clad expats bring their handmade items to the beachfront and festively smoke weed while you browse their items. You can find well-made one-of-a-kind jewellery, interesting instruments and other oddities.
Vibes
Make sure you take in the scene while you're browsing the handmade items of Arambol's residents. Bald men walk the sandy shore with clear crystal balls balancing on their shiny heads. Nimble partners perform gravity-defying acro yoga by the water's edge. People are welcoming and will allow you to try their poi if you match their kind enthusiasm. Slowly you'll notice a circle start to form that has a magnetic pull for drums of all sizes. Every night in high season a drum circle forms somewhere along the beach. It starts just before sunset and finishes when it's dark enough to see the moon shining brightly. After the drum circle head to Twice in Nature for a live show, and you guessed it, a vegetarian meal. It's a dry venue but they serve a long list of health tonics. Expect anything from flute performers to yoga acrobats.
Tamil Nadu—Madurai
Madurai is one of the oldest cities in India. Its skyline looks like something out of Game of Thrones. Ancient temples sprout from the ground and look down over the land as if they are guarding the cultural capital of Tamil Nadu. Tamil-rooted traditions make for a unique city with cuisine and traditions to contrast others in South India.
Stay
The Heritage Madurai was built by legendary Sri Lankan architect Geoffrey Bawa in tropical modernism-style. Historic charm is tastefully blended into the blurry lines of indoor and outdoor living. Plotted on the bank of river Vaigai, the hotel is pristine and evokes the opulence of the bygone era. For a more rustic option, Kadambavanam Ethnic Resort gives you the option to travel outside the city in exchange for a stunning view. Surrounded by sprawling greenery and mountains, this resorts offers cultural activities with the mission of preserving Tamil art forms.
Eat
Get adventurous in Madurai, there are many dishes here that you won't find elsewhere. Jigarthanda is a speciality dessert of Madurai made from milk, almond gum, sarsaparilla root syrup and topped with a scoop of ice cream. After a hot day of exploring the temples, stop by the centrally located Famous Jigarthanda with an open mind.
You'll start to notice a trend on the menus of Madurai restaurants after a few days. Mutton is a staple and available everywhere. You can't go wrong with Kola Urundai, minced mutton balls wrapped in banana leaf strings. The best place to try these uniquely delicious meatballs is at family run Chandran Mess. You'll see the family members conscientiously hand grinding the meat as you wait for your Kola Urundai.
Drinks
If you're not staying at The Heritage then at least come and marvel at the architecture while you have a well-crafted cocktail at the hotel bar Swig & Tee. Another bar with interesting architecture is Apollo 96 Bar, come here if you want to feel like you're in an episode of the Jetsons. A space themed bar in India's most ancient city, the irony is as rich as the cocktails and as bright as the neon lights. All kitsch aside, it's a pleasant little bar inside Hotel Supreme and worth a drink or two.
Shop
Shopping isn't the main focus of Madurai but you can find some interesting bric-à-brac walking the markets around Meenakshi Temple. For a more bespoke shopping experience, find one of the many skilled tailors dotted around the temples. Bring in a favourite piece of your clothing, and they'll have a duplicate ready for you in a few hours.
Vibes
Madurai has many road-side coffee shops that come alive with local buzz at night. Stop by one on your way home from a night out for a quiet chai and enjoy the humming scene. Among the most famous and animated are Sri Meenakshi Coffee Bar and Royal Coffee Bar.
Cultural Tamil music is intoxicatingly beautiful. You will no doubt hear it peripherally while walking the streets in between the high rise temples. If you want to hear it in all its glory head to Tamil Isai Sangham, Madurai's music school and drop into one of their concerts.
Kerala—Marari Beach
Marari Beach flies under the radar in the tourist haven that is Kerala but that may be an important part of its charm. Set next to a quiet fishing village, the relaxing vibe in Marari is in contrast to the usually bustling India. The beach is pristine and intoxicating, while Marari locals are welcoming and accommodating.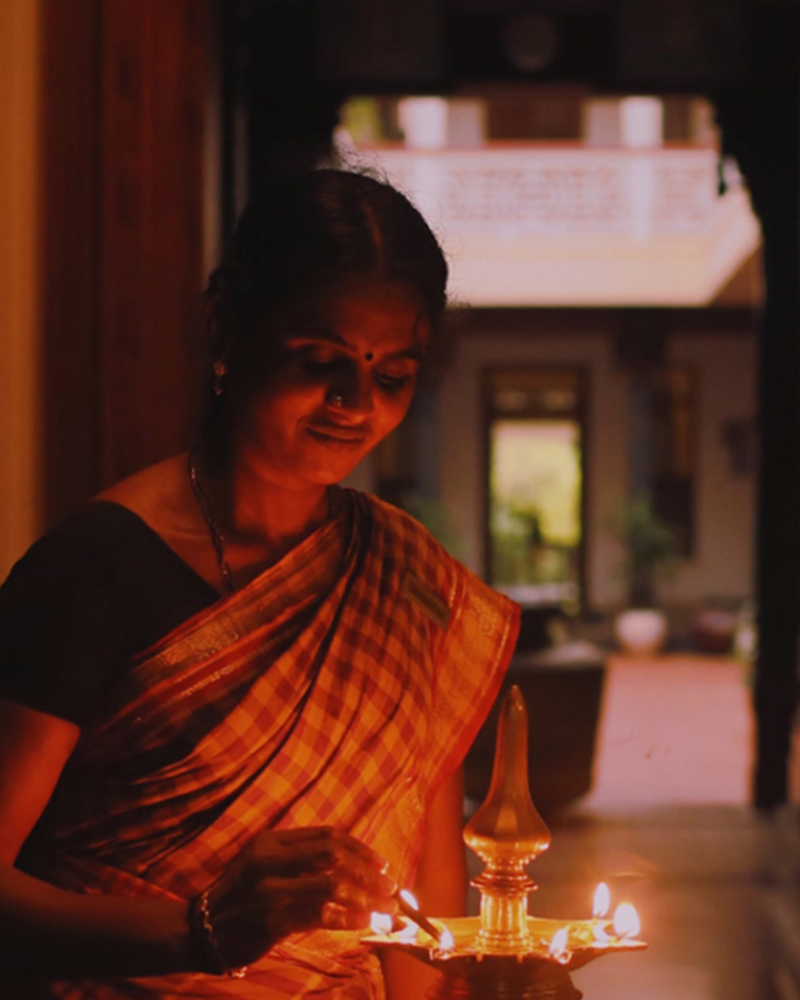 Stay
CGH Earth hotels are an experience, and there's one sitting pretty on the shore of Marari Beach. The Marari ocean demands you to slow down and CGH's boutique resort willingly facilitates it. Set on 30 acres of perfectly manicured land with coconut groves, a butterfly garden, and a large organic farm, you might just want to stay here forever. The hotel has a heavy focus on eco-living and hosts its own yoga classes in a small shala along one of the resort's winding pathways. Be sure to book into a cooking class set in the organic veggie garden.
If you're looking for a more boutique option but don't want to sacrifice beach access, Heritage Marari is a fabulous choice. Located on the Marari backwaters, the beach is a ten-minute canoe away. What Heritage lacks in ostentation it makes up for in rustic charm. Heritage's four rooms are restored and recreated in the traditional Keralian Tharavad style. The furnishing and linen mirror its namesake and are sourced from local materials and craftsmen. Book in advance to secure one of the four rooms of this hidden gem.
Eat
Marari's food scene is understated and relaxed. Stick to the Keralan favourites and you can't go wrong. For a laidback seafood lunch head to Marari Beach Hut Restaurant. Keep your eyes peeled as you stroll down the soft sand beach of Marari as this place is easy to miss; it is indeed a hut on the beach. The water will demand your attention, so stay focused and you'll come across this charming little establishment. Eat seafood the authentic way, surrounded by palm trees with your toes nestled in the sand.
Granma, located on Beach Road near the Sree Mahadeva Temple, is an authentic little hub where complex South Indian curries are served on banana leaves. Whether you choose to eat with your hands or not, Granma won't disappoint. As its name suggests, this small family run restaurant will make you feel like part of the family.
Drinks
Kerala is notoriously a dry state so it's hard to find a bar, especially in quiet Marari Beach. We say respect the dry laws and stick to non-alcoholic beverages while you're here. There's a little unassuming cafe called Coffee Temple in the middle of Marari on Beach Road. They serve surprisingly good coffee and juices with top people watching and beach views.
Vibes
All there really is to do in Marari is relax, eat and walk on the beach, and we aren't complaining. This is the perfect time to indulge in an Ayurvedic massage. Ayurbhadra Ayurveda is a top rated Ayurveda establishment and a good choice for your first Shirodhara. Hopefully, by this stage, all the beach gazing, massages and alcohol abstinence has given you a little bit of extra energy in the morning. Get up early and go for a morning walk. You'll come across a beautifully spell bounding scene of the local fishermen bringing in their catch of the day.
Planning your next escape? We've got plenty of inspo for you right here.
Image credit: Alexey Turenkov, Berto Macario, Vikram TKV and CGH Earth