What happened to gin? Not too long ago it was the designated "boring person's" drink, if you're to believe the quizzes circulating Facebook anyway. All of a sudden, it's done a solid Rachael Leigh Cook in She's All That and bam, it's suddenly the coolest drink in class.
The juniper-laced spirit used to be all frumpy and dowdy—cue **glamour makeover montage**— but now in bars and restaurants all over town, you can find thirty-strong gin lists and specially-matched boutique tonic waters.
Now, here's a curveball. Why are alcohol-free gins getting a run on the market? Surely gin without alcohol is like Kanye without the Kim, avo without the toast, poké without the fish. Why take the best part—the alcohol—out of gin? We have many questions, but luckily, we also have many answers.
What Is It Made From?
Well, still botanicals. Botanicals is a fancy word for the fruity, floral and fragrant stuff that gives gin its distinctive taste. Of course, there's juniper, but depending on your gin brand, you might taste notes of coriander, cloves, cinnamon, rosemary, thyme and citrus peel. It's like the Colonel's secret herbs and spices, but...not chickeny?
Alcoholic gin is made by process of distillation. A batch of neutral-flavoured alcohol (usually derived from wheat) is gently heated in an alambique, AKA a big copper pot. There's also a basket inside, containing the chosen botanicals—it's basically like a potpourri party. The vapours rise, extracting the botanical flavours along the way, and condense into...gin. Basically.
Obvs, non-alcoholic gins forgo the alcoholic base. They use water, but you know, "special water". Like Evian on crack, probably. Manufacturers keep their recipes top-secret, so we're making an educated guess here.
What Does It Taste Like?
First up, non-alcoholic gins are usually marketed as 'mixers'. Drank straight up, they're...ok. But you'll get the most mileage if they're mixed with tonics, or with other ingredients as part of a non- or low-alcoholic cocktail.
TBH in a G&T, you're not going to tell the difference. K, you won't get the same "buzz" that comes with an alcoholic drink, but what you will get is a fragrant, floral alternative that strays pretty close to the original beverage.
Denmark's Herbie Virgin is the other alco-free heavyweight. It's positioned as an alternative to the famous Herbie Gin, and contains the same juniper, apple, lavender and orange peel vibes.
On home turf, Melbourne's Brunswick Aces have distilled native Australian botanicals into a lip-smacking "gin". The Hearts Blend is your more familiar mix, juniper-forward with wattleseed, cassia and ginger, while the Spades Blend is a fruitier, lighter blend of citrus, lemon myrtle and cardamom.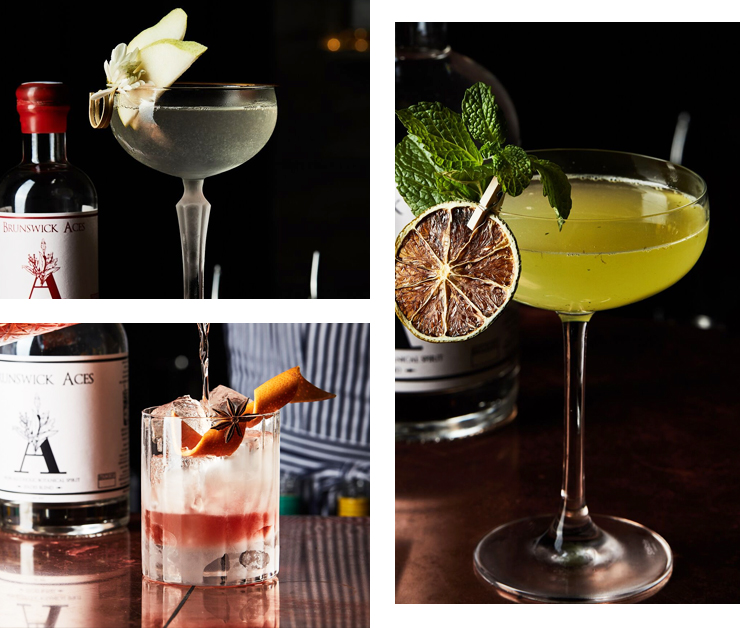 What's The Point?
Because the non-alco cocktail alternatives at bars generally suck. If you've ever been a designated driver for the night, there's only so many crappy lemon-lime-bitters you can take.
These alco-free gins mean you can have a drink, without you know, having a drink. You can have still fun at a bar without shirking your D-driver responsibilities.
Who Else Would Like It?
Well, anyone who can't, or doesn't, drink alcohol. Pregnant women. People of certain faiths. Folks who are sticking it out for any of the sober months: Feb Fast, Dry July, Sober October, and our favourite, "Drynuary" (square pegs and round holes, amirite?).
There's also a teetotaller movement that rivals the whole "quitting sugar" thing. According to the 2016 National Drug Strategy Household Survey report, Australians aged under 30 consume less alcohol than their parents' and grandparents' generations. Almost a quarter of this demographic abstain from alcohol altogether, so they'll probably be into non-alcoholic gin.
But most of all: my cousins. The "Asian flush" is a real thing, and I've got the flush-face-brought-on-by-lychee-beer relatives to prove it. I really, really, really need to buy this for them, for all our sakes.
Where Can I Get It?
Well, if you're from Sydney or headed to Sydney, it looks like these bars have climbed aboard the alco-free gin wagon:
Chippendale's Gin Lane has three gin mocktails on offer including a refreshing spritz with pink grapefruit.
Over at Moya's Juniper Lounge in Redfern, they make their own "juniper tonic" infused with cinchona bark, agave syrup, and lemon. It drinks like a sober G&T (not suitable for pregnant women, but great for D-drivers!)
Otherwise, you can try to score you own alcohol-free gins at a number of online retailers.
Australia
You can buy Brunswick Aces directly from their online shop.
New Zealand
For a full verdict on all the non-alcoholic gins, read this.
Image credit: Griffin Simm