Well, Paris Fashion Week is officially over, and we've learned a lot. It's been another mammoth week. Let's jump right into it, shall we?
Here are all the trends out of PFW 2018. School's in session.
Celine As We Know It Is Dead
Settle down, we were all thinking it. Phoebe Philo has left Celine, and let's be honest, we were all a little nervy when Hedi Slimane's first act as creative lead was to remove the accent from the 'é'. That's not the move of a rational man.
Alas, we hung it there and waited for his debut collection.
Well it happened. And if we're all being honest, it was basically more of the same Yves Saint Laurent. What we've come to love about Phoebe's Celine—the masculine-meets-feminine, tailored pieces—has been replaced by mini skirts and a shit ton of sparkles. Our Celine woman is now dressing for a nightclub. While I love Hedi's Yves Saint Laurent era, I don't know if I'm on board for his Celine one. #bringbackPhoebe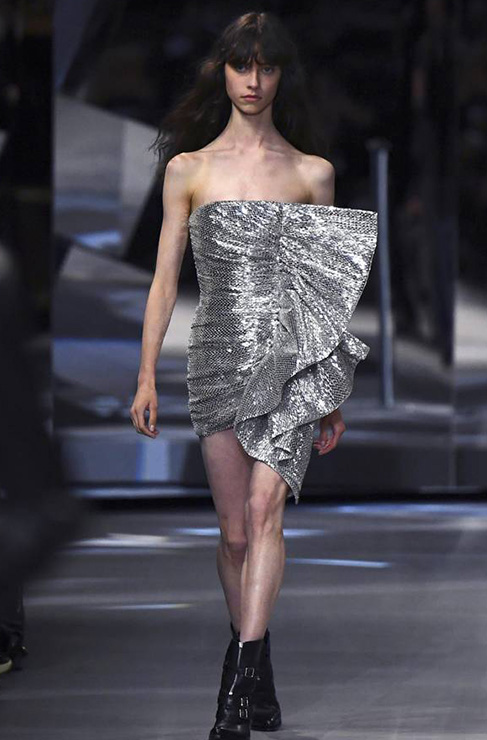 Photography: Getty
Virgil Abloh Is An Icon
You heard me. If you haven't yet seen the Off White SS19 show please do so now, I'll wait.
Okay, so now you know what I'm talking about. The show "TRACK AND FIELD" showcased just why Virgil is at the top of his game. Not only is he giving us exceptional streetwear, but he's empowering women in a totally genuine way. He recruited eight gold medal-winning female athletes to walk alongside industry stars like Bella Hadid, Georgia Fowler and Karlie Kloss.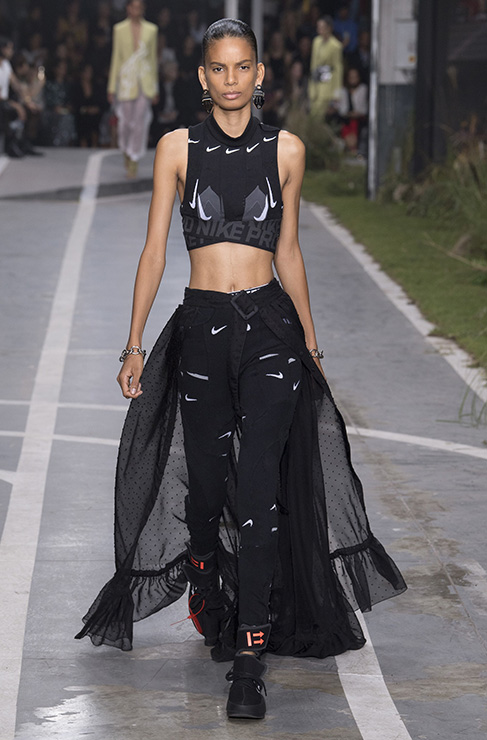 Photography: Off White
Wearing his soon-to-be-released Nike sneakers, the looks paired tutus with T-shirts, and legit activewear made for performance. "Sport, like fashion, shares a common language that seeks to unite cultures, break down barriers and celebrate the power of the human spirit," said Abloh.
Please note: this is not sportsluxe. This is more than that. This collection perfectly clashes performance wear with fashion.
If You're Brave Enough, Slime Is Your New Colour
We've pretty much done the majority of the colour wheel, so it was probably only a matter of time until slime green appeared.
Millennial pink was a great time for everyone, and now we're moving onto bigger and brighter things. Another nod to the 90's, this neon shade is bold but not impossible to pull off. I recommend pairing it back with a dark blue denim or a neutral shade.
Here are few of my favourite slime pieces this season.
Tiny Bags Are Staying Around...And Getting Smaller
I am here for the tiny bag trend. While I am yet to master it, Paris Fashion Week has told us miniature bags will be sticking 'round for at least another season. Shows highlighted that micro-bags are going to continue to be our go-to.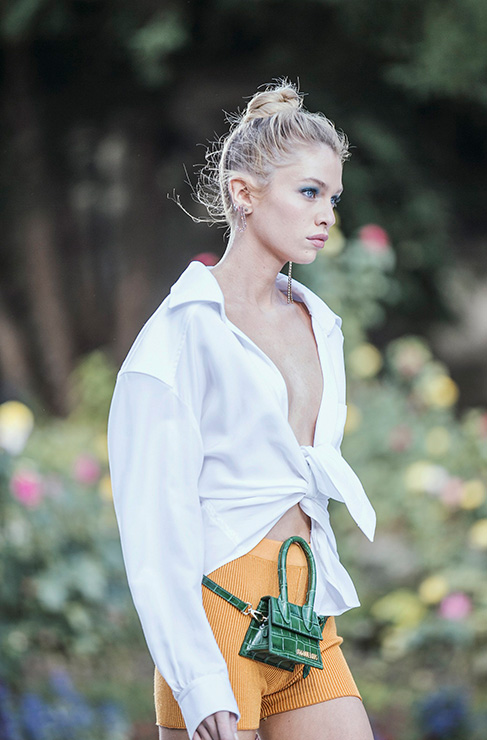 Photography: Wonderland
Ottolinger and Jacquemus introduced us to handbags you can hold with one finger, which might be taking it a bit too far but once again, I'm here for it.
Looking to invest? I got you. Here's a few tiny bags you should check out.
Bella Hadid Has Us Buying Raincoats
This one is easy for me to justify to my boyfriend; a raincoat is practical after all.
We all saw Bella Hadid serving it up in her Chrome Heart transparent coat, and we're keen for the trend (matching bucket hat and all). We've also got some other options for you to check out if you want to rock the trend yourself.
Yes, I know we're coming into Summer – don't @ me.
All Hail Queen Cardi
Cardi B came to Paris Fashion Week in a big way. She was serving up looks left, right and centre. Being the rapper's first time attending shows at Paris Fashion Week, she has delivered above and beyond what we could've expected from her.
First, let's mention the moment she had at Milan, head to toe in leopard at Dolce & Gabbana. Wearing a coat and boots from the house along with a pair of fuzzy leopard print "D.G." glasses...it was everything we needed.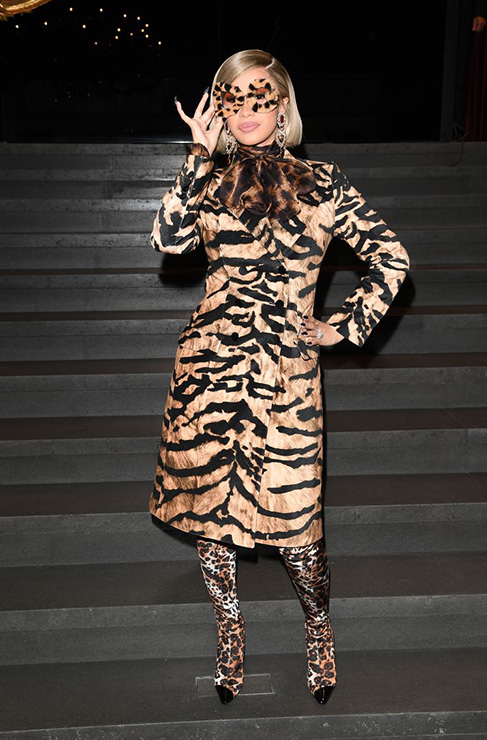 Photography: Getty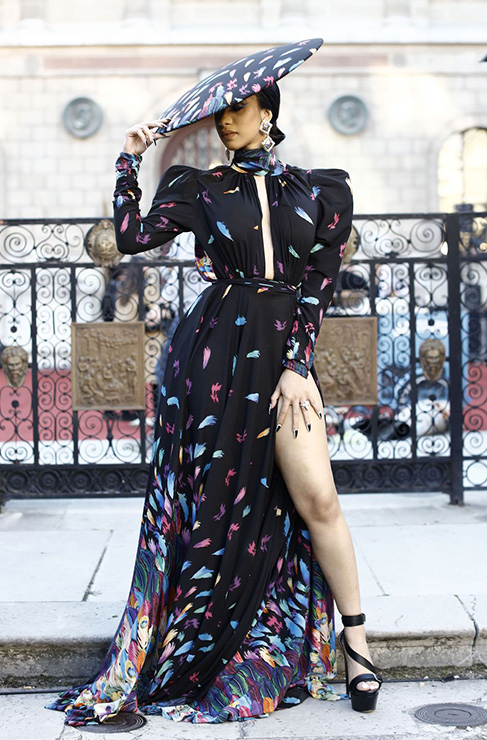 Photography: Splash News
Her first Paris lewk was a stunning peacock print Michael Costello gown complete with a matching hat. Tick. Then while performing at the ETAM fashion show in Paris she gave us serious vibes in an ostrich plume Christian Cowen pantsuit. Love a pantsuit; tick.
But let's be honest, the long black blazer and sheer black bike shorts she wore to Mugler was her best look of the week. Tick, tick.
Thank you Cardi.
Invest In A Blazer
Oversized or fitted, I don't really care, but if Paris has taught us one thing it's that the checked blazer continues to reign supreme and doesn't appear to be going anywhere.
See below for inspo and some of our favourites.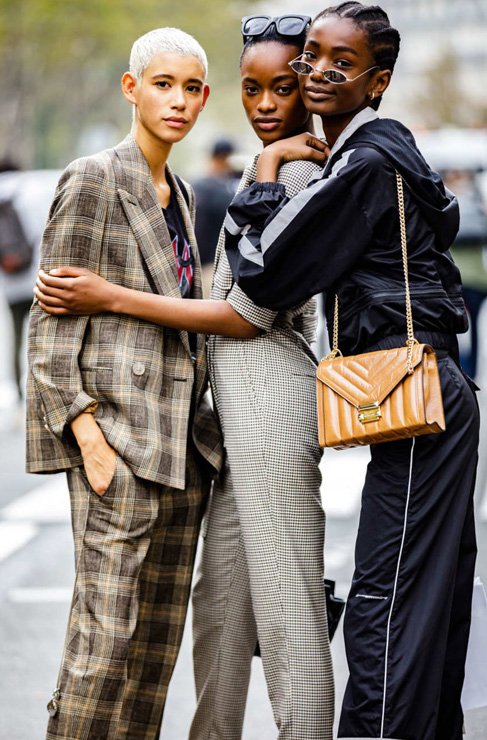 Photography: Paul Jeong
Here's where to shop the look if you're curious.
More fashion news, guys. Nike just unveiled the new-look Air Force 1 Sage Low...for women.
Image credit: Getty