Tokyo and Kyoto will always be incredible, must-visits, but in our opinion, you haven't done Japan properly until you've uncovered at least one of its undiscovered regions.
Our favourite places to explore are the untrodden, and we've discovered some of Japan's little-known gems, not far from Hiroshima, that are ripe for exploring. We're talking hardly any (if any) English-speaking tourists, rich cultural histories and incredible food. Yes, you might need to learn a little Japanese to get by, but with some careful planning and an understanding of the rail network, you'll be raving about your trip for years to come.
Here are three of Japan's most undiscovered regions that you need to know about (and visit soon).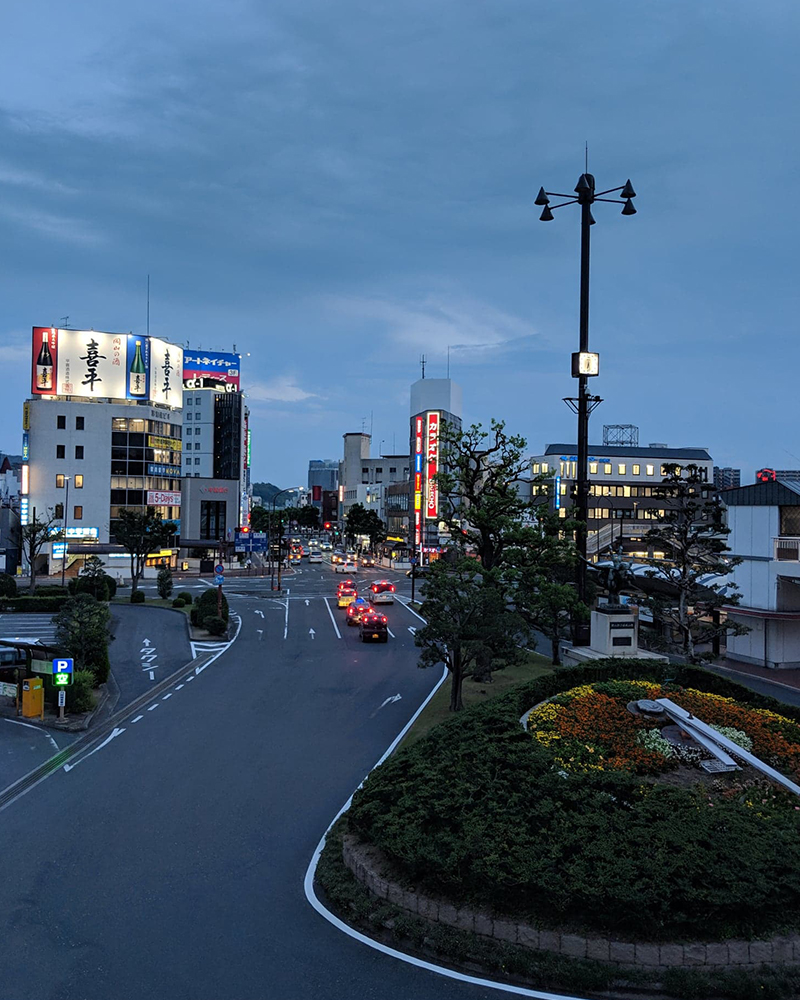 Okayama Prefecture
Just over an hour's flight away from Tokyo and a 70-minute bullet train trip from Kyoto, Okayama packs a whole lot of history, and you can easily see the highlights in two days, so there are no excuses for leaving this place off your list. Don't miss trying their mouth-watering peaches and grapes
Stay
Ryori Ryokan Tsurugata
There's nothing like staying in a Japanese ryokan for the ultimate dose of zen, and they don't get much better than Ryori Ryokan Tsurugata, based right in the heart of the historical quarter of Kurashiki. With views of gardens and a traditional dinner served right to your room, this spot was built 250 years ago, offering a look into what life in 18th century Japan was like.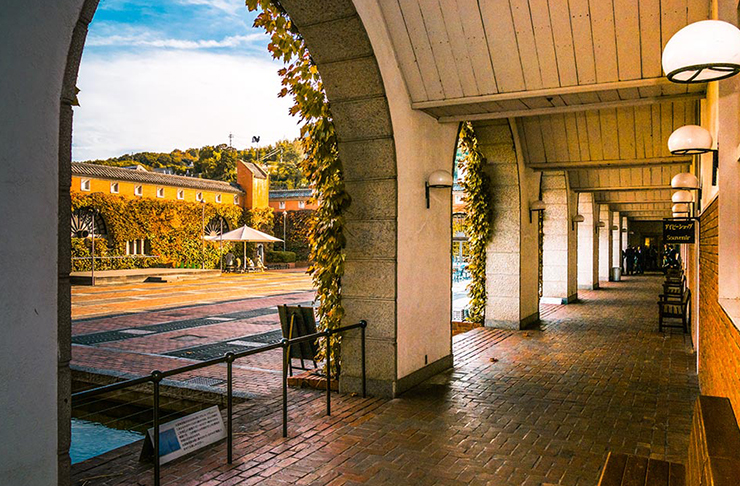 Kurashiki Ivy Square
Just a few steps from the canal of Kurashiki, the Ivy Square hotel is beautiful outside and in. The outside is lined with, you guessed it, ivy, while the inside features minimalist furniture in muted colours, creating the perfect atmosphere for slumber.
Eat & Drink
Merci Moncher
Don't kill us for listing a non-Japanese restaurant here, but sometimes you just crave the flavours of home, and if that's the case when you're in Okayama, hit up Merci Moncher. This European-style cafe specialises in iced teas, and it's also got some tasty vegetarian and vegan options (think falafel, hummus and minestrone) if you want a break from the meat and seafood.
Griglia
Specialising in yakiniku (grilled meat) Griglia is Japan's answer to Korean BBQ where you cook the meat on a netted grill over flames. They've got English menus which is a bonus for those travelling without a guide or a translator, but with all-you-can-eat buffets you can't really go wrong. Just remember to take only what you'll eat.
Teppan Ku-Ya
Known for its takoyaki (grilled dough balls filled with octopus), this spot has been around since the 90s, so it must be onto something. They're offering six balls for 600 yen, which is insanely good value.
Tsubame Kissasitsu
This spot is hard to find, but oh so worth it. The menu is simple and short, and we highly recommend ordering the Okayama tomato curry. Imagine a hollowed-out roasted tomato filled with rice and swimming in a rich, creamy curry sauce. Be sure to add a home-made peach soda.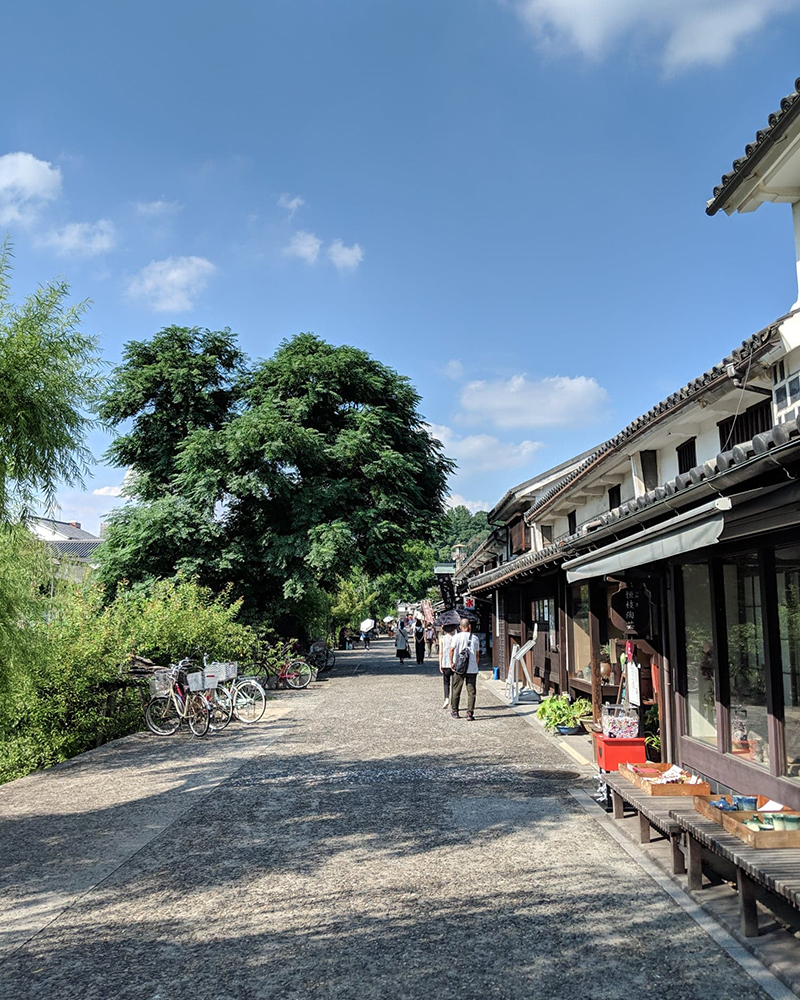 See & Do
Korakuen Garden
It's refreshing to see so much greenery all over Japan, especially as it can get humid in the summertime, so if you're a bit of a green thumb you won't want to skip Korakuen Garden. Landscaped to the hilt, it's considered one of the most spectacular gardens in the country and encompasses a pond, walking paths, streams and a hill. This place is expansive and a delight to wander through on your way to Okayama Castle.
Okayama Castle
We're pretty starved for castles in Australia, but that's certainly not the case in Japan and we're here for it. Standing six storeys tall, Okayama Castle was built in the 16th century and then reconstructed in the 60s after being destroyed in World War II. With a mostly black façade, the stunning building is commonly referred to as crow castle and is now home to historical exhibits and a pottery studio where you can learn to make Bizen-yaki—earthenware distinct to the Okayama area.
Kurashiki
Picture a willow tree-lined canal bordered by storehouses from the Edo Period and you should be able to drum up a sense of Kurashiki in your mind, but it's much better explored in person. Pretty as a picture, time stands still in this historic town, and you may even get lucky and see a few tourists dressed up in kimono to add to the atmosphere. The 17th century storehouses have now been converted into museums or shops selling local delicacies, ceramics, fabric and souvenirs. Take a wooden boat ride along the canal, scope out original artworks by Picasso, Rodin and Monet (including his Waterlilies) at the Ohara Museum of Art and take some snaps at Kurashiki Ivy Square. If you've come from bustling Tokyo, Kurashiki is the perfect place to slow down and take some deep breaths.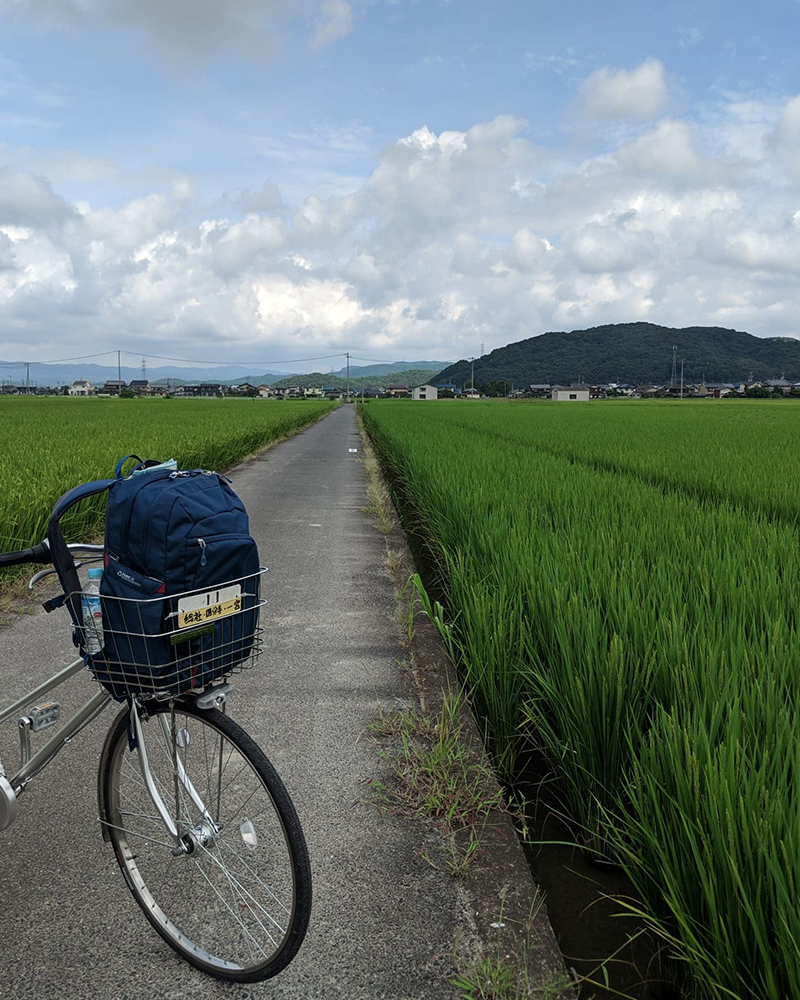 Kibi Plains
Offering up 17kms of sweeping rice fields and historical landmarks, cycling through the Kibi Plains is a no brainer. Pick up your bikes from the Bizen-Ichinomiya Station (you'll find them in a little shack behind the train station), ask for a map and stop for whatever piques your interest. Be sure to bring enough water and snacks because you won't find much other than vending machines along the route which takes roughly three hours to complete taking stops into consideration. Highlights include Kibitsuhiko Shrine, Kibitsu Shrine and Bitchu-Kokubunji Temple. Drop your bikes off at Soja Station, and if you get lost along the way look for the blue signs with the bike on them…or try using any Japanese that you know to get directions from a local.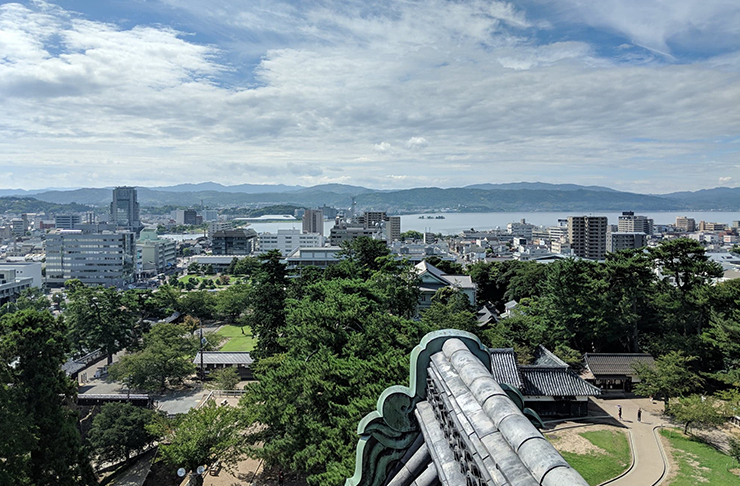 Shimane Prefecture
Unless you hate beautiful things, a visit to Matsue in the Shimane Prefecture will likely be the highlight of your Japanese holiday. Get to Matsue via an almost three-hour regular train ride beside and through mountains (we lost count how many tunnels we went through) from Okayama, or fly direct from Tokyo's Haneda airport to nearby Izumo in under an hour and a half.
Stay
Notsu Ryokan
More of your modern-style Japanese inn, Notsu Ryokan stands five storeys tall and offers stunning views of Ohashi River. The rooms are expansive and are fitted with traditional touches like tatami mats, low wooden tables, futons and shoji (sliding paper doors). Be sure to stop by the onsen at sunset for a relaxing soak.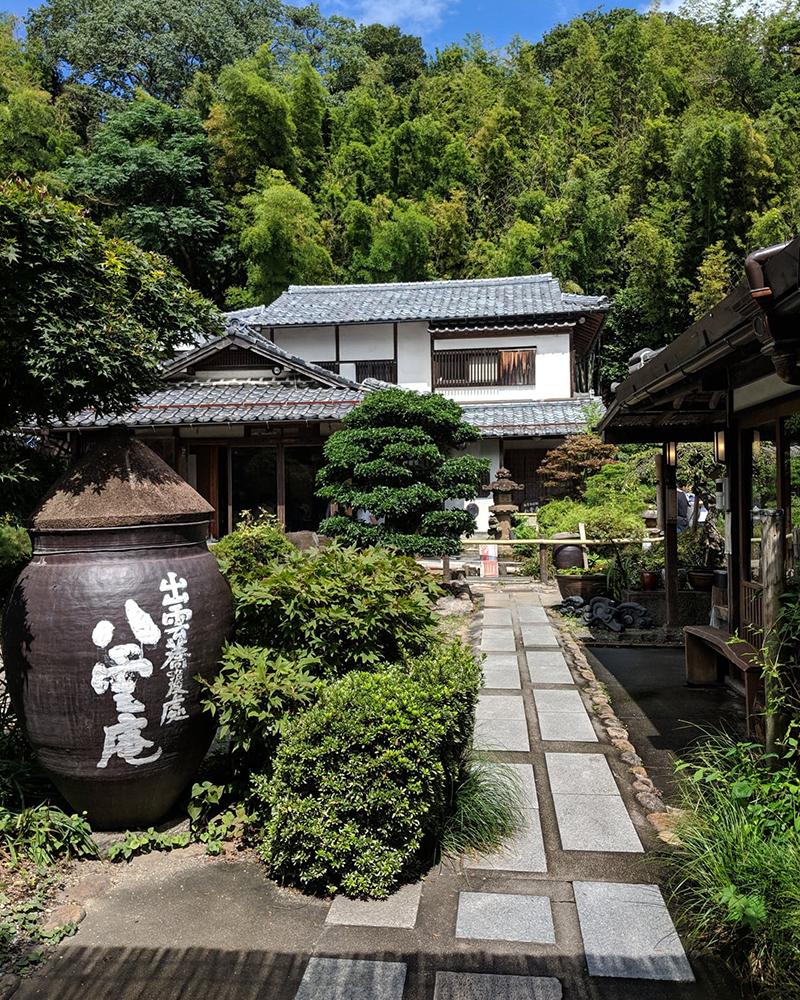 Eat & Drink
Yakumoan
Perched beside the Matsue Castle moat next to other former Samurai residences, Yakumoan's specialty is wariko soba. The buckwheat noodles are served sans-soup with various toppings that you can add on as you please like nori, spring onion, bonito and dashi. Dine while kneeling on the floor in a traditional-style Japanese building that's surrounded by a beautiful garden and koi pond. Don't forget to order a side of the maitake mushroom tempura.
Minamikan
Dining at its most serene, Minamikan is based out of a ryokan in Matsue and is set in front of a stunning garden. We recommend the kaiseki—a multi-course meal that's similar to a degustation—however you can also order a variety of other Japanese dishes a la carte. Whichever option you choose you can be assured the freshest, local ingredients were used in the making of it.
Restaurant Komochizuki
Serving incredible udon noodle soup sets with a focus on seasonal vegetables, Restaurant Komochizuki makes for the perfect pit stop after visiting the Izumo Shrine. Order the whole wheat noodles and definitely don't miss the fresh-made ginger soda. While you're slurping your noodles (the louder the slurp, the happier the chef will be) be sure to take note of the stunning bespoke wood furniture.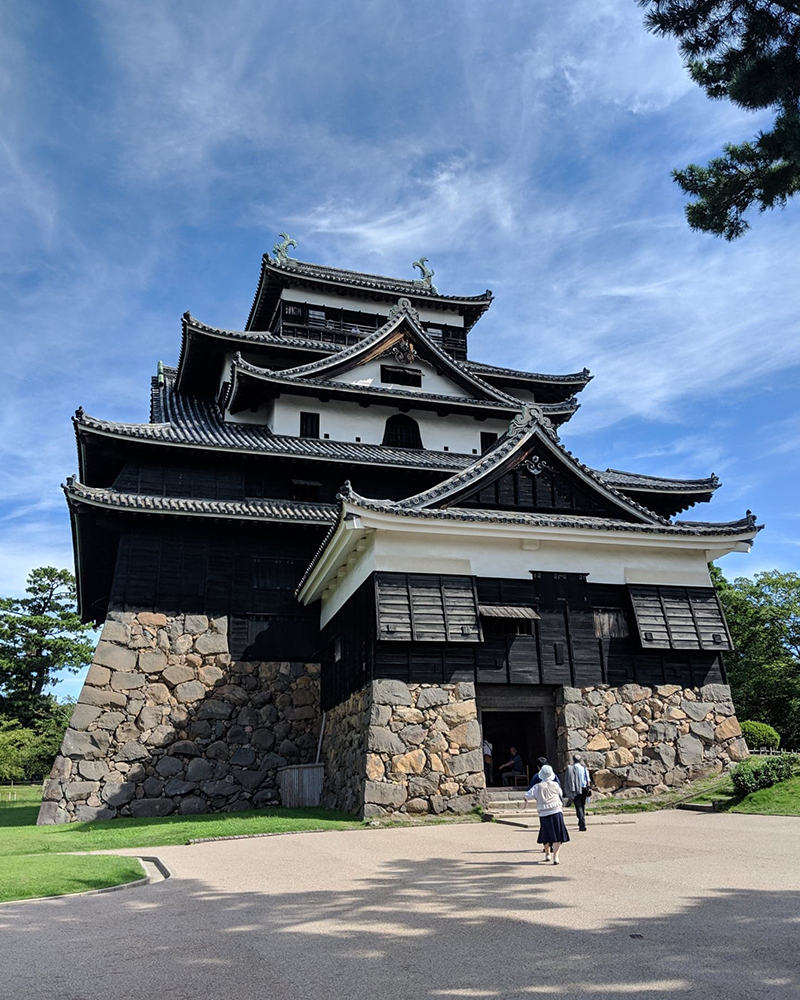 See & Do
Matsue Castle
A national treasure, Matsue Castle is just one of the 12 castles that remain in Japan, which means it's got to be the first pit stop on any tour to this region. Set in a beautiful garden, cast your eyes to the top of the black and white castle to spot two fish sticking out of the roof—these are shachihoko, and they're the biggest of all the shachihoko on Japan's remaining castles. Inside, you can climb five storeys (via some very steep staircases) to the watchtower which offers stunning 360-degree views of Matsue city. Depending on the season, you can spot cherry and plum blossoms, iris and hydrangeas dotted around the castle.
Horikawa Pleasure Boat
Rest your legs and hop on board the Horikawa Pleasure Boat which takes you on a journey around the Matsue Castle moat and through the charming inner-city district. Tours are conducted in Japanese, so you may want to grab a map from the cruise office before boarding the low-roofed vessel which you'll sit cross-legged in. Along the journey you'll pass underneath several low bridges and have to bow down as the roof of the boat lowers, and you might even get to hear the song of Matsue echoing off the water.
Lafcadio Hearn Memorial Museum
Imagine being such a fan of a place you visit that the locals create a museum in your honour. That's what happened to Lafcadio Hearn, a Greek-born author who travelled to Matsue in the 1800s. It might seem strange to visit a museum about a guy you know nothing about, but rest assured, his story is fascinating. Once you're done meandering through the museum, head over to Hearn's former residence to get a closer glimpse into what his life was like in Matsue.
Buke-Yashiki
Get a closer look into what the living quarters of samurais used to be like and take part in a traditional Matsue tea ceremony at the Buke-Yashiki samurai residence. The traditional matcha, mixed with the sweet pounded rice confectionery that comes with it, makes for a nice afternoon break from all the walking around.
Gesshoji Temple
It would be remiss of you to visit Matsue and not pat the head of the giant turtle statue that's said to bring longevity at Gesshoji Temple. Visit in June to spot blue and purple hydrangea in full bloom.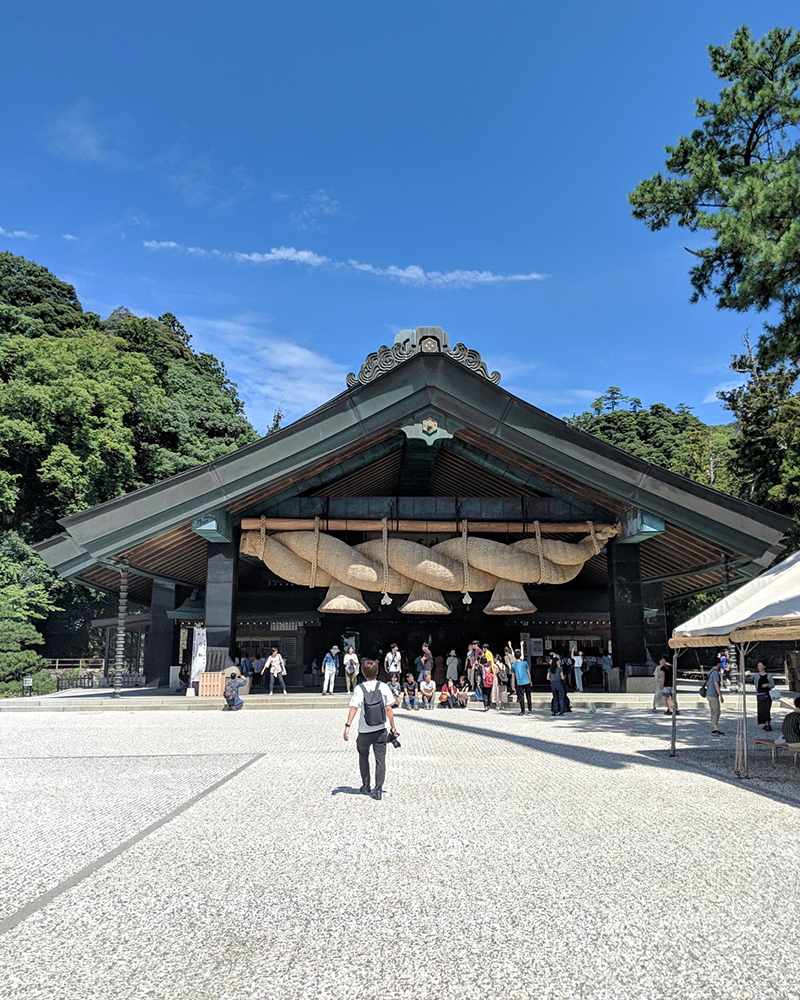 Izumo Taisha Grand Shrine
A 50-minute drive from Matsue, Izumo Taisha Grand Shrine is a stunning, contemplative place with some pretty impressive architecture and history to get familiar with. Potentially the oldest shrine in Japan, the pine tree-lined walk past torii gates up to the main shrine makes for a pretty picture (be sure to keep to the left or right so you're not walking atop spirits), and keep your eye out for the statue of Okuninushi and the huge four tonne rope hanging above one of the buildings. Definitely swing past the Shimane Museum of Ancient Izumo for a glimpse of what the shrine was said to look like in the early 700s, it will definitely impress.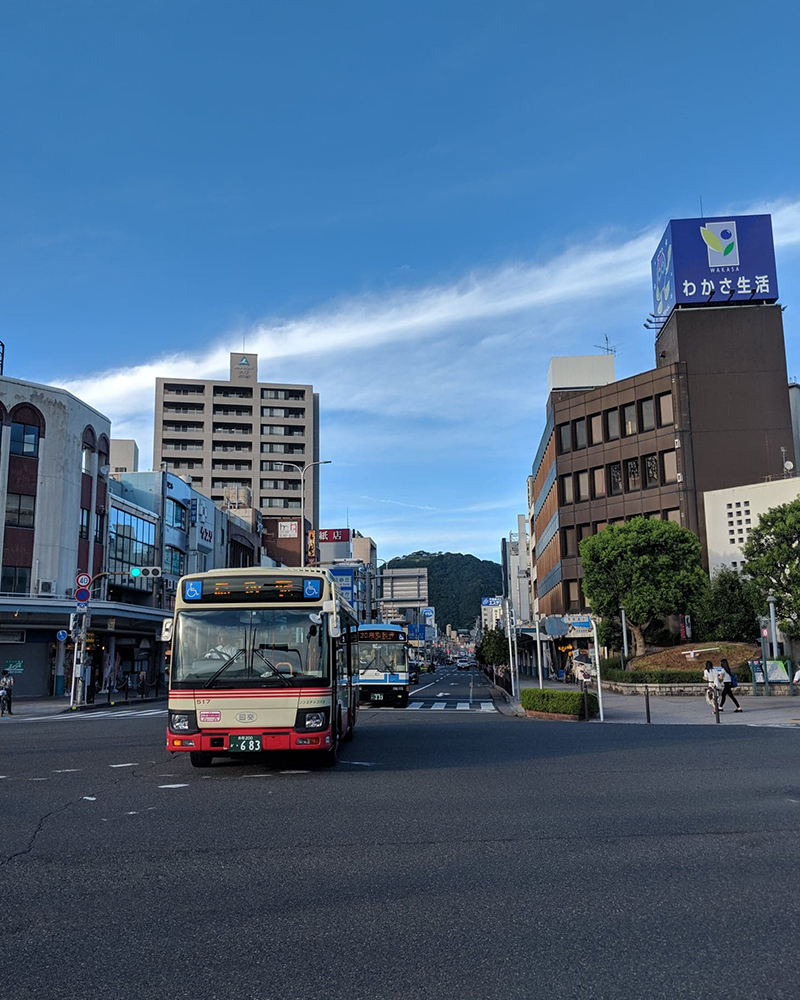 Tottori Prefecture
Thousands travel to Tottori each year to witness the unusual site of the Tottori Sand Dunes, which, if you couldn't see the Sea of Japan, you'd think you were in the Sahara. While there's not a huge amount to do in this peculiar part of Japan, it's still worth a day trip.
Eat & Drink
Oribio Café Dining
With a focus on fresh and organic vegan eats, Oribio is a rare sight in this part of Japan, so if you're hankering for something that's not meat or fish, this will be your jam. You'll want to order the rich sesame ramen, it's to die for.
Sasasushi
A short stroll from Tottori Station, Sasasushi uses the freshest seafood and whips it up into eye-pleasing plates of sushi and sashimi. It's been around for 50 years, so they must be onto a good thing.
Cafe Nijinoki
You won't regret spicing things up with a tasty curry from Cafe Nijinoki, a good spot to stop for sustenance on your way to or from the sand dunes. You'll also find a good coffee here.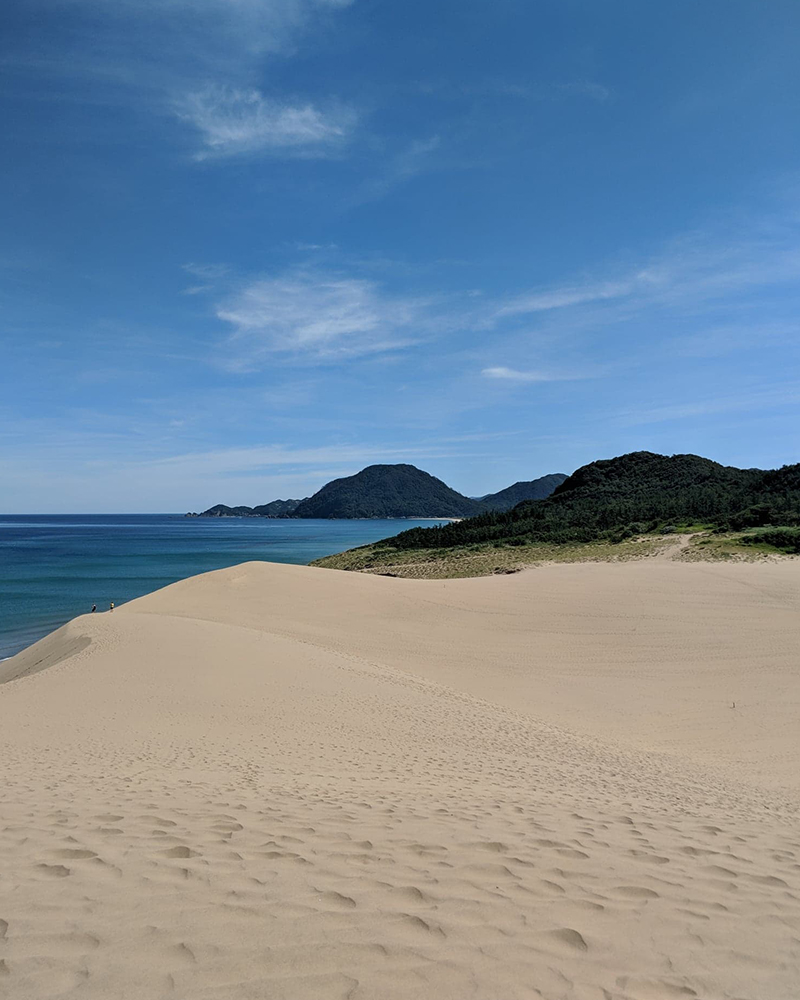 See & Do
Tottori Sand Dunes
Bring your thongs, pray it's not a hot day so your feet don't get burnt on the sand and prepare to work up a sweat as you climb to the top of the Tottori Sand Dunes with the other throngs of tourist intrigued by the site. The view from the top is pretty special, so take a moment to catch your breath and let it all sink in. There are a bunch of activities you can do while you're there, from paragliding to camel rides, but we recommend the chair lift which gives you a chance to rest your legs and take in the view all at once.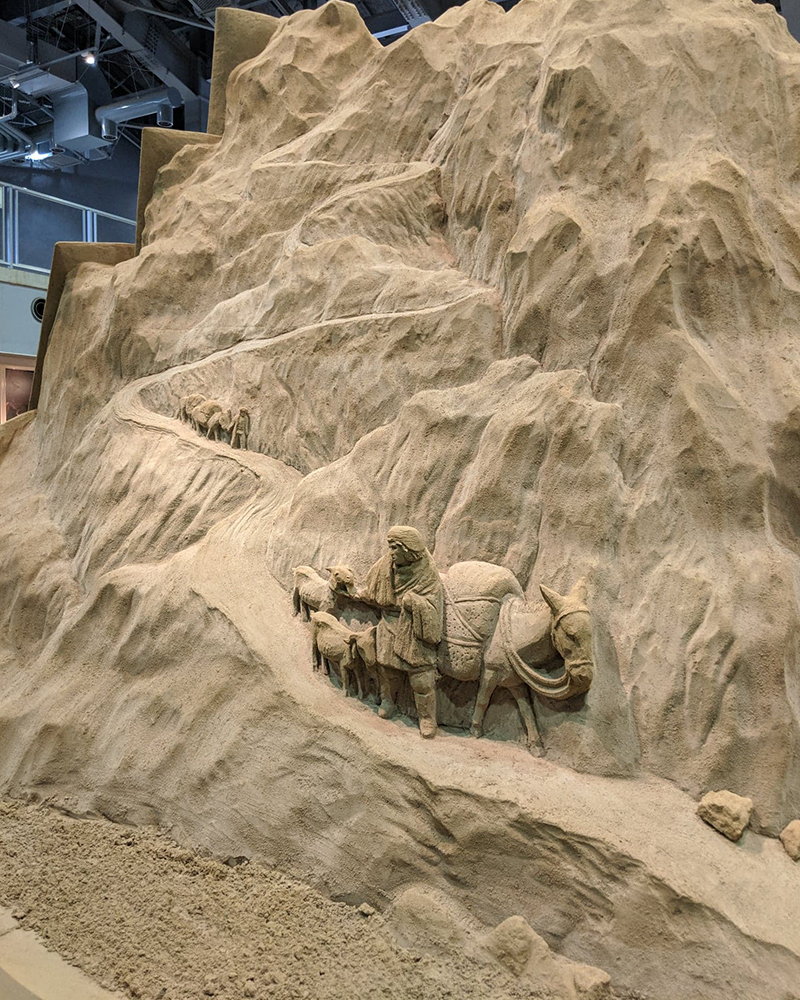 The Sand Museum
Think you've got pretty good sandcastle making skills? You'll be thinking again once you visit The Sand Museum, just a short walk from the dunes in Tottori. Sand sculptors from all over the world descend on Tottori once a year to create impressive carvings in line with the annual theme. In the past they've created everything from the Statue of Liberty to Machu Picchu out of sand alone.
Uradome Beach
When you're so close to the sea, you might as well get your feet wet and Uradome Beach makes for a good place to do just that. Explore the caves and rocky outcrops from a clear kayak, hop on the sightseeing boat or do some snorkelling, weather permitting.
Hanakairo Flower Park
If you've got time to kill and you're travelling from Matsue to Tottori, stop off at the Hanakairo Flower Park to see all kinds of flowers in bloom. In spring you'll see everyone's favourite cherry blossoms, but summer boasts sunflowers and hibiscus and autumn brings roses, so you can't really go wrong. The impressive 21-metre-tall flower dome is home to tropical blooms like orchids and palms—as well as a soft-serve shop churning Tottori's famed pear ice cream.
Looking for more spots off the beaten track? Here are four cities to check out that aren't Tokyo.
Image credit: Vicky Ng, Kurashiki Ivy Square Hotel and Chloe Sputore