'Lotta space in Australia, and for the most of us, we've only seen very limited parts of this vast land. Sure, your Gold Coasts, Sunny Coasts and Bondi's make for a beaut holiday, but considering we're looking at vacays within our borders for the foreseeable future, it's probably worth exploring Australia to its fullest.
Head off the beaten track and check out some of the country's most remote locations.
Lake St Clair
Tasmania
Head toward the centre of Tasmania from any of the main cities and you'll eventually get to the serene Lake St Clair, which sits at the base of the Cradle Mountain region. There are plenty of stunning walks in the area, like this 4.7km circuit which will take you to a corner of the lake called Platypus Bay, where platypus are seen regularly.
There are several accommodation options in the area. The Lake St Clair Lodge is a modest, yet charming option, and also at the end of the Overland Trail should you be a hiker at the end of your journey. For those wanting something more luxurious or romantic, take a look at Pumphouse Point for a night spent in a converted pumphouse stilted above Lake St Clair itself—for a true romantic experience, take out one of the rowboats which are free for guests.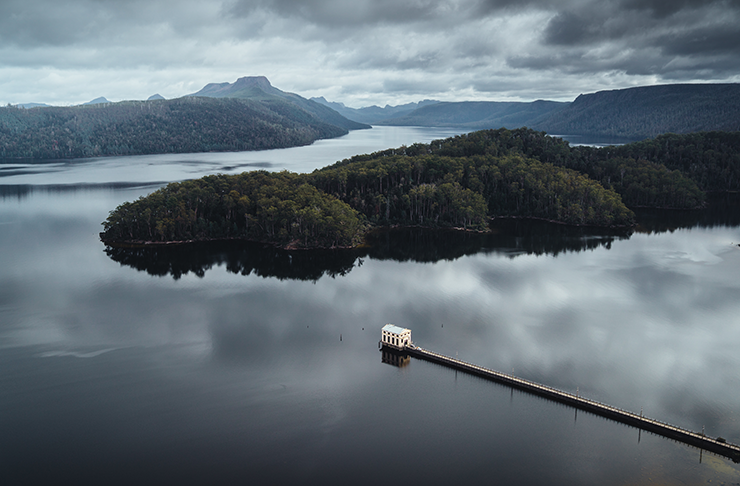 Image Credit: Jason Charles Hill
Lake Mungo
New South Wales
Lake Mungo National Park encompasses around 110,967 hectares of landscape that is reminiscent of Mars, or at least, what you'd assume Mars would look like. The place also marks a significant moment in history with the discovery of the 42,000-year-old remains of Mungo Lady and Mungo Man, making them the oldest in Australia.
If you want to stay in the national park, your best bet is getting a bed in the shearers quarters or pitching a tent. You'll have to wait to plan your trip until restrictions ease and national parks reopen further, but you can stay up to date here.
When you do finally make it to Lake Mungo, don't miss the lunettes, the striking 20-metre high natural clay towers where Mungo Lady and Mungo Man were discovered.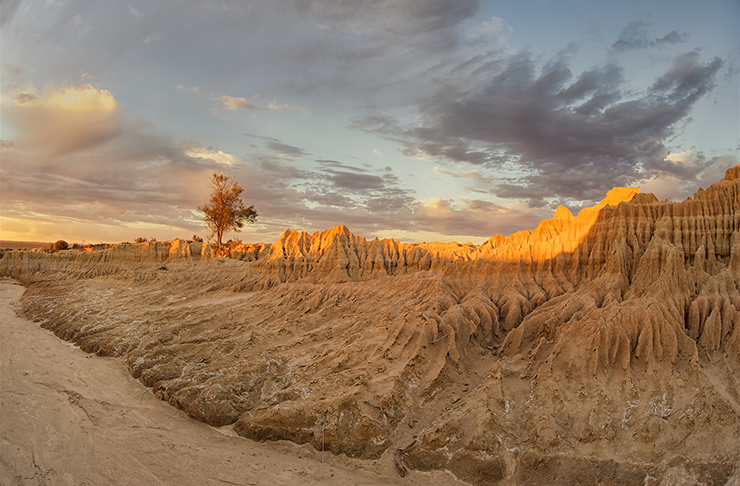 Image credit: Domenico Stallo
Lorde Howe Island
NEW SOUTH WALES
This remote gem is a good 600km from the shores of New South Wales, so unless you have access to a yacht, you'll be travelling to Lord Howe Island by air. The 11km long island has a capacity of about 400 tourists max, so there's never a concern of overcrowding even in peak times.
A trip to Lord Howe encapsulates the true essence of a classic holiday. Get stuck into all sorts of unadulterated activities like hiking, snorkelling in the calm lagoon waters or just kick back on the beach in pure serenity and do absolutely nothing.
At this point, Lord Howe will reopen to tourists on Friday 14 August. Take a poke around the island's website for more details.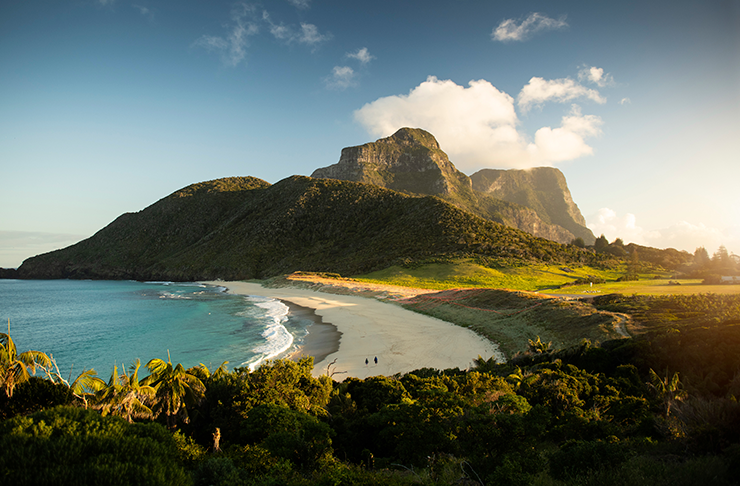 Image credit: Tom Archer
Katherine
Northern Territory
If you've wanted to explore untouched Australia, take yourself to Katherine. The area is home to 13 distinctly Australian gorges primed for hiking, canoeing and exploring. Usually, there are plenty of tours in operation, and it's recommended you take one unless you're an experienced outdoorsy type.
A great place to start is with a tour of the Nitmiluk Gorge via boat, where you'll wind through the 700-metre high rock walls and waterfalls, before ending up at the Cutta Cutta caves.
For those with a hire car, make the 80km trip south to the town of Mataranka, which is skirted by several natural thermal springs you can swim in.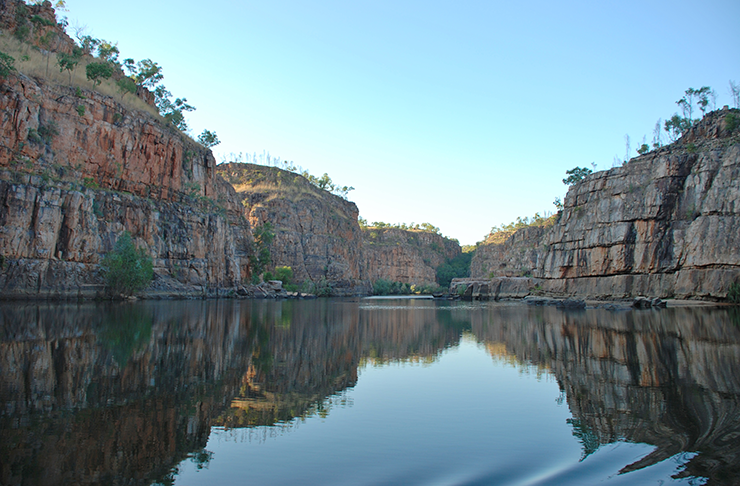 Image credit: Lam Bexta
Kimberley
Western Australia
The Kimberley is massive, about three times larger than England massive, so plan ahead. To kick things off, a stay at El Questro, a once million-acre cattle farm, should not be overlooked once it opens back up next year. The lodge and surrounding area covers off the likes of waterfalls, hot springs and sprawling rock formations.
If your version of remote still involves some sort of civilisation, base yourself in Broome. There's plenty of accommodation and vacay activities, like a camel tour along the well-known Cable Beach and scenic flights for those wanting to ball out.
If you'd prefer to truly disappear, book in for a few evenings at The Berkeley, a stunning beachside lodge in the middle of nowhere that's only accessible by sea or air.
Pine Mountain
Victoria
Head up the guts of Victoria toward Canberra and you'll at least come close to Pine Mountain just before you hit the border of Victoria and New South Wales, aka The Murray River.
The area is home to a big ol' rock that's almost twice as big as Uluru, plenty of bushwalks, serene landscapes, some incredible fishing spots a whole lot of space. You'll need to stay in one of the surrounding townships like Walwa, from there you can book in at somewhere like the Upper Murray Cottages which is nestled comfortably in a casual 180 acres of bushland.
Birdsville to Innamincka Loop
Queensland and South Australia
Deep in Western Queensland lies Birdsville, which is the starting point to the Birdsville and Innamincka Loop. It's a two to three days drive that will take you through several indigenous sites, the now-abandoned inland mission buildings and significant locations from explorers Burke and Wills dire return trip from the southern end of Australia.
If you're planning on taking on the loop, it's recommended you do so in a 4WD. For those who'd rather experience Queensland's rugged outback with just a touch more comfort, book a night or two at the Birdsville Hotel—the town has a population of around 100 so you'll get to know the locals pretty quick.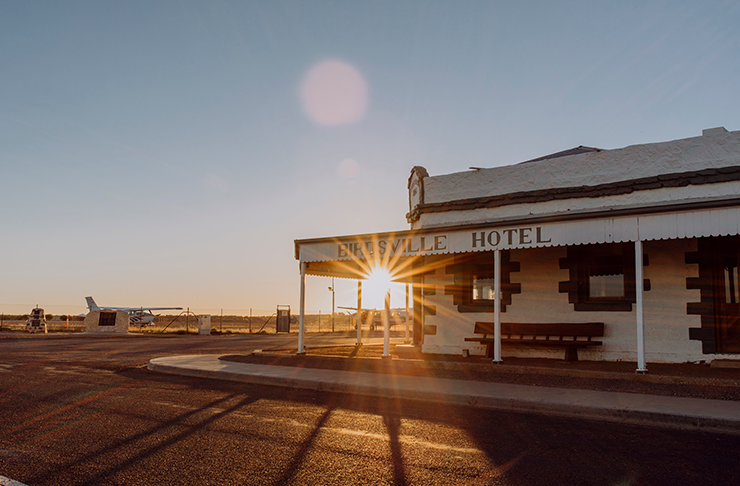 Image credit: Stuart Edwards
Australia is also home to some stunning waterfalls. Check them out here.
Image credit: Emilie Ristevski