Ladies, it's time to throw out the neutral shadow palette and quit the 'au natural' look; blue is making a comeback in a big way for 2016. From shades of electric marine blue to jewel tones to subtle washes of colour, the 2016 runways certainly embraced the brighter end of the spectrum.
Then, when girl crushes of the moment Kendall Jenner, Jourdan Dunn and the Hadid sisters all walked for the Diane Von Furstenburg RTW 2016 show with smouldering, sultry blue eyes, a trend was reborn.
Ever the office guinea pig, I bravely offered up my face in the hope to answer the truly hard-hitting journalistic question; does blue eyeliner work IRL?
Day 1: Friday
Armed with my weapon of choice, Nars eyeshadow in Outremer (2), I dove right in (go hard or go home right?) and adorned my tired Friday morning eyes with a dramatic cat-eye look. Upon first glance of my handiwork, my 'paint by numbers' eyes actually didn't look half bad (though if I looked at the near-on fluorescent blue adorning my eyes directly before my morning coffee, I swore I'd go blind).
Walking out into the world I felt oddly confident, brave, even. My regs barista even commented she thought it looked pretty! Maybe there's something to this blue malarkey…
For a bold take on blue lids, take an eyeliner brush and wet the end, sweeping across your lids into a chunky cat eye point. The wet brush makes for a super easy application, and also takes the colour to next level intense!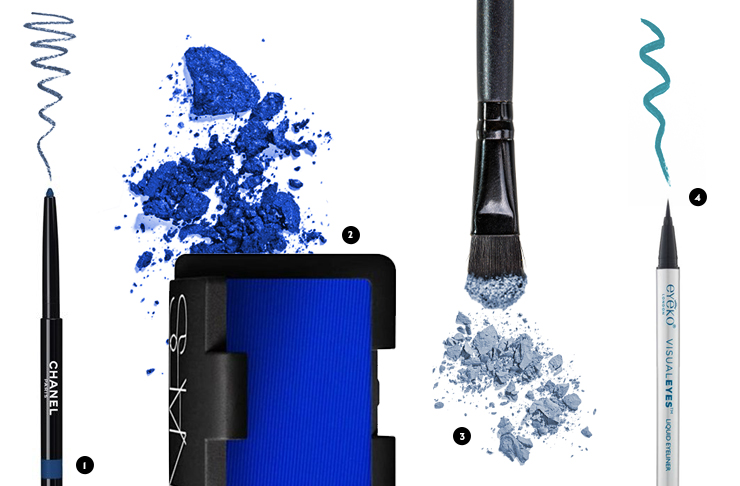 Day 2: Saturday
The weekend. Typically a time for your 'most authentic self' to rear her sassy head, my most authentic self was attempting to master the smoky daytime look from the DVF show, using Chanel's Stylo Yeux Waterproof in Bleu Metallic (1) and Dior's Diorshadow Mono in Marinieire (3). The colours, it turns out, are subtle and perfect for daytime, plus application is basically idiot proof—here's something I can work with!
To re-create the look, simply use an eye shadow brush to blend a light wash of Diorshadow above and below the lashline, then line your top lashes with Chanel's Stylo Yeux to add definition. I went for a rounded finish to make the look more pretty than edgy.
Day 3: Sunday
Sunday is generally a makeup-free day for me, but I had lunch plans, so a bit of effort was required in order for my face to interact in public. I swept on Eyeko's liquid eyeliner in Marine (4), which gives just a hint of blue, and looked (almost) like my everyday liner.
The thin tip makes for precise application. Practice makes perfect here, so have your makeup wipes and steady hands at the ready!
Dipping the toe in the blue trend was, frankly, quite terrifying, but it turns out that with a bit of perseverance and a bit of (faux) confidence, us mere mortals can too rock blue like nobody's business! Your inner creative will thank you for it.
Looking for a nude lip to complement your fab eyes? Check out our article 8 Of The Best Nude Lipsticks!