Welcome to the future, where fashion is being driven by sustainability, sport and some pretty crazy new ideas in wearable tech.
In 2020, Nike is digging deep—really deep—into the future of sport. Maybe that's an obvious statement for a company whose MO is to "use the power of sport to move the world"—but after a decade dominated by sport-influenced streetwear, it's a refreshing momentum. The first few Nike drops and announces of the year have been based in running tech and Team USA Olympics kits (loving the slick medal stand collection and the all-new skateboarding garb for the USA, and also France and Brazil). There was also the show-stopping Space Hippie—which we'll have to wait a few months to shop.
Alongside the sports science, material and sustainable innovation there—Nike's also ditching the gap between fashion and sport—but not as you know it. Gone are the days where your running shoes are any less sick than your AF1s. Sport and style and sustainability and technology are no longer separate ideas.
But which other sneaker legends are following suit? And which kicks are we hanging out for this month?
Here are the six sneakers that need to be on your radar for February.
Editor's Pick: Nike React Infinity Run
Ok, so technically these dropped in January—but it'd be damn sad to skip them as I think they really set the pace and the mood for sneakers as we move into the new decade. They're the perfect example of style meets sport (I mean, have you ever seen a better-looking running shoe?). As stylish as they are, they've been made explicitly and technically for runners—the people that live for their Saturday morning 10km dash. Soft, durable, lightweight and resilient, with a rocker-like sole, a wide platform and a sweet, sparkly swoosh, the Infinity Run is perfect for mid-range weekend runs but it will also amp up your work get-up or your club outfit.
Release date: January 16
Shop: Nike
Opening Ceremony X HOKA Clifton
Yes, 2020 did bring with it the super sad news that Opening Ceremony would be shutting all of its retail stores, narrowing the brand's focus as it navigates a new decade. But OC won't be slowing down its off-beat collabs—and the first we've been hit with this year is, wait for it, a running shoe mashup (the theme is strong). Called the Clifton and created with French-born, California-based running label Hoka One One, it's a lightweight, supportive runner that taps into Hoka's maximalist design heritage with an oversized outsole.
"HOKA is an innovative brand that marches to the beat of its own drum, balancing design and function in a distinctive way," said co-founder of Opening Ceremony, Humberto Leon. "At Opening Ceremony, we have always prioritized individuality and bold design, so this partnership was a natural fit."
Release date: February 6
Shop: Opening Ceremony
Nike Maharishi By You Air Max 720
Nike's latest collab with sustainably-minded streetwear label maharishi is a fresh spin on the 2019's souped-up Air Max 720. The British-based brand is known for its affinity to nature and its love of camo, and so the Air Max 720 has been slashed in leopard spots in a set of electric colourways (leopard heat, leopard moss, leopard desert and leopard noble red). And, being a Nike By You sneaker, you can customise yours with a selection of maharishi "truisms"—"THE TRUTH IS ONE" or "WISE TYGERS", which can be written across the air unit.
Release date: February 3
Shop: Nike
Under Armour UA HOVR Machina
Imagine a world where your running shoes were also your running coach, giving you pointers as you pace along? That's a reality now thanks to Under Armour's brand new digitally connected tech sneaker, the UA HOVR Machina. It provides real-time running guidance through an easy to use connection with MapMyRun. All you serious runners out there can also measure your footstrike angle and ground contact time, offered in a post-run analysis that'll give you deeper insights into your form.
As for the structure of the shoe itself, it's a neat combination of speed, comfort and balance, making it a solid all-rounder. The UA HOVR cushioning provides a zero-gravity feel to maintain energy return and reduce impact—so this guy will be pushing you forward and hyping you up all the way to the finish line.
Release date: 7 February
Shop: Under Armour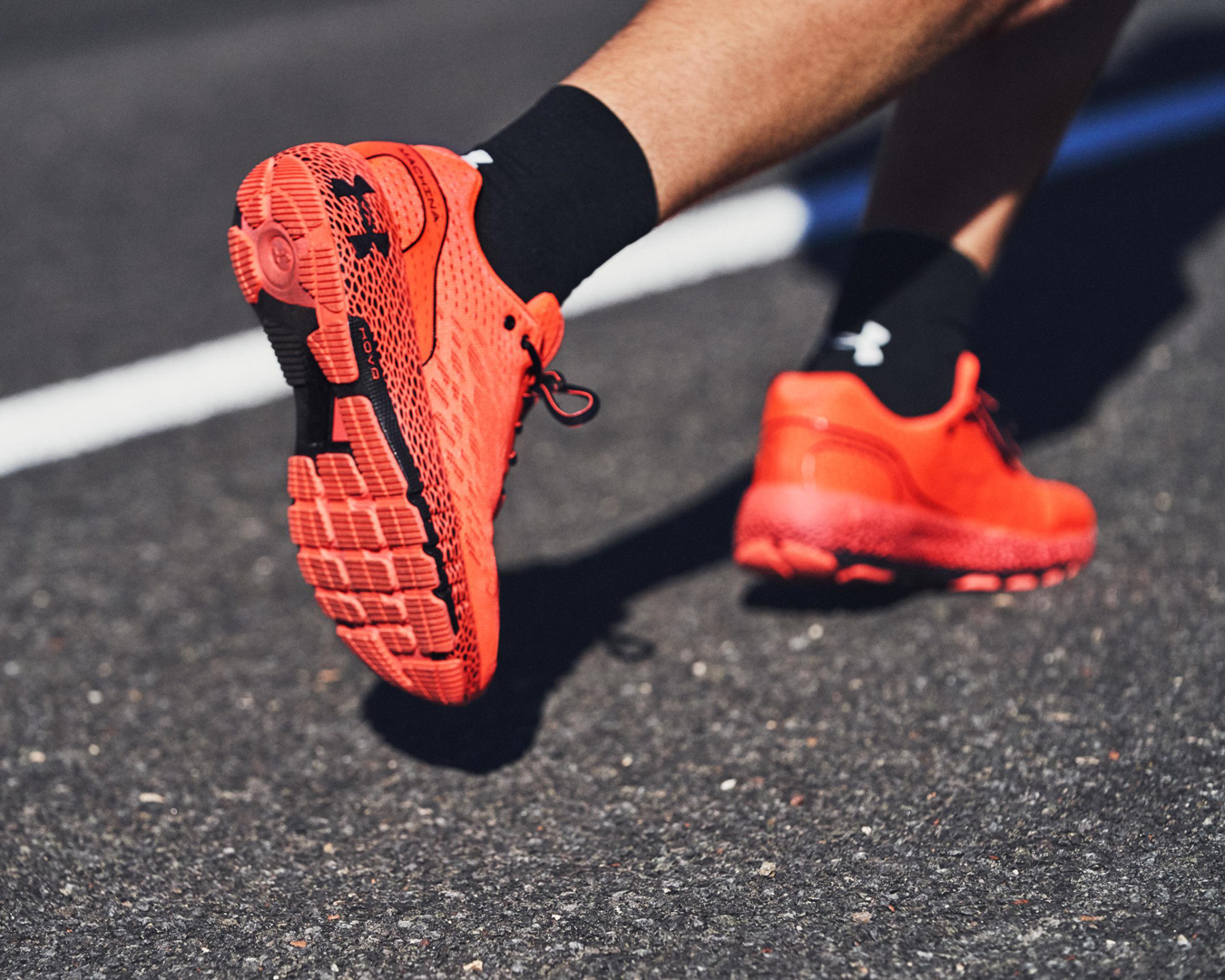 Coach CitySole Court
Ever since Coach dropped Words Matter—a fashion short from Spike Lee featuring Michael B. Jordan dressed in sleek Coach leathers—the American accessories house has been raising its street cred. As well as bringing J Lo on as a brand ambassador, they've just revealed CitySole, a set of three sneakers designed with a New York City state of mind. Our pick is the Court in steely blue—referencing classic basketball with a triangular toe box, pivot point on the outsole and distinctive 3M seam taping.
Release Date: February 5
Shop: Nordstrom or Coach
Nike React Vision
Here's another running shoe packed with all the sports tech to help you hit the pavement. But it's also a running shoe that looks much more like a fashion sneaker, tapping into our ongoing love of the over-exaggerated ugly sneaker. With more React cushioning than its predecessor (the Nike React Element Vision) it's got added bounce, protruding lugs, an overstuffed tongue and three sweet colourways—she's a beauty.
Release date: February 6
Shop: Nike
Editor's note: This article contains links to our affiliate partners
Image credit: Opening Ceremony, Nike, Opening Ceremony, Nike, Under Armour, Coach, Nike