Chunky sneakers—also known as ugly dad sneakers—are a big, massive, chunky thing right now and we're definitely on board.
The sidewalks of New York were weighed down with these hefty chunks of rubber at fashion week this month, and we're not talking about the Sketchers Sporty Spice rocked back in 1998. No, these are a new breed of sleek, ambitious ankle-hugging designs that are a little bit outrageous in both their bulgy circumference and their hefty price tag.
Here, in a fresh series all about splurging and sneakers and committing cash to a trend, we're advocating a little fashion maths in reviewing whether or not you shall or shan't drop your hard earnt dollars on designer footwear.
That's right, you can break down the return on investment (ROI) with a little calculation called cost per wear (CPW), and it's a simple as this:

If you want to really convince your SO, your BFF or yourself, why not add in other elements to your splurge sesh algebra too: how many steps will you take, will you need to care or clean your sneakers, will you wear them for one night only or for years and years to come? MATHS guys, maths.
Now that you've got a foolproof calculation to build a convincing business case, let's go back to those larger than life chunky sneakers. Yasss, the time has come to forget your low-key converse and that minimalist sock-like silhouette.
This chunky, spongy trend reflects fashion's recent love of billowing, ballooning volumes, and if you're wondering whether your ankles will be swallowed up entirely, put your faith in Balenciaga and embrace the bulk. Balance these guys with volume up top, calf socks or dad-jeans, sports jackets, and maxi dresses or midi skirts. The possibilities are big.
Can we thank Raf Simons for starting the resurgence of 90s-era trainers, or did it really kick off with Vetements' rehash of the Insta Pump or that sold-out sleek, curved shape of the Triple S?
These collector's items come in a tonne of colourways but typically sell out in seconds. Here are our top five for right now, plus how much and where you can buy 'em.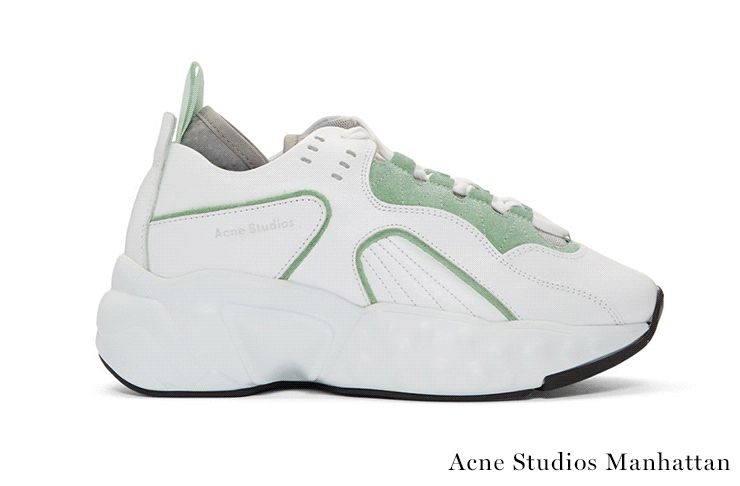 Image credit: Pinterest.