See the city from a new perspective, as we team up with H&M to share a love letter to our cities this Spring.
Our new three-part video series—A Love Letter To My City—takes you on a visionary journey of fashion, food and hidden gems to showcase all the reasons our cities are the ultimate creative backdrop to our lives. Launching in spring, a season synonymous with reinvigoration and trying something new; we teamed up with three fierce, trailblazing females—Yasmin Suteja, Nicola Inger and Kirsten Anderton—because who better to showcase just how versatile your spring wardrobe can be, than the ladies that do it effortlessly on the reg? Exactly.
Now, ready for the plot twist? We set each lady the challenge of pulling together their own looks with three hero pieces from H&M's spring collection, as they took us on a tour of their favourite places. We're willing to bet every.single.piece will all be on high rotation in your wardrobe this season.
With so many trends to 'gram: seductive ruffles, bold colours, Argentinian vibes (we could go on), it's all about creating your own unique look and wearing it with attitude. So, ditch your winter woollies because the goddamn glorious sun is (finally) out, and it's time to dress up to get down.
Yasmin Suteja
Founder of Sydney creative agency, Culture Machine, Yasmin Suteja is a force to be reckoned. Diligently running her own business and bouncing from one project to the next, Yasmin's life is busy, to say the least - and her future is blindingly bright. Fashion for this Sydney slashie is a fun form of expression, but it's equally about comfortability. Her style could be described as a powerful punch of binaries: masculine yet feminine, sporty yet professional, edgy yet understated. To nutshell her own style, Yasmin says it would have to be practical. "I work long hours on set and I'm often literally lying on the floor or squatting to get the shot – so you'll always see me in pants."
Get deep in her 'gram and it's easy to get lost. Each outfit she rocks is total style goals. When the mercury rises, Yasmin's spirits are immediately lifted and she exudes confidence in her towering Tokyo-style platforms. This spring, Yasmin will be nailing effortless edge with a mix of comfy singlets, boss jackets and sport luxe trousers.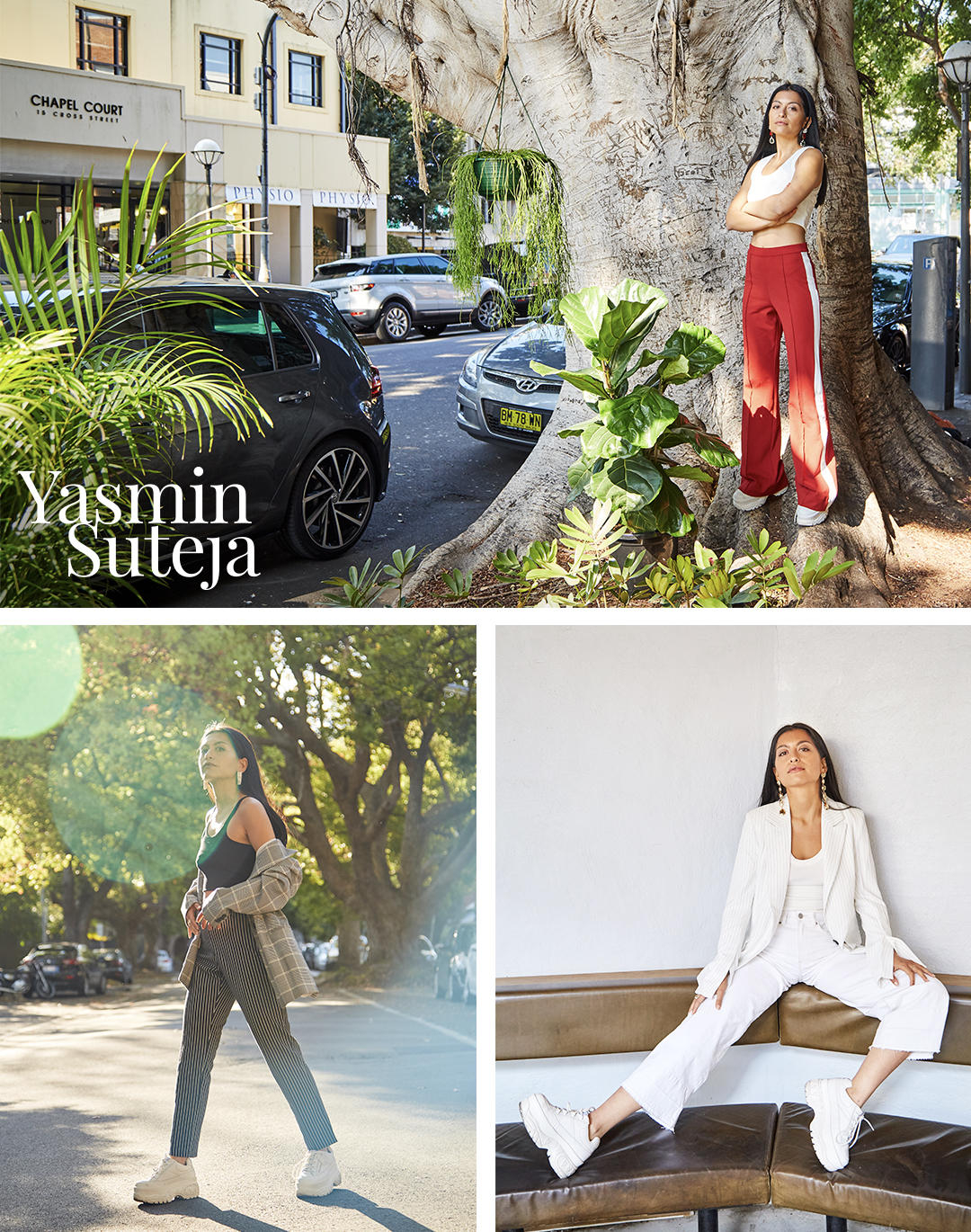 Yasmin's must-have H&M spring picks: White Jersey Vest Top ($7.99), Dark Red Wide Trousers ($59.99), Black Jersey Vest Top ($7.99), Double-breasted Jacket ($79.99), Stripe Pants ($29.99), White Kick Flares ($54.99), and Single-Breasted Jacket ($59.99).
Nicola Inger
Energetic Brisbane-based entrepreneur, Nicola Inger, is a serious side hustler with a zest for wellness and fashion. Founder of – wait for it – F.ACNE, Nutiiboost AND health and lifestyle platform The Unrefined, Nicola's success has soared over the past few years and she shows no signs of slowing down any time soon. Fuelled by coffee and gluten-free goodies, Nicola is a granola guru from humble yet hardworking beginnings, and her style emulates her approach to life; playful, authentic and simplistic. Nicola defines her style as minimal but with a statement, "To me, fashion is a form of expression and I use fashion to make me feel confident."
A jam-packed schedule means Nicola's spring wardrobe must be one thing: versatile. So, this spring, Nicola will be channelling her style icons, Olivia Palermo, Gigi Hadid and Kate Moss with flirty, feminine ruffles, statement co-ords, and fail-proof denim.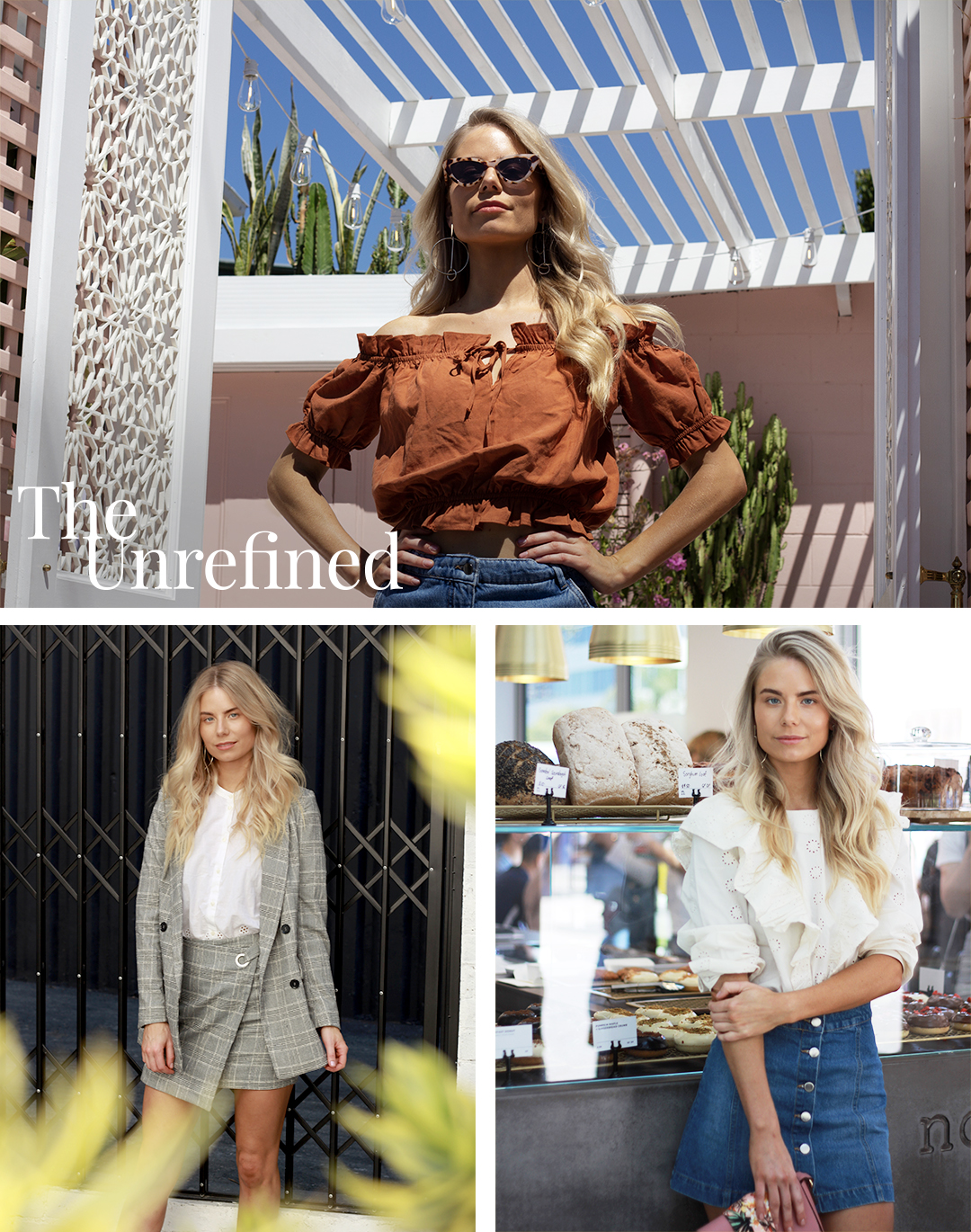 Nicola's must-have H&M spring picks: Off-the-shoulder Blouse ($44.99), Denim Blue Wide Jeans ($69.99), Hole-embroidered Cotton Blouse ($59.99), Double-breasted Jacket ($79.99), White Dogtooth Pattern Wrapover Skirt ($44.99), Flounced Cotton Blouse ($59.99), Denim Blue Short Skirt ($29.99) and Pink Shoulder Bag ($29.99).
Kirsten Anderton
If you're a sartorial stalker with a penchant for monochrome then Kirsten Anderton's 'gram grid will give you serious RSI (repetitive scroll injury).
Fashion blogger by day, budding shoe designer by night, Kirsten has a keen eye for minimal and understated elegance, and credits the Olsen twins as her ultimate style muses (us too, girl). A self-confessed phone and social media addict, Kirsten snaps her daily outfits, outings and has developed quite the cult following with her distinct style. Born and raised in Melbourne, Kirsten says to her, fashion is everything. "What I wear dictates how I am feeling and how my day will unfold. If I love what I'm wearing, I feel confident and ready for whatever the day throws at me."
This spring, Kirsten will deliver a minimalist punch with chic, monochrome staples and timeless, gold accents - capped off with, of course, retro-inspired shades.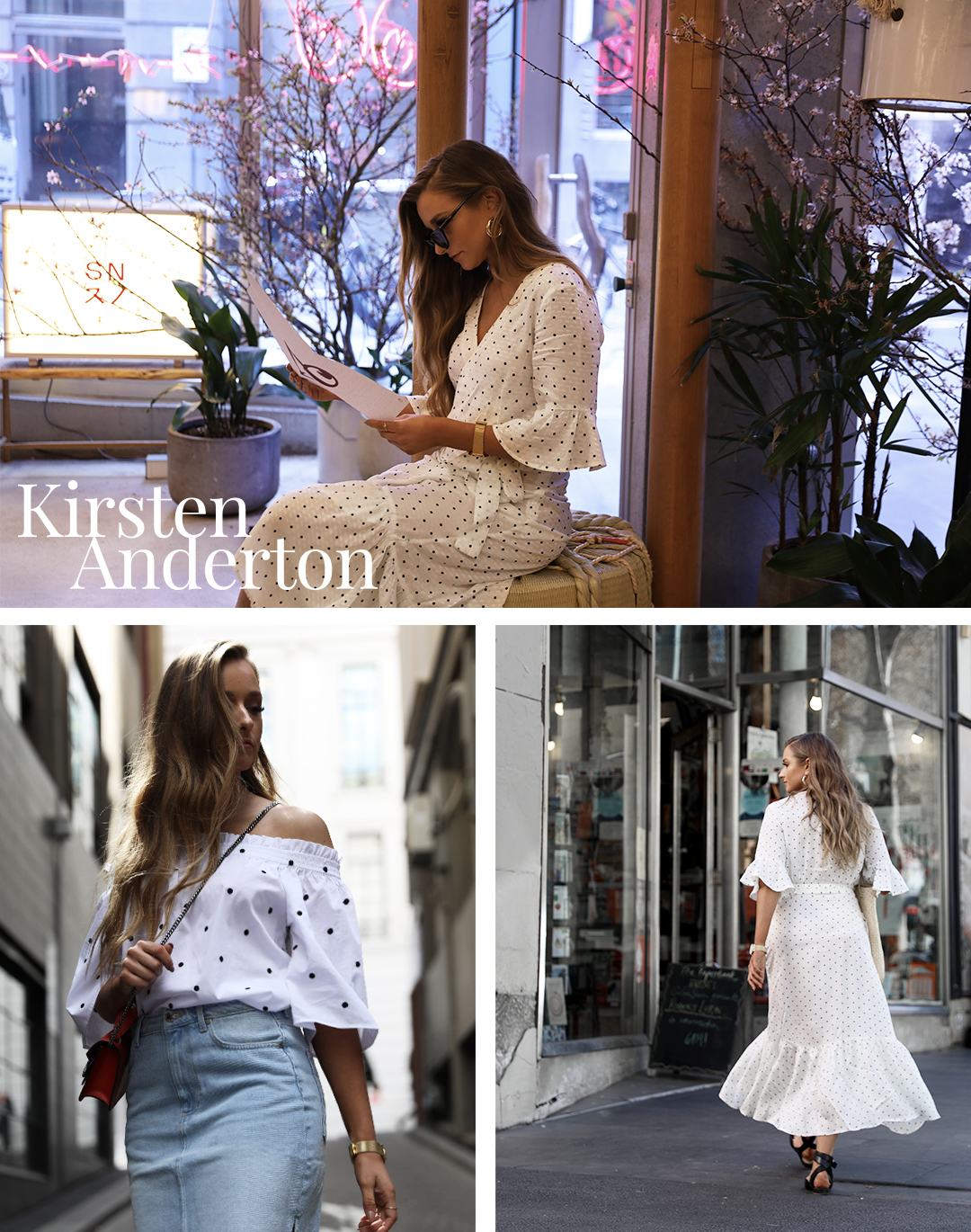 Kirsten's must-have H&M spring picks: White/Spotted Flounced Dress ($89.99), White/Black Spoted Off-The-Shoulder Top ($29.99) and Denim Skirt ($39.99).
Editor's note: This article is sponsored by H&M and proudly endorsed by The Urban List. Thank you for supporting the sponsors who make The Urban List possible. Click here for more information on our editorial policy.