If you cast your minds back to Mercedes-Benz Fashion Week last month, you may remember seeing a throng of fashionable folk sporting tees with political slogans painted across their chests.

'Welfare Over Wealth,' 'Save the Reef,' 'Reject Racism', 'Welcome Refugees, Save Lives' and, our personal favourite, 'Keep Tassie's Bush, I Keep Mine'… ring any bells?

These DIY tees were the handiwork of Ollie Henderson, an Australian-born, New York-based model-cum-activist whose frustration with the Australian political landscape sparked Start The Riot. And, boy, was it sparked!

The project started simply enough: Ollie painted 100 plain white tees with political messages and handed them out to models, designers and bloggers between the MBFW shows. Street-style photographers flocked to the snap the DIY tees, the #starttheriot hashtag swept across social media and, soon enough, international media came a-knocking, the likes of US Vogue, i-D and Style.com (just to name a few) all wanting a piece of Ollie's protesting pie.

Now, my fashionable and politically minded friends, you can get a portion the riotous action yourselves. Not only can you engage in political issues on the Start The Riot Facebook Page, but as of this month you can also purchase Ollie's tees from the House of Riot website, as well as the Tuchuzy store in Bondi.

All the tees are made in W.R.A.P. certified facilities (meaning: no sweat shops), hand-painted by Ollie and her pals and 20% of profits go towards Amnesty International.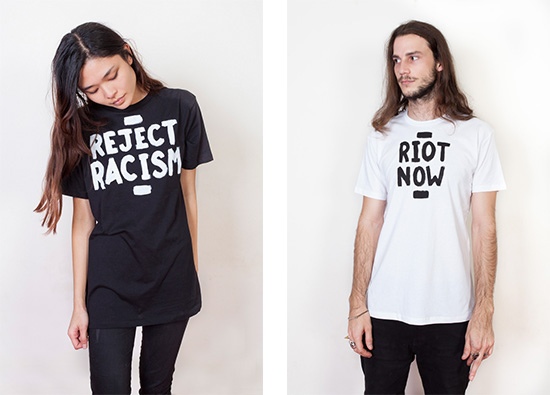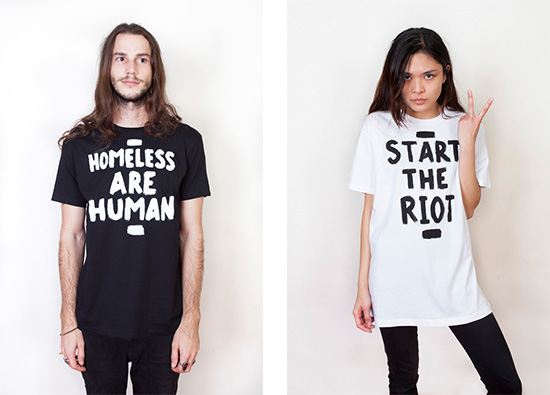 Main image credit: xxsat street fashion. Other images: House of Riot.