Think Surfers Paradise and the Gold Coast are one and the same? Think again.
If you haven't been to the Gold Coast in recent years, we reckon it's safe to say you'll be pleasantly surprised with the leaps and bounds made in the dining scene, paired together nicely with those endless stretches of sand and surf.
Surfers Paradise not your scene? It's ok, we get it. Surfers is what made the GC famous and is a buzzing mix of tourists any day of the week, but if you want to immerse in the heart and soul of today's Gold Coast, we're here to let you in on a few secrets spots you may or may not yet know about… five epic beaches totally worth the trip north and a handful of gems nearby to keep you watered and refuelled. What's best? They are all within a 15-minute drive of Coolangatta Airport. Less time pounding the asphalt, more time working on your tan.
Summer will soon be leaving us for another year (gasp!), but on the Gold Coast it's pretty much balmy year-round which we reckon makes it all the more enticing for a long-weekend sojourn.
Here are five of the Gold Coast's coolest beach destinations you've never heard of:
#1 Tallebudgera Creek
When idyllic azure waters are more your jam than being tumble-rolled in the breakers (after all, that hot new two-piece is barely holding on as it is), seek out Tallebudgera Creek. First things first, trust us when we say this "creek" is way prettier than it sounds. Find a park north or south of the bridge and enter the leafy nature walk at the southern end of the Burleigh National Park headland. Follow the path for about 300 metres and pop out at a magical hidden beach protected inside the breakwater. Backed by native sub-tropical rainforest and frequented by the odd bush turkey, if you can sneak in a visit mid-week this gem is pure heaven.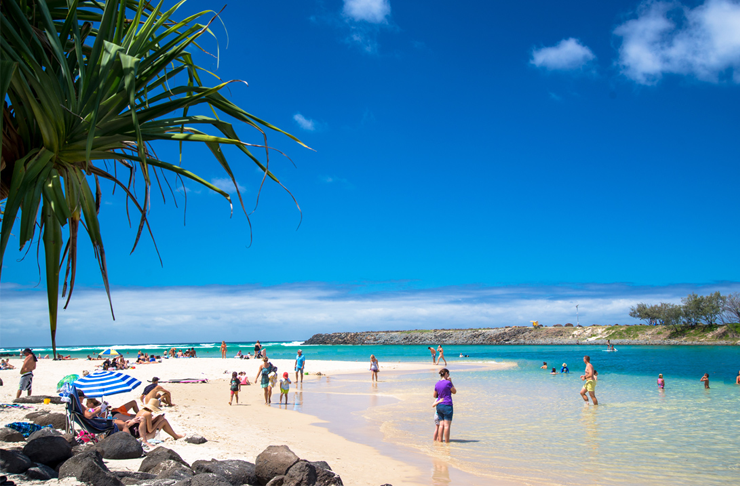 NEARBY
Espresso Moto
A genius concept combining a love of café racer bike tinkering and coffee drinking, hip Palm Beach café Espresso Moto is also part bike restoration workshop. Come for one of the best eggs bennies on the Coast, and unpretentious, straight-up service (notably delivered by several finely bearded gents).
Lester & Earl
Just a sashay from the sand, American smokehouse BBQ, Lester & Earl is dishing up slow-cooked brisket, finger-licking-good ribs, and a wide selection of tapped craft beers. Want more? Lester & Earl are leading the charge for a swathe of quality hospitality ventures popping up in Palm Beach.
#2 Palm Beach
Just across the bridge from beloved Burleigh, Palm Beach is one GC suburb that's waking from its slumber. Arguably one of the most gorgeous stretches of sand on the Coast (competition is fierce!) this epic beach is often overlooked by visitors, so any day of the week you can find ample space to claim all for yourself. With sand so pristine it squeaks between your toes and mellow beach breakers for surfing or body surfing, you may leave making plans for a permanent sea change.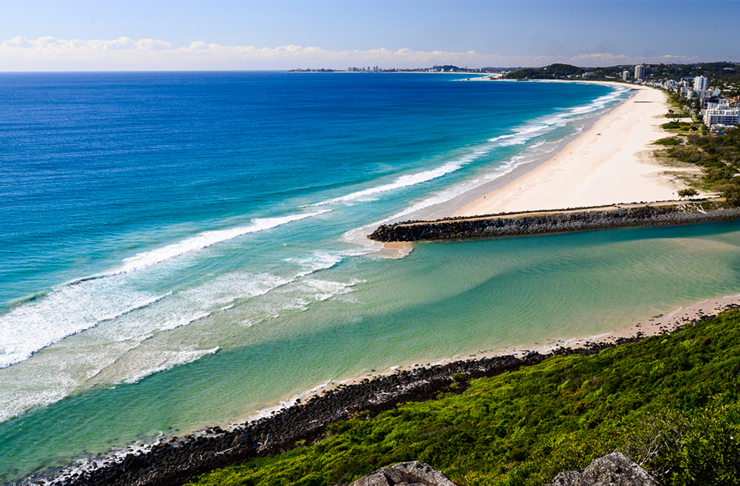 NEARBY
Barefoot Barista
Good coffee is worth the wait and the local crowd lining up outside is a solid indicator of the consistent quality drop served at popular Palm Beach café, Barefoot Barista. Hungry? The team have got you covered with a drool-worthy all-day breakfast menu featuring the likes of smoked and braised ham hock, cured ocean trout, ricotta hotcakes, or everyone's favourite–an organic acai berry bowl.
Hendrixx Espresso
One of the newest additions to the café scene in Palm Beach, Hendrixx is worth ducking into to check out the immaculate fit-out of an old surf shop, and to savour coffee and pastries in retro couches under sundrenched windows and the watchful eye of the legend himself, Jimi.
#3 Currumbin Creek Estuary
Again, the word creek might not send you tripping over your feet with excitement, but rest assured the mouth of Currumbin Creek is a dream scene. As it sucks in and spits out the South Pacific Ocean, pods of dolphins are invited in for lazy afternoons, gliding past stand-up paddle boarders and watching Gold Coasters act all Weis Bar happy. But just letting you in on a little intel, the locals discovered this beauty many moons ago and come in droves on the weekends, but there is plenty of room for everyone. Honest.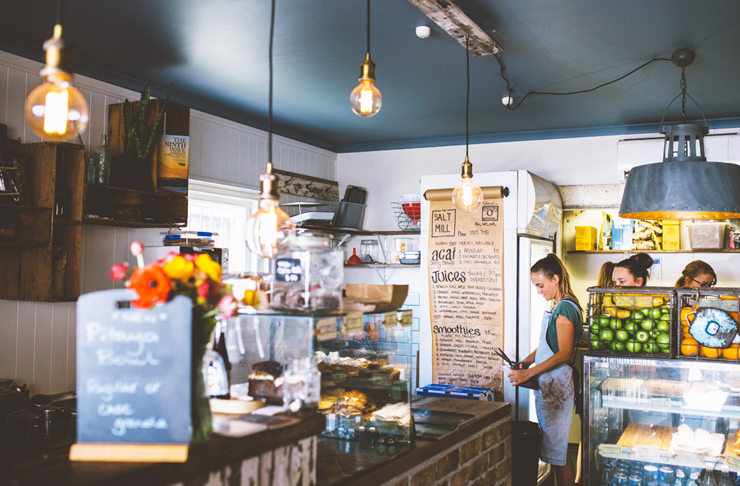 NEARBY
The Salt Mill
The Salt Mill is somewhat of a hole-in-the-wall on the beachfront at Currumbin, but with vistas to the glistening water's edge, you'll want to be outside anyways. We love these guys for their steamy brews and refreshing bowls of acai and pink pitaya goodness—almost too pretty to eat (never!).
Dune Café
All that SUP'ing got you beat? A sandy-footed stroll along the Palm Beach side of Currumbin Creek brings you to breezy Dune Café. Overlooking a grassy parkland (perfect for your pooch!), the lagoon, and drenched in blissful sunshine, this is a sweet stopover to refuel and to make plans which secret beach to hunt down next.
#4 Rainbow Bay
Many say the further south you travel, the more laid-back the Coasties you'll encounter. Well say hellllooo to Rainbow Bay! This sleepy pocket at the very southern end of the Sunshine State is certain to embrace you with its balmy holiday vibes. But don't let the area's sedateness and salty groms fool you. This is the home of legends, where local world champs Mick Fanning, Joel Parkinson, and Stephanie Gilmore all got their water wings surfing infamous Snapper Rocks. And if you're not one to tackle the surf head on (for experts only!), then frolic in the shallows with front rows seats from which to watch the wave slaying action. Looking for something totally secret? Walk further south around the headland to Froggies Beach, a wedge of sand protected by rocky headlands and fringed by weeping Casuarinas, Pandanus palms, and driftwood. Bliss!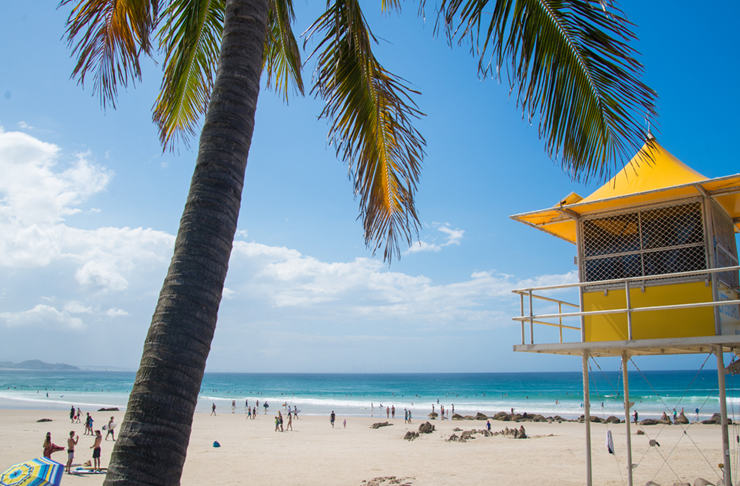 NEARBY
Rainbow Bay SLSC
A visit to the Gold Coast wouldn't be complete without a frosty pint at one of its many iconic surf clubs. If you must pick just one, we reckon it should be the Rainbow Bay SLSC, with views for days from its wrap-around old Queenslander-style deck. What this club lacks in shiny facilities it makes up for in street cred (it's the home of the Quiksilver Pro) and retro cool that guarantees a good mood will ensue upon entering. If we could bottle it up and take it with us everywhere, we would.
Café Dbar
Our go-to when cruising around down south is super-chill Café Dbar, perched on the headland at Point Danger, the southern-most coastal tip of Queensland. Their carefully-curated menu is the perfect breakfast fuel before slashing the legendary waves of Duranbah or Snapper—or at least admiring the mad surfing skills from afar.
#5 Burleigh Heads
Okay, we hear you. This little bohemian pocket ain't no secret anymore. But Burleigh Beach—Queensland's answer to Bondi, just wayyy less pretentious—is a treasure trove neighbourhood that serves as a destination in its own right. Lined with Norfolk pines and Pandanus palms that shade parks perfect for picnicking, the beach itself delivers a reliable right-hand point break as well as a languid stretch of sand protected by Burleigh's National Park headland. Once you've dipped, surfed, sun lounged, and walked the rainforest-clad headland, wander over to James Street for some café hopping, boutique browsing, or time it right to visit the Coast's bi-monthly market—The Village Markets; home to some insanely talented local creatives.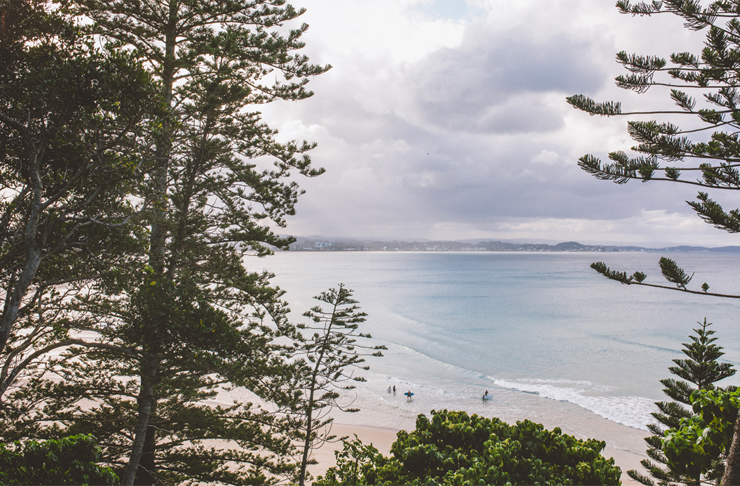 NEARBY
Canteen Kitchen
Canteen Kitchen, along with its sister café next door, Canteen Coffee is our fave hangout in this buzzing Burleigh backstreet arcade. Dishing up some of the best breakfasts in Burleigh, the team here are all about taking traditional brekky items and throwing a much-appreciated Middle Eastern influence into the mix.
Justin Lane Establishment
It's not hard to see why Justin Lane Establishment is one of the best restaurants in Burleigh. Recently undergoing a stellar makeover including the addition of a rooftop bar and patio, you'll fall hard for Justin's undeniable style, killer cocktails, and delicious home-made pastas and sourdough pizzas.
Rick Shores
Commanding one of the most lust-worthy, absolute beachfront locations on the Coast, comparable to Bondi's Icebergs, Rick Shores is the newest addition to the best restaurants in Burleigh. Brought to us by the team behind popular Fortitude Valley restaurant, Longtime, Rick Shores is open for epically long lunches and dreamy dinners. Its seriously impressive South East Asian menu is a contemporary fusion of Thai and Vietnamese, along with splashes from further afield including Indian, Japanese, and Chinese.
Image credits: Brooke Darling, Hayley Williamson
Editor's Note: This article is proudly sponsored by Tourism Gold Coast and endorsed by The Urban List. Thank you for supporting the sponsors who make The Urban List possible. Click here for more information on our editorial policy.