If you think culture is something that comes from yoghurt, this guide's for you. Presenting a hand-picked selection of the coolest and easiest-to-understand cultural events in Australia, NZ and the world. Mime and post-modernist theatre definitely not on the list, we promise. Only the good stuff.
Ready to get cracking? Polish those opera glasses. Here we go.


Photography: Jeff Busby
Tosca
Melbourne
A little Puccini never hurt anyone. And if you only see one Puccini opera, it may as well be Tosca. Opera Australia is bringing John Bell's epic production to Melbourne this month. The twist? They're setting it in fascist Italy circa 1943. Sh*t's gonna get dramatic.
Vikings: Beyond The Legend
Melbourne
Everyone knows Vikings were hot Scandinavian dudes with horned helmets, right? Wrong! Turns out there was a lot more to Vikings than looking hot and invading stuff. Melbourne Museum just launched it's huge new Viking exhibition, with 450+ artefacts on display. Check it out before August 26.

Photography: NGV
NGV: Triennial
Melbourne
It'd be hard to fit more culture under a single roof. Melbourne's National Gallery of Victoria launched their first Triennial Exhibition late last year, and it's all kinds of awesome. 78 artists from 32 countries have come together to create a 4-level monument to Weird. The bad news? It's leaving town on 15 April. This won't be back for three years—get in quick.
BNE Design
Brisbane
An open-air design and art market in King George Square? Err, yeah. We're keen. BNE Design is pulling indie designers from all over Queensland for three days of markets, workshops and all the jewellery, homewares and fashion your credit card can take.
Transboundaries
Brisbane
Transboundaries is kicking off a the QUT Art Museum this month. It's a triennial exhibition featuring the works of several QUT alums, including Keith Armstrong, Lu Forsberg and Grant Stevens. Expect big canvases and big ideas, in that order.
Trapper
Sydney
This sounds pretty awesome. Trapper is a futuristic four-person show about the dangers of digital media addiction. Four players battle it out on-stage (the Gamer, the Fighter, the Architect and the Poet), and yes there will be poetry slams.
Bald Archy Exhibition
Sydney
You've heard of The Archibald, right? The country's most prestigious portrait comp? Well this is the Bald Archy—basically a satirical spoof on that. A painting and portraiture competition with no rules and very few boundaries. Check it out at The Sofitel in Darling Harbour until 22 April.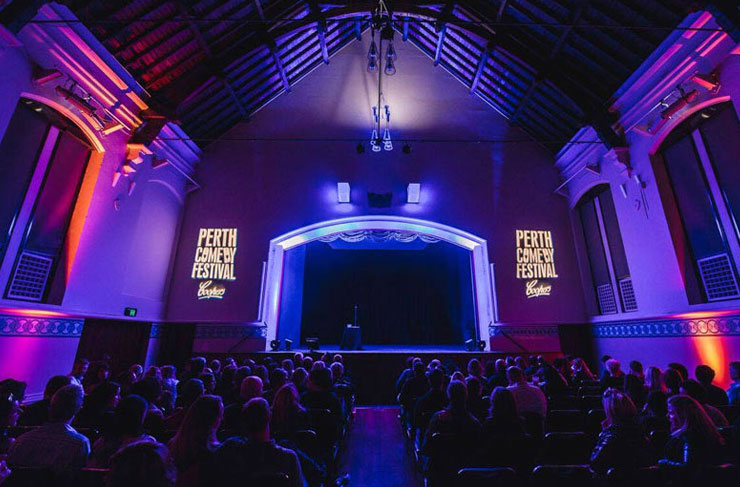 Photography: JumpClimb
Perth Comedy Festival
Perth
Yep, Perth has a comedy festival. And the big names are coming this year: Arj Barker, Jason Byrne, Steven K Amos, even UK satirical news reporter Jonathan Pie (aka the only man who spoke any sense in the wake of Trump's election). Check out the program for all the deets.
Tom Malone Glass Exhibition
Perth
The Tom Malone prize is now in its sixteenth year, and it's still the biggest national prize for Aussie glass artists (oh yep, glass artists are a thing). If you want to see the potential of what happens when sand gets heated up really hot, swing by Art Gallery WA before 28 May.

Tender
Auckland
Want to check out something a lil' bit different in Auckland this month? Head down to the ASB Waterfront Theatre and hear 10 young Aucklanders chat about love, sex, relationships and broken hearts. It's all part of the Here & Now Festival. Should be pretty tender.
Pop-Up Globe Extension
Auckland
Auckland's Pop-Up Globe got extended—hells to the yeah. You can now catch Shakespeare classics like The Merchant Of Venice and A Midsummer Night's Dream up till 15 April (dates vary—check the website for details). Hurry though, once it's gone it's gone.


Photography: Bedford & Bowery
Tribeca Film Festival
New York
It's one of the world's biggest indie film festivals, and it's kicking off in NYC this month. The official Tribeca Film Festival program just dropped, so if you're planning to spend any time in New York between 18 and 29 April, you should probably get booking. Our pick? The Patti Smith doco, Horses.
Sculpture In The City
London
There's only a couple of months left to see Sculpture In The City, London's annual public sculpture festival which takes over every square inch of Square Mile. Artists like Damien Hirst, Karen Tang, Fernando Casasempere and Paul McCarthy have taken part this year. Head to Fenchurch St, Monument or Liverpool St to catch the best works.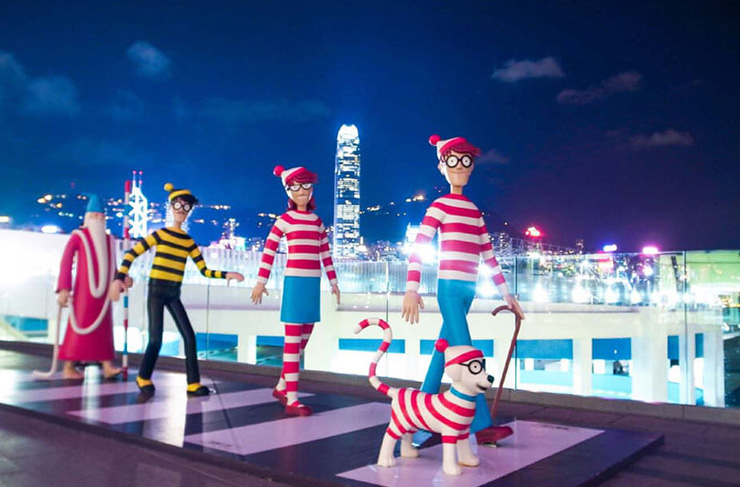 Photography: Octopus Media
Where's Wally Exhibition
Tokyo
Half the battle with this exhibition is finding the damn thing...jks it's at Matsuya Ginza in Tokyo. Where's Wally (or Waldo if you're from the States) is celebrating its 30th anniversary this year, and Japan is celebrating with 150+ original artworks on display. Admission is free if you're wearing a red and white shirt on Wally Day (April 21 & 28).
More of a Couch Potato sort of person? Fair call. Here are some docos you should be watching in April.
Image credit: NGV