Indoor greenery has always been cool, but it's having a serious moment right now. If you love plants as much as we do but aren't really into the whole high maintenance thing, it's probs time you learnt about terrariums. WTF are terrariums, we hear you ask? Think little open-air gardens that are super easy to put together yourself, we promise.
Whether you're a total green thumb or botanically challenged, terrariums are perfect for adding some nature to your indoor space, or as cheap yet impressive as heck gifts for your fam and friends. Plus, they're customisable, great oxygen boosters AND super low maintenance. ICYMI apartment-dwellers and serial plant killers, this is defs the plant trend for you.
Luckily, our mates at Hoegaarden are allll about that urban greenery (which is why they've been hosting DIY terrarium workshops, too), so we've teamed up with them to show you just how easy it is to create one of these awesome mini-wonderlands.
Step one: Prepare
Grab a drink (better make it an icy cold Hoegaarden). Admittedly this isn't the most labour-intensive gardening job, but it's important to stay refreshed.
Step 2: Find Him A Home
Find a cute vessel—make sure it's see-through with an open top. Think a fishbowl, vase, or mason jar. Check out Bunnings, a discount store or hit up an op shop for a quirky find.
Step 3: Lay The Foundations
Fill the bottom of the vessel with an inch or two of sand, and a layer of small rocks to collect the water drainage. Pro tip: make sure you rinse the sand thoroughly, as any salt residue could kill the plants.
Step 4: Get Dirrrrty
Pat in a layer of potting soil. Choose your soil depending on what plants you're including—for example, there's special soil for succulents and cacti. Make sure it's deep enough for the plants to root.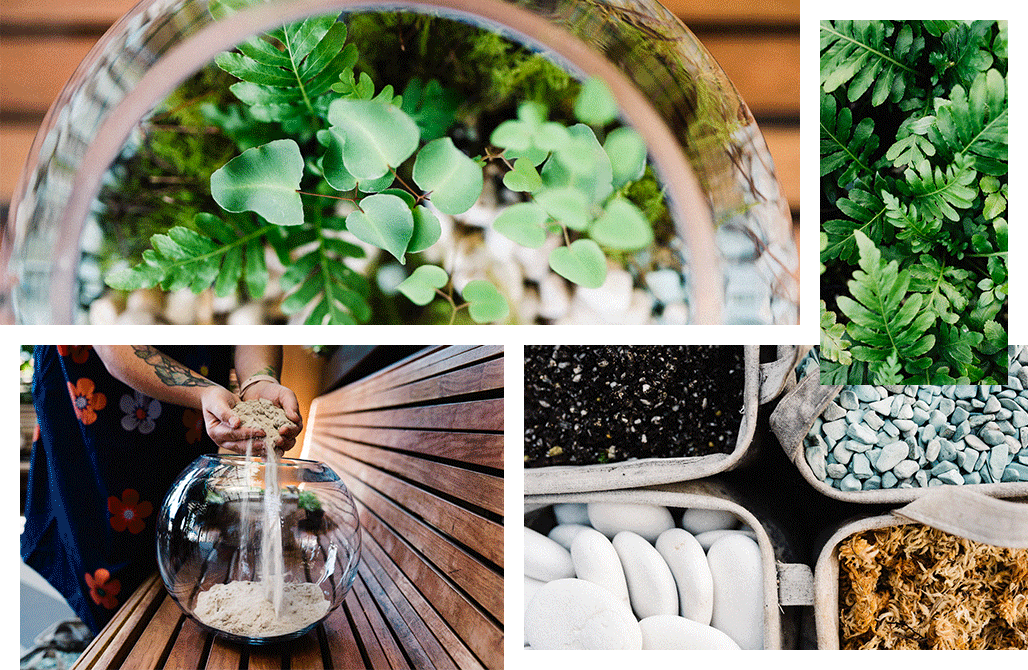 Step 5: Give It Some Structure
Place in some larger rocks first, a few smaller ones (feel free to get colourful) and some moss. It's actually easier to get the basic structure done first before the next step.
Step 6: Add Some Life
Start with the biggest plant and pop it in a small hole you've made in the soil with a spoon, patting the soil down to hold it in place. Start from the back and work your way to the front—don't put any plants closer than an inch away from each other. Tip: go for either a ferny/moss theme, or a succulent/cacti theme, as they have different needs when it comes to care and maintenance. No one likes a terrarium with an identity crisis.
Step 7: Add More Small Stuff
Once the plants are arranged, top the soil with a smidge more sand and a few more small rocks to help keep everything in place. Now's the time to add any more cute bits and pieces to complete the look: think figurines, tiny toadstools, you name it (we're partial to a few crystals scattered around the place).
Step 8: You're Done!
Place the terrarium in the full sunlight or dappled shade (depending on what type of plants you went with) and enjoy. Then help yourself to another refreshing bevvie. You've earned it.
If you're like Hoegaarden and love you some urban greenery, their lush pop-up beer oasis, The Gaarden, is the perfect spot to chill with your mates and reward yourself post terrarium-making with some share plates and cold pints of Hoegaarden.
Find them on the deck of The GC's The Island Boutique Hotel, and Brisbane's South Bank Beer Garden!
Image credit: Tash Sorensen for The Urban List
Editor's note: this article was proudly produced in partnership with Hoegaarden. For more information on our editorial policy please click here.