Whenever cult beauty brand The Ordinary releases a new product, people tend to start buzzing—and the latest addition to their affordable range of serums, moisturizers and oils, 100% Niacinamide Powder, is no different.
Anyone who's already a fan of the brand has probably got a bottle of their popular Nicacinamide 10% + Zinc 1% sitting on their bathroom sink. This new powder format, however, is one for both anyone who's skin reacts adversely to zinc, and beauty pros who appreciate being able to personalise their skin care regime, and tackle two skin concerns at once.
If you need a bit of a lesson on what niacinamide actually is, it's a form of vitamin B3 that's touted to help manage acne, rosacea, pigmentation issues and wrinkles—basically, it's loved by dermatologists and a darling of the beauty world right now. It also happens to be water-soluble, which is where The Ordinary's new powder comes in.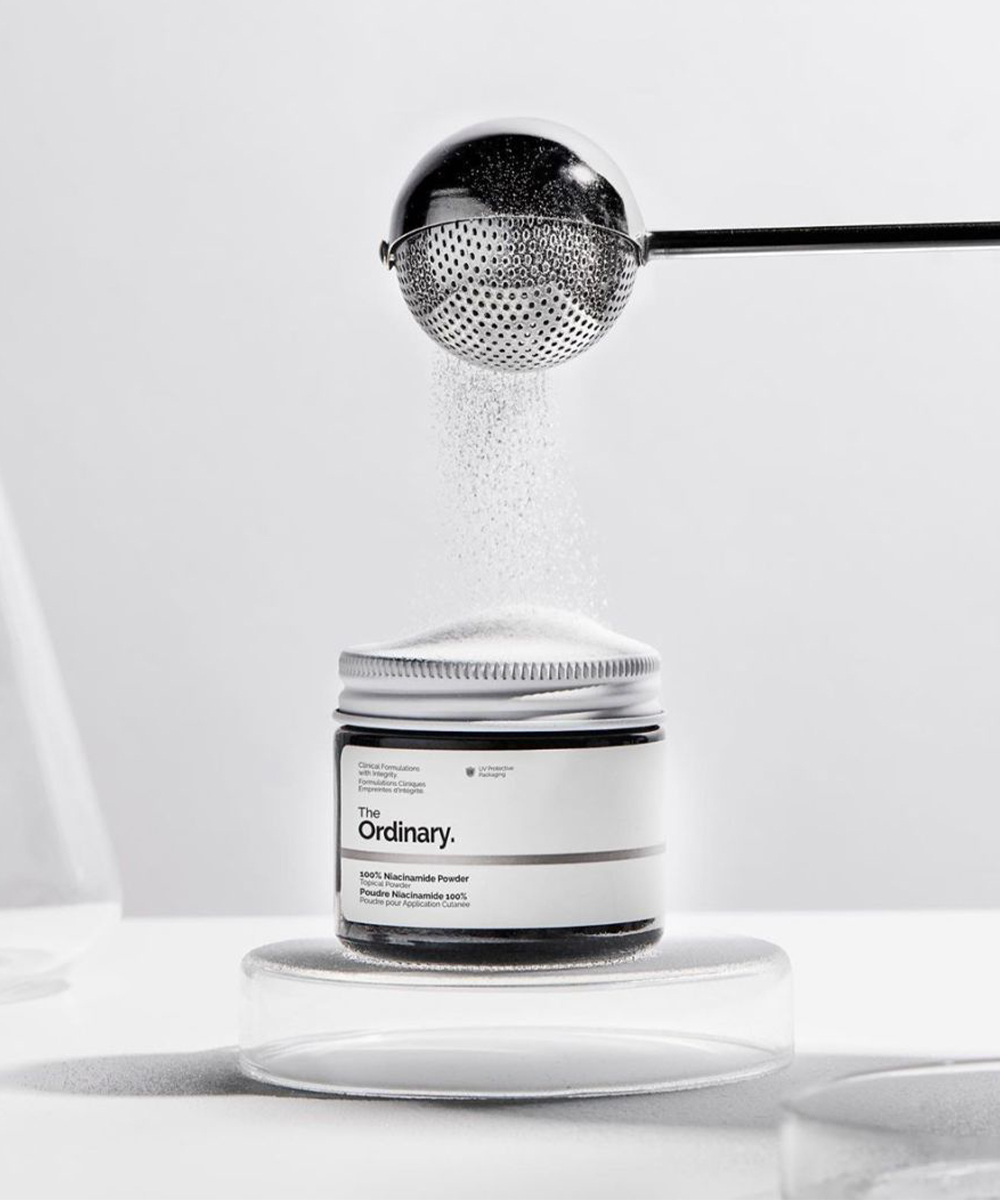 Since niacinamide powder will dissolve in any water-based product, you can combine it with any non-conflicting water-based product that has a pH base between 5.0 and 7.0. Now, if you're not a scientist, you're probably not going to know how to work out a pH base, so The Ordinary suggests mixing it with their compatible serums—Hyaluronic Acid 2% + B5, Natural Moisturizing Factors + HA, "Buffet" + Copper Peptides 1%, Matrixyl 10% + HA and Argireline Solution 10% (which again, you've probably got at least one of…).
To use the powder, all you need to do is blend a scoop of it in your hand with your chosen product, then apply to your skin as usual—no layering of multiple serums and creams necessary. There's a few ingredients you definitely shouldn't mix niacinamide with, including vitamin C derivatives, direct acids like AHA chemical exfoliants, oil-based products, cleaning products and retinol, so make life easy on yourself and just combine with another serum from The Ordinary—we're big fans of their "Buffet."
You can read up on the new product and get your hands on it here.
If you're looking for more beauty tips, here's why probiotic skin care is worth the hype.
Image credit: The Abnormal Beauty Company
Editor's note: Urban List editors independently select and write about stuff we love and think you'll like too. Urban List has affiliate partnerships, so we get revenue from your purchases.