When the mercury begins to rise this summer, so too will the popularity of canned beer.
Yes, the prophecy is upon us and our beloved canned beer is making a big comeback—like a phoenix from the ashes.
And Little Creatures are getting on board with their new Dog Days cans. The limited release Summer Seasonal that came and went with the summer of '15 is back for good—with a super fly makeover. This will be the first time in their 16 year history that Little Creatures has launched a can.
So we just thought we'd like to take a moment to pay tribute to beer—both canned and bottled—so you can make an informed beer decision (beer-cision) this summer.
Canned Beer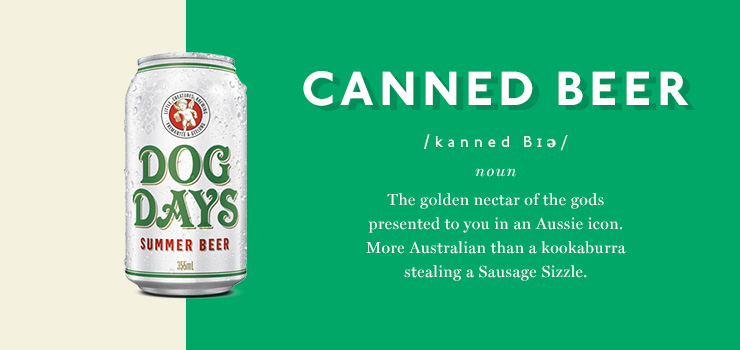 The golden nectar of the beer gods presented to you in an Aussie icon. Here's why we love it…
Can. Sounds positive. Feels positive.
Cans are powerful force field against beer's enemies—light and air—keeping your beer as fresh as a daisy.
They're lighter than bottles—making it the perfect travel companion for summer road trips (and making you feel like you have superhuman strength every time you take a sip).
The sound of a can being opened is positively Pavlovian.
Cools beer quicker…which is exactly what you want in summer.
Because cans are energy efficient to recycling. And recycling gives you all the good feelings.
No more searches for that illusive bottle opener. I swear I had one on me…
Because your mum has been hanging out for a potted flower made from a can. It's true, she told me.
Bottled Beer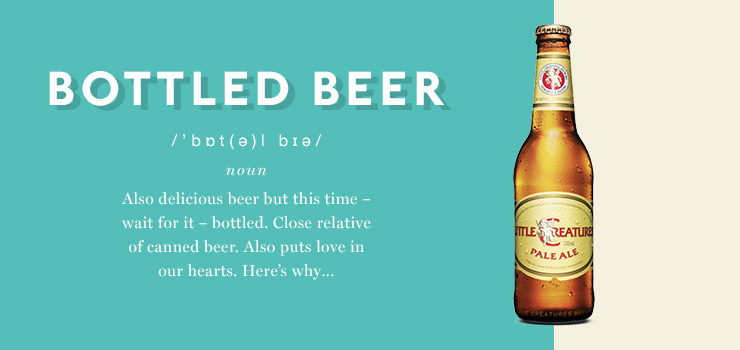 Also delicious beer but this time—wait for it—bottled. Close relative of canned beer. Also puts love in our hearts. Here's why…
Yet another reason to recycle your little heart out. #recyclingislove
Preserves and protects precious beer flavour.
It makes you feel sophisticated and European. *Sticks pinky out*
Stays colder longer —and not just because of that awesome stubby holder you got on your trip to Broome.
The profound moment where you realise that you don't need a bottle opener because the world is your bottle opener. Every table, every spoon, everything. It's a lesson in self reliance in a dog eat dog world.
Makes a satisfying clinking noise when you cheers something.
Bottle openers perpetuate some of the world's finest dad jokes. Woah—it's a belt buckle and a bottle opener.
It's still full of delicious beer.
Want to stay up to date with the latest events from Little Creatures? Follow Little Creatures at #ltcreatures and @ltcreatures, or sign up to become a Hop Head here.
Editor's note: This article is proudly sponsored by Little Creatures and endorsed by The Urban List. Thank you for supporting the sponsors who make The Urban List possible. Click here for more information on our editorial policy.
Image credit: Little Creatures, Bryce MacDonald