We all know weekends call for adventure, and the best kind of adventure is packing up the car and hitting the road. There is no better feeling than windows down, playlist going strong, snacks on hand and your favourite friends by your side.
Yamba is the perfect place to situate yourself for 48 hours as it's only a few hours drive along the highway and has a small coastal village charm, pristine beaches, a myriad of waterways and lots of cute cafes. Also, did you know Yamba has been declared as having the best climate in the world? That means it's not too hot and not too cold—year round. No big deal.

If you are anything like us, we don't like wasting a good meal and always jump at the chance to stuff ourselves silly. For a tiny town Yamba doesn't disappoint when it comes to good grub.
Pacific Hotel
The Pacific Hotel should probably be your first port of call when you touch down in Yamba. With epic views of the Pacific Ocean, you can get your very own surf report while indulging in some fuss-free food in a friendly atmosphere.
Leche Cafe
Leche Cafe is all about fresh wholesome food for your tum, live music to soothe your soul and spot-on service. The menu is incredibly tasty and the dishes are so god damn pretty, you will be more than revived after your drive.
Beachwood Cafe
Brekkie at Beachwood Cafe is a no brainer. Mediterranean and Middle Eastern-style food, awesome ambience as well as a host with the most! Sevtap takes pride in her Turkish roots and even has her own cookbook. Now that's saying something!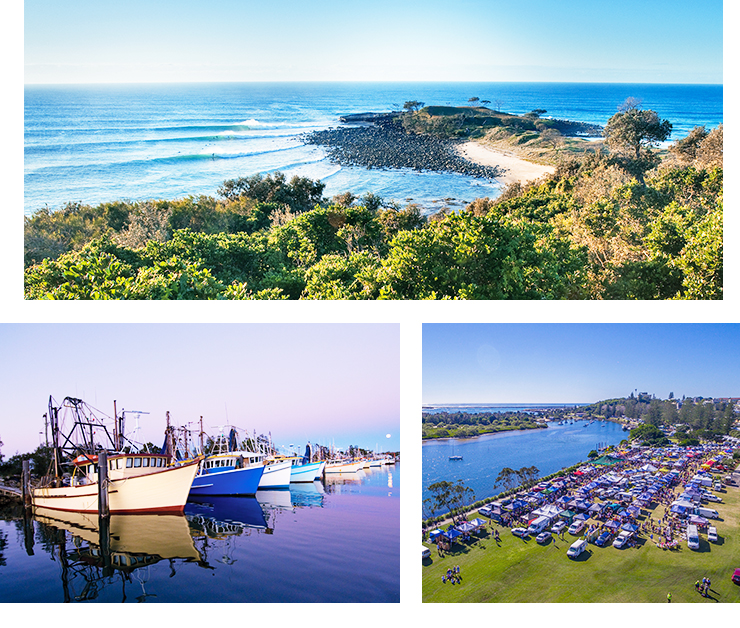 The Mexican
The Mexican is a dinner spot guaranteed for good times…When tacos, tequila and a bunch of fun locals are involved, it's bound to get messy. Recipes that are authentic and time-tested and incorporate local ingredients make this one of the most tastiest Mexican meals ever.
Uptown Cafe & Bar
Uptown Cafe & Bar offers great coffee, breakfast, smoothies and juices by day, and the most unreal cocktails by night over candlelight. This is the perfect spot to perch between dinner and dancing, where the bartenders truly know their wines, craft beers and luxe liquors.
Yamba Fudge Shop
The lovely lady who makes this fudge is NOT lying when she says you will be back for more. Save yourself the trouble and just get a month's worth at your first visit. Creamy, velvety and freaking fantastic, good luck trying to choose just one flavour at Yamba Fudge Shop.

Because when on holiday, right?
Yamba Surf Centre
You can't head to a surf town without visiting the local surf shop. Yamba Surf Centre is an authentic surf shop that has everything you need for a beach weekend from board shorts and bikinis, and even fleece and beanies.
Island Collective
A store you would want to live in; a dreamy mix of bohemian homewares that ooze luxe island living. Island Collective now have their very own island cafe, known as the Jungalow. Specialising in sushi, light snacks and great coffee. You have no reason to ever leave.
Revival Yamba
Revival Yamba is a music, art, surf and lifestyle shop that brings things from the past to present, where old school is the new cool and vintage vibes reign supreme. With a carefully curated brand and product selection, it's safe to say you won't walk out empty handed.
Lone Rock Wholefoods
Lone Rock Wholefoods is one of those health food shops where you go in for clean eats and come out with nothing but treats. Stock up on the best dried mango in the biz. It's all the way from North Queensland and probably the second best way to eat a mango. First is fresh, no less.

Yamba Markets
If you time your visit right, you can experience the Yamba Markets on the fourth Sunday of every month. They are located at Ford Park, on the foreshore of the Clarence River, and are an eclectic mix of local and regional food, arts and craft, with a focus on handmade products.
Picnic By Yamba Main Beach
Take your blanket and basket down to the Main Beach, or prop yourself on the grassy cliff. Prawns fresh from Yamba's Fisho, a loaf of sourdough from Brooks family bakery, washed down with a bevvie and topped off with some of the best fudge to ever hit your tastebuds = picnic done right.
Explore Angourie Beaches
Only a short 10-minute drive away is Angourie Point, Spooky Beach and the blue pool; a very deep and popular freshwater swimming hole. Angourie Beach is a National Surfing Reserve and a piece of paradise that should definitely be ticked off the list.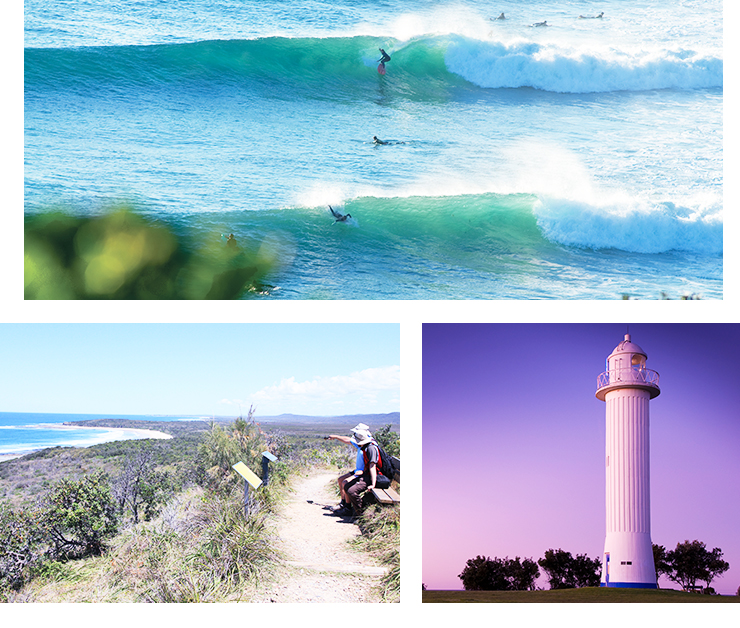 Walk Along Pippi Beach To The Lighthouse
Pippi Beach is another popular surf and fishing beach and is an idyllic spot to walk along towards the lighthouse. If the ocean is a little raw and rough then cool off by jumping in the ocean pool on Main Beach. So much yes in Yamba!
Yamba Pedal Boats
Safe and incredibly easy to use, these pedal powered boats are just the thing you need to explore the Yamba waterways. You can choose from either a cruiser boat or a fishing boat which are equipped with drink holders, built in cooler compartments and rod holders.

The Black Ace
A 110-year-old restored cottage is now an incredibly stylish and modern Airbnb made for entertaining. With a games room, sound system, coffee machine and the capacity to sleep 16, you will be looking for a reason to have the ultimate getaway.
The Beachy Airbnb
Right across the road from Main Beach is the cutest light, bright and airy apartment. Styled the colours of the sea, and furnished white and natural wood, it exudes coastal charm. This Airbnb is the perfect place to relax and rejuvenate.
Moby Dick Resort
All rooms at this resort have balconies overlooking the serenity of the Clarence River, making it perfect for sunset wining and dining with your significant other. Have a fish from the private jetty, or take a dip in the saltwater pool. Moby Dick Resort is an all round great place to stay.
Angourie Rainforest Retreat
Nestled amongst lush subtropical rainforest between Yamba and Angourie, this oasis among the trees boasts a day spa, tennis courts, a gym, playground, on-site restaurant and a pristine pool. There's actually no need to step foot outside this retreat.
Yamba Holiday Park
If something a little more laid back is more your style, then we suggest getting familiar with Yamba Holiday Park. Boasting 130 acres of riverside parkland and forest, there is plenty of space to pitch your tent and lots of facilities for some family fun.
Love yourself a long weekend adventure? Be sure to check out our guide to Brunswick Heads.
Image credit: Clarance Valley Tourism