The 50km stretch of coast between Salerno and Sorrento, better known as Italy's Amalfi Coast, is a UNESCO World Heritage Site for good reason. From cliffside towns, colourful fishing villages and bright beachside umbrellas to anxiety-inducing narrow clifftop roads and limoncello for days, there's a lot to love about the Amalfi Coast.
If you haven't been, we're guessing you're probably planning on it, so here's everything you need to know before your first trip to the Amalfi Coast.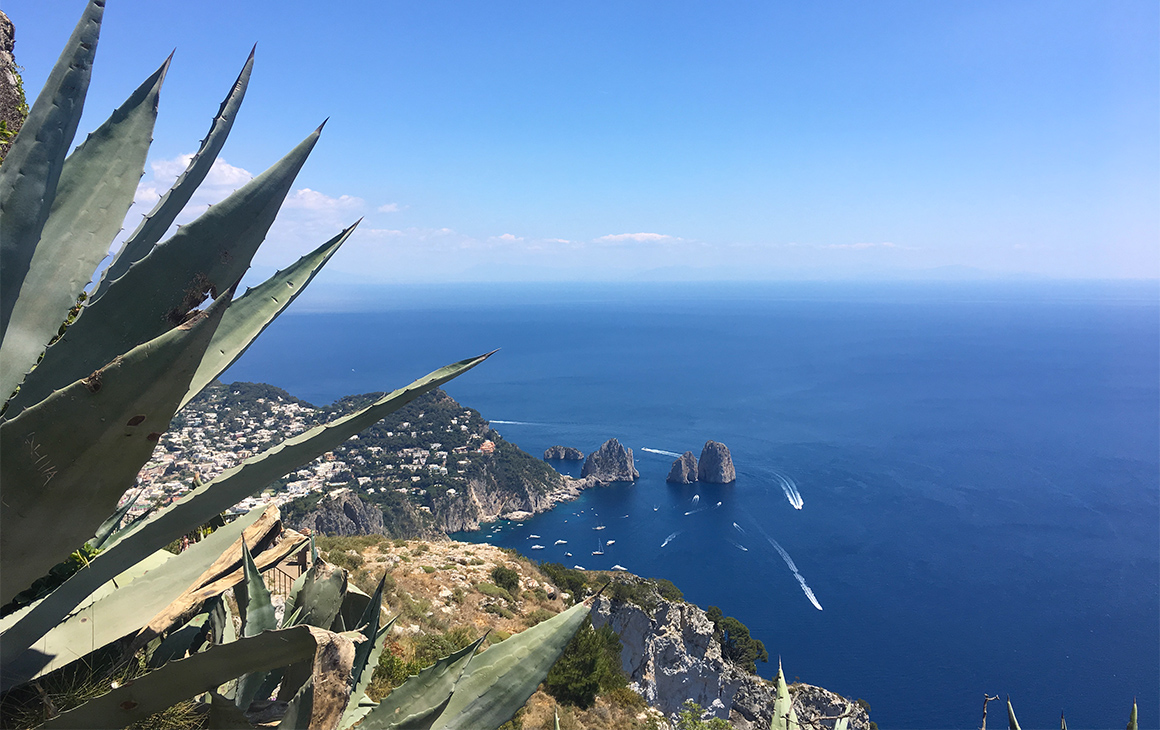 When To Go
Unsurprisingly, the Amalfi Coast is at its finest in the summer months when you can enjoy the beach and warm weather. Also unsurprisingly, it's packed with tourists during that period and even into September. The best time to go is in May or June when it's already warm but the hordes of crowds are yet to arrive so you can enjoy your Aperol Spritz in peace.
Where To Stay
The most important question to consider when visiting the Amalfi Coast is where you're going to base yourself.
Positano and Amalfi are the most accessible, but they are also the busiest, so if you don't love crowds, you might want to consider a smaller village like Ravello or Praino.
Once you decide which town suits you best, you'll be pleased to know that Airbnbs are aplenty. If you choose Positano and want to treat yourself, check out Le Sirenuse for five star luxury and world-class views. It's also home to one of Positano's best restaurants and a couple of excellent bars, which doesn't hurt.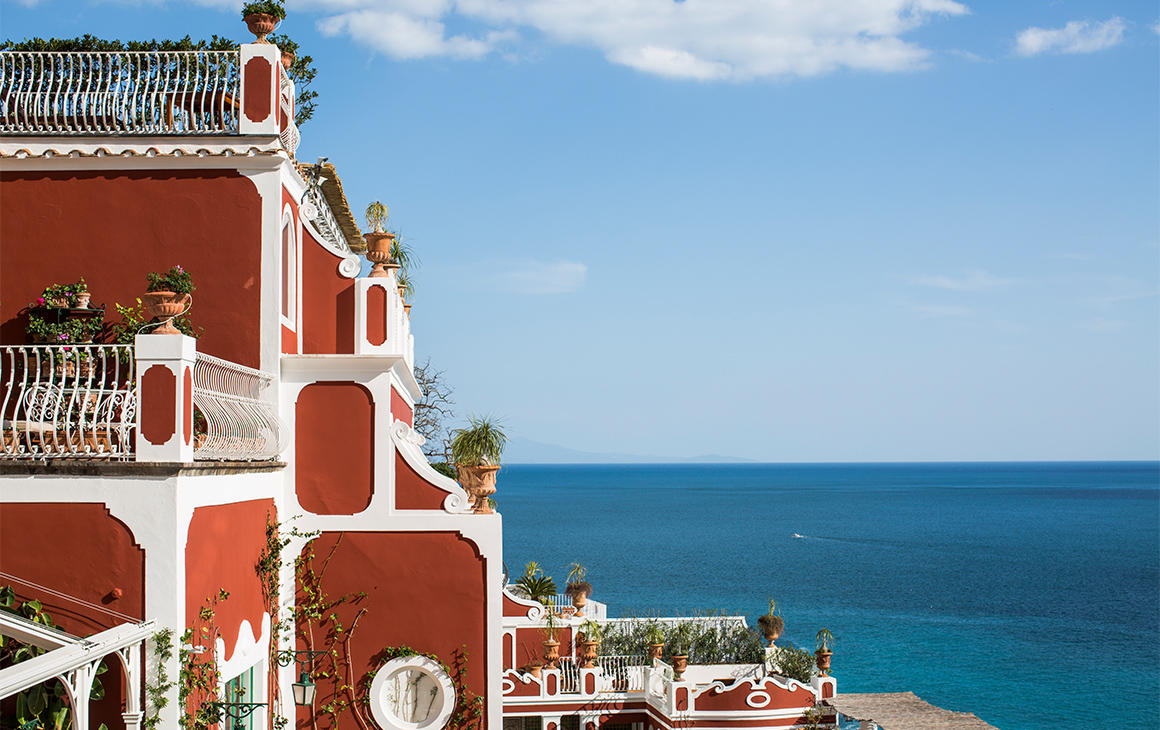 How To Explore
While people used to swear the easiest way to explore the Amalfi Coast was by car, we say this just isn't true anymore. The traffic caused by the number of cars on the single road connecting each of the towns is enough to make you pull your hair out, not to mention the pain (and cost) of parking and the terror induced by the windy, narrow, clifftop roads. Do yourself a favour and get around by ferries—which connect Positano, Amalfi, Salerno, Minori and Maiori—or bus. All the better for enjoying that third glass of prosecco.
Where To Eat
La Sponda | Positano
Lit entirely by candles, this Michelin starred restaurant in Positano is serving up contemporary Italian with a whole lot of romance and some banging views. Chef Gennaro Russo took the reins of the La Sponda kitchen back in 2016 after a stint at Don Alfonso 1890—another amazing restaurant a little further off the beaten track in Sant'Agata—and has been creating dishes to delight the hungry travellers ever since. Think aubergine melanzane, seafood risotto and excellent oysters.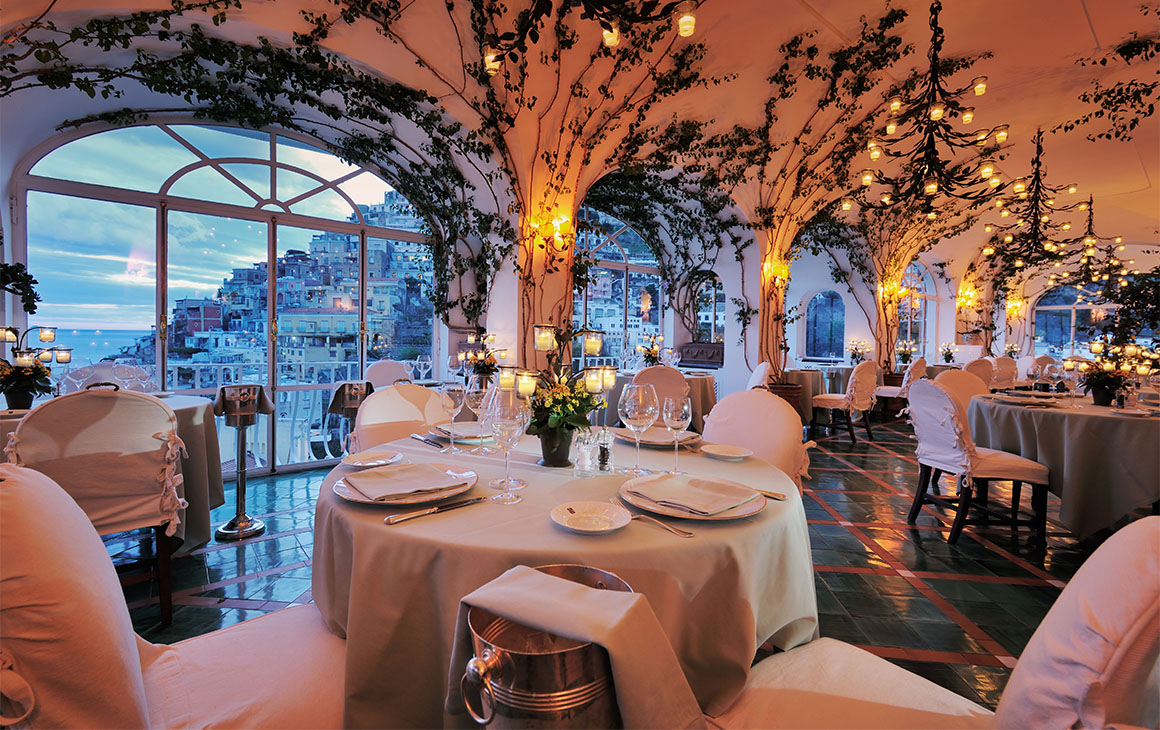 La Tagliatella | Monstepertuso
If you're looking for authentic Italian and a damn good time, head to La Tagliatella in Montepertuso—a little village overlooking Positano. They only do a set menu here, so go hungry and get ready to eat your weight in pasta, veg, meat and more. The menu also includes unlimited wine and beer, so you can really let loose. After dessert, don't forget to finish things off with some of their limoncello.
La Caravella Dal 1959 | Amalfi
Another Michelin starred restaurant, La Caravella in Amalfi is worth a visit even if you're not staying in the area. The pumpkin pasta with raw tuna is a must-try for seafood lovers, as is the cuttlefish ink pasta stuffed with lobster and ricotta.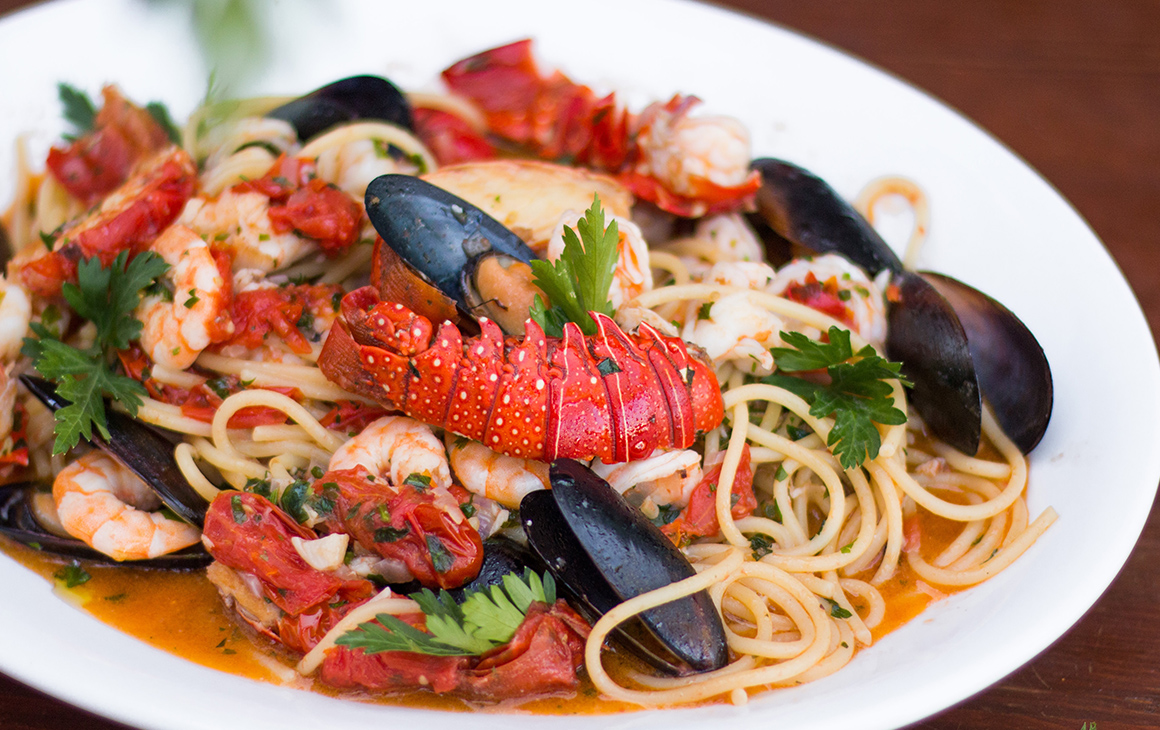 Il Ritrovo | Montepertuso
Another Montepertuso gem, Il Ritrovo can do no wrong. From the free shuttle service to get you from your accommodation up to the restaurant, to the complimentary prosecco, to the mind-blowing food, you need to put this one on your Amalfi Coast hitlist. The zucchini flowers are out of this world and the sea bass is also a winner. If you feel like learning how to cook some of this goodness, you can also come here for cooking classes—a decision you will not regret.
Where To Drink
G.A.S Bar | Amalfi
Often touted as the best coffee on the Amalfi Coast (some even say the best in Italy), we tend to agree. G.A.S Bar is the perfect spot to stop in for coffee and pastries in the morning, and they also do delicious pizza and plenty of wine if you feel like coming back later in the day.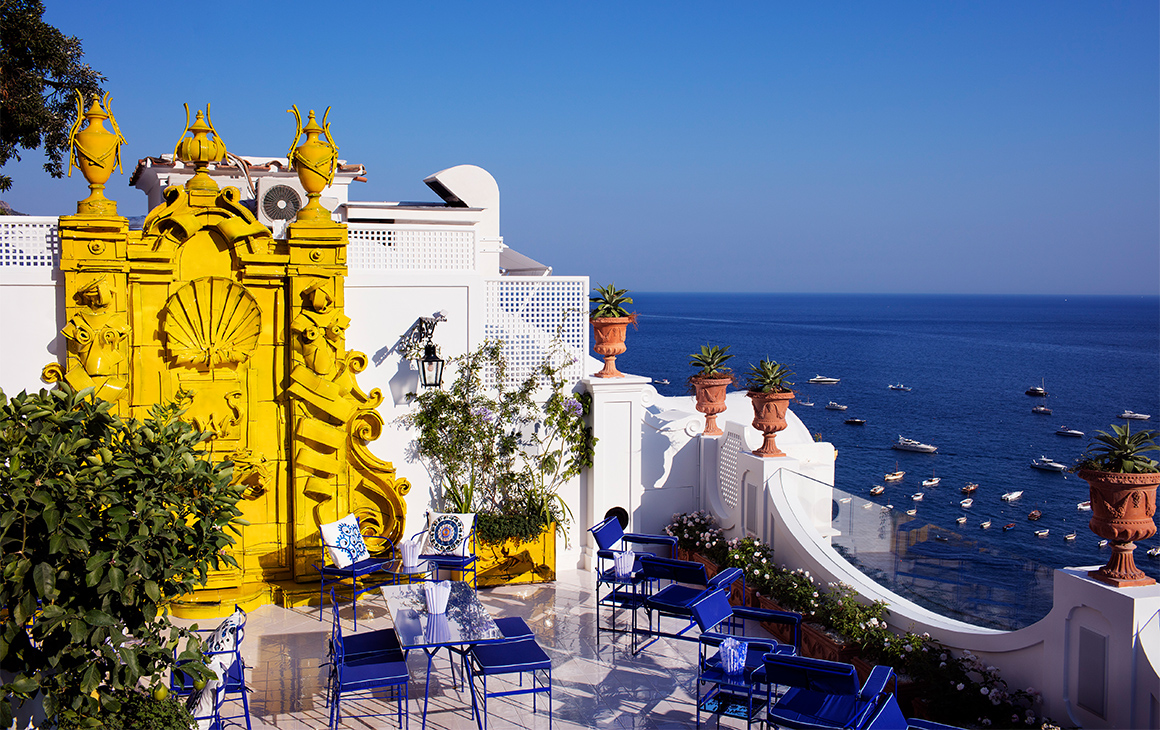 Franco's Bar | Positano
The views don't get much better than at Franco's Bar, so get yourself here for a sunset drink and thank us later. The cocktails are out of this world, the vibe is buzzing and the lemon trees are the perfect finishing touch.
Collina Bakery | Positano
Go for coffee, stay for the pastries and come back for the gelato. Collina Bakery is the perfect place to sit down and relax but also does takeaway if you need to rush off somewhere (just don't forget your Keep Cup). They also dish up some tasty pizzas and a few other bites to eat alongside a decent wine list.
Music On The Rocks | Positano
If you want to go out dancing until all hours, Music on the Rocks in Positano is the place to do it. This little cave rave spot is not cheap so a few cheeky pre-drinks before you arrive might be a good idea.
Things To Do
Explore The Islands
When on the Amalfi Coast it is basically compulsory to take a boat trip and visit the islands. Capri is the easiest one to get to with ferry services from Positano and Amalfi, but if you can rustle up a couple of friends to split the cost with, you can hire your own boat for the day and explore as many as your heart desires—stopping for an obligatory seafood lunch and plenty of Aperol Spritz of course.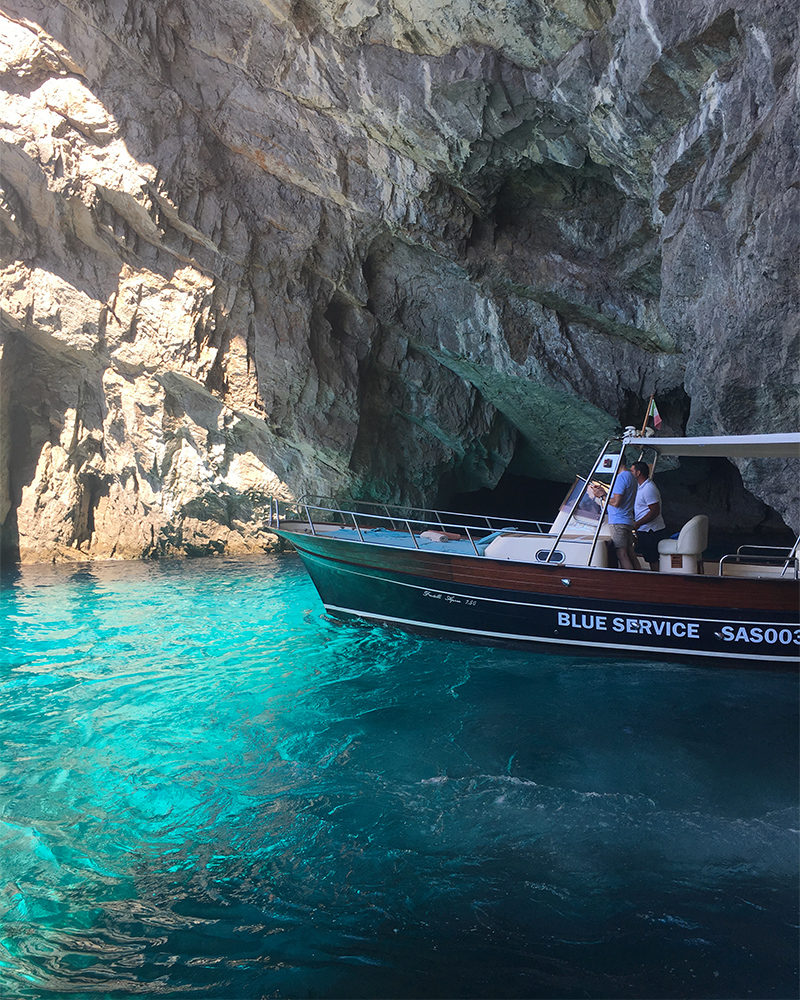 Hike The Path Of Gods
This clifftop trail is a fair hike but the views you're rewarded with are well worth it. Sentiero degli Dei (or Path of the Gods) runs above the coastal towns—1500 steps up to be exact—so you can choose to really push yourself or catch a bus up to your starting point. The main trail is a 6.5km stretch between Nocelle and Bomerano and either of those towns makes a great starting point. If you finish in Nocelle you'll be nice and close to Montepersuto, so you could always celebrate with lunch at La Tagliatella or Il Ritrovo, just saying…
Relax Under Those Beach Umbrellas
You know the ones. Those brightly coloured beach umbrellas lining just about every beach along the Amalfi Coast. Yes, they're crazy expensive, but you're only here once so treat yourself for a day. Most of them offer bottle service too, so order a bucket of ice-cold Peroni beers and bliss out.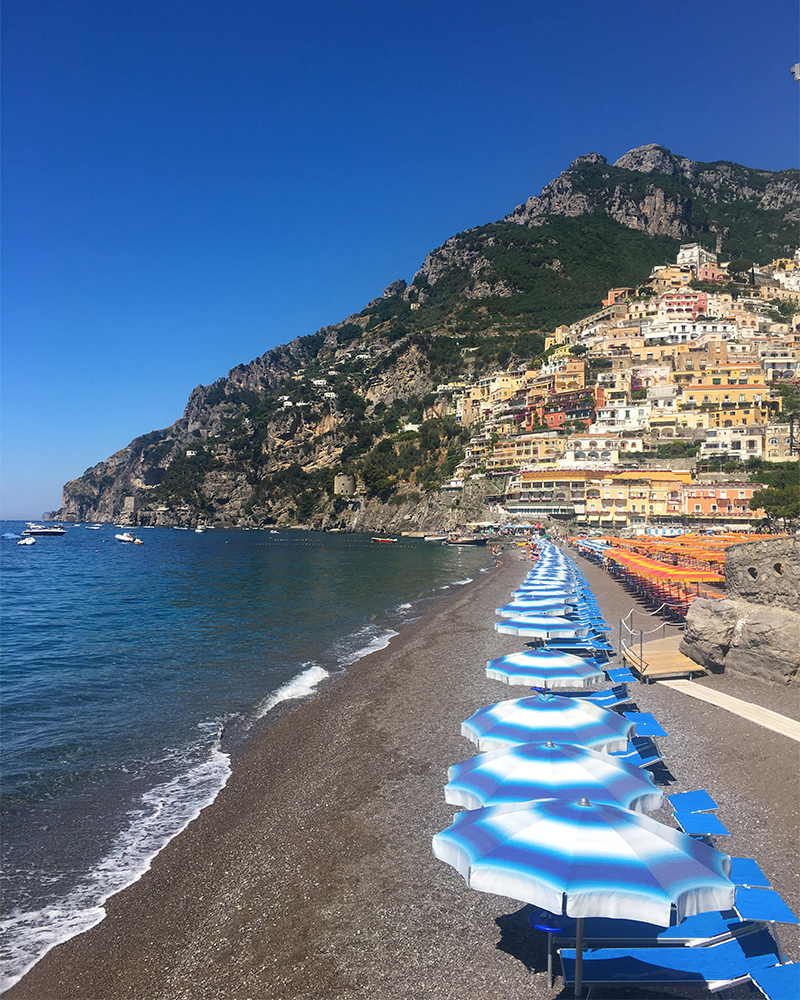 Ravello's Terrace Of Infinity
Spend at least an afternoon in Ravello (if not your entire trip) so you can explore the little town and check out the Terrace of Infinity. It's a short walk from the main piazza to Villa Ciambrone; a private hotel whose grounds are open to the public. The gardens are beautiful but the real reason you're here is for the view which goes for miles—it's got to be one of the best on the entire coast.
Already planning another dreamy Italian getaway? Check out our round of the best things to do in Puglia.
Image Credit: Le Sirenuse, Sander Crombach, Adolfo Félix